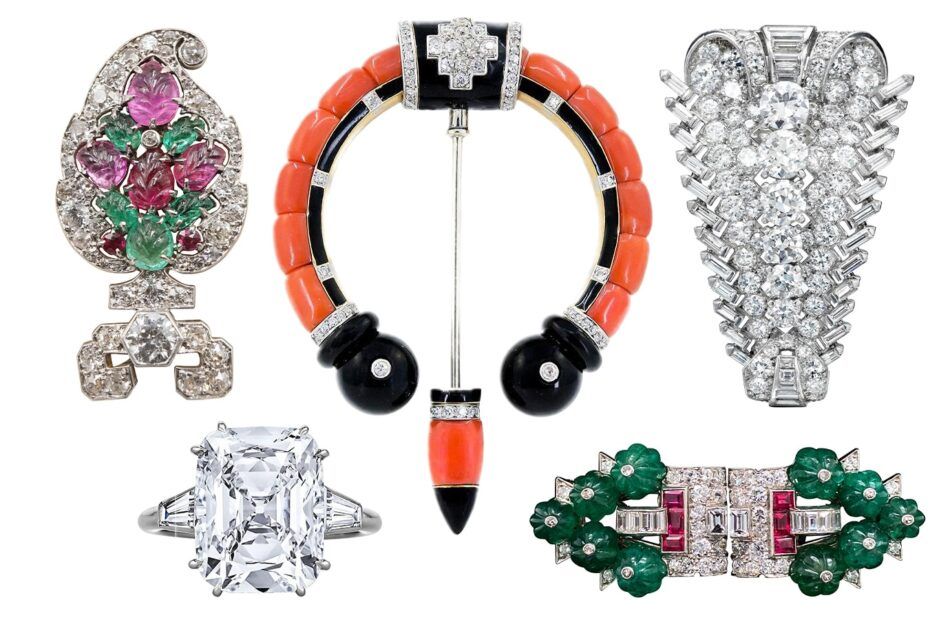 Why are Cartier jewels from the Art Deco era (1920–39) so alluring — and emblematic? Possibly because multiple aspects of the period's reigning aesthetic are often encapsulated in a single piece. From an all-diamond clip fringed in angled baguettes to a penannular brooch made with coral, onyx and diamonds, the maison's foremost design preoccupations at the time were crisp, geometric forms and patterns, high-contrast color combinations and carved precious gemstones.
But the aesthetic that Cartier was embracing was not recognized as a distinctive movement — with many voices contributing to it — until the Exposition Internationale des Arts Décoratifs et Industriels Modernes of 1925. The event gathered a mix of jewelry artistes alongside master jewelers like Van Cleef & Arpels, Mauboussin and Boucheron. As for Cartier, the maison unveiled 150 pieces at the fair.
The (very French) style being celebrated therein was known as Art Moderne — the term "Art Deco" was not, in fact, used until the 1960s. The jewels were known for their sleek lines and sharp angles, Egyptian Revival elements and a preponderance of colored gemstones in graphic configurations mixed with radical-for-the-time materials.
---
Extreme Geometry
The look that Cartier was favoring in post–World War I Paris (and in London and New York) was a radical departure from the Belle Epoque garland style it had once popularized. Geometric shapes were the focus, replacing the frills, bows and lacy botanicals that had dominated consumer tastes in the Edwardian era. In Paris, the jewelry designs that would come to be categorized as Art Deco were the vision of Louis Cartier and his top designer, Charles Jacqueau, who Cartier hired in 1909 after spotting the young artist at work on the installation of a wrought-iron balcony.
Wide platinum bracelets, as flexible as ribbons, were the perfect platform for showcasing the house's newfound love of rectilinear concepts, with small stones arranged in immaculate grids that were bordered in, or interspersed with, materials like onyx and coral.
Jewelry historians say the artists and sculptors of the day were the ones dictating a trend toward geometry in general among jewelers, and if you can spot the influence of Cubism, Futurism or Bauhaus in your Cartier Art Deco jewelry, however indirect, it provides a wonderful context in which to understand and enjoy it.
---
Asian and Egyptian Influences
A survey of Cartier jewelry from the Art Deco period reveals a design sensibility influenced by the aesthetics and traditional art forms of faraway lands. A 1920s–30s Cartier jewel that combines, say, melon-ribbed emeralds from India, lapis lazuli from Afghanistan and Nepalese coral dragons could serve as the perfect paean to the global influences that so captivated the maison's designers. Throw in a little Egyptian faience or a pharaonic visage and you'd have your hands on a kind of holy grail.
The maison's famous mystery clocks, vanity cases and other objets d'art from this period incorporate distinctive elements such as sculptural carved jade bases or plaques depicting Chinese landscapes in mother-of-pearl and laque burgauté (the decoration of lacquer with iridescent blue-green shell inlay). Dragons and chimera were favored by Cartier, and its designers invoked Chinese fretwork in diamond and gemstone matrices framed in onyx and enamel.
Jewelry historians say the Asian influence can be detected in Cartier works as early as 1903, likely because of Louis Cartier's personal collection of Chinese porcelain and objets. And in 1909, when Cartier salesman Jules Glaezner went to China on a business trip, he returned with parcels of jade and nephrite and a host of traditional Chinese treasures, further fanning the flame of Cartier's fascination with the Far East.
The decorative art forms, gems and color palettes of Persia, Sri Lanka and India are likewise invoked in Cartier's finest Art Deco designs. The maison also heartily embraced, and may have originated, the Egyptian Revival motifs that are now considered a key pillar of Art Deco jewelry design. It was doing so as early as 1910 (hat tip once again to Cartier's Charles Jacqueau), but the discovery of King Tutankhamen's tomb in 1922, and the photos that proliferated in the media, offered even more inspiration. It also prompted the appearance of lotus, scarab and pyramid shapes, along with subtle references to the stripes and curvature of King Tut's headdress.
---
Colors and Contrast
A few iconic palettes were expressed in gem-set jewels in the Art Deco era, most notably in the geometric formations noted above. Green/black/white and coral/black/white are as classic Art Deco as it gets, and Cartier had plenty of these two combinations on view at the 1925 Art Deco fair. Cartier designers heightened the impact of these color stories by working in swaths of bright white diamonds that, through innovations in diamond cutting, could now be faceted into carré cuts, baguettes and other elegantly chiseled linear shapes. Platinum was the metal of choice because it was strong enough to handle complex mountings and its hue made the diamonds look exceptionally white, which made the onyx, enamel and colored-gem elements pop.
A monochromatic, super-sophisticated palette that centered on the undeniable glamour of an all-diamond look would emerge in the 1930s, often paired with rock crystal for textural contrast to balance the brilliant diamond fire with a kind of milky, otherworldly luster.
---
Tutti Frutti
In many ways, Cartier's Art Deco legacy can be summed up in two words: Tutti Frutti. Ironically, the distinctive style — marked by a lush profusion of carved ruby and sapphire berries and blossoms amid emerald leaves offset by bright white diamonds — does not adhere to the clean-lined tenets of classic Art Deco jewelry design. Rather, it reflects an absolutely singular vision of how to pair colors and textures in a design as opulent as it is optimistic.
The origin of the style, which was sometimes called "fruit salad" (the term Tutti Frutti was coined in the 1970s), is attributed to Jacques Cartier, the youngest in the Cartier brothers' partnership, who made frequent trips to India to source precious gemstones for the maison (and hobnob with the maharaja's crowd). His first trip was in 1911, when he fell hard for the Mughal technique of carving precious gems.
Cartier debuted the first Tutti Frutti design in 1925. Bracelets were a popular way to wear the motif, but it also surfaced in brooches and necklaces, a famous example being Singer sewing-machine heiress Daisy Fellowes' commission of a Tutti Frutti bib necklace known as the Collier Hindou in 1936. In 2020, a circa-1930 Cartier Tutti Frutti bracelet sold for $1.3 million at a Sotheby's auction, proving that there is still quite the, ahem, appetite for this particular fruit salad.