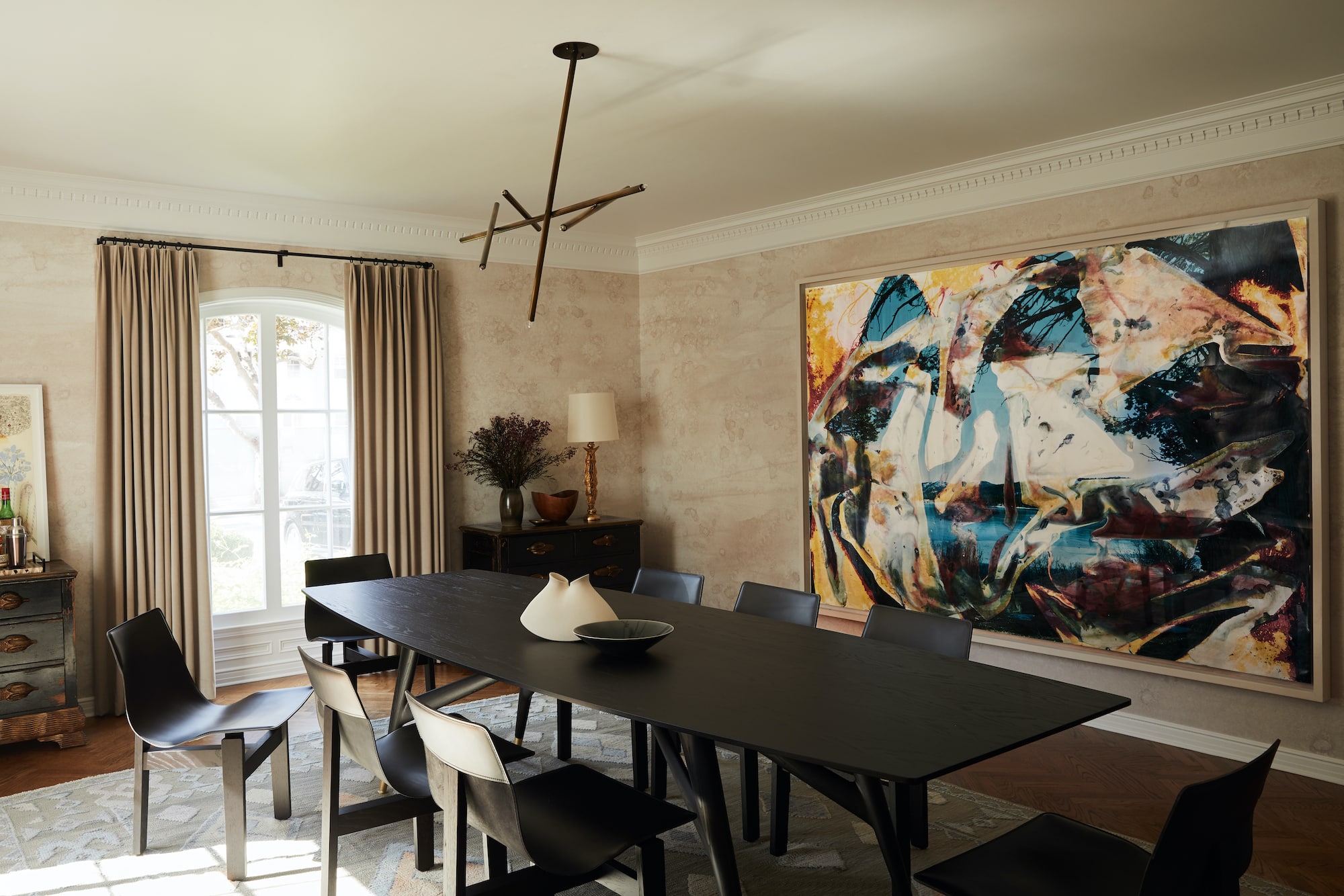 Paul R. Williams (1894–1980), who in 1923 became the first Black architect to join the American Institute of Architects and, in 2017, was the first to be awarded an AIA Gold Medal, built a pioneering career that defied systemic racism and celebrated versatility and beauty. A master of period-revival styles and modernist design, the Los Angeles–based "architect to the stars" built mansions suitable for traditional, Hollywood Regency and mid-century modern interiors.
"Williams reimagined historic elements for the L.A. lifestyle with flowing, entertaining-friendly layouts, indoor-outdoor spaces and more-exaggerated proportions that bespoke Hollywood glamour," says Oliver M. Furth, who is currently restoring a 1930s neo-Georgian Williams house in Bel Air using 20th-century furniture by Jean-Michel Frank, Jean Royère, Maison Jansen and pieces by such contemporary L.A. talents as David Wiseman and Bari Ziperstein. "His homes, while rooted in classical forms, made sense for Los Angeles — and they still do."
The Study spoke to five interior designers in Los Angeles, New York and Paris about the magic of Paul Williams and how they decorated his homes.
---
"Paul Williams was a genius, and because of the politics and mentality of the time in which he worked, clients had to go beyond their beliefs to hire him. He performed with such grace under those circumstances, creating houses that were perfection. His rooms flowed into one another — there were no dark, depressing corridors. The sense of proportion he possessed is not something that can be learned. You're either born with it or not. He was the California equivalent of Maison Jansen in Paris.
"I bought a house Paul Williams built on Doheny Drive that was pure Hollywood Regency — a little bit Georgian, with architectural elements you would see in the South of France. There was even some Louis XV paneling that he decorated with flowers and shells, and it was beautiful.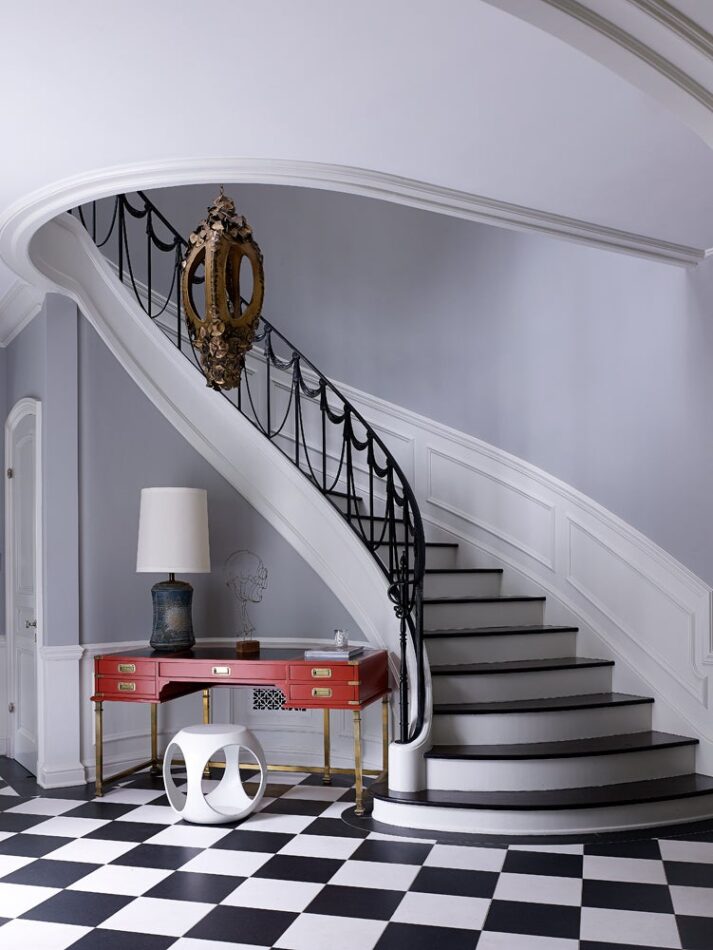 "It was important for me to link the architecture and the furniture, which includes designs from the era when the house was built as well as contemporary pieces. So, in the living room, I created a cohabitation of a Louis XVI chair en cabriolet with a chapeau de gendarme back, a Robsjohn-Gibbings chair, a Kagan sofa, Royère sconces and my designs for Jean de Merry.
"The foyer was classic Paul Williams: a staircase that is exactly right, with a railing that was built on-site, and checkerboard marble floors. I put a leather-topped Maison Jansen writing table underneath the staircase with a vintage plastic stool, all illuminated by a vintage ceramic desk lamp and a Curtis Jeré pendant.
"Some of the rooms were completely bare. So I imagined I had Paul Williams's pen in hand and drew what would be right in his style. In the dining room, for example, the room was too large for its height, so I had to bring as many verticals as possible, which meant adding columns and mirrors along with Emilio Terry plaster consoles based on the shape of the holy water shelves at the Church of Saint-Sulpice, in Paris.
"I designed the custom rug and the sun-shaped brass dining table with a parchment top to go with vintage chairs — I don't know who made them, but the design spoke to me. The chandelier was already in the house, so I threw in some twigs to reference Tony Duquette, because when you are in California, you must pay homage."
---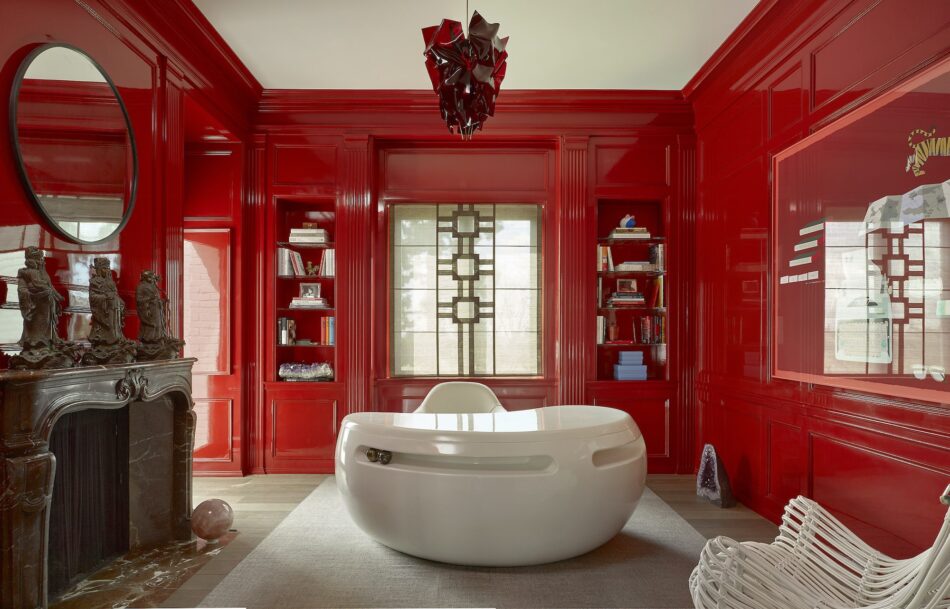 "Paul Williams was not one of those architects who thought furniture messed with his architecture. He was a master who knew how to scale for people, and he knew exactly how you would live and entertain in his homes.
"For Williams's 1934 Tudor Nellie Hirsch House, in Bel Air, I worked with architect Mark Rios to design a new white, glass-box modern addition, with a family room that features a Vladmir Kagan dining table and Karl Springer Onassis chairs underneath a massive bronze and porcelain floral chandelier by David Wiseman.
"In the original living room, the classical backdrop makes everything look good. I pulled all the way back to a 1908 Adolf Loos Elephant Trunk table. I used human-scale upholstered pieces from the 1920s through the '50s, including a Jean Royère Polar Bear sofa, and a 1990s Etienne Allemeersch table from 1stDibs, then reached all the way forward into the present day for a wooden Campana Brothers cabinet, which I used as a textural counterpoint.
"The owner of that house is on the board of the Los Angeles County Museum of Art and has a wonderful collection that includes Ed Ruscha, Jonas Wood, Rirkrit Tiravanija and Doug Aitken. She became very interested in acquiring contemporary art furniture pieces as well, including the Stuart Haygarth Comet light fixture in the foyer and a Jorge Pardo plastic heart pendant for the library.
"That room features Williams's elaborate millwork, which we painted the client's favorite Chinese red. I immediately knew a certain sculptural desk I'd seen by Maurice Calka would keep the room from looking too serious. It's curvaceous, comfy-cozy and sexy and reminds me of the 1963 Sculptured House by architect Charles Deaton that was featured in Woody Allen's Sleeper."
---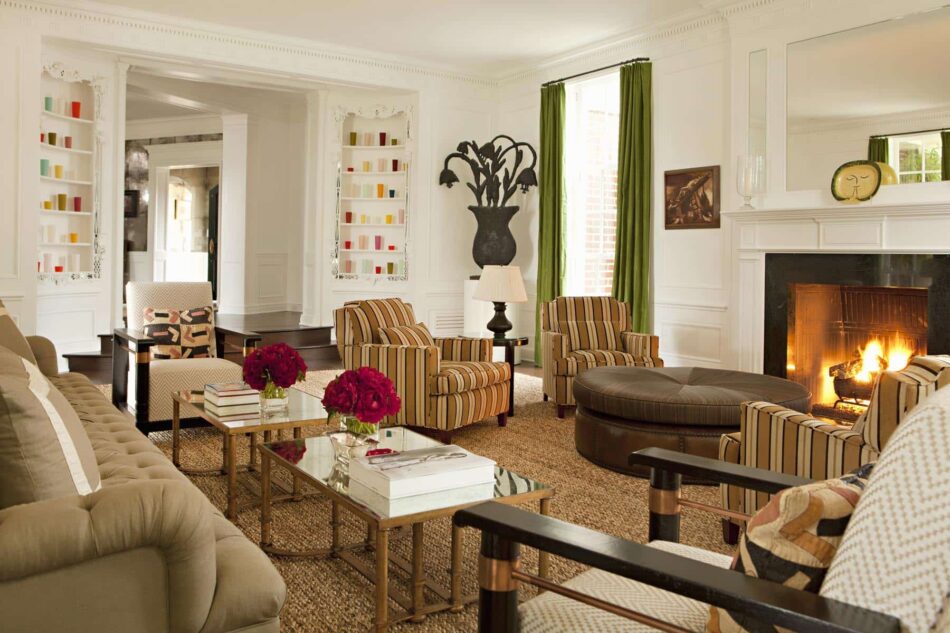 "Set on 16 acres, Paul Williams's 1932 Scott-McMartin house is impressive — the Beverly Hills equivalent of a Rosario Candela on Park Avenue — as is the list of people who have lived there: Polly Bergen and agent Freddie Fields, Michael Landon and now my client, the film producer Steve Tisch, who replaced the tennis courts with a museum for his magnificent collection of art — pieces by Ed Ruscha, Robert Mapplethorpe, John Baldessari, Gerhard Richter, Willem de Kooning, Jean-Michel Basquiat, Graham Sutherland and Catherine Opie.
"Though the exterior is neo-Georgian, the rooms have that transitional vibe, so it doesn't need Georgian furniture or 19th-century art. In the entry, for instance, I placed a 1940s French Art Deco center table from 1stDibs. Then, in a living room so wide I could've created four seating arrangements, it was so easy to hang art and place eclectic and modern pieces, including my own designs. Williams's design for that space includes these Chinese Chippendale built-in shelved niches that could become really fussy with the wrong accessories, so I used them to display minimalist but colorful wax sculptures by George Stoll.
"Even completely empty, this house would still be beautiful. It's so perfect that anything I could have done would look good. My goal was simply not to mess it up."
---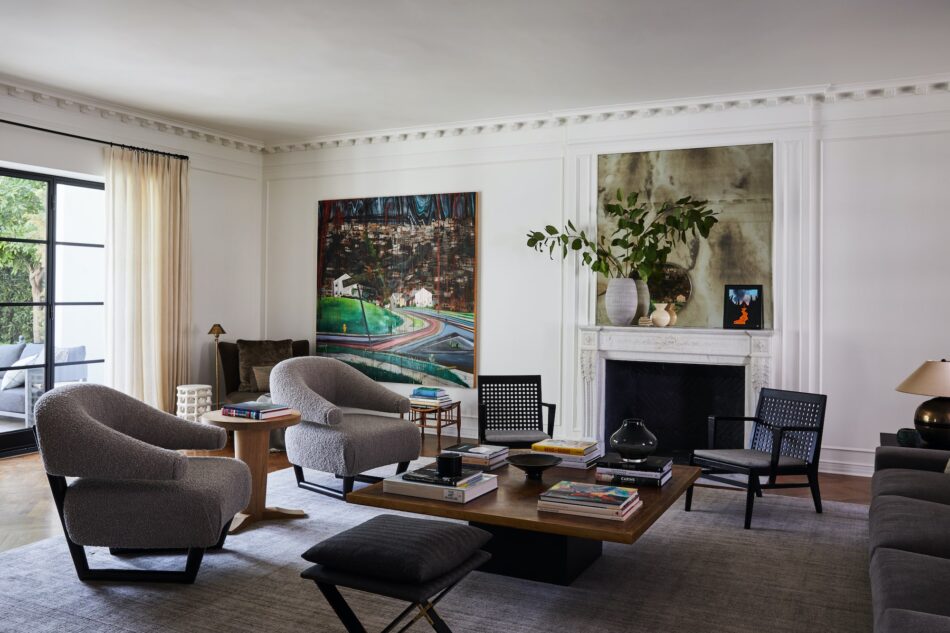 "Paul Williams's architecture balances grand elements with rooms that are intimate and encourage families to gather. We've designed the interiors for two of his Hancock Park homes and are currently on our third. We always attempt to design rooms that foster conversation, family time and warmth.
"We love blending different time periods of art and furniture together in architectural settings that are dramatic and elegant, and Williams's generous spaces are certainly that. They also allow for multiple seating plans. In one living room, for example, we placed a Maxalto (the B&B Italia contemporary line) chaise in a corner, and by the fireplace, we used a pair of sensuously curved Jean Royère armchairs, which we contrasted with the geometric quality of French grid chairs from the 1940s. We love how a Ken Price painting fit precisely into the fluted millwork of Williams's classical fireplace.
"Throughout that house, the architecture let us place '40s French seating, a Frits Henningsen sofa, vintage bentwood and cane stools from JF Chen and a Giò Ponti table alongside contemporary pieces, including our custom designs and items by Gabriel Scott and Thomas Hayes Studio."
---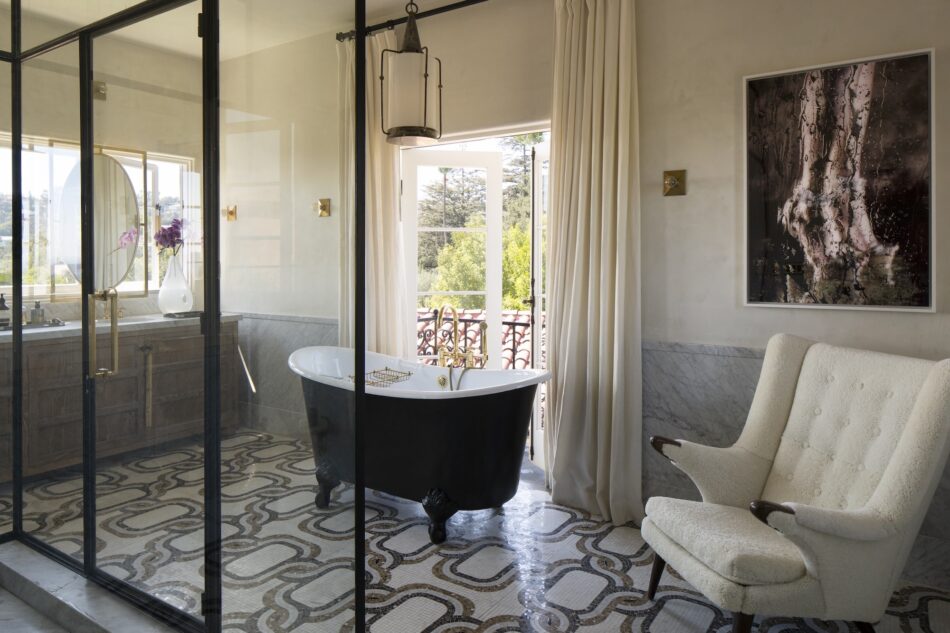 "Paul Williams's vision was not just about understanding scale, elegance and classical proportion but also about creating comfort. And to me, comfort is the real key to luxury.
"I have had the pleasure of working on several Williams houses, including the home of Grey's Anatomy star Ellen Pompeo. Unusually for the architect, it has a Tuscan influence as well as delicious touches of Moorish detailing. Williams's smart use of scale and his elegant floor plans are fully on display there, as are his sense of flow and his ability to capture light, to position a room to create view points and to create dramatic architectural flourishes. Decorating his spaces was a complete pleasure.
"To create a foundation for comfort, I used custom soft furnishings from my line on 1stDibs in the living room and the bar. I placed a Hans Wegner Papa Bear chair in a bathroom and 19th-century Spanish chairs and a vintage Moroccan chandelier in the dining room, and I layered in French and Italian '40s and '50s pieces throughout the home."