Asked to renovate a home on the charming island of Sardinia, off the western coast of Italy, Todhunter Earle Interiors wound up completely rebuilding it. The result is series of individual but linked structures, whose warm and inviting interiors are equal parts soothing and sophisticated.
"We tried to stick to local materials — wood and stone, plus a Sardinian style of concrete we used for floors," says Emily Todhunter, coprincipal with Kate Earle in the British firm. In this indoor/outdoor sitting area, the duo placed a sofa of their own design against a wall and over it mounted a fish-shaped sculpture they created using pieces of driftwood from a local flea market.
---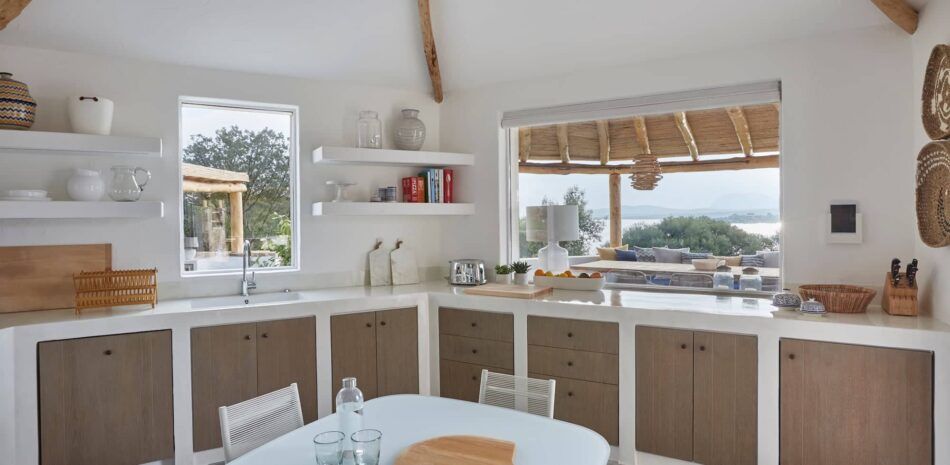 The airy and light design continues in the kitchen, where an Antonio Citterio table holds pride of place, surrounded by cabinets in a soft brown wood and countertops coated in glossy white resin.
---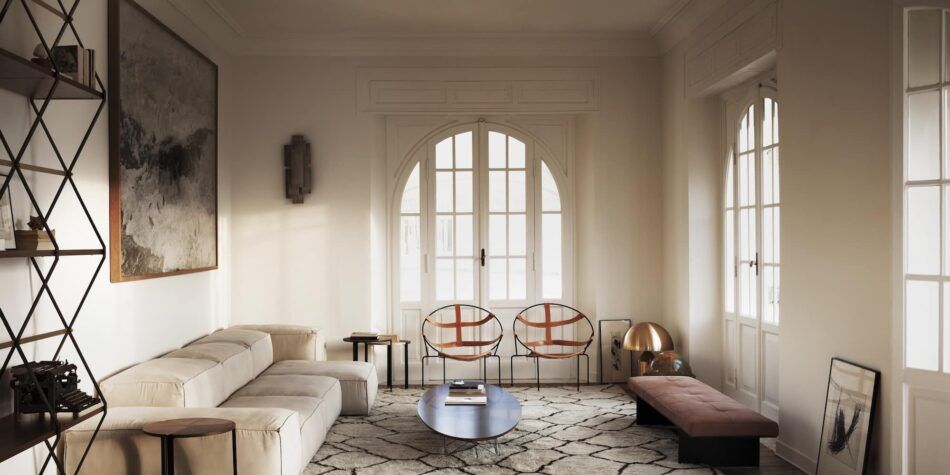 For a Rome apartment belonging to a young family, Milan-based Quincoces-Dragò & Partners aimed to maintain its original architectural details while updating it to suit a 21st-century lifestyle.
The firm coprincipals, husband and wife David Lopez Quincoces and Fanny Bauer Grung, outfitted the living room with vintage Flávio de Carvalho chairs, from Be Modern XX Century Design Collection, plus side tables and a bench designed by Lopez Quincoces in neutral yet rich shades. "You could always add more to our spaces," he says in a jocular nod to the pair's pared-down sensibility.
---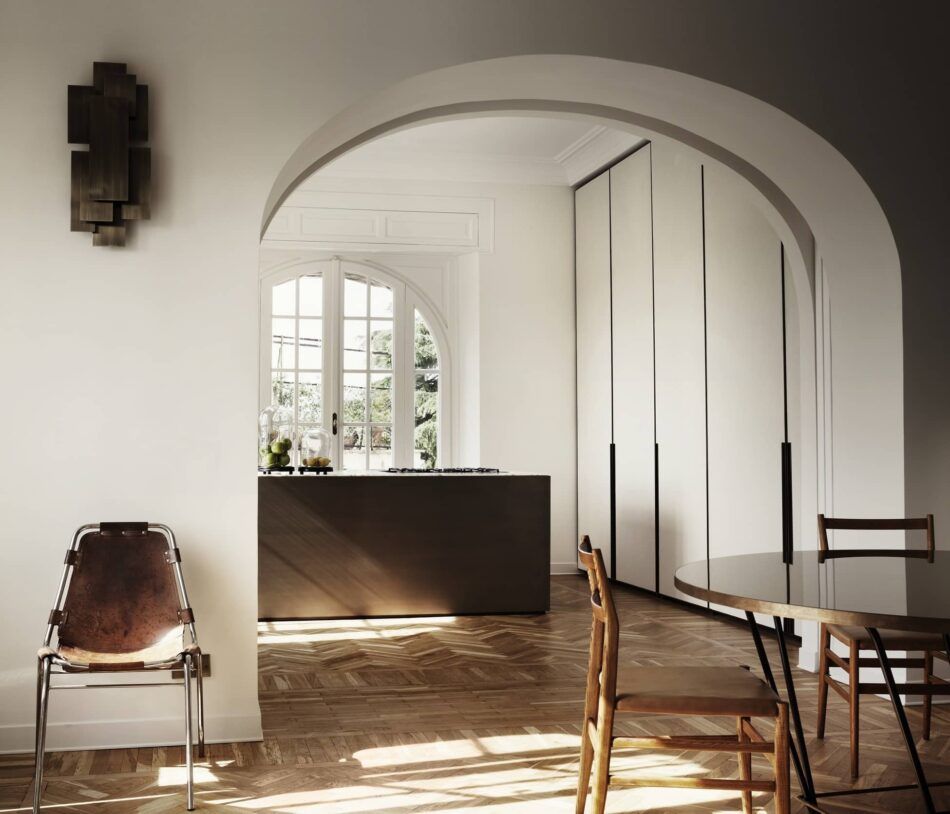 Their minimalist leanings are evident the kitchen and dining area, which have hidden floor-to-ceiling storage and movable walls. The spaces are sparsely but elegantly populated with iconic pieces like a Charlotte Perriand Les Arcs chair and Giò Ponti Leggera dining chairs set around a contemporary Dimore Studio table. "A room doesn't need to be overcrowded or overdramatic," Bauer Grung points out.
---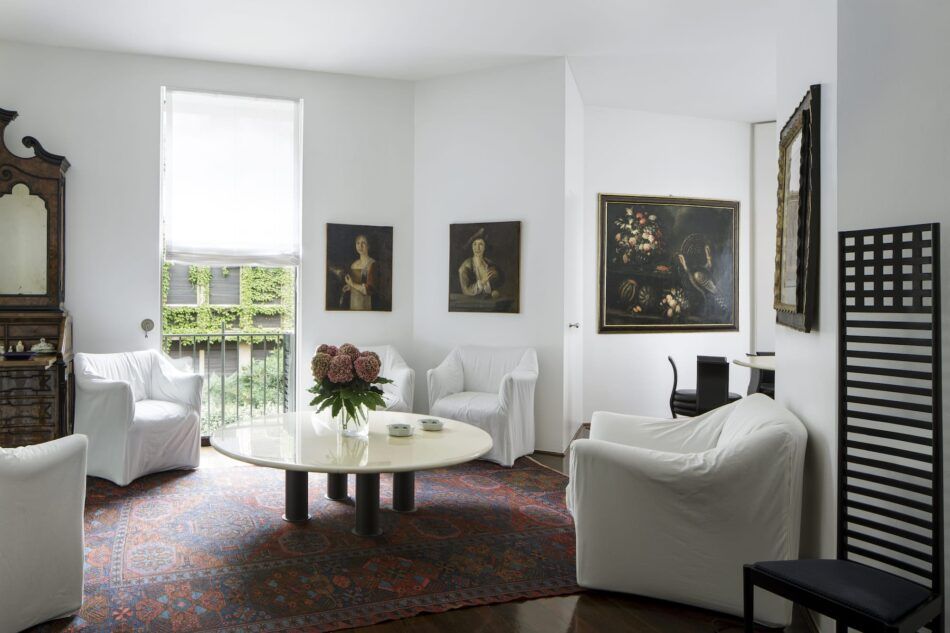 Italian architect Francesco Soro's Milan apartment proves that minimalist interiors can be warm and inviting. Over the 40 years in which he has lived there, the rooms have become repositories of design, where contemporary pieces converse comfortably with centuries-old antiques, such as an 18th-century secretary and a high-back chair by Scottish architect Charles Rennie Mackintosh.
Also in the mix are pieces of Soro's own design, like the armchairs in the living room, as well as the coffee table version of his 1990 Smalto table that they surround.
Soro's creations are featured in the Collage collection he launched with his son and daughter in 2014. Still, he resists the label designer. "I am an architect," he insists. "My generation never used the word designer. We would use our pencils and go to craftsmen with our ideas."
---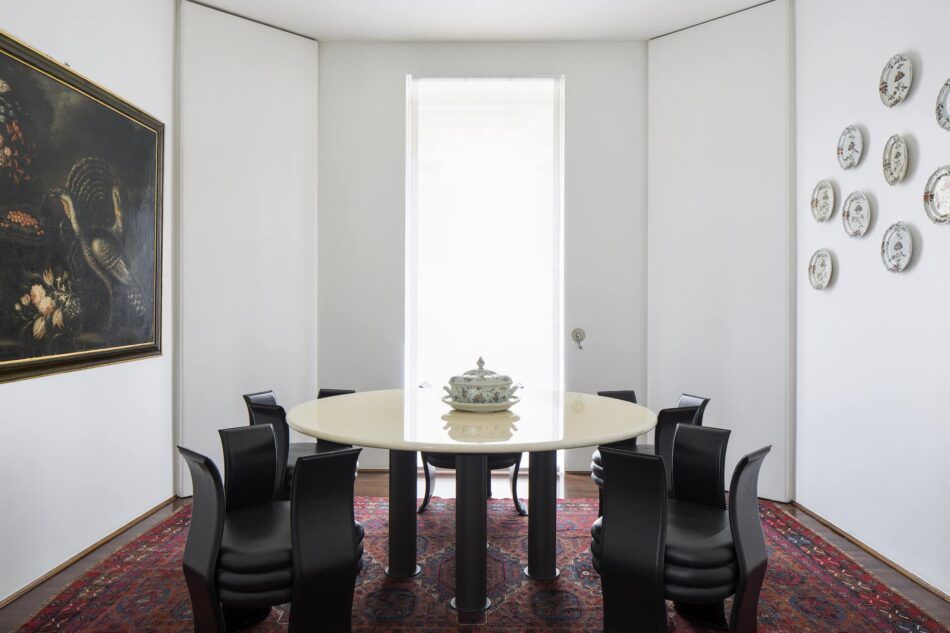 In the white-washed dining room, Soro partnered his own structural chairs with an iron-legged, marble-topped 19th-century Lombardy table, adding contrasting elements on the two walls. One sports an arrangement of decorative floral dishes that his wife found in an antique shop; the other, a dark still-life painting.
---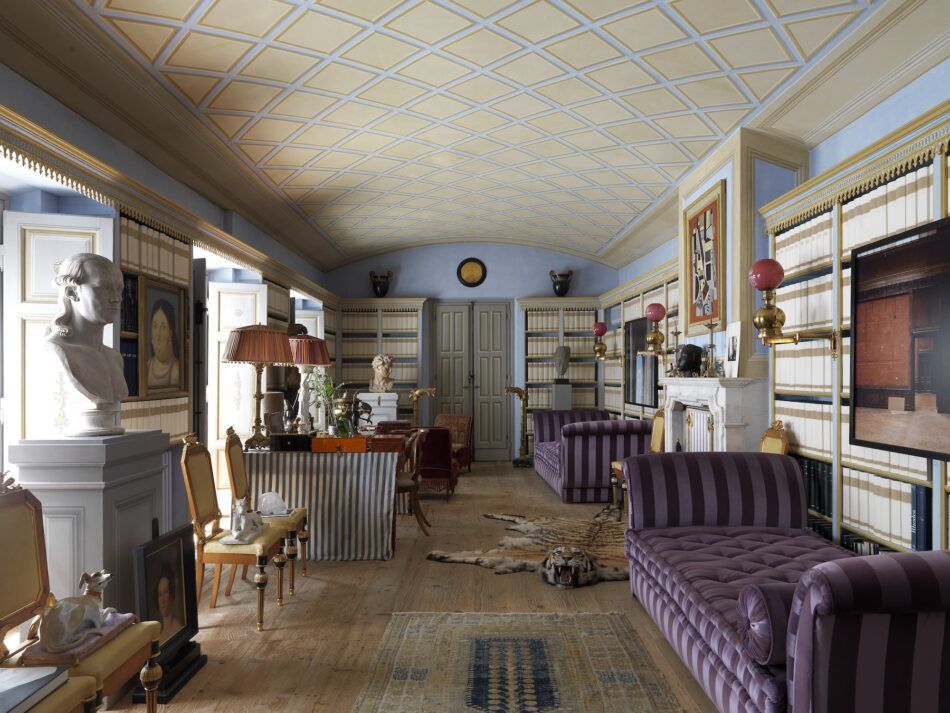 Massimo Listri's Florence apartment is the definition of eclectic, chockfull of diverse objects and art the architectural photographer picked up in various venues around the world or created himself. In the salon, for example, the robin's-egg blue walls are lined with shelves of monochrome archival volumes interspersed with colorful works by numerous painters, including Fernando Botero, as well as Listri's own pictures.
---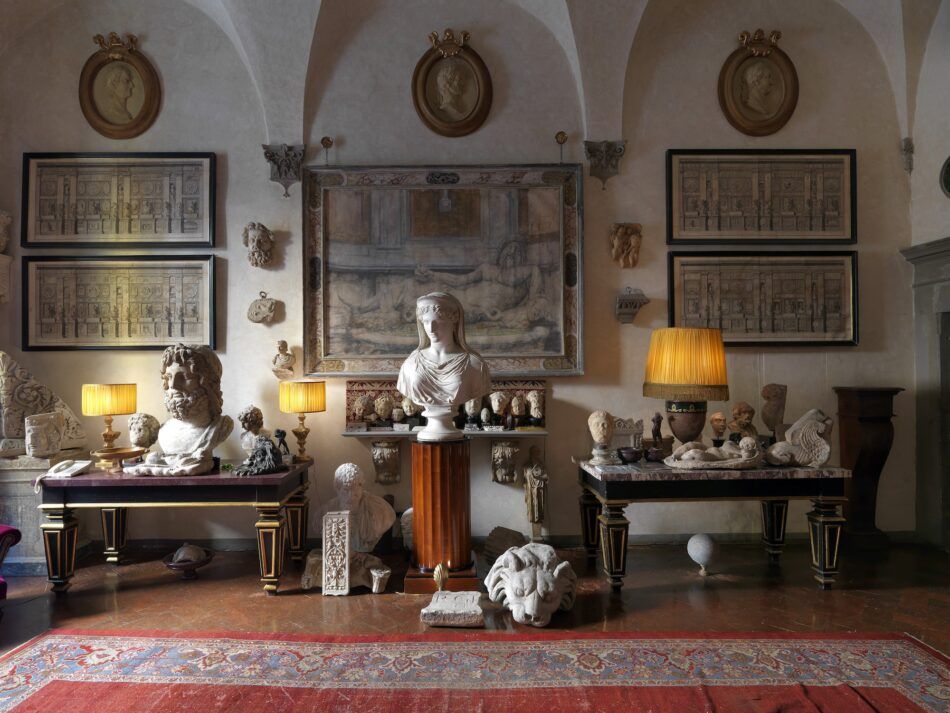 Listri may be a photographer, but he clearly appreciates other art forms— especially classical sculpture. In the entry, he arranged part of his impressive collection of antique statuary around a bust of the Roman goddess Juno on an antique pedestal.
---
A deconsecrated 14th-century Tuscan church is home to another legendary Italian photographer. Massimo Vitali left the structure's weathered walls and kept the high-ceilinged interior wide open, decorating it sparingly with items like an antique Fotografia sign he found in the garden and set atop 19th-century bookshelves.
"Every piece here has a meaning," says Vitali, who warmed the somewhat stark space with pops of color like the blue of the leather Francesco Binfaré chaise longue in front of the stairway.
---
Aqueous hues continue in the lounge area, where a turquoise chair by the Campana Brothers for Edra sits next to two Sponge armchairs by Peter Traag. A 1950s bookshelf displaying Limoges and Rosenthal china and glassware adds a daintier element to the otherwise rugged space.
---
The late designer Renzo Mongiardino was known for his lavish interiors, of which this living room, with its dramatic fireplace flanked by a pair of velvet armchairs, is a sumptuous example.
---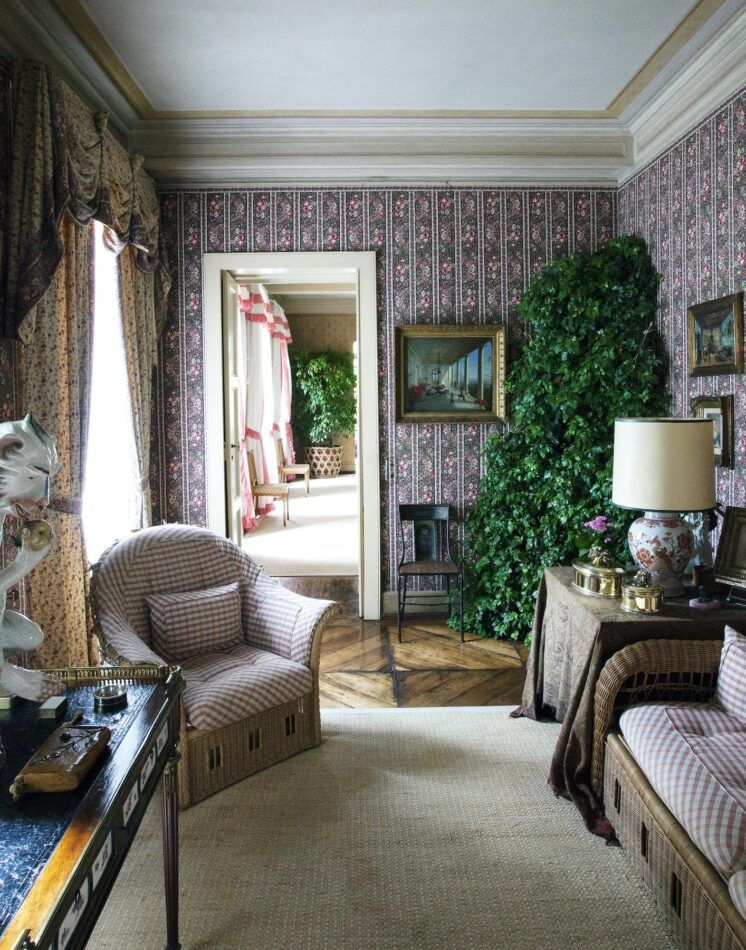 When working on the Villa Frescot, the Agnelli family residence outside Turin, Mongiardino encouraged Marella Agnelli to design her own fabrics based on old Piedmontese prints she had researched. Her creations were used throughout the house.
---
"As with all our projects, we respect the architecture that we are working within," Megan Oliver, associate director at Godrich Interiors says, describing the firm's design for this 17th-century Venetian palazzo. "The main challenge was to create a usable space for the family that felt grand but comfortable, where they could both entertain and relax." Grand certainly describes the dining room, which features a specially commissioned table.
---
In the living room, Godrich reupholstered an armchair originally covered in green velvet and illuminated it on either side with lamps that have bulbs both in their bases and encircled by their shades.
"The wall lights were designed and made specifically for this project by Seguso, a company that has been making Murano glass since 1291!" says Oliver, adding, "The varying thicknesses of glass shine a dappled light across the walls, which is really beautiful. They create a real sense of warmth in what is a very large space."
---
Dimore Studio transformed the second floor of Palazzo Fendi, in Rome, into a VIP apartment for the luxury fashion house's top clients. In the meeting room, vintage Venini chandeliers hang above a lounge chair and ottoman by Bruno Mathsson and a sofa by Dimore.
---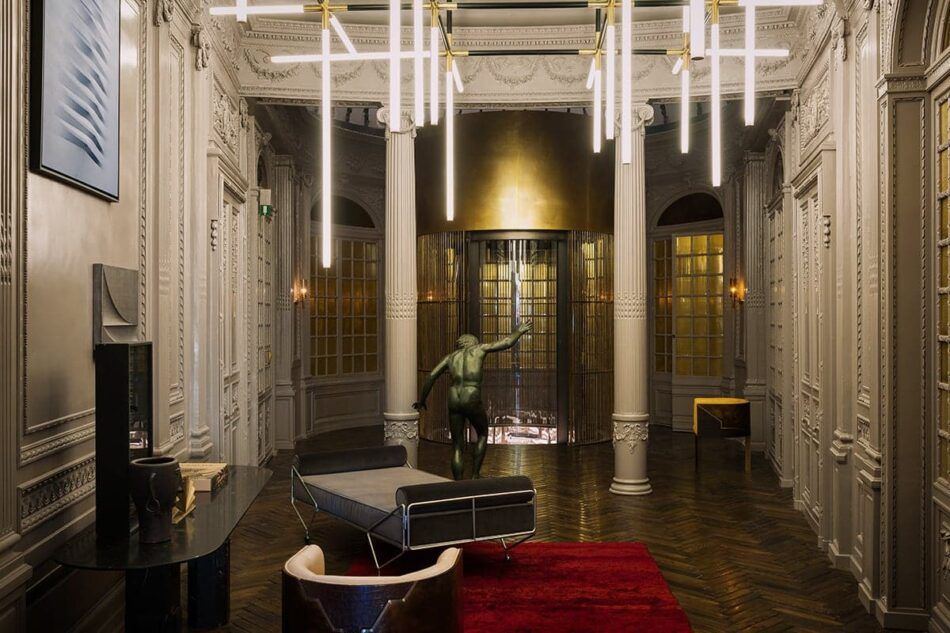 The apartment's foyer features an Apta daybed by Giò Ponti.
---
The living room of an apartment Nate Berkus designed in Milan contains a sofa by Patricia Urquiola for B&B Italia, a 1970s coffee table sourced from 1stDibs and a Triennale floor lamp by Angelo Lelii for Arredoluce.
---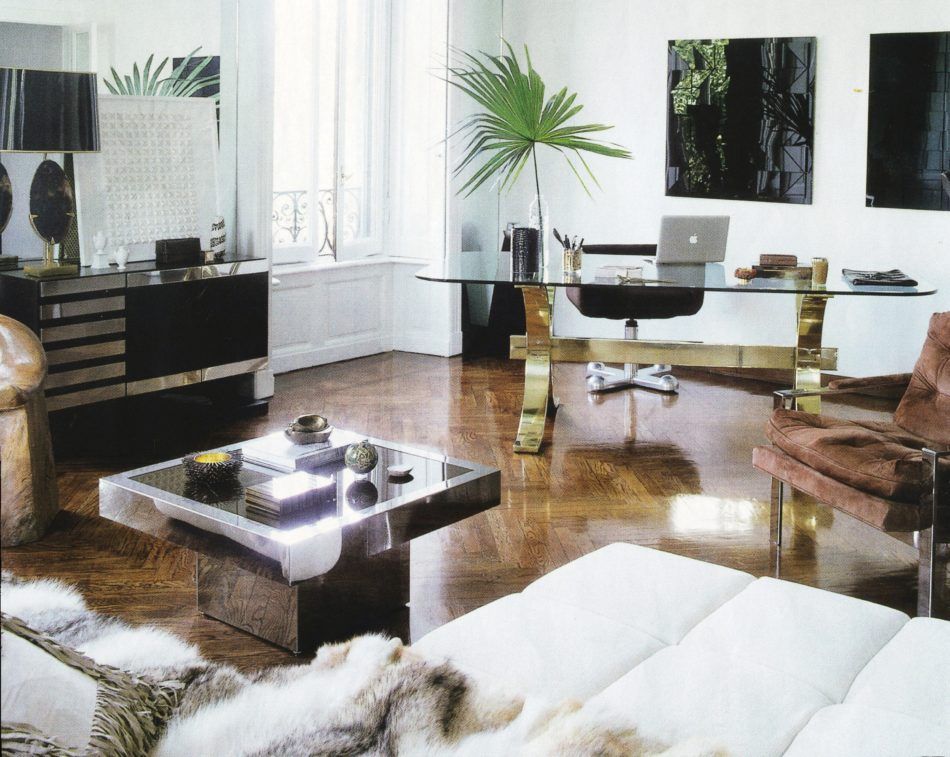 A 1970s glass-topped desk and a wood-and-chrome credenza define a home office area in the living room.
---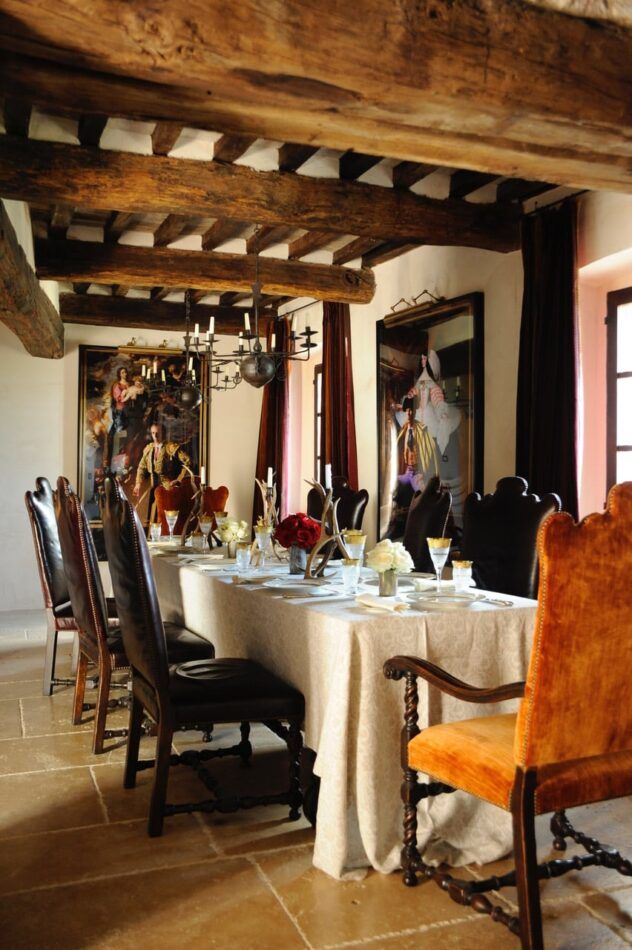 Tasked with restoring the crumbling Castello di Santa Eurasia, in Italy's Umbria region, Martyn Lawrence Bullard reconfigured the interiors, situating the formal dining room in the 14th-century former horse stables.
A pair of 17th-century Dutch iron candlelight chandeliers from JF Chen hang over the table, which is surrounded by 18th-century-style Italian chairs with early-20th-century leather upholstery. Denise de la Rue's Mexican bullfighter photos hang on the walls.
---
For this guest room, located in the west turret, Bullard's MLB Atelier designed a custom canopy Portuguese bed, which the designer flanked with a pair of table lamps made from 18th-century silver-leaf wooden candlesticks.
Other furnishings include a late-17th-century Tuscan armoire and early-18th-century Spanish chairs still covered in their original cordovan leather. The walls are clad in Schumacher damask.
---
In the living room of designer Achille Salvagni's Roman apartment, Villa Albani, housed in an 1898 building, an artwork by Ilya and Emilia Kabakov is mounted over a pair of Nino Zoncada armchairs with geometric side tables .
---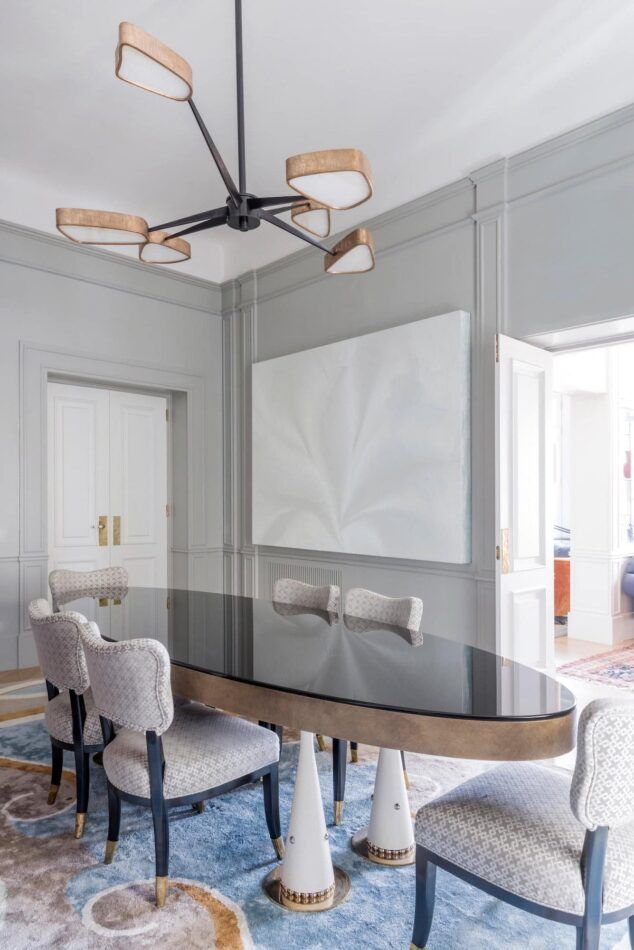 The dining room sports a Salvagni-designed Octopus chandelier, offered by Maison Gerard, hanging above a bronze-edged table.
---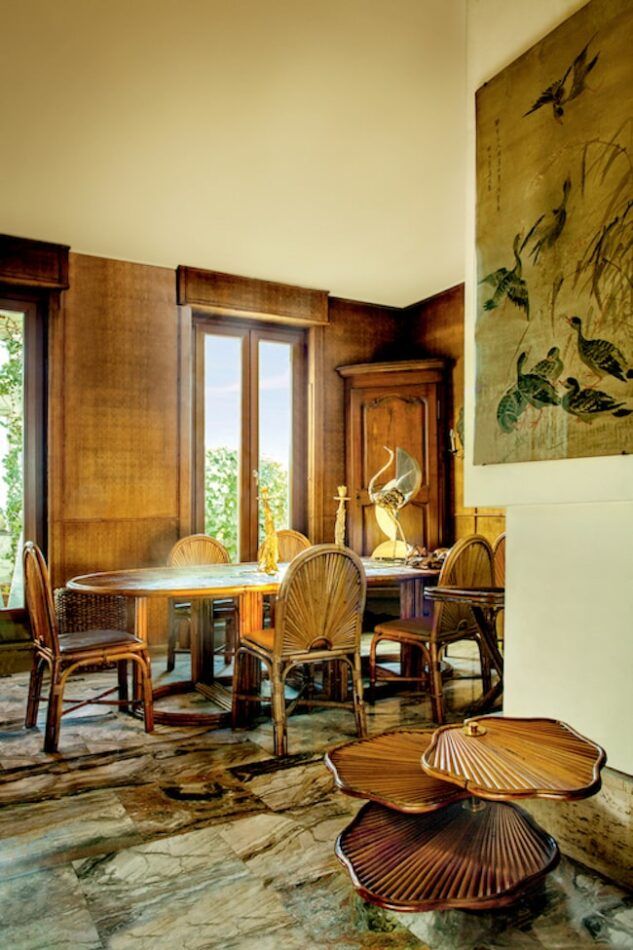 The dining area of designer Gabriella Crespi's Milan penthouse features her Rising Sun bamboo table, which is surrounded by matching chairs and adorned with her Gocce Oro candlesticks and a bronze ostrich from her "Animal" series. In the foreground is her swiveling Lotus Leaves table.
---
On the patio, a mimosa tree shades Crespi's Rising Sun armchair and one of her bronze animal sculptures.