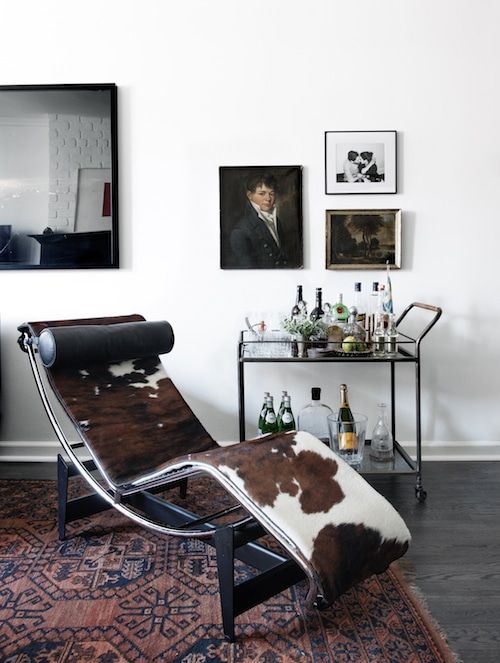 Furniture dealer Liza Laserow of Laserow Antiques is "deeply in love" with this cowhide-covered LC chaise longue by Le Corbusier. "I love everything by him," she says. "The French just know how to do it."
Photo by Emily Andrews
---
"There are few pieces more iconic in mid-century modern design than the Eero Saarinen table from the '50s and the Warren Platner chair from the '60s," says Summer Thornton, who used both pieces in this Chicago dining room. "Saarinen revolutionized table bases with utter simplicity in mind. Platner's chair is still modern and streamlined but with a bit more decorative touch. When you walk in, you can't help but smile because it feels so fresh."
Photo by Josh Thornton
---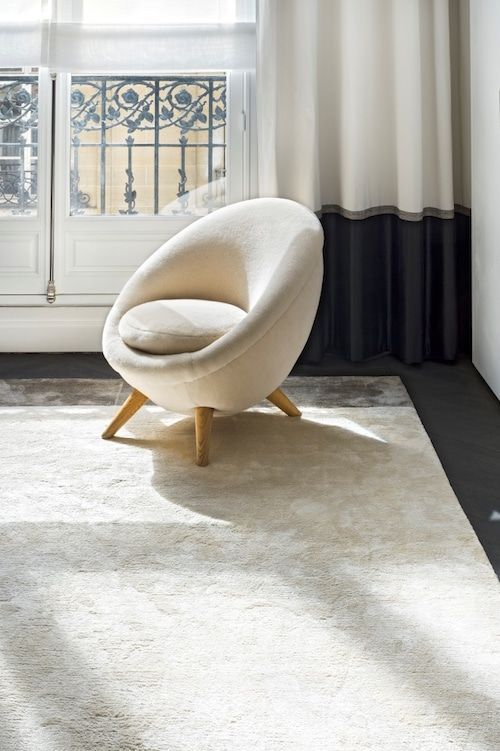 A Jean Royère Oeuf chair provides a comfortable resting place near a window in this Paris apartment by Charles Zana.
Photo by Jacques Pépion
---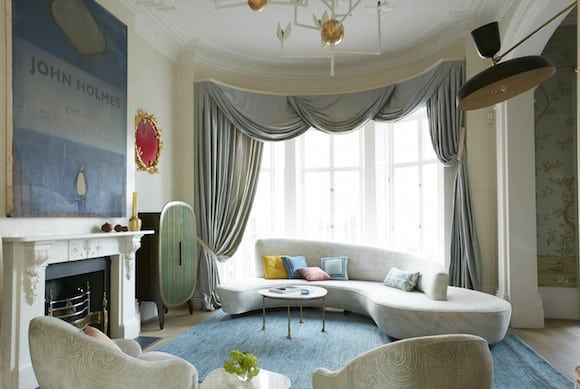 "We were fortunate to acquire many special pieces for these clients. A particular favorite is the custom sofa designed by Vladimir Kagan," says Maddux Creative, who updated this 1840s London home.
Photo by Ricardo Labougle
---
For this apartment in Lebanon, Kelly Hoppen employed her trademark neutral palette and statement pieces like a white leather-upholstered armchair and ottoman by Charles and Ray Eames.
Photo by Mel Yates
---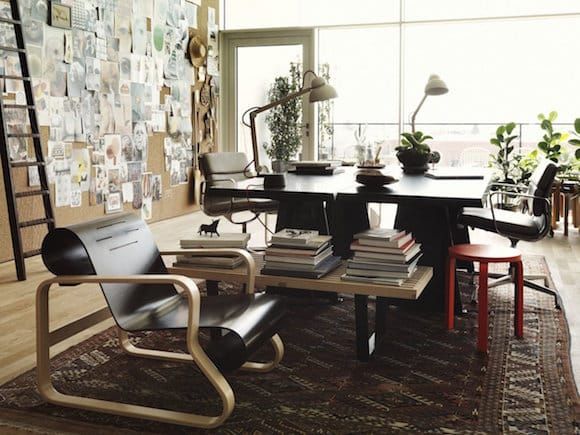 For an installation in the loft of Herzog & de Meuron's VitraHaus in Weil am Rhein, Germany, Studioilse featured works by iconic designers, like Alvar Aalto's 41 Paimio chair. The intention was to show a real-life domestic setting of Harri and Astrid, a fictitious Finnish-German couple, bringing to life Vitra and Artek's portfolios together in one setting for the first time.
Photo by Felix Odell
---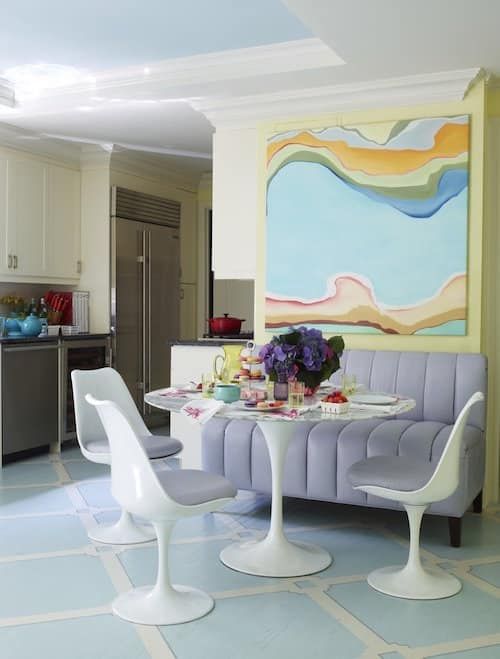 Kemble Interiors' Palm Beach roots are apparent in this Manhattan kitchen, which includes an Eero Saarinen Tulip table and chairs, which, along with the banquette, are upholstered in lavender faux leather. The floors were hand-painted in a trellis pattern.
Photo by Simon Upton
---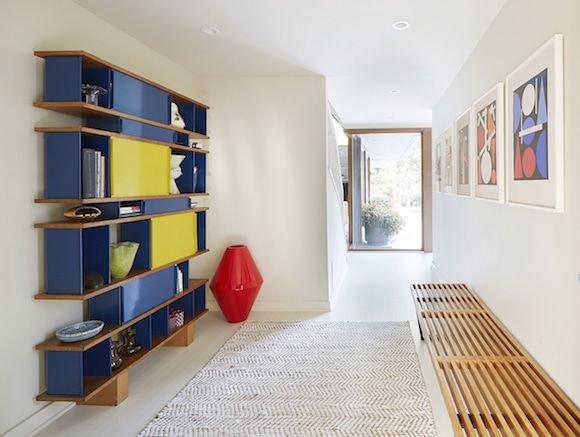 Amy Lau designed this East Hampton, New York, retreat for a pair of art and design lovers, so iconic Modern furniture figures prominently throughout the home. In the entryway, a George Nelson bench is positioned across from a Charlotte Perriand bookcase.
Photo by Thomas Loof
---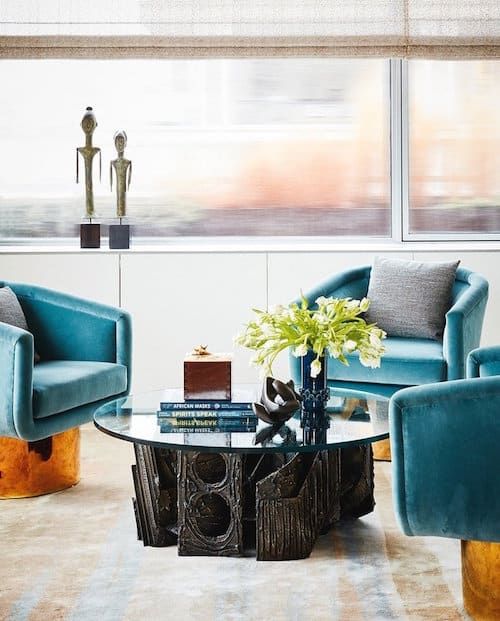 Lau designed this Manhattan living room for clients who "have a deep interest in brutalism, which is reflected throughout the residence with beautiful metal details like the substantial Paul Evans coffee table."
Photo by Thomas Loof
---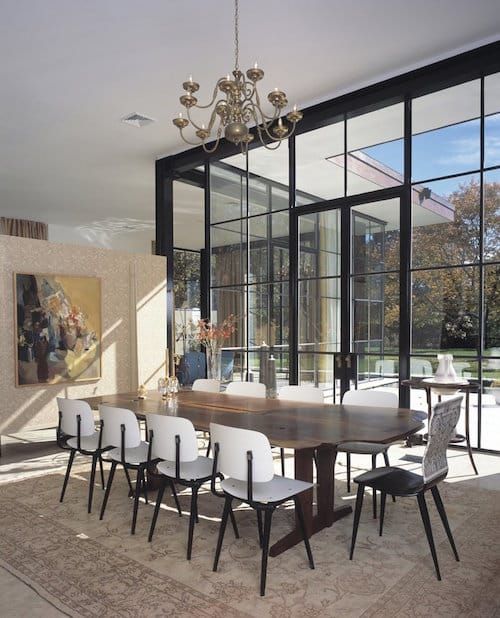 The centerpiece of this Michael Haverland–designed dining room in East Hampton, New York, is the 10-foot-long George Nakashima table with its patinated walnut and natural free edges, which he says softens and warms the modern space. "A black and white vintage Piero Fornasetti Capitello chair, circa 1960, at the head of the table complements vintage Revolt chairs by Friso Kramer chairs, circa 1953, which are light and airy enough to expose the beauty of the table," Haverland says.
Photo by Chris Bausch
---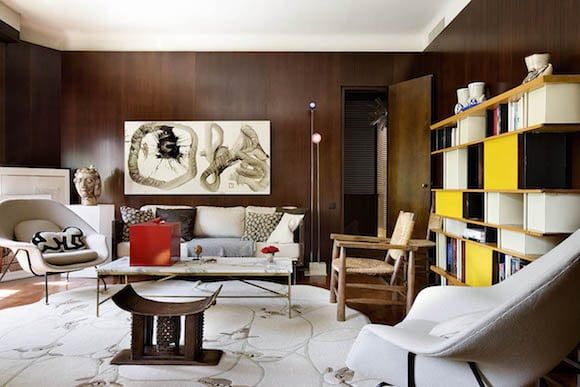 For this 1920s apartment in Toulouse, France, Suduca & Mérillou covered the walls in mahogany woodwork so that the iconic furniture would pop against them. "We loved to include the Charlotte Perriand Mexique bookcase in this space for the game of colors and lines," says Theirry Mérillou.
Photo by Manolo Yllera
---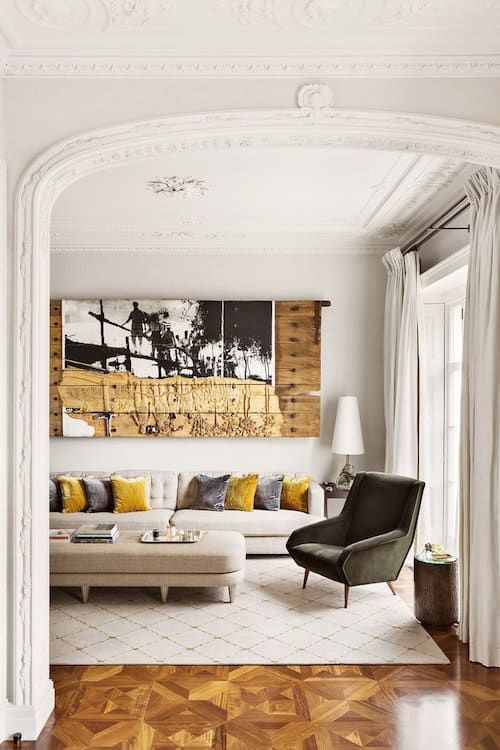 Giò Ponti's architectural Model 803 armchair features prominently in the living room design of this late 18th-century townhouse by Francis Sultana. The large-scale artwork Reflection Memory Door by Zhang Huan hangs above a bespoke sofa and ottoman, both by Sultana.
Photo by Manolo Yllera
---
"We wanted an indoor-outdoor feel, so you feel like you are in the meadow," Thad Hayes says of the coastal Massachusetts home he designed for his college roommate, landscape architect Douglas Reed. The dining area features Hans Wegner Wishbone chairs, from 1949, around a black-granite Joe D'Urso dining table from Knoll. "Douglas and I both traveled through Japan and have an affinity for the Japanese sensibility," Hayes says. "Everything is very considered."
Photo by Scott Frances
---
BoydDesign updated Craig Ellwood's 1956 Steinman House in Malibu, which features a pair of rosewood LCM chairs by Charles and Ray Eames. Michael Boyd describes the chairs as "the classic form in an unusual and rare material —rosewood … swanky but informal at the same time."
Photo by Richard Powers
---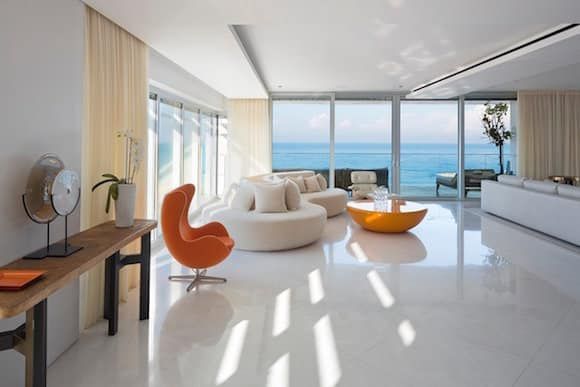 For this penthouse in Tel Aviv, Isabelle Stanislas chose Arne Jacobsen's Egg chair to add roundness to the space and break up the rectilinear room.
Photo by Olivier Löser
---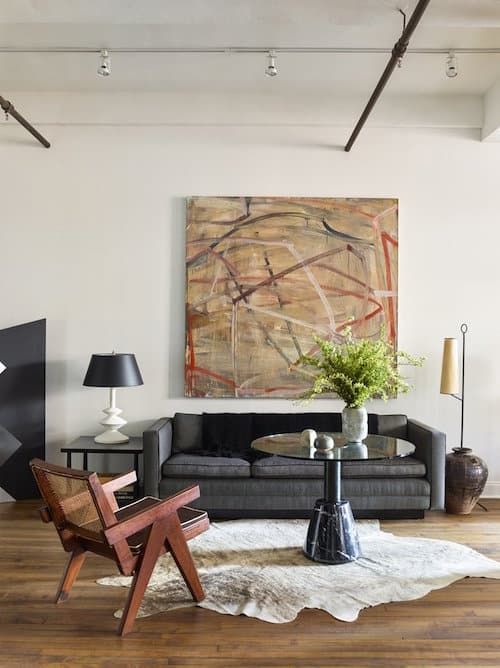 "I love being surrounded by things that make me happy, and these pieces do just that," Neal Beckstedt says of the items in his New York office's sitting area, which include a teak and cane easy chair by Pierre Jeanneret. "I do a lot of shopping at auctions and flea markets, and I am always surprised by what amazing iconic pieces you can find in the most unexpected places."
Photo by Eric Piasecki
---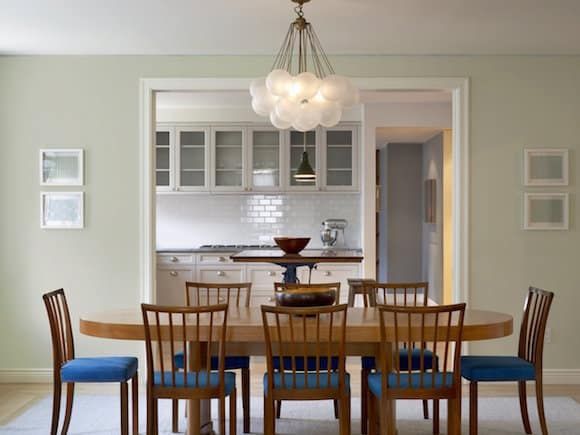 "We worked on this around 2011, and Apparatus was just starting out," Joan Michaels of 2Michaels says of the Cloud fixture, which the designers used in a West Village, New York, apartment. "We saw the fixture at ICFF and I instantly knew it would be perfect in the space! It looks like a fixture from the early 1900s, yet it also has a modern, ethereal quality to it."
Photo by Eric Laignel
---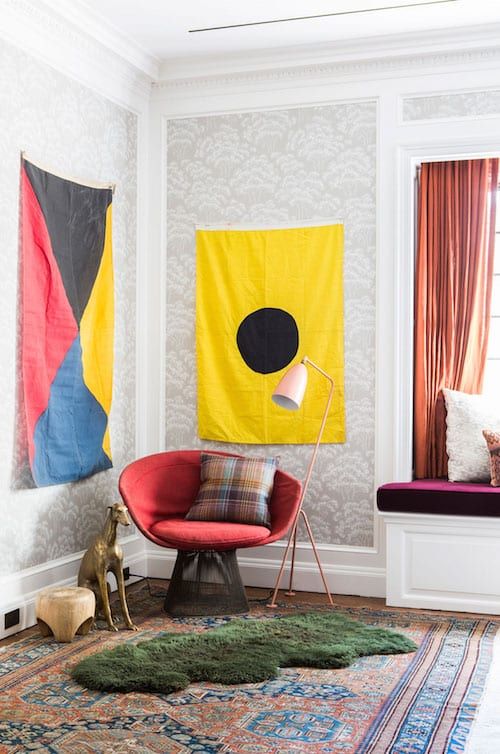 Frances Merrill of Reath Design paired Greta Grossman's Grasshopper floor lamp with a Platner chair in a fictional boy's room for the Maison de Luxe Show House at Greystone Mansion in Beverly Hills. "The more modern pieces tone down the classic architecture and make the room feel more personal," Merrill says.
Photo by Laure Joliet
---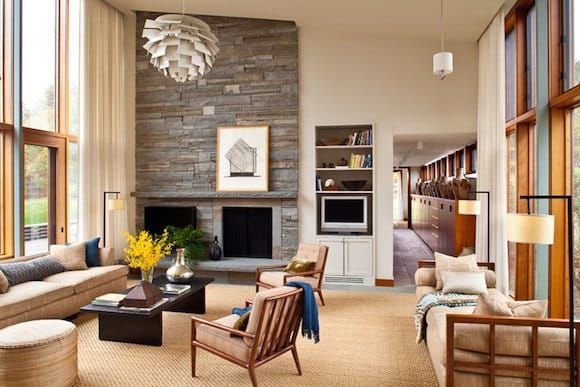 "All of the furnishings and finishes were selected to connect this new contemporary summer home on Martha's Vineyard to its modernist precedents, but without resorting to the 'usual suspects,'" says Glenn Gissler. "The over-scaled vintage Poul Henningsen Artichoke light was selected to occupy the large volume the lofty living room in a sculptural manner, while providing soft light in the evening."
Photo by Gross & Daley