Jamie Creel is the owner and curator of the Upper East Side boutique Creel and Gow, which overflows with exquisite objects, from deconstructed lobsters, taxidericy birds and prehistoric fossils to mounted crystals, silver-coated shells and exotic textiles. Not unlike his New York shop, Creel's Paris apartment is a veritable treasure trove — a modern-day cabinet of curiosities. That said, the eclectic apartment has a distinctly French feel; it juxtaposes antique and modern French with contemporary art objects and furniture that often have personal significance, many by artists in his close circle of friends in Paris.
"While my apartment in New York is filled with family memorabilia, portraits, paintings, silver, furniture and books passed down from generation to generation," says Creel, "my Paris apartment has pretty much only things that I have picked since I first arrived here."
Creel first moved from Manhattan to Paris in the late 1990s, when he opened l'Atelier du Savon, a luxury soap company. Since 1999, he and his partner, Marco Scarani, creative director for entrepreneur Chris Burch, have spent several months each year in a magnificent pied-à-terre in a 17th-century townhouse in the chic Saint-Germain-des-Près district. (They now split their time between there, Manhattan and Tangier.)
Located on the Rue de Seine, the nearly 3,000-square-foot apartment has windows overlooking the Louvre and the neoclassical dome of the Institut de France. Once lived in by the Queen Margot, known for her juicy memoirs, the property was acquired in a French candle auction, a romantic tradition held over from the 17th century in which the bidding ends with the expiration of a candle flame. Before moving in, Creel and Scarani spent about a year and a half renovating the space, which had been empty for decades.
---
Master Bedroom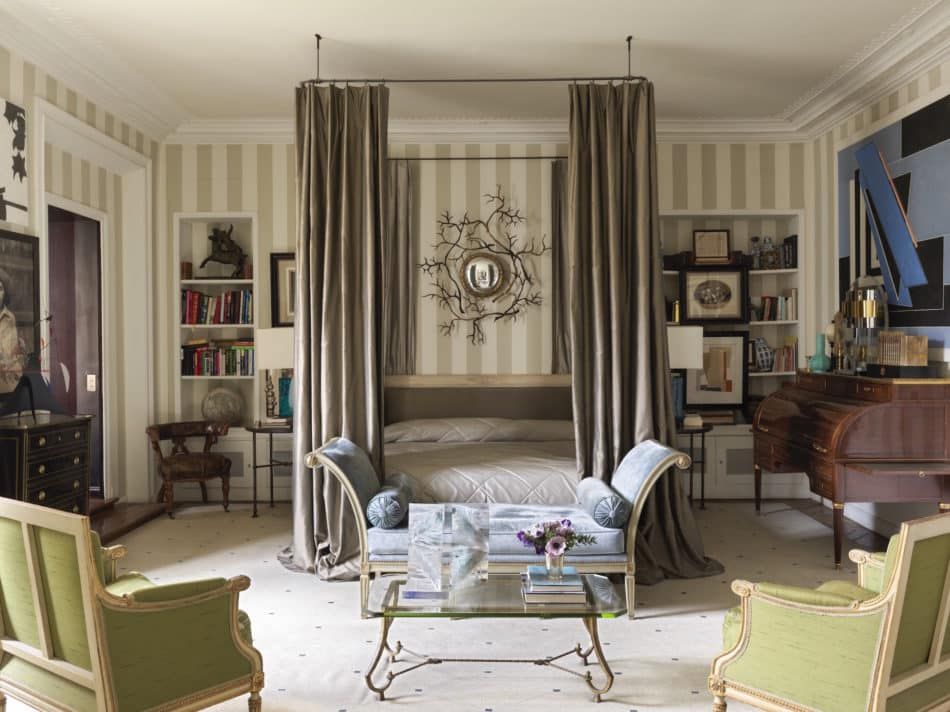 The elegant mirror over the bed was designed by Hervé Van der Straeten. "His work combines timeless modernity with noble materials," says Creel of the designer, well known for his iconic product designs like Dior's J'adore perfume bottle. (The two are also close friends; Creel was even the best man at Van der Straeten's wedding.)
In front of the bed is a Louis XVI bench found at auction. An obsessive collector, Creel goes to the Parisian auction house Drouot on a daily basis. "When I'm in Paris, my day literally revolves around the auctions and previews there," he says. "I feel as if I'm going through France's attic." The vintage, gilded, glass-plateau cocktail table is by Maison Ramsay.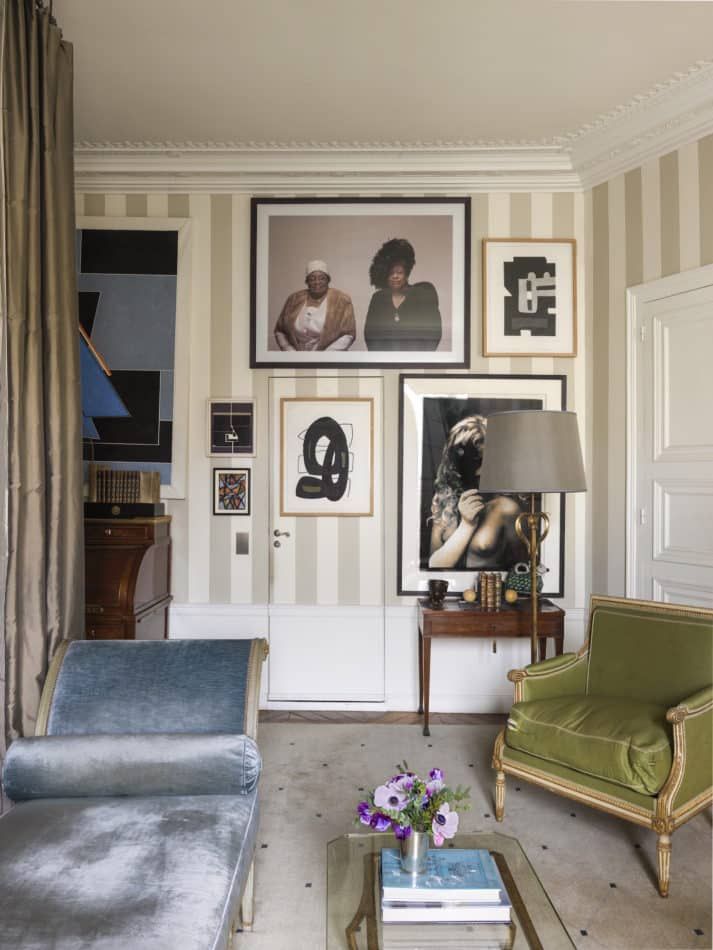 On one wall of the bedroom, a painting by French surrealist Alain le Yaouanc hangs above a cabinet topped by a Pierre Cardin lamp and a pair of mounted, speckled ostrich eggs from Creel and Gow.
---
Master Bathroom

The master bath sports hand-painted wallpaper and a nickel and brass tub from the 19th century.
---
Sitting Room
A set of double doors added by Creel during the renovations connects the the master bedroom to the sitting room. Here, twin neoclassical cabinets from the 1940s bookend the fireplace, which is sheathed in slate, over which hangs a 18th-century French gilt mirror. At the center of the mantel is an expressive bronze Harry Bertoia screen, which Creel loves for its "very organic and textural" qualities.
Several Bertoia works are scattered throughout the apartment, all of which are from the couple's good friend Charles Sevigny, the legendary American expat and designer. Says Creel, "Sevigny, who will turn 100 this June, spent most of his life in Paris and Tangier. We bought his house there — the famous Dar Zero, high atop the Casbah, which overlooks all of Tangier." Also in the sitting room is a sensual hammered-brass chair by Philippe Hiquily from Galerie Yves Gastou.
---
Library
"The library is without question my favorite room in the apartment, as it is filled with things we have found on our travels," Creel says. "Every piece has its own story." The room's centerpiece is Bertoia's whimsical Dandelion sculpture. The plush Maison Jansen sofa and armchairs came "from a dear friend, textile designer Lisa Fine, who had put them in storage and never used them. She called me up when we got the apartment and offered them to me."
On the vintage Chinese lacquered cocktail table, mantelpiece and bookshelves, treasures from their various travels include mineral specimens, architectural models (one of Creel's passions) and taxidermic tropical birds from Creel and Gow. "The shop's ethos is sustainable and cruelty-free," Creel explains. "We have our own taxidermist, and we only treat animals or coral that have died of natural causes." The library also has a hanging screen sculpture by Bertoia.
---
Guest Bedroom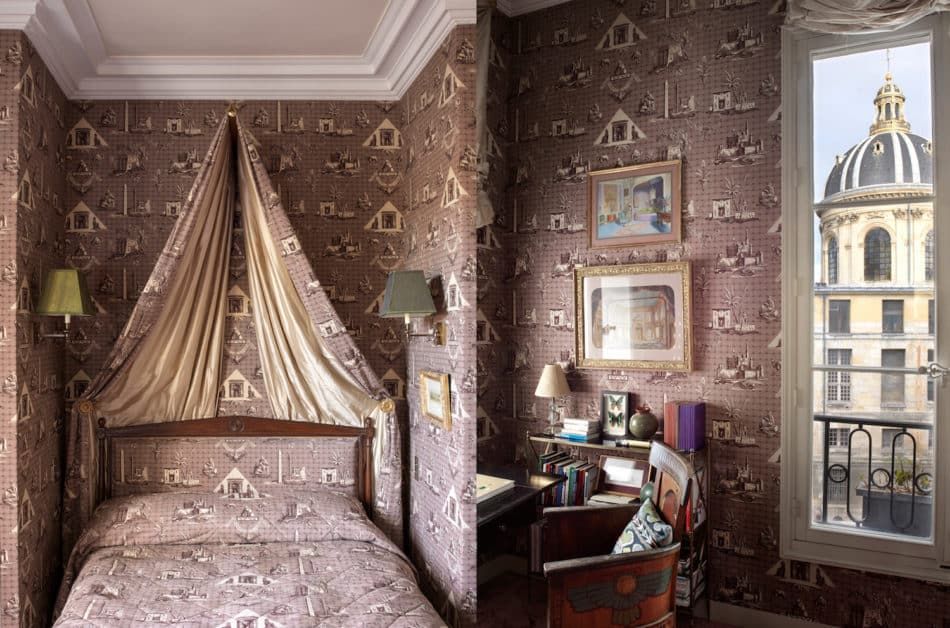 Cozy and elegant, the guest bedroom looks onto the dome of the Institut de France. The walls, canopy and Directoire bedspread are all covered in Braquenié's Monuments d'Egypte fabric from Pierre Frey. The butterfly specimens are from Creel and Gow.
---
Dining Nook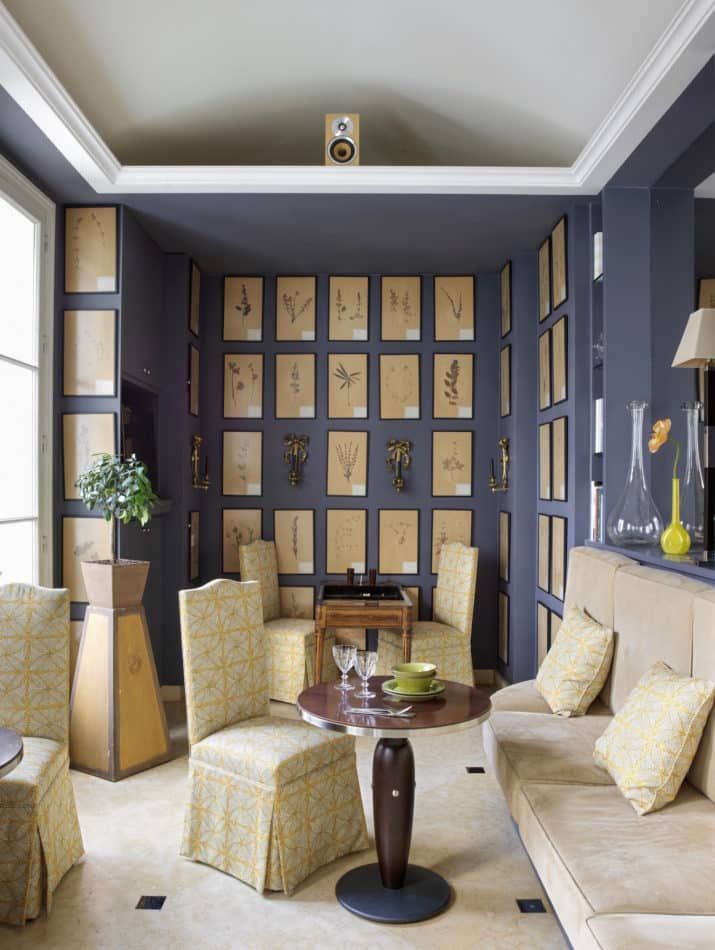 With its long, mirrored bar and banquette seating in back, the kitchen is a sumptuous riff on a French café. Herb specimens hung on the wall, from Creel and Gow, were originally collected by 19th-century naturalist Émile Deyrolle, and now hang above an antique backgammon table. Chairs and pillows are covered in yellow and- hite geometric-patterned fabric by Martyn Lawrence Bullard, and the small round table is by French neoclassical designer Olivier Gagnère.