"In this Knightsbridge penthouse apartment, we used a light and neutral palette in the living area, mixing earthy tones with metallics to soften and warm," says Anna Bilton, design director at Helen Green Design. "Backlit alabaster joinery complements the organic feel of the living space while the artwork, including a sculpture by Alexander Calder, adds pops of color."
Photo by Helen Green Design
---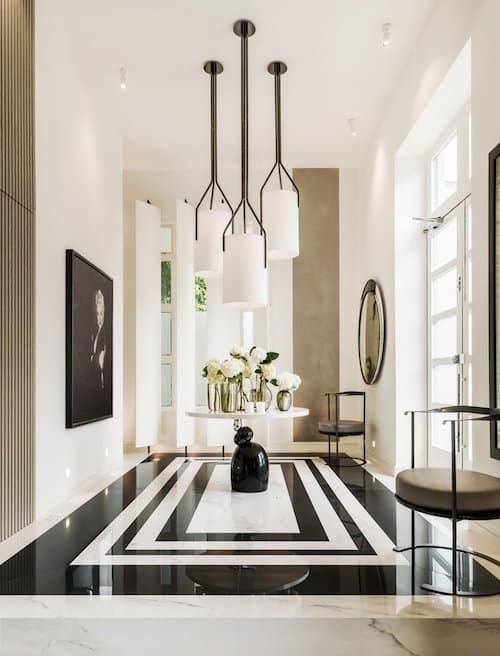 The entrance hall of designer Kelly Hoppen's London home features bespoke pendant lights by Hervé Langlais for Galerie Negropontes. The lights' vertical lines emphasize the height of the ceiling. A photo of Marilyn Monroe by Gene Korman hangs on the wall opposite the doorway.
Photo by Mel Yates
---
The Veliero shelving unit by Franco Albini, produced by Cassina, separates the dining area and the sitting room in this London townhouse by Waldo Works. "It works as a room divider as well as storage solution. Using that kind of tension, it remains very light and see-through but also acts a beautiful piece of sculptural engineering in the form of a bookshelf," says Tom Bartlett, founder of Waldo Works. The sitting area is anchored by a hand-knotted wool and mohair Kate Blee rug by Christopher Farr. An Ingo Maurer Luxury Pure ceiling light hangs over the space, which includes a Vladimir Kagan Serpentine sofa and a Cité armchair by Jean Prouvé. The artwork is from Laura Bartlett Gallery.
Photo by Tom Mannion
---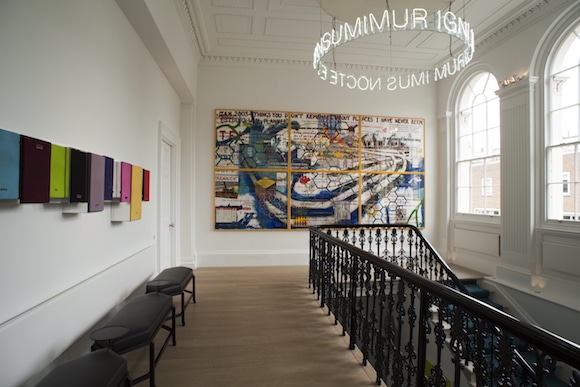 A neutral palette allows the contemporary art collection and classical architecture to create an intriguing juxtaposition in this London townhouse by Francis Sultana.
Photo by Ricardo Labougle
---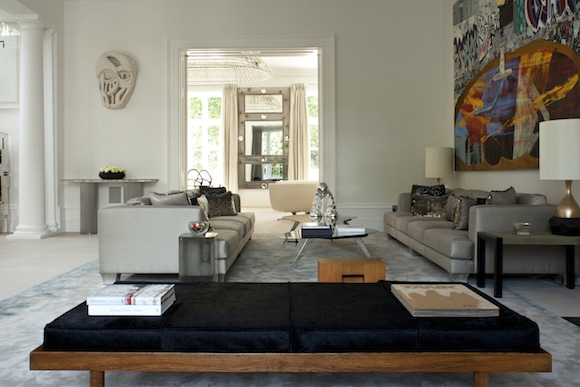 The living room features a pair of Sultana's Bridgehampton sofas in a white gold and a black-upholstered daybed on a wooden base. The space leads into the dining room, where Sultana notes "the chandelier by Fredrikson Stallard was designed to hug the ceiling, yet give glamour and drama using Swarovski crystals."
Photo by Ricardo Labougle
---
A vibrant pink armchair punctuates the living room of a London duplex penthouse by Charles Rutherfoord. The built-in shelving displays books, objects and barware.
Photo by Lucy Carr-Ellison
---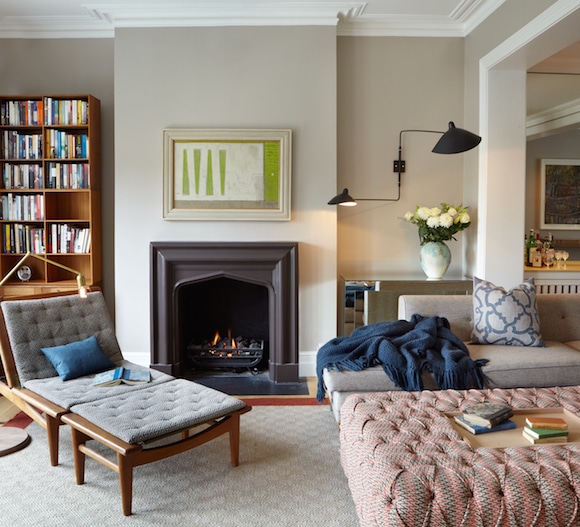 Sigmar (Ebba Thott and Nina Hertig) designed this London home for a family of six, focusing on cozy texture and a warm palette with comfortable pieces like a large tufted ottoman. A Serge Mouille wall light is positioned above a mirrored console.
Photo by Petr Krecji
---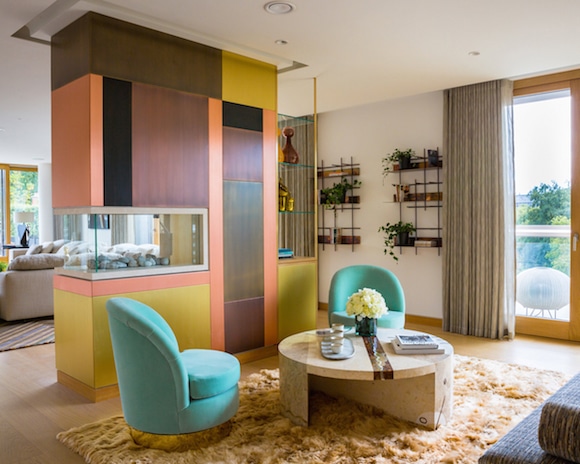 Carden Cunietti designed this colorful, eclectic penthouse show flat for Northacre Developments in Kensington, which includes a double-sided fireplace and a pair of velvet-upholstered swivel chairs on brass bases.
Photo by Charlie Dailey
---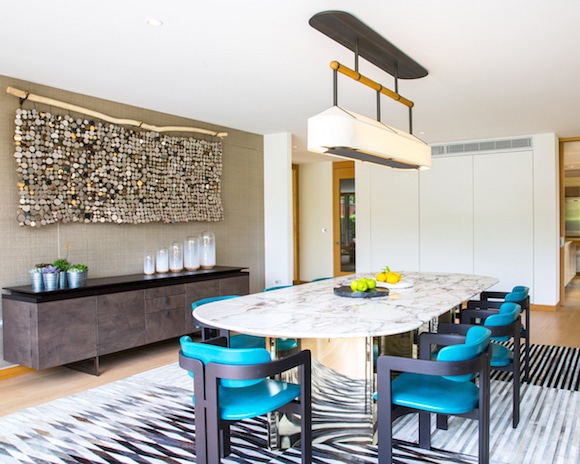 Artwork by Lee Borthwick hangs over a credenza in the dining room of the Carden Cunietti–designed flat. The dramatic marble dining table with a chrome base is surrounded by vibrant blue-upholstered chairs.
Photo by Charlie Dailey
---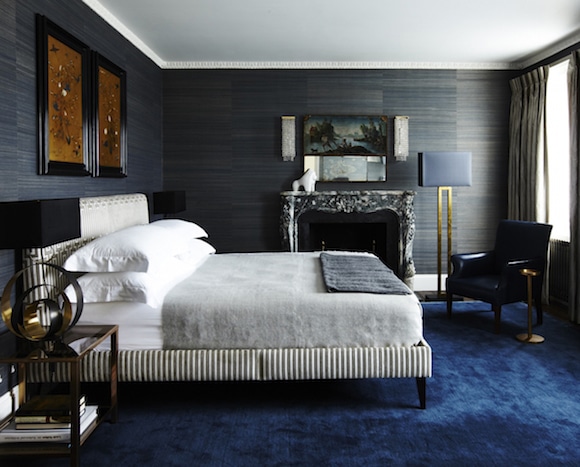 "The blue leather chair was my starting point," Peter Mikic says of designing the bedroom of this rundown-hotel-turned-glamorous-home in London. "I found the old late-Victorian chair at a flea market and had it recovered in soft navy leather." The bed is upholstered in a velvet fabric from Osborne and Little. The plush hand-knotted wool and silk rug was made in Nepal, and the blue wallpaper is linen fabric attached to paper and was made in Japan. Mikic designed the drop-crystal wall lights.
Photo by Kate Martin
---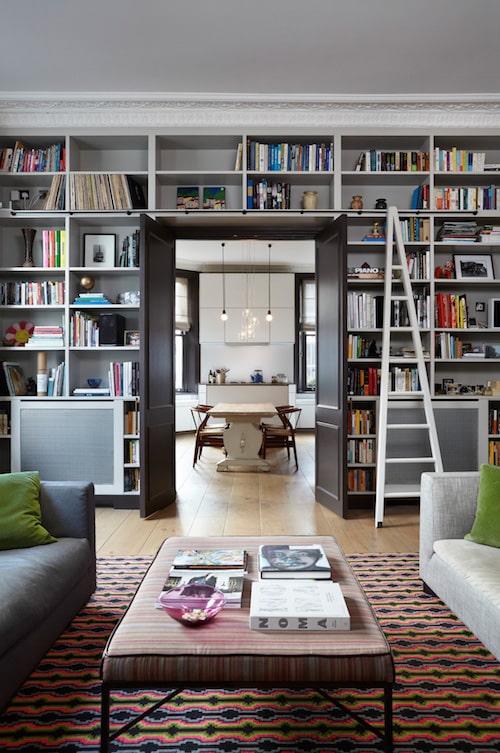 Sigmar's client wanted the feeling of 1930s Vienna in this London apartment. The living room features floor-to-ceiling bookshelves and a ladder, all by Sigmar.
Photo by Petr Krecji
---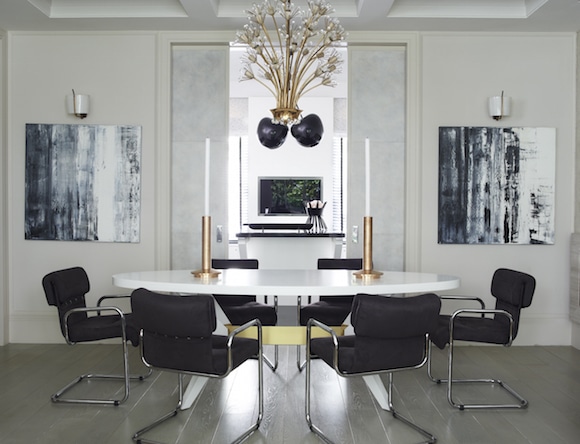 The Niedermaier table in this Hubert Zandberg–designed flat in London's Marylebone neighborhood is surrounded by a set of vintage tubular chairs. A pair of Sophia Petropoulu paintings flank the doorway to the kitchen. The cherry light in the kitchen is by Nika Zupanc.
Photo by Simon Upton
---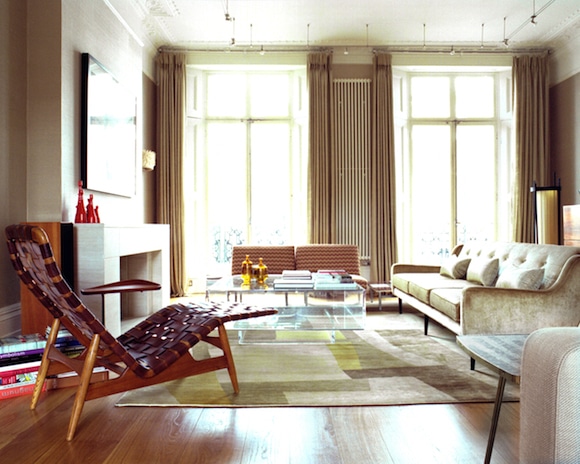 The owners of this Victorian home in Notting Hill love modernist design, so Carden Cunietti chose a pair of George Nelson chairs for the airy living room. The space also features a woven-leather chaise longue by Arne Vodder.
Photo by Warren Smith
---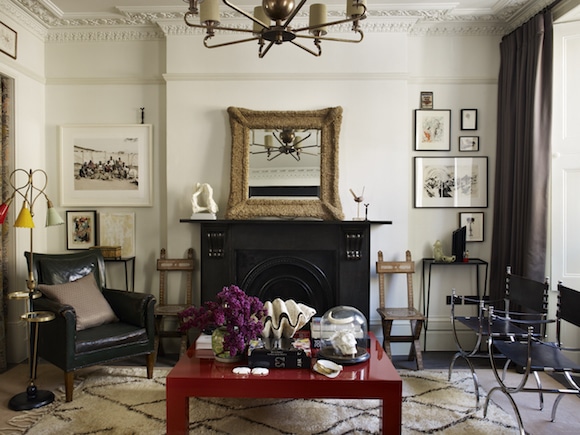 For this mid-19th century home in Notting Hill, Hubert Zandberg collected furniture from the client's previous house and updated some pieces, like a coffee table that he painted a custom shade of red. "The Christian Astuguevieille rope mirror encapsulates the style of the room and was the right piece to bring the whole room together," Zandberg says.
Photo by Simon Upton
---
"The artwork was copied from an Elsie de Wolfe interior I completely fell in love with, and that is where I started," Beata Heuman says of this one-bedroom London flat. "I wanted it to be the focal point and did the palette of the room fairly subtle, picking up on the greens in the artwork. It sits as the centerpiece in the bespoke bookshelf designed to house it." She adds, "I wanted a casual look overall, and not too 'designed'. The wooden chairs were bought at £15 a pop down Portobello Road."
Photo by Simon Brown
---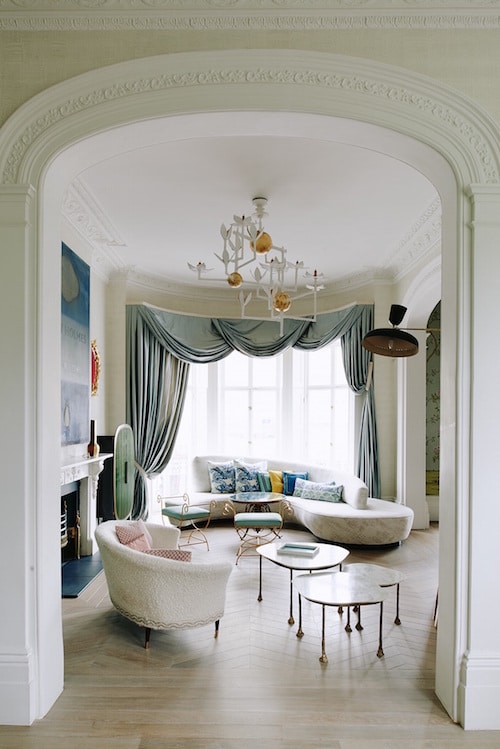 "The client wanted to make the house feel bright and sunny, no easy task with the usual gray and drab London skies. Because the room pictured in open to two additional adjoining rooms, we used a neutral off-white base palette but took cues from the existing art collection to bring in bright vibrant accent colors for upholstery and soft furnishings to tie all of the rooms on the floor together," explains Scott Maddux of Maddux Creative. The furniture includes a custom sofa by Vladimir Kagan Studio and a pair of Scarabe cabinets by Patrick Naggar. The pair of René Prou stools and a small Ico Parisi sofa came from Ebury Trading.
Photo by Ricardo Labougle
---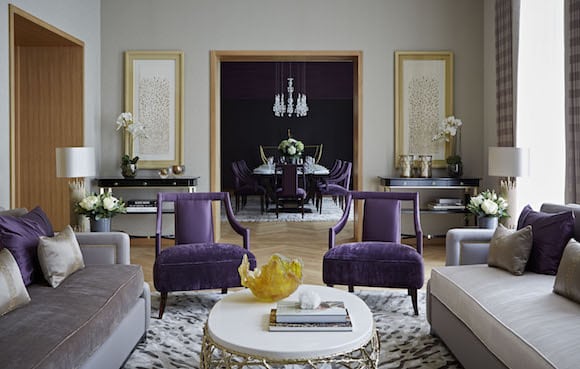 The living room of penthouse at One Kensington Gardens — a development by David Chipperfield Architects — features a neutral palette with bright pops of color, which is a signature of Taylor Howes, who designed the penthouse's interior.
Photo by Jon Day
---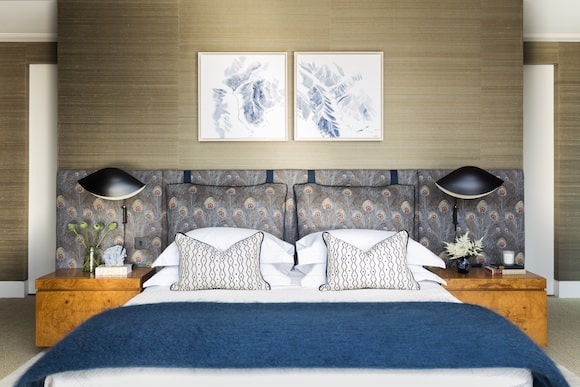 In this London penthouse by Studio Ashby, the headboard of the custom bed is upholstered in Liberty cotton peacock fabric. Two topographical sketches from a gallery in Cape Town are mounted over the bed, which is flanked by modernist burlwood tables. A mohair throw is draped over the end of the bed.
Photo by Philip Durrant
---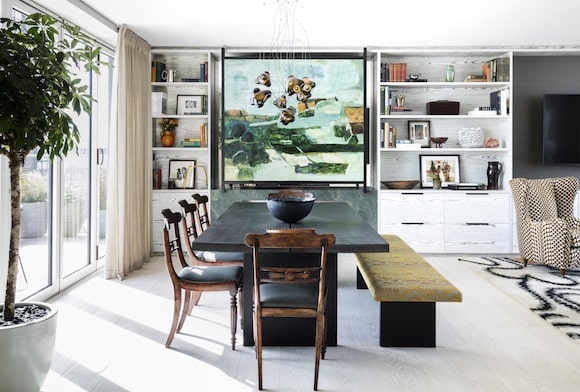 The dining room of the same London penthouse by Studio Ashby features Bocci glass lighting and a set of antique Regency dining chairs around a bespoke scorched oak table. The dining bench is covered in a silk marbled Rubelli fabric. "The color palette was inspired by the large artwork in the background, which we commissioned a London-based artist to do: Sandra Beccarelli," says Sophie Ashby.
Photo by Philip Durrant
---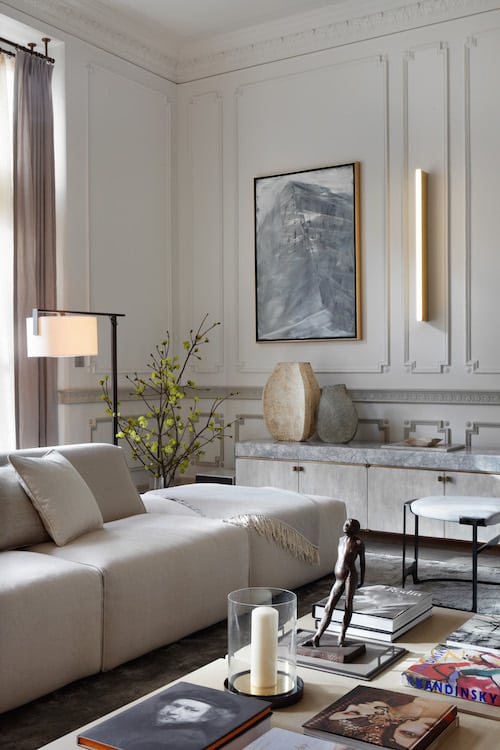 A custom handmade credenza graciously lines one wall of this London drawing room by Janine Stone. The piece, which is covered in a fine crackle gesso, rests on a cast-bronze base and is topped with pale Moonrock marble, sourced directly from the quarries of northern Italy. The large-scale sofas in pale oyster velvet provide comfortable and inviting seating for all manner of family and social gatherings, and the cool color scheme sets a restrained mood for a client who wanted "to ensure the home creates a welcome retreat from the hubbub of central London, conveying a sense of harmony and gentle calm," Stone says.
Photo by Alex James
---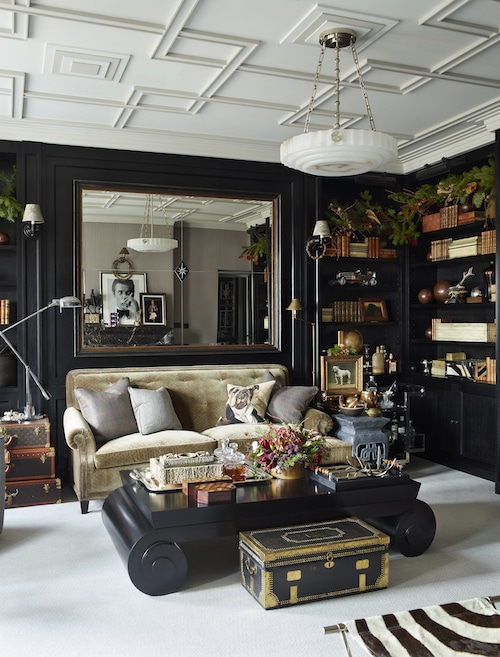 For this Chelsea pied-à-terre, Hubert Zandberg designed an updated take on a traditional smoking room, which was inspired by New York in the 1920s. The coffee table is by Ralph Lauren, and the Louis Vuitton trunks were purchased at Clignancourt Market in Paris.
Photo by Simon Upton
---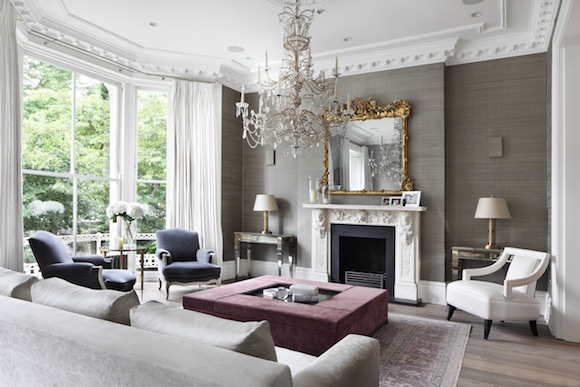 The owners of this London townhouse asked Carden Cunietti to design a neutral backdrop to highlight the home's elegance. A chandelier from the Marché aux Puces market in Paris is the centerpiece of the room, which also features an antique mirror, a Minotti sofa and bespoke furniture.
Photo by Alexander James
---
The homeowners' art collection was the starting point for this Waldo Works–designed London home. The clients chose six different colors for the drawing room — ranging from white to pale blue — to provide a silent backdrop for the furniture and art. The fireplaces at either end of the space are made from Calacatta marble and Italian basalt, flanked on the east wall by two prints on silk by Ben Nicholson and Barbara Hepworth and two Tom Dixon Pylon chairs. Contemporary sofas face two Jacques Adnet leather chairs from the 1930s.
Photo by Tom Mannion