Alboth & Kaiser Furniture
Irwin Feld Design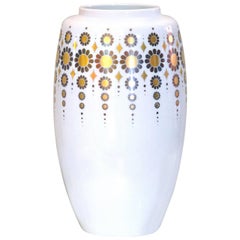 Dimensions:
H 8.5 in. Dm 5 in.
Dealer Location:
New York, NY
Materials & Techniques:
Porcelain
Porcelain Vase by Alboth & Kaiser
Alboth & Kaiser
Vintage 1960s German Mid-Century Modern Vases and Vessels
Porcelain
Gorgeous porcelain vase by Alboth & Kaiser with rich golden and brown floral 'JUWEL' decor on a beautiful white glaze. Made in Germany.