Unafraid of color, Randall Powers clad this Houston library belonging to avid art collectors in a saturated red. It provides a bold backdrop for a vibrant selection of their works, including a flower painting by Allison Schulnik, a poolside photograph by Eve Sussman and a figurative creation by Jackie Gendel.
---
For a coastal home in Bel Air, California, WRJ Design opted for a traditional yet layered look. With white Verellen chairs, paneled white walls and dark crown molding, the open-layout living room takes on a slightly moody look.
---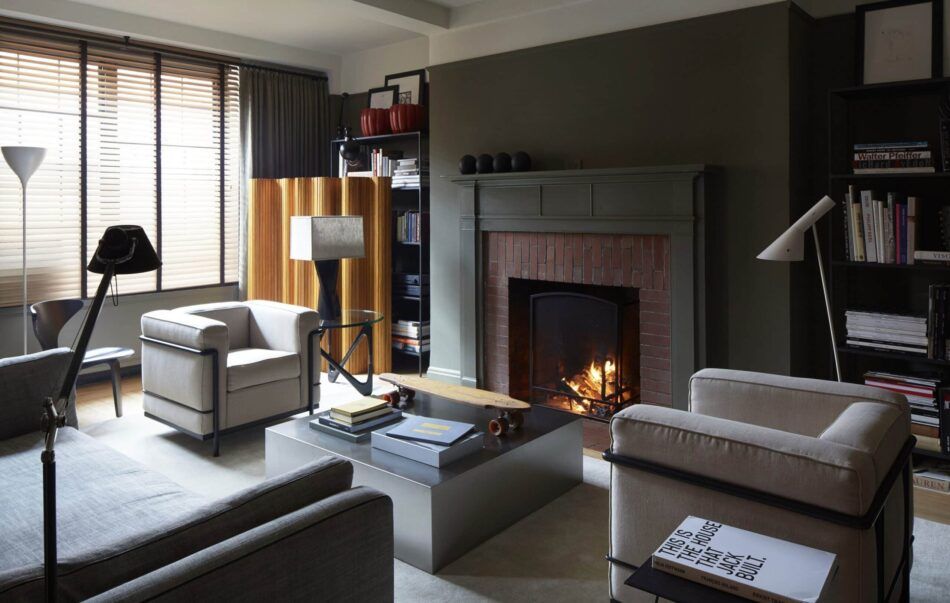 Smart and masculine were the watchwords for this Manhattan living room by Studio Mellone. Principal designer Andre Mellone went with neutral flooring and, on the walls, a silky olive shade that contrasts softly with the exposed-brick fireplace. He outfitted the space with furniture designed by such mid-century icons as Le Corbusier, Arne Jacobsen and Poul Kjærholm.
---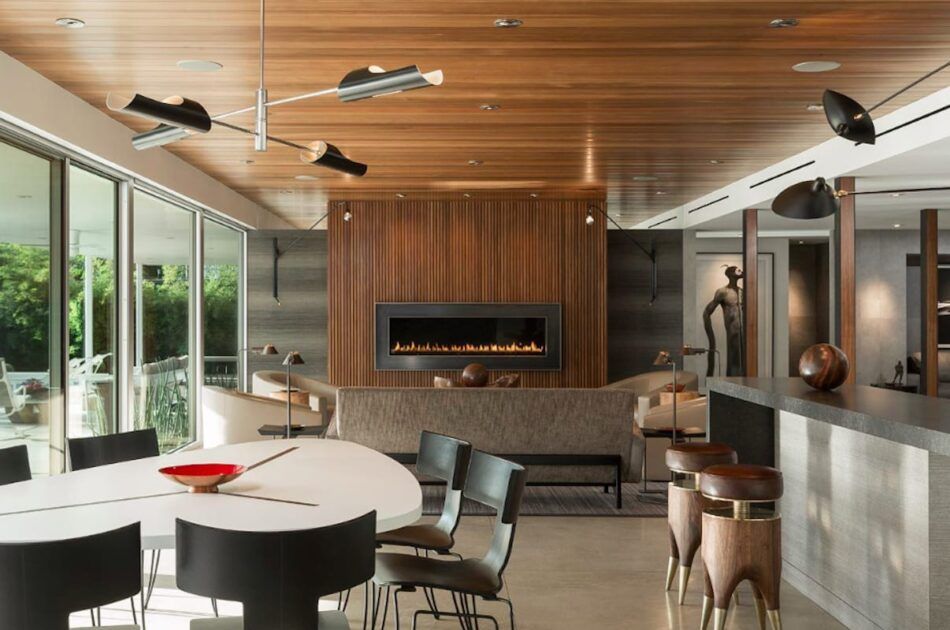 Cardella Design updated a 1960s Palm Springs house into a contemporary desert oasis, deploying pieces like a David Weeks chandelier, B+B Italia dining table and Blackman Cruz bar stools. The wood-paneled fireplace and plank ceilings add warmth to the sleek decor.
---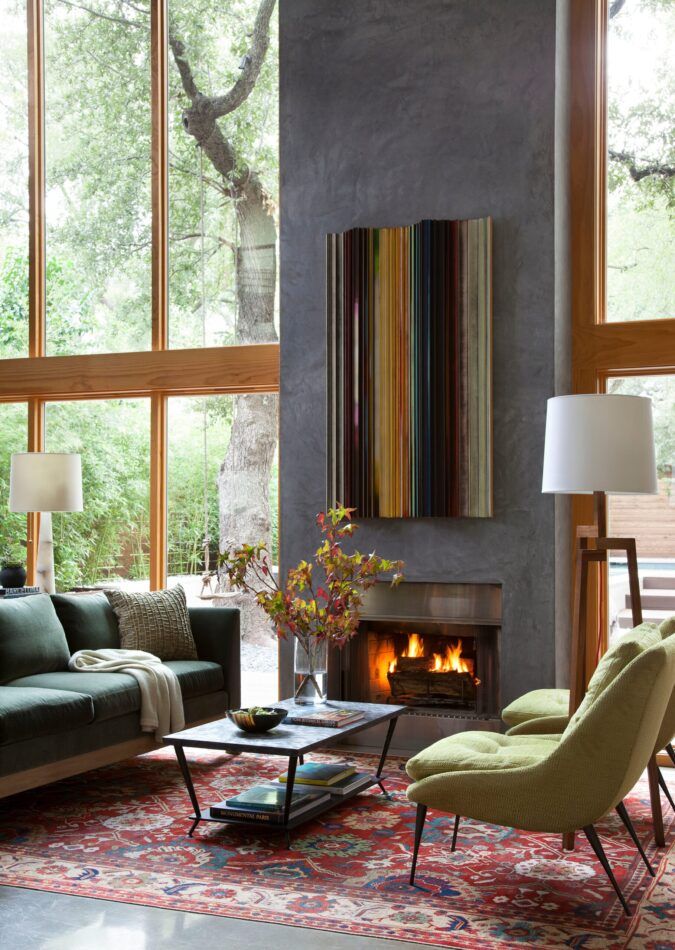 In Austin, Cravotta Interiors transformed a contemporary house into a welcoming home. In the high-ceilinged living room, head designer Mark Cravotta laid down an 1890 Sultanabad rug woven in red and blue hues, topping it with lounge chairs and a sofa in different shades of green. Finally, to tie all the colors together, he hung above the fireplace a multihued acrylic-on-wood painting by local artist Roi James.
---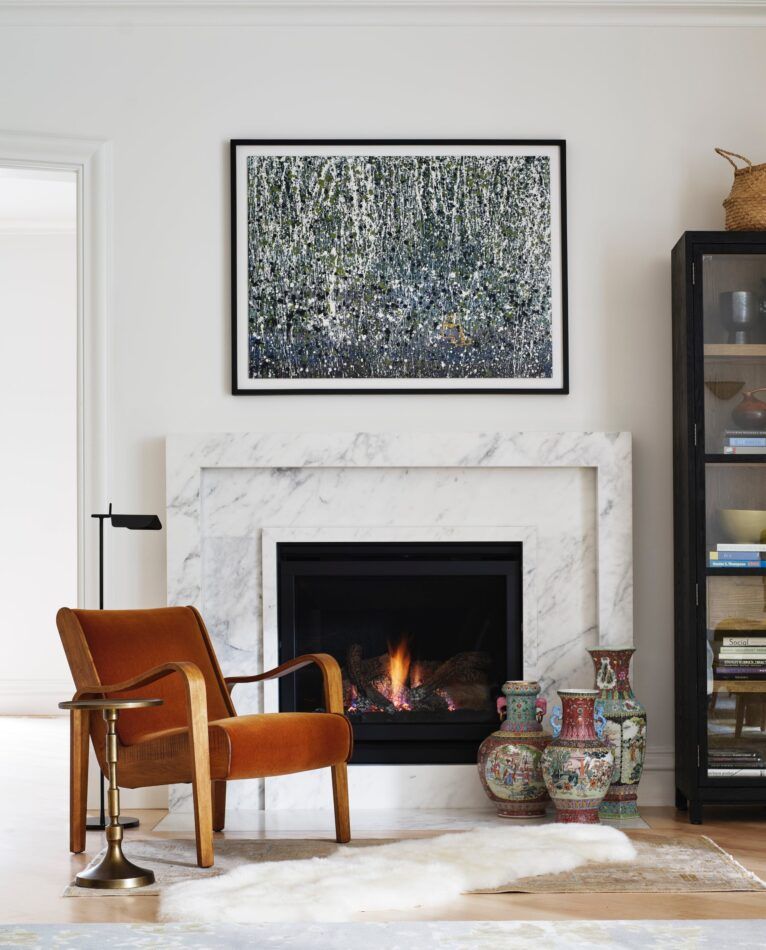 Wanting to bring a bit of China to their Atherton, California, pied-à-terre, the Hong Kong–based homeowners brought in Form & Field to carry out an East-meets-West design plan. In the living room, the mid-century armchair picks up the rose from the Chinese vases by the fireplace, above which hangs perhaps the cozy nook's most striking element: an OldFlower Ali painting that was a gift from the clients' daughter-in-law.
---
Paris Forino filled the bright and modern bedroom she created for the 2015 New York Holiday House with treasures from around the world. Among her favorites: Iranian tea vessels, a French Art Deco tea set, Norwegian totems and a vintage silk kimono. Sourced from closer to the home, a mirror designed by Manhattan-based designer Anna Karlin hangs above the glossy black fireplace.
---
In the course of totally revamping this Athens, Georgia, saltbox, Cloth & Kind decided to leave the original fireplace and its wood-beam mantel intact, to anchor a comfy gathering spot. The clients and their three children can cozy up to the hearth on the matching vintage leather club chairs or sprawled on the patterned rug, setting their warming drinks on the bamboo and rattan side tables. Overseeing all is the bold "Goat" painting that the father of the family discovered on a trip.
---
In refreshing this 1960s Sea Ranch, California, home, Matthew Leverone, of Leverone Design, mostly left the 1960s architecture alone. The original hearth, however, blocked the sweeping Pacific vistas, so he moved it. "The redesigned rolled-steel fireplace," he explains, "is placed off to the side and is secondary to the views, with the furniture grouping facing the ocean."
---
"The clients did not want a formal dining room, so we turned what would be the dining area into a lounge with a pool table," Proem Studio cofounder Ashley Drost says, explaining how she shaped this space in an Encino, California, house. If "lounge" makes you think dark and moody, think again. Drost's version is bright and cheerful, with white walls, a pale antique rug and contrasty chairs by Lawson-Fenning.
---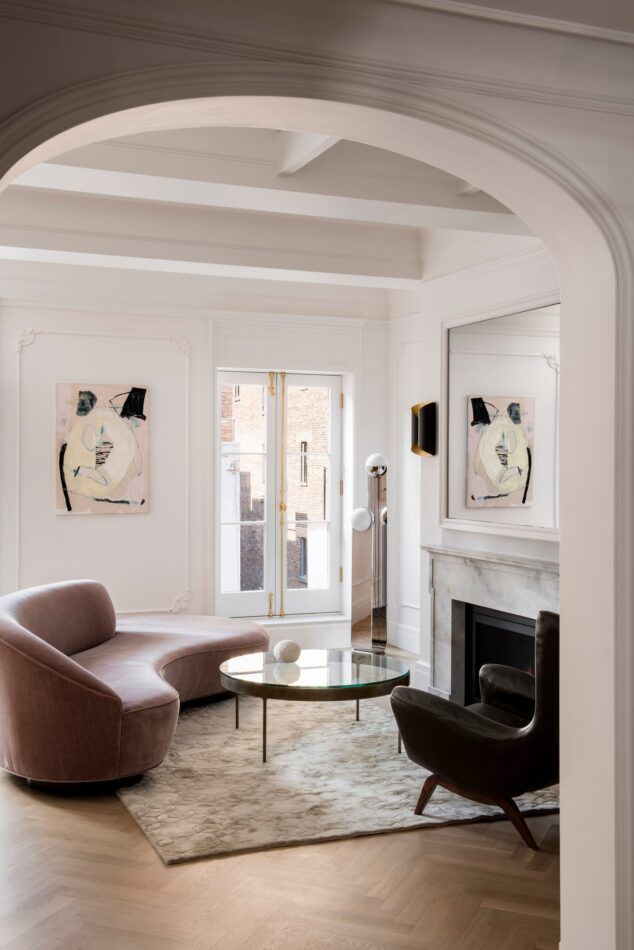 This living room would be right at home overlooking the Seine. It's actually an ocean away, however, in an Upper West Side pied-à-terre imagined by Gramercy Design and inspired by the clients' travels to the City of Light.
"We created a 'Parisian garret' as a sanctuary for when they are in town," says firm founder Kyle O'Donnell, who worked with designer Cindy Coscoros on the très chic home. Here, the designers paired the clients' dusty-rose Vladimir Kagan sofa and vintage black armchair, tying it all together with a Heather Chontos painting that includes nearly every color in the room.
---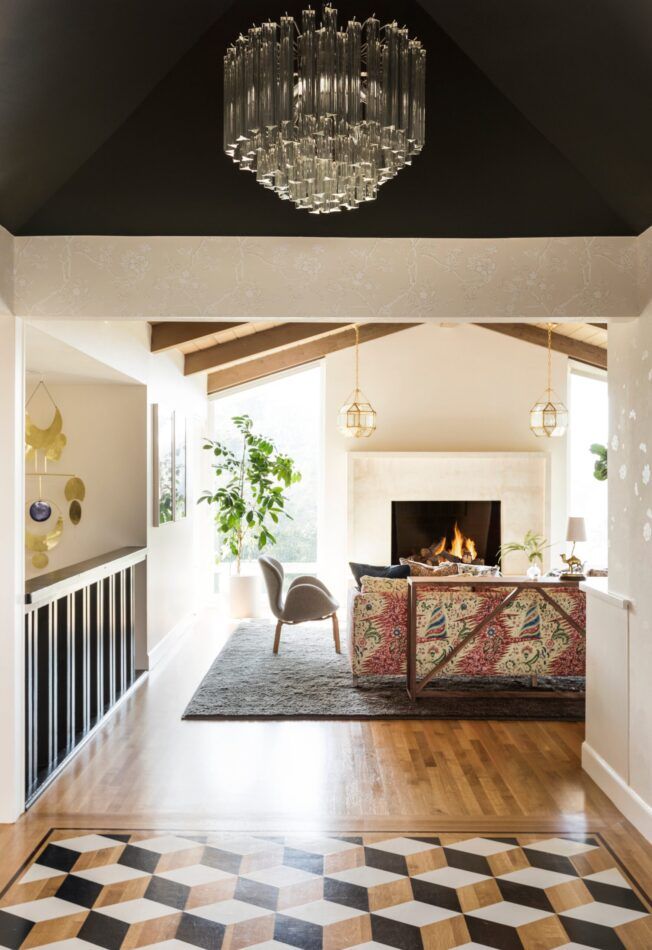 Inspired by its mid-century architecture, Redmond Aldrich decorated this Orinda, California, home with vintage pieces, including, in the living room, an Arne Jacobsen Swan chair and a Murano glass chandelier. Casting a warm glow over the room is the limestone fireplace, a major architectural addition.
---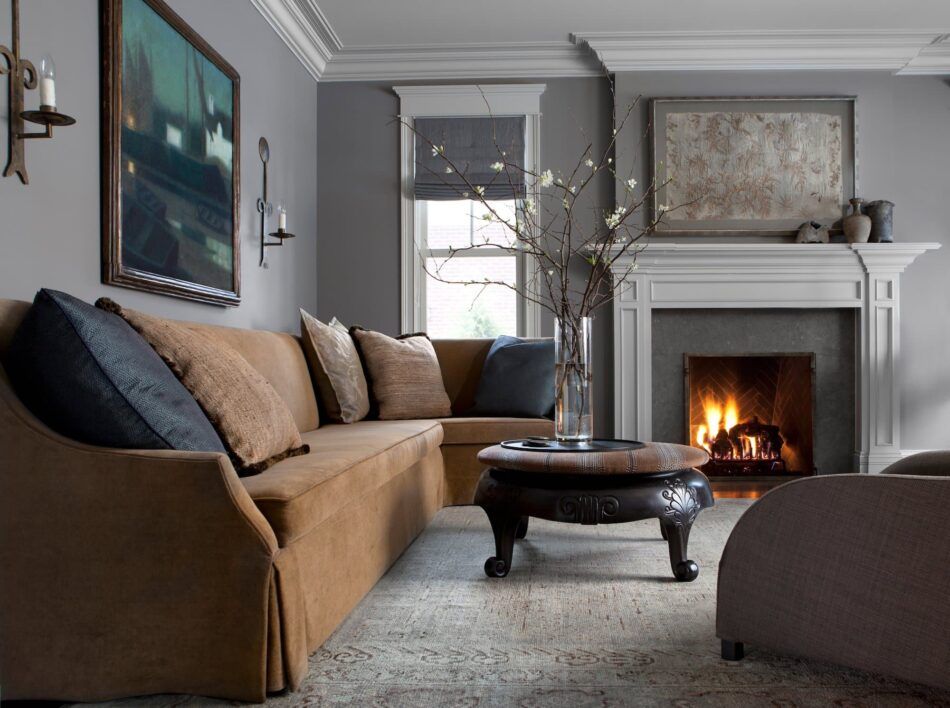 An earthy palette, rich textiles and a roaring fire combine to create a sumptuous space in this Winnetka, Illinois, family home by Michael del Piero.
---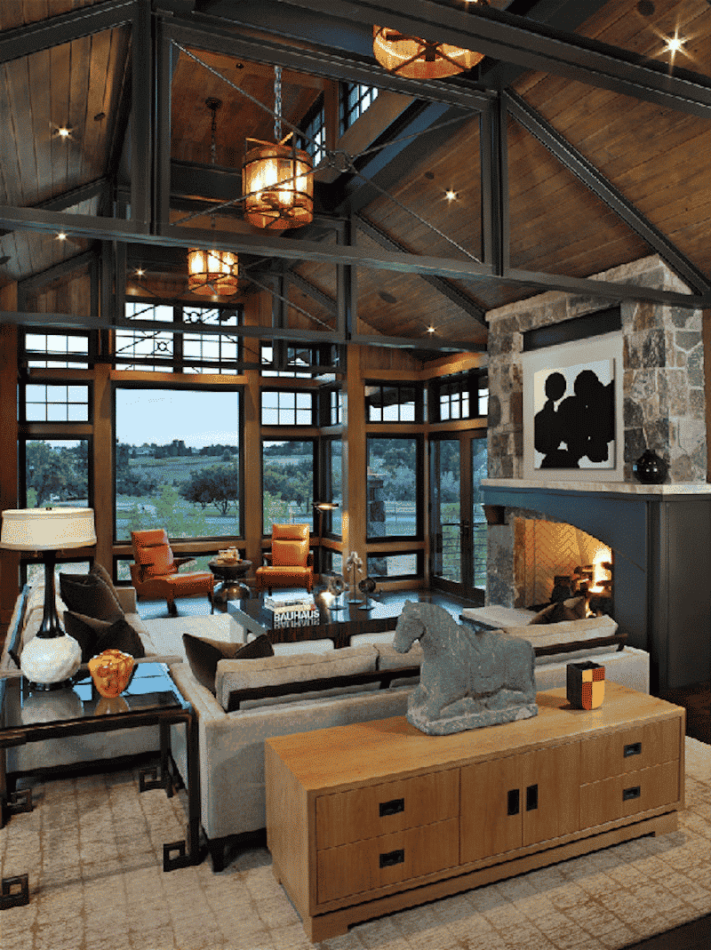 For this family home in Englewood, Colorado, Comstock Design created a living room that feels both rustic and streamlined, with exposed beams, a vaulted wooden ceiling and a huge stone hearth.
---
While designing the set of the 2017 movie Home Again, which was filmed in a 1929 Brentwood house that was once owned by Cindy Crawford, Ellen Brill outfitted the living room fireplace with artwork of on the mantel and an ornate screen.
---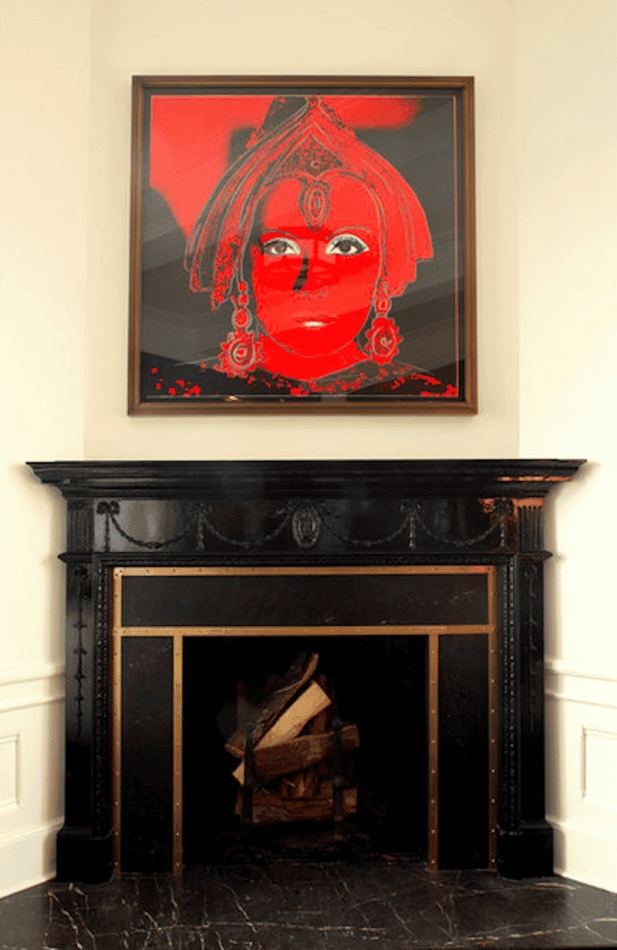 When renovating this Central Park West apartment after it had been damaged in a fire, Roman and Williams found inspiration in the charred state in which they first saw New York City residence. "We somehow wanted to get back to that smoky spirit, and I think we did," says firm cofounder Robin Standefer.
---
Designing for an adventurous San Francisco couple, Chroma says they "erred on the modern side when combining old-world objects from their travels and contemporary pieces."
---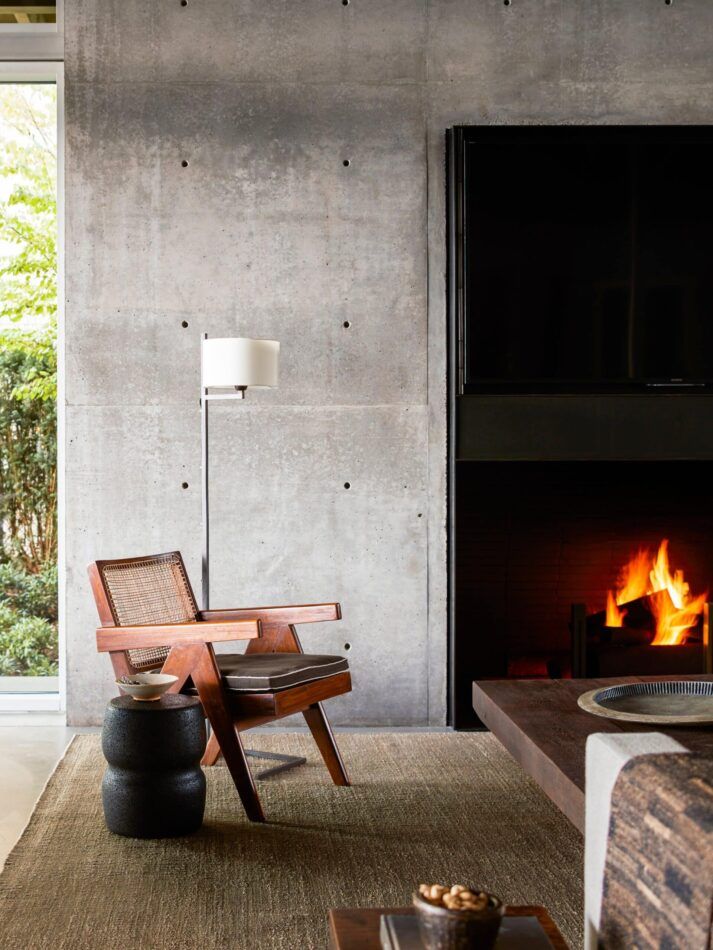 Kylee Shintaffer deployed natural materials and sleek lines when creating this lakefront family escape in the Pacific Northwest. The living room features an armchair by Pierre Jeanneret.
---
Foley & Cox went for an updated traditional decor in this showhouse apartment in Moscow, surrounding a Chesneys fireplace with blue and white porcelain pieces that echo the color scheme of the paneled walls and ornate mouldings. The polished-steel mirror and two-tone wing chair are by Ralph Lauren.
---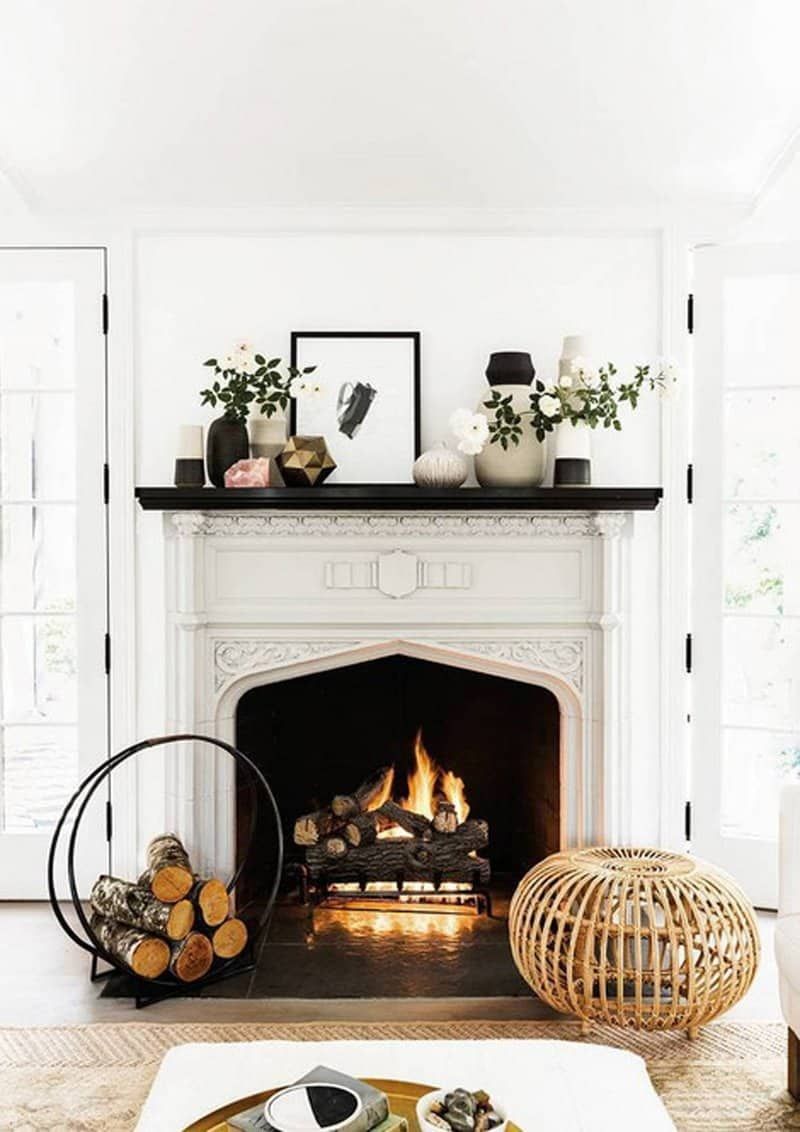 Consort took a thoughtful approach to designing the nearly all-white spaces in this Hollywood home, noting that they "used contrast, texture and tonality to bring warmth and personality to the bright spaces, creating rooms that are at once refreshing and peaceful."
---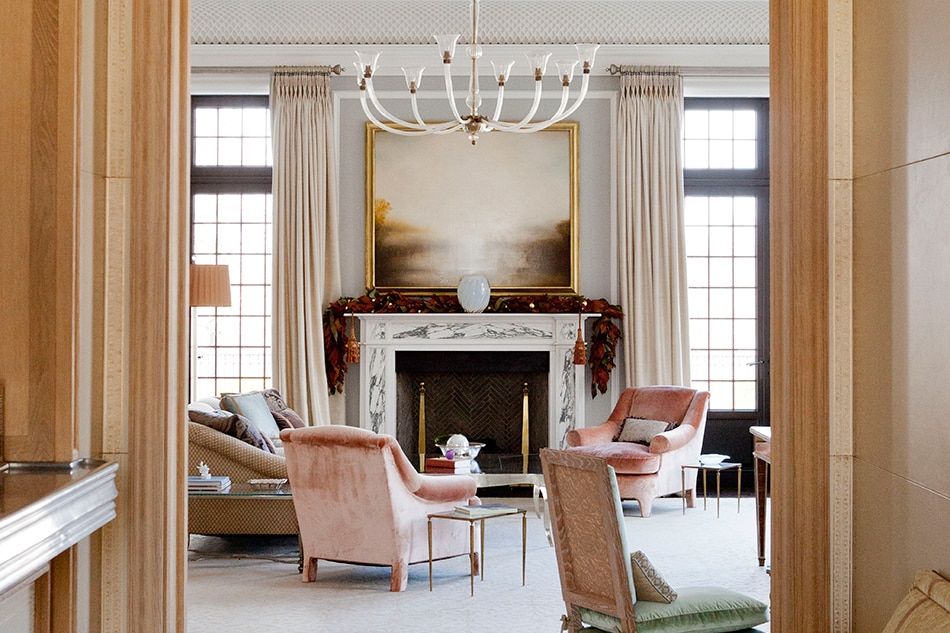 Michael Aiduss selected a circa-1940 Murano glass chandelier from Lee Calicchio for this living room at Westerleigh, a 39,000-square-foot new-build mansion in Greenwich, Connecticut, inspired by the grand English architecture of Sir Edwin Lutyens. A work by Hiro Yokose holds pride of place over a mantel designed by Aiduss and made in London.
---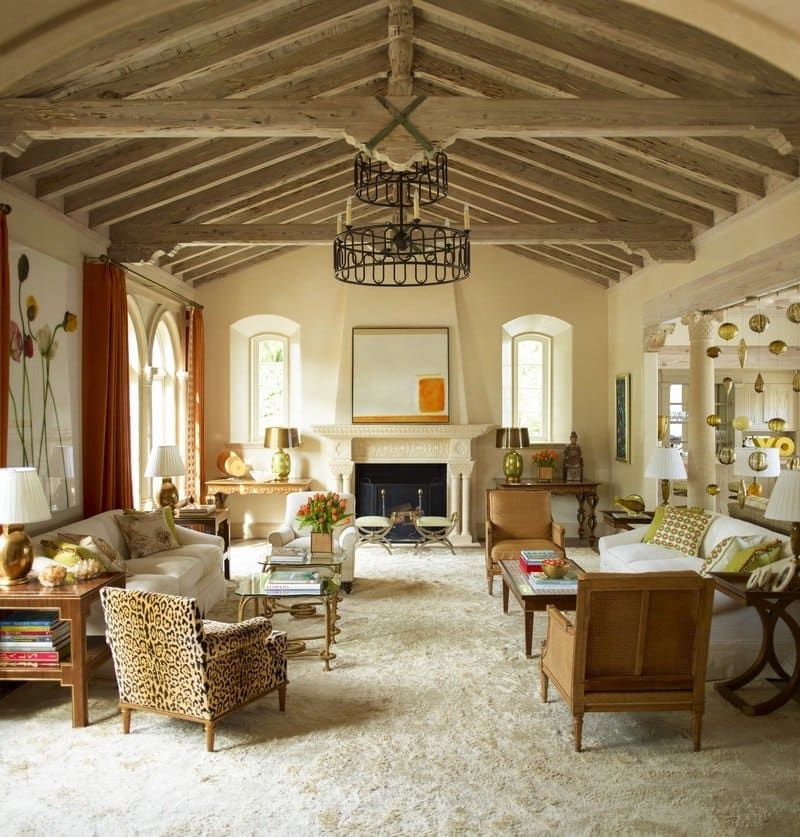 Cullman & Kravis worked to revitalize this 1931 landmarked house in Palm Beach and infuse it with a "tremendous sense of fun," the designers say of the project. "The design mantra was 'If you love it, it will work,' and the result is a collection of eclectic and modern interiors."
---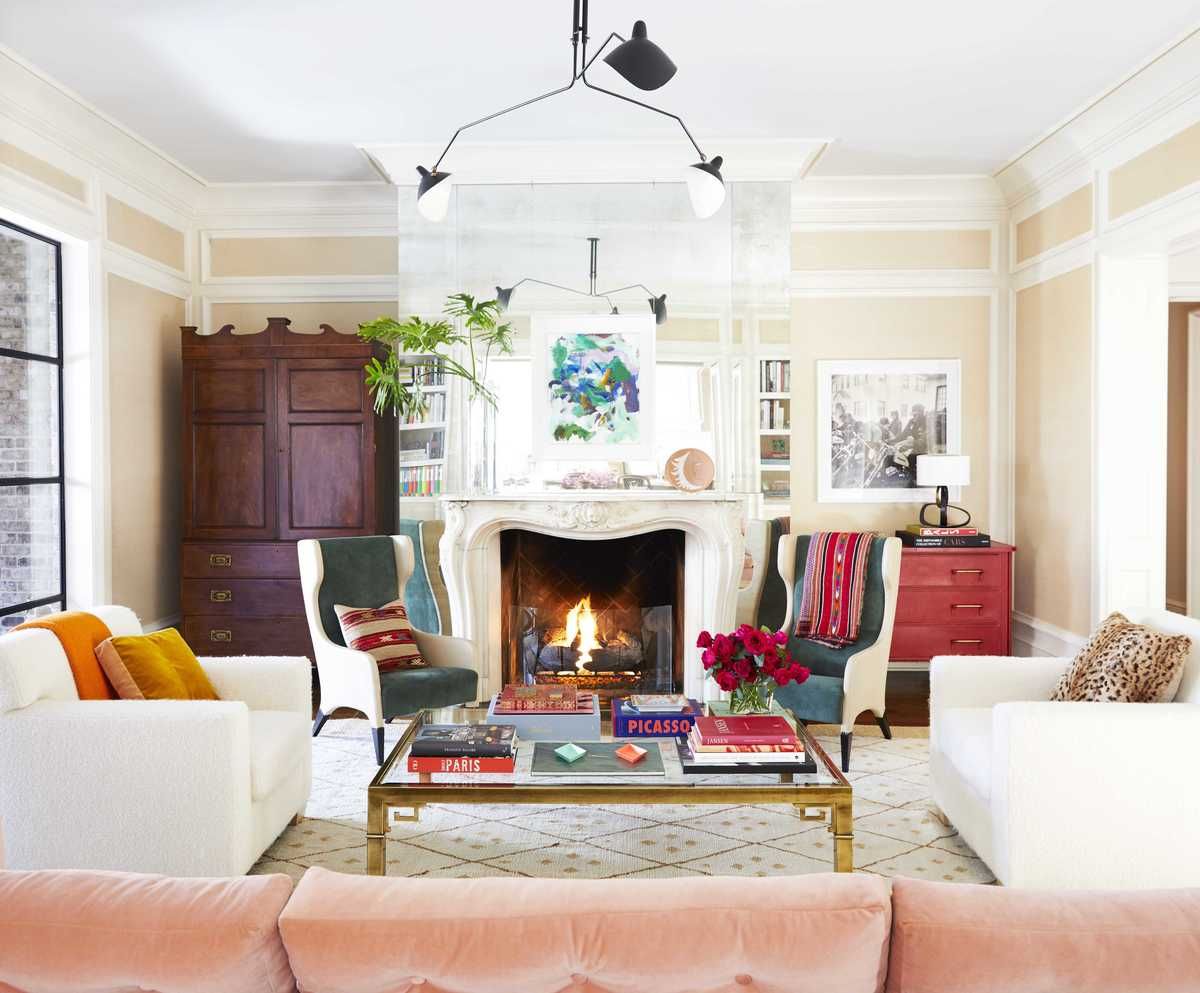 A pair of Gio Ponti wingback chairs flank the fireplace in this Charlotte, North Carolina, home by Barrie Benson Interior Design.
---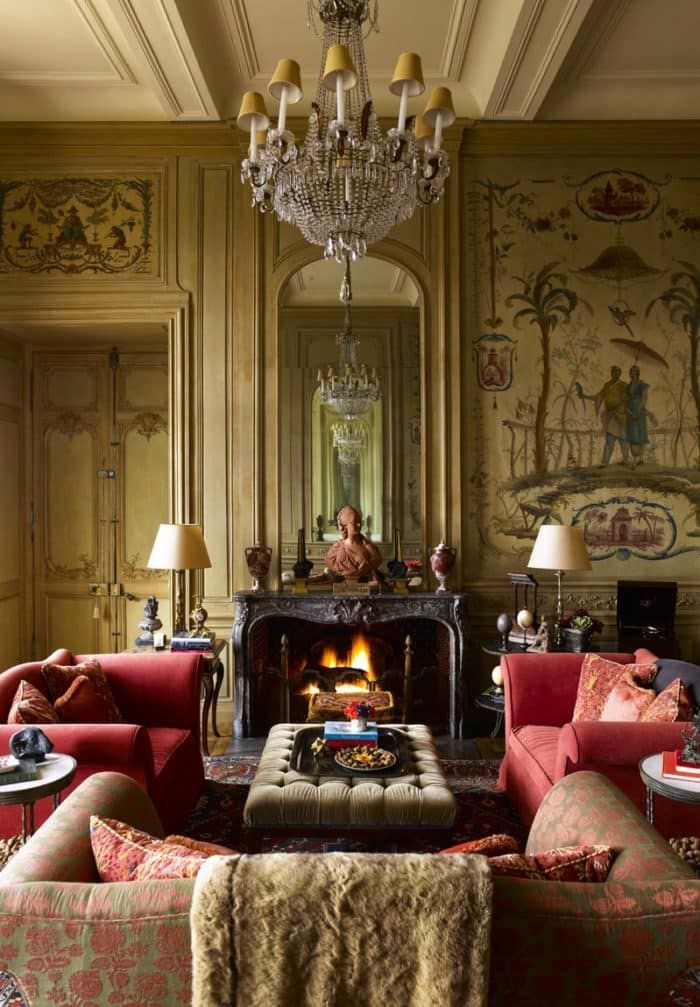 The 18th-century fireplace in Chateau du Grand-Lucé is original to the home, and it is surrounded by a mural painted by Jean-Baptiste Pillement, one of Marie Antoinette's official painters. Flanking the fireplace are matching Pierre Frey–upholstered sofas by Timothy Corrigan, who also designed the interiors.
---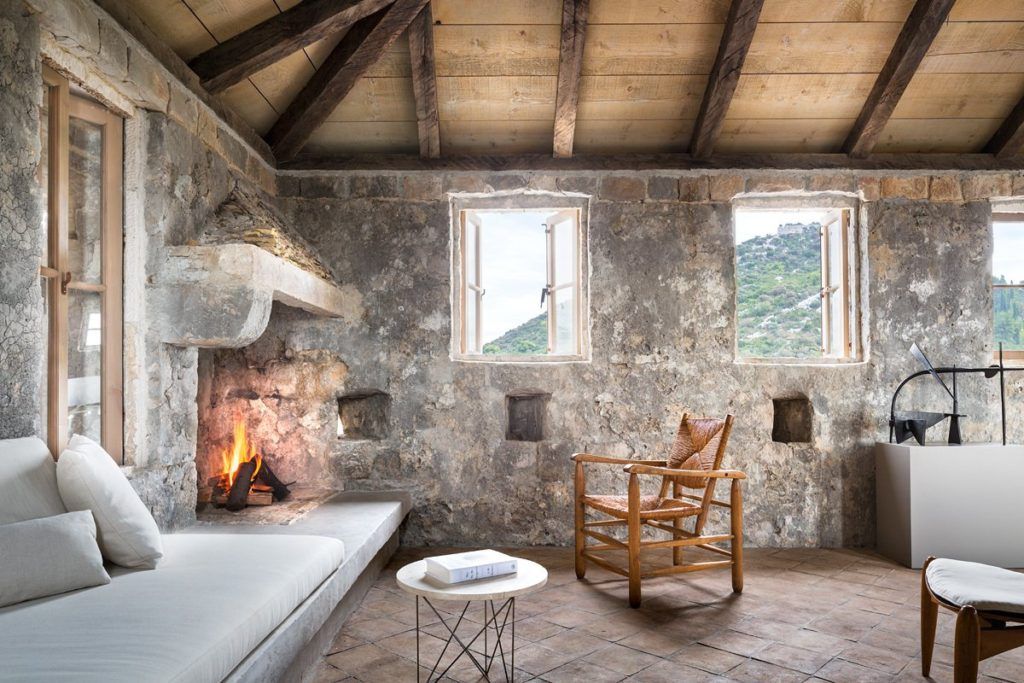 The stone fireplace is original to this 15th-century tower on an island off Croatia, which was built as a fortress. Lucien Roberts of Rees Roberts & Partners decorated the space and owns the tower with his architect husband, Steven Harris. Roberts also designed the travertine and chrome side table, and the 1940s rush seat chair is by Charlotte Perriand.
---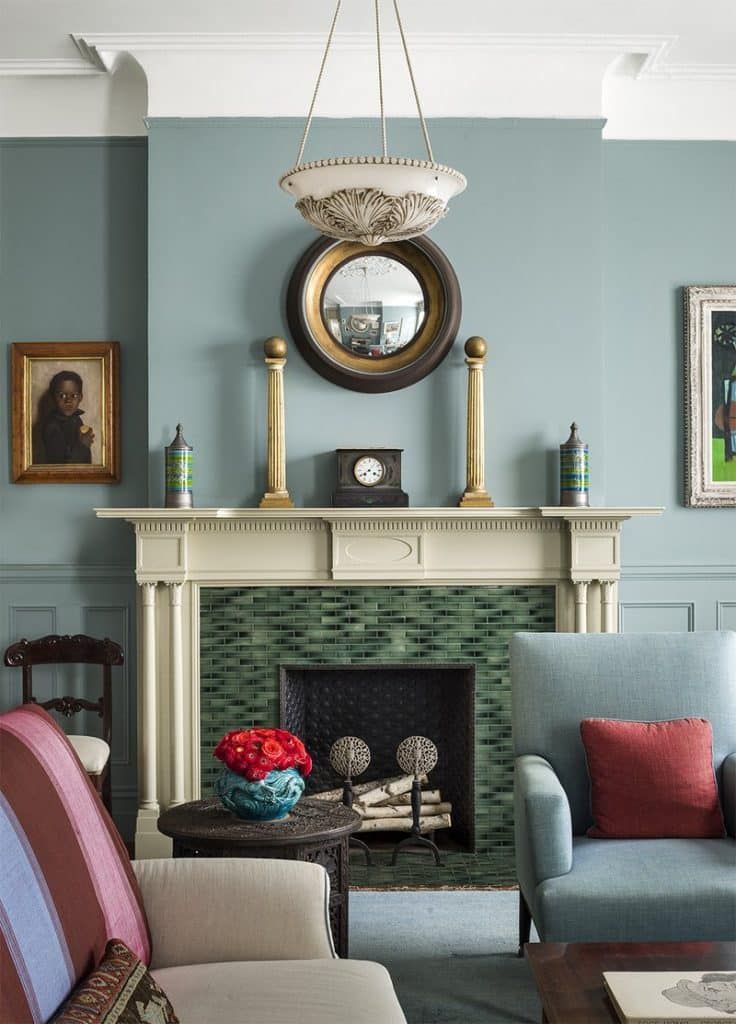 The fireplace mantel and ceramic tile are original to this 1901 landmark residence in the Harlem neighborhood of New York City. Sheila Bridges designed the rooms as well as the custom furniture, and the chandelier is from Eileen Lane Antiques.
---
A massive stone fireplace designed by architect Peter Bohlin is the focal point of this rustic modern living room in the Blue Mountains of Pennsylvania. Stephen Shadley designed the interiors, including the sectional sofa and coffee table. The mid-century ceramic lamp is from Wyeth, and the custom rug is by Edward Fields.
---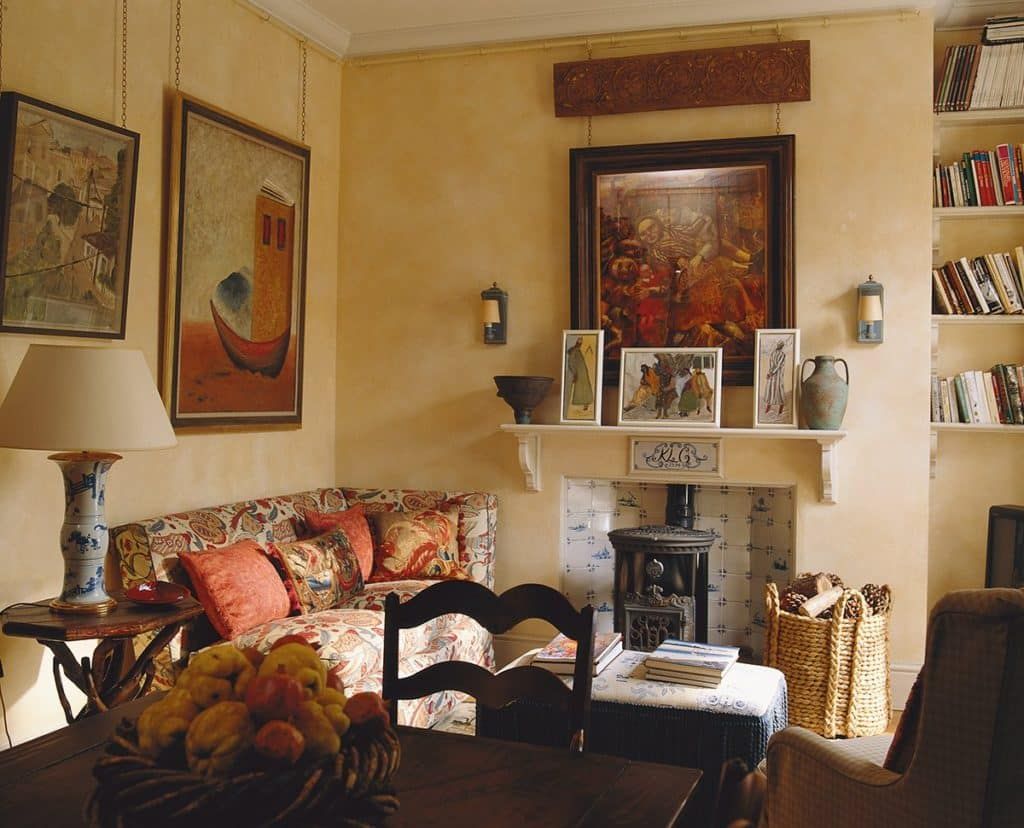 This London home by Wendy Nicholls of Sibyl Colefax & John Fowler features a fireplace designed by the firm, which is lined with antique pictorial Delft tiles by Whichford Pottery and fitted with an antique Godin-style stove. The Colefax & Fowler banquette is covered in a Pierre Frey fabric.
---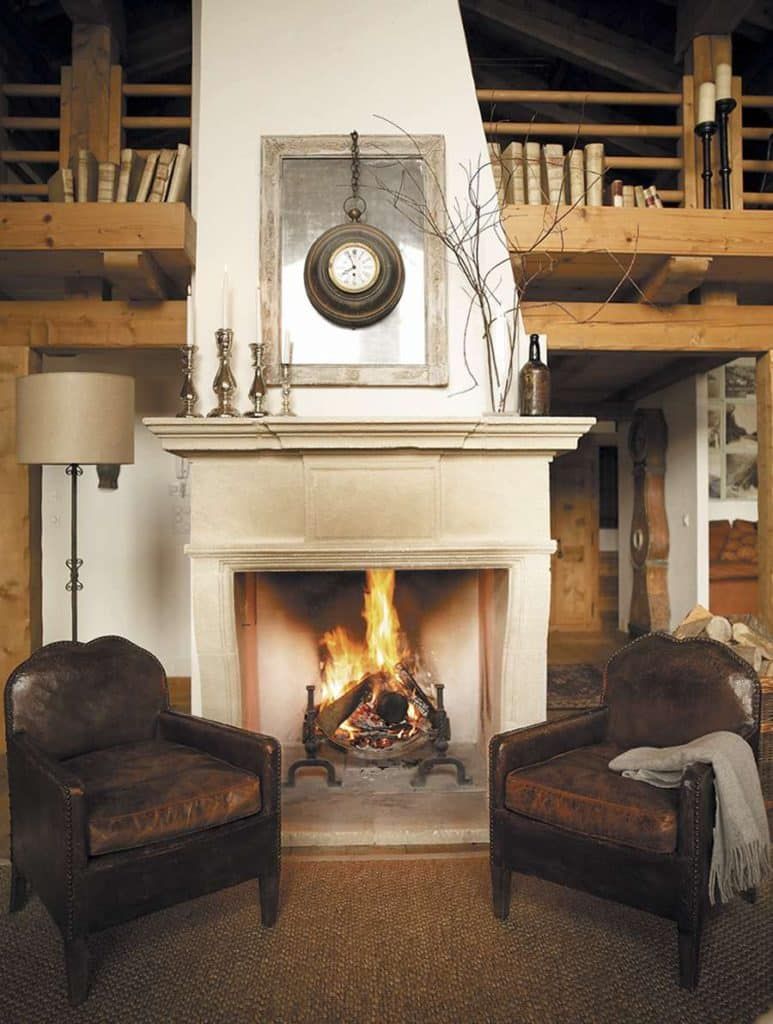 In a chalet designed by Marion Lichtig, leather club chairs with nailhead trim flank a French 19th-century fireplace purchased from an antiques dealer in London.
---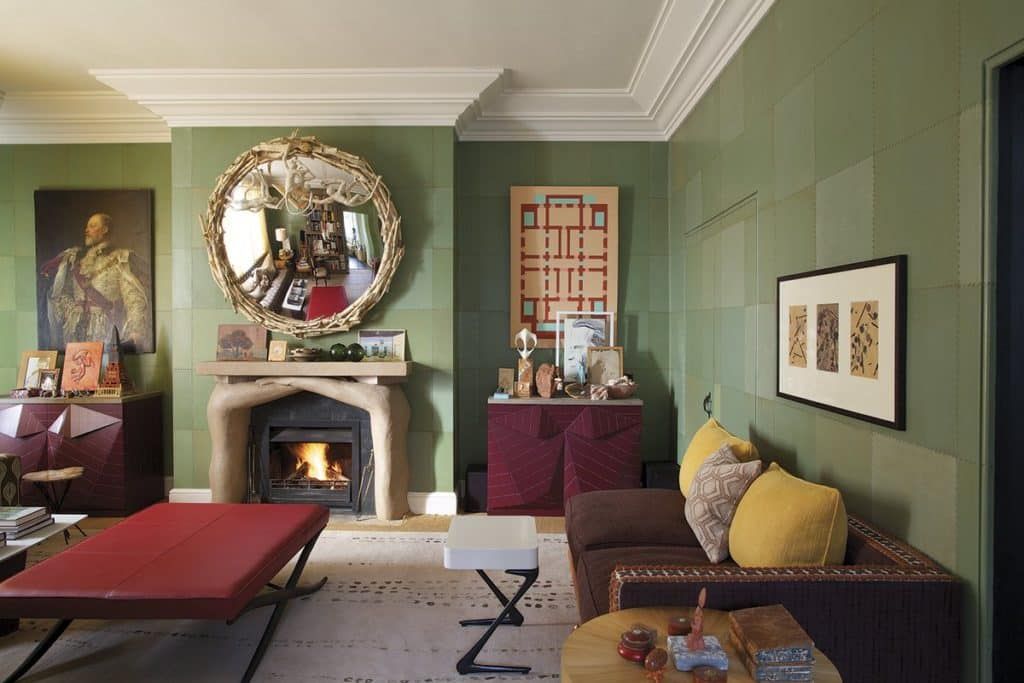 Designer Ashley Hicks created this unconventional carved-wood and painted-plaster fireplace, which he calls "Brothers," in the living room of his Oxfordshire country home. He also designed and produced all the other furniture, including a mirror he made with branches found on his property, three monkeys he sculpted from clay and a red x-frame ottoman.
---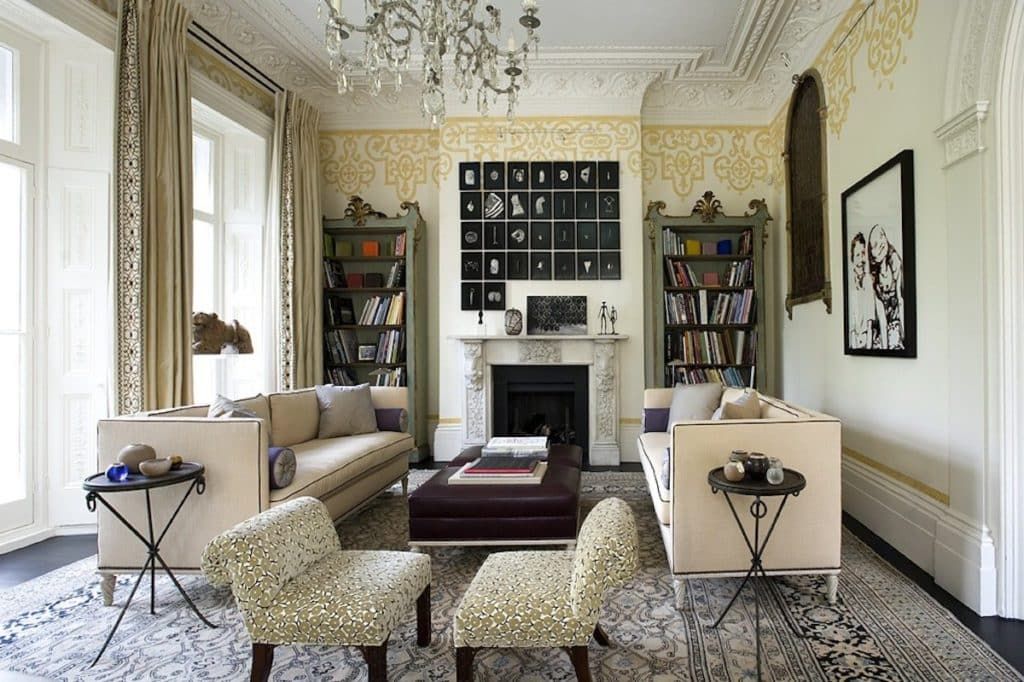 Italian Rococo bookcases flank the fireplace in this drawing room by Robert Couturier. An elaborate frieze, based on a 16th-century French motif, was hand-painted on the walls by Paulin Pâris.
---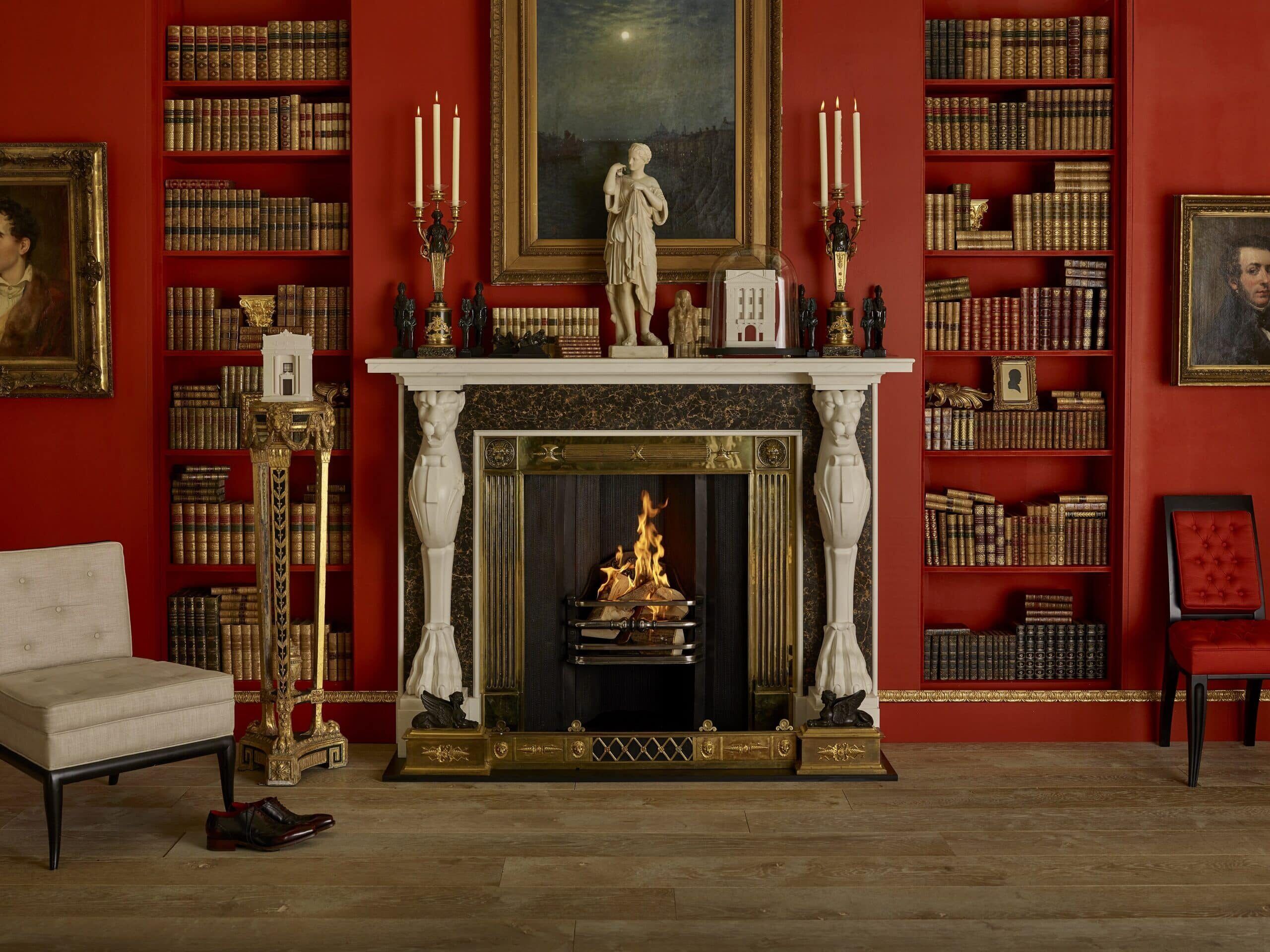 This rich red living room styled by Tim Gosling of Gosling Ltd., features an Egyptian Revival French Empire fire fender. A painting of the Thames at night hangs over the Chesneys mantle, which includes a statuette of Diana of Gabii and a pair of Egyptian Revival Ormolu candlesticks from Guinevere Antiques.
---
---
Designer Jan Showers wanted to show off the homeowners' collection of art and antiques in their London townhouse, so she hung their Andy Warhol print of Goethe above the Chesneys mantel. Marco Zanuso chairs are situated in front of the fireplace.
---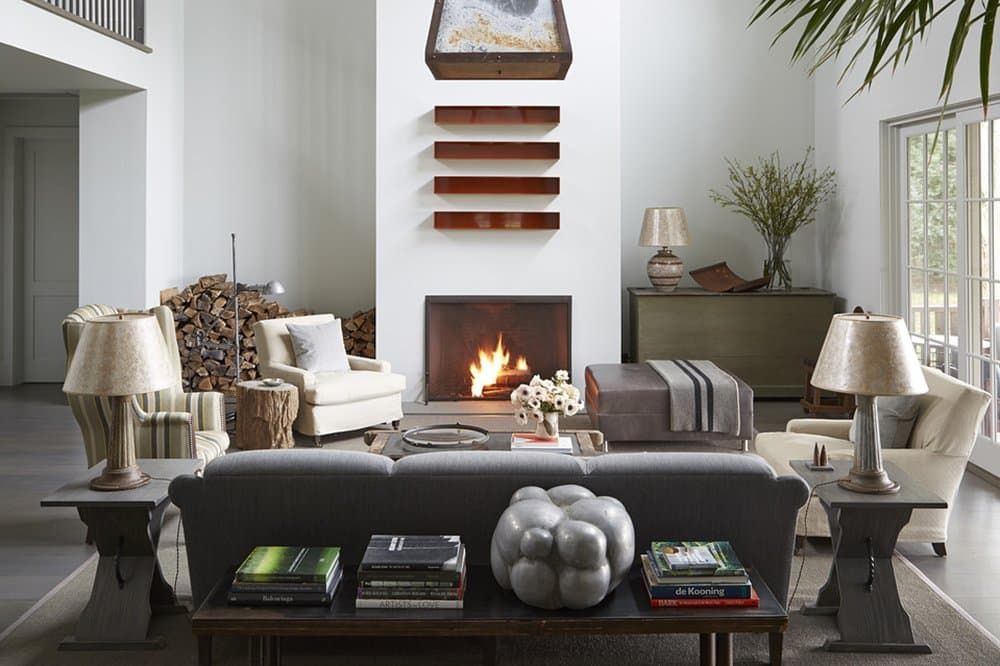 For a weekend home in Watermill, New York, Huniford Design Studio furnished the living room with a mix of antique, vintage and bespoke pieces, including a Huniford Collection Reade sofa covered in gray herringbone Maharam fabric. Huniford also created the installation above the fireplace, which was modeled after Donald Judd.
---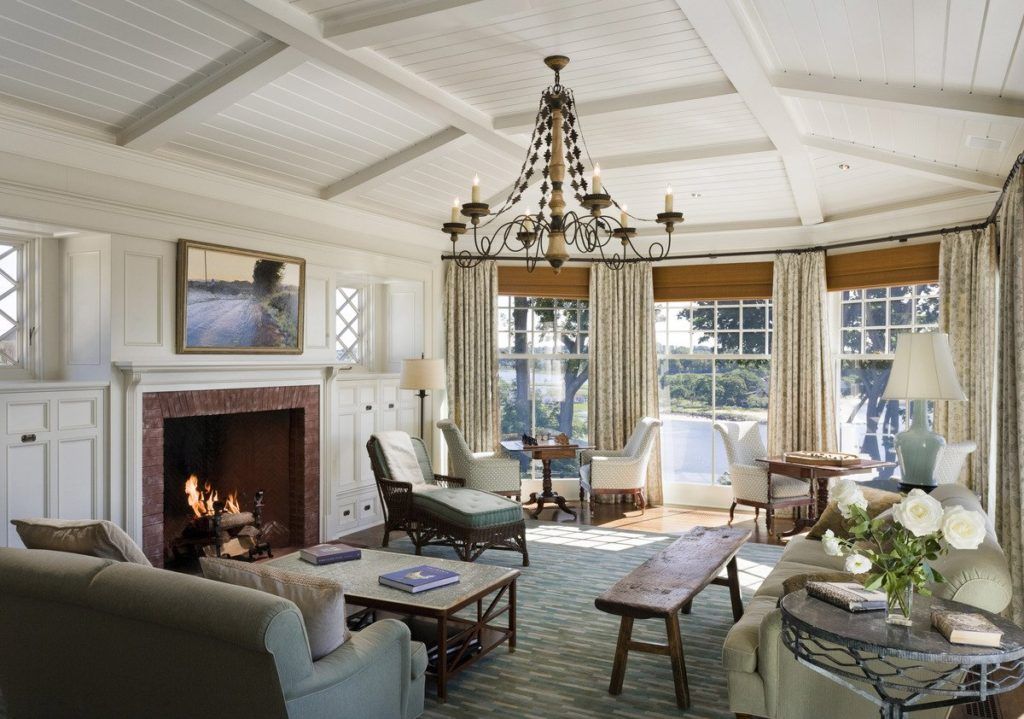 This house in Westport, Connecticut, is a new-build by Robert A.M. Stern Architects, but the structural details, including the octagonal wooden ceiling and wide brick fireplace, make the home feel like it's been there for decades.
---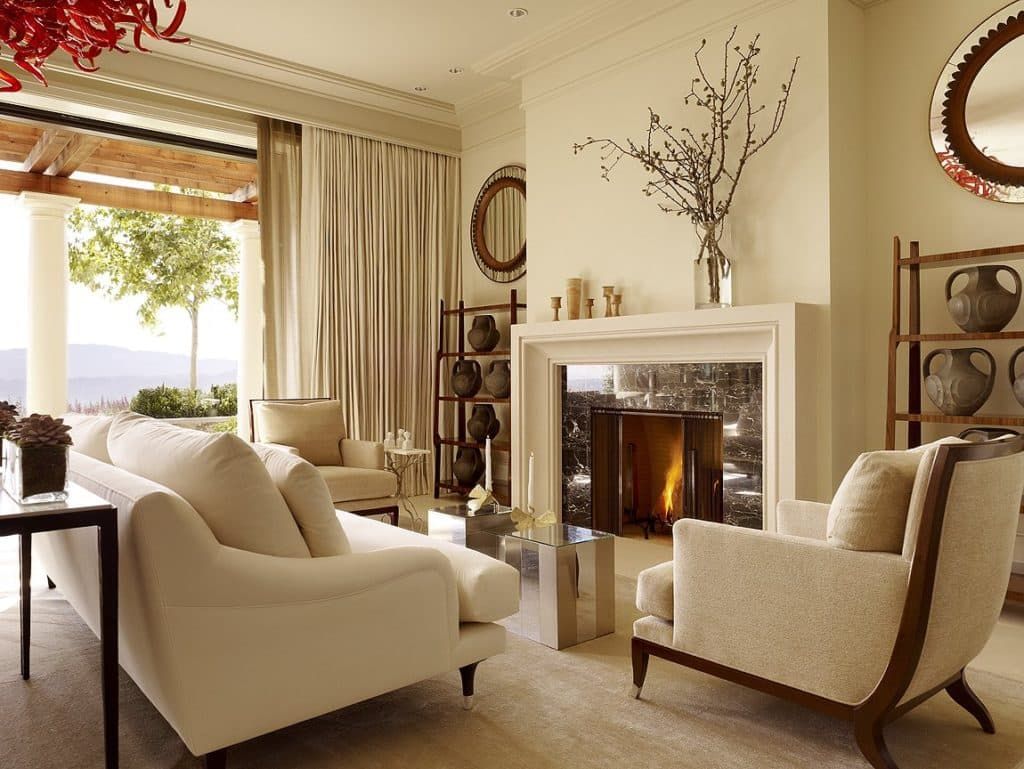 A pair of round mirrors and Miyak étagères by Therien Studio Workshops bound the fireplace in this Napa Valley, California, home by the Wiseman Group. A 1970s chrome-plated Paul Evans cocktail table sits in front of the Bergamo-upholstered sofa.
---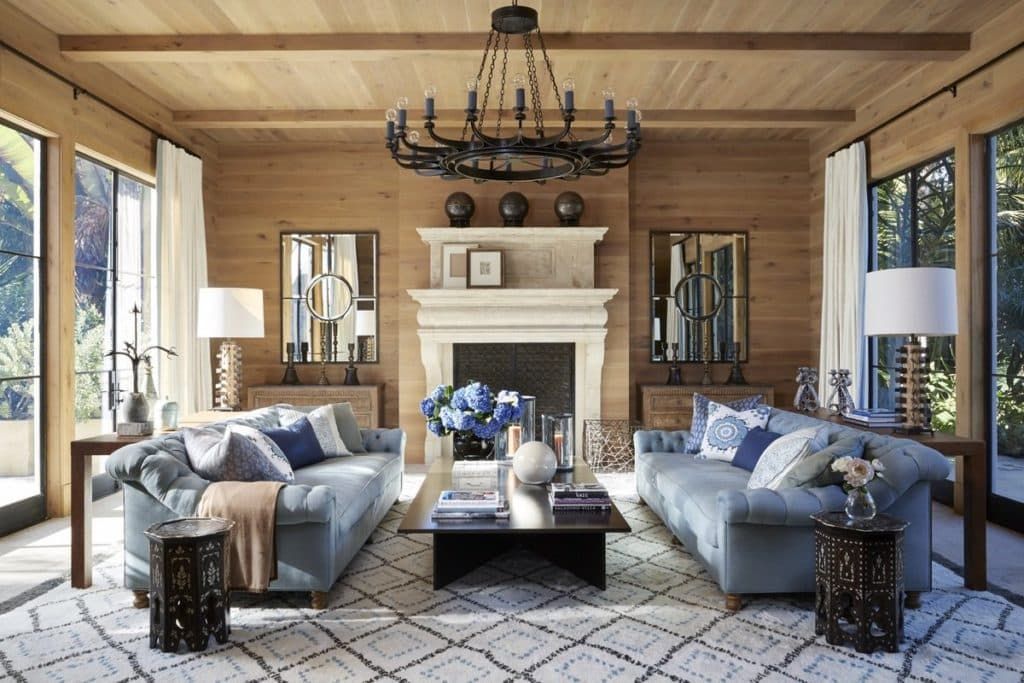 An 18th-century French fireplace, which is flanked by two Blend Interiors mirrors, is the focal point of this wood-lined Malibu living room by Martyn Lawrence Bullard. A bronze coffee table by Robert Kuo sits between a pair of blue Bullard-designed Belvedere sofas.
---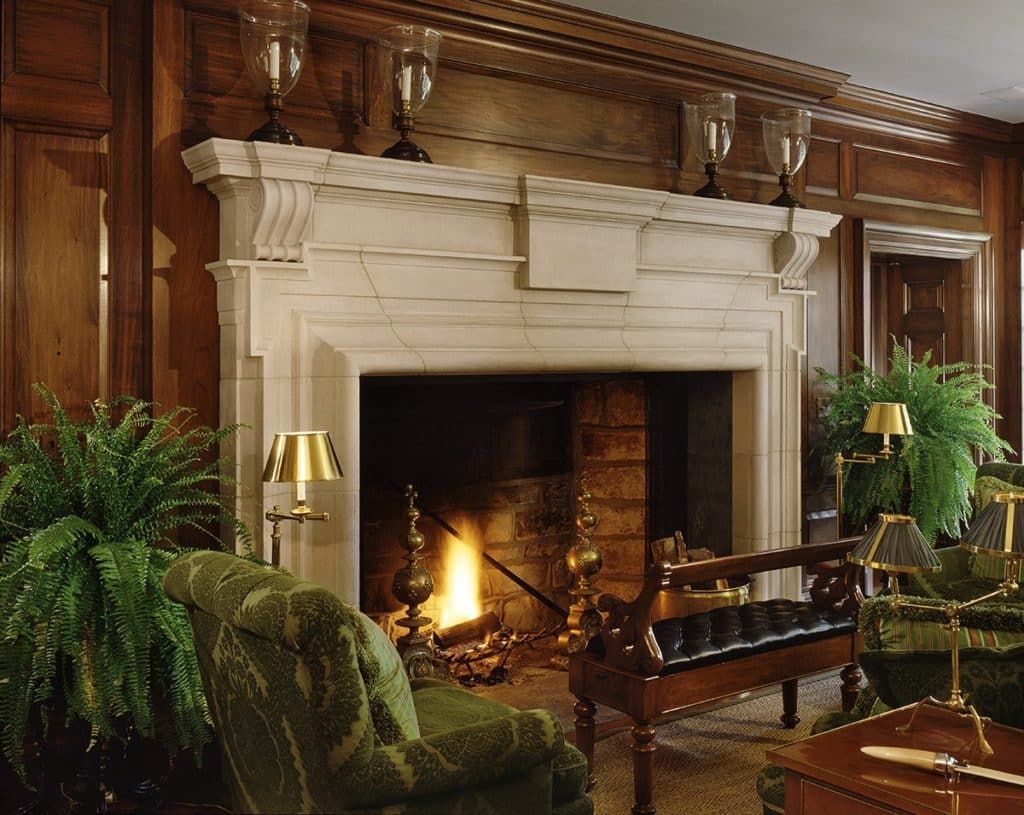 The paneled library in this 1760s Connecticut home, which was rebuilt by Allan Greenberg Architect after it was destroyed by an electrical fire, features a massive stone fireplace topped with hurricane lamps.
---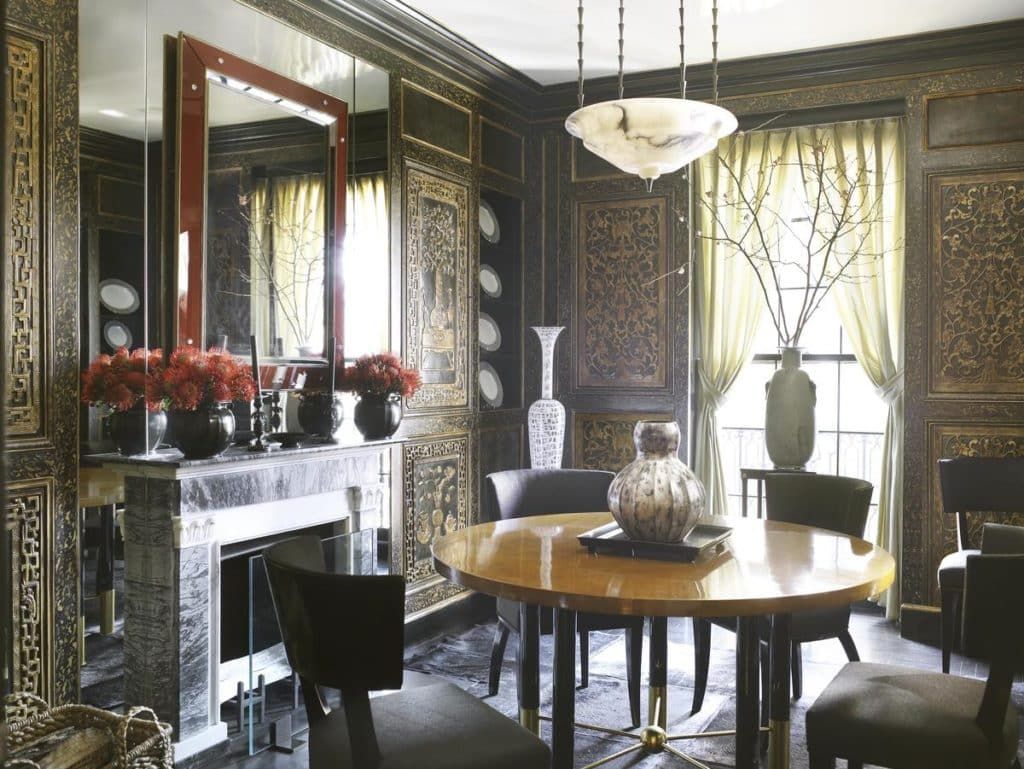 The dining room of designer David Kleinberg's 1925 Upper East Side home features lacquered chinoiserie wall panels and large mirrors behind the fireplace.
---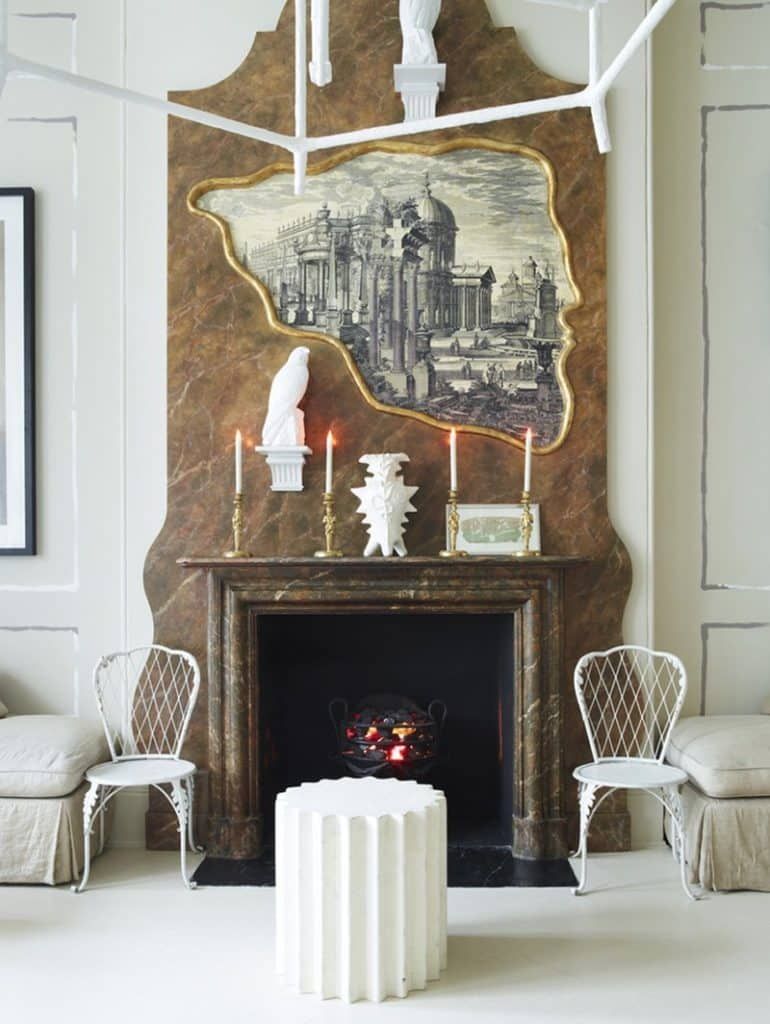 The drawing room of designer Nicky Haslam's London apartment features a brown marble fireplace with a tall matching surround, which showcases surrealist artwork. A Giacometti-esque chandelier hangs over the space.