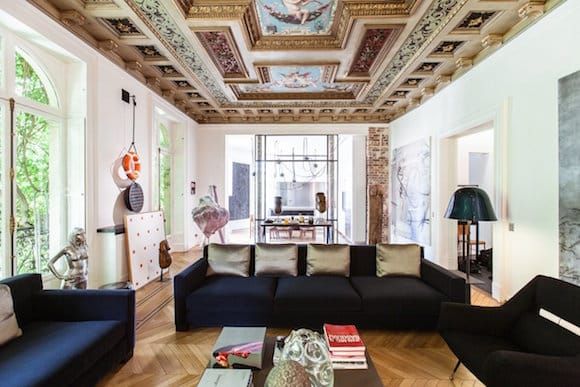 Isabelle Stanislas designed this apartment in Paris's seventh arrondissement for a contemporary-art collector. The home includes a 19th-century ceiling that Stanislas notes is "sculptured and painted at the same time." The ornate ceiling contrasts with the homeowner's art collection.
Photo by Olivier Löser
---
Peter Mikic transformed a rundown late 19th-century London hotel into a glamorous family home. In the living room, vibrant color-field paintings by Sarah Morris pop against the neutral palette, ornate moldings and clean-lined furnishings.
Photo by Kate Martin
---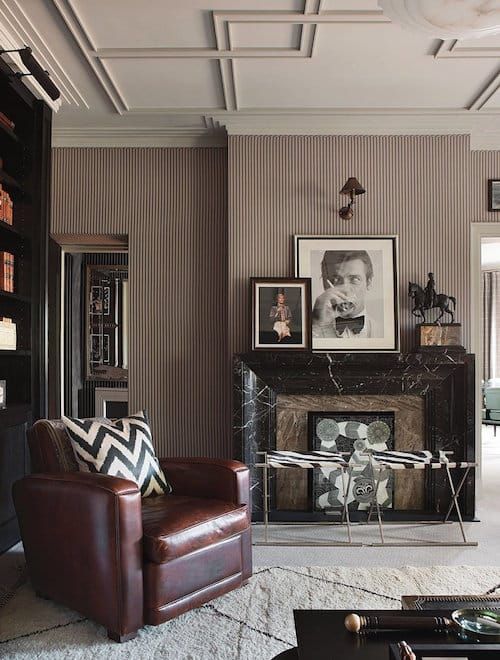 Hubert Zandberg created a 1940s Art Deco–inspired version of the traditional gentleman's club in this London apartment. Vintage photos of Roger Moore and David Bowie adorn the mantel, along with a 19th-century bronze horse. The wallpaper is a nod to vintage Savile Row pinstripes and the Deco fire screen and zebra stools are by Zandberg.
Photo by Elsa Young
---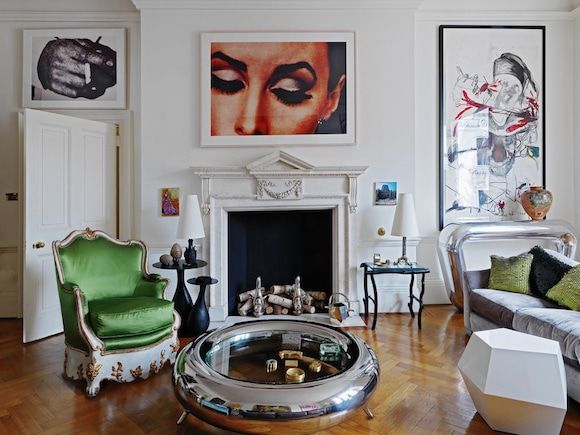 Francis Sultana created an eclectic, art-filled space in this Georgian apartment building, which was designed by Sir William Chambers in 1770, on London's West End."The proportions of the rooms, the tall windows and the daylight that pours in are so impressive that elements such as window dressings were kept to a minimum, as well as color on the walls," Sultana explains.
Art by Richard Prince hangs over the fireplace, with a Paul McCarthy painting on the right. The chair is by Emilio Terry for Carlos de Beistegui covered in green silk by Sultana, the coffee table is by Garouste & Bonetti and the side tables are by Mattia Bonetti.
Photo by Ricardo Labougle
---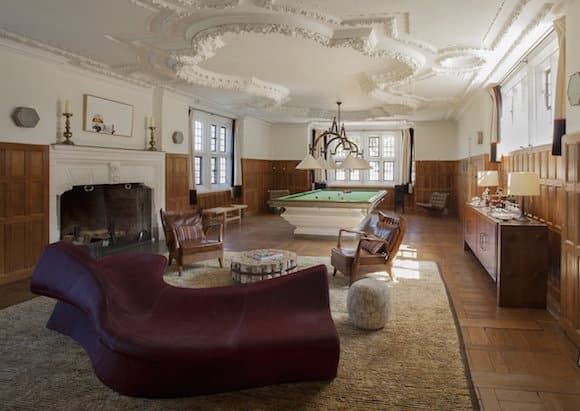 The billiards room of this Hampshire country house by Robert Couturier features an intricate ceiling and a pool table carved from solid chalk, which contrasts with the contemporary shape of the burgundy sofa by Zaha Hadid for Sawaya & Moroni.
Photo by Tim Street-Porter
---
For this home in England's Oxfordshire countryside, Ashley Hicks had the living room walls painted to resemble stitched squares of leather. "I made both the 'Brothers' chimneypiece in painted plaster and the convex mirror above it, a playful version of the elegant Regency ones with gilded eagles," Hicks says, adding, "on mine, a trio of cheeky monkeys play with architect's tools on the frame of bleached sticks."
Photo by Ashley Hicks
---
Photo by Francis Amiand
---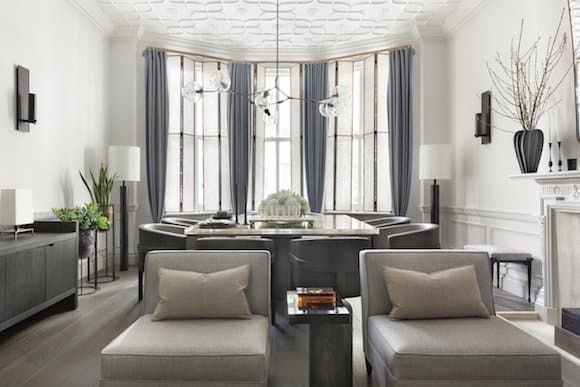 A neutral color palette in this London home by Janine Stone & Co. highlights the architectural features in this dining and living space. A Lindsey Adelman chandelier hangs from the finely detailed ceiling.
Photo by
Alex James
---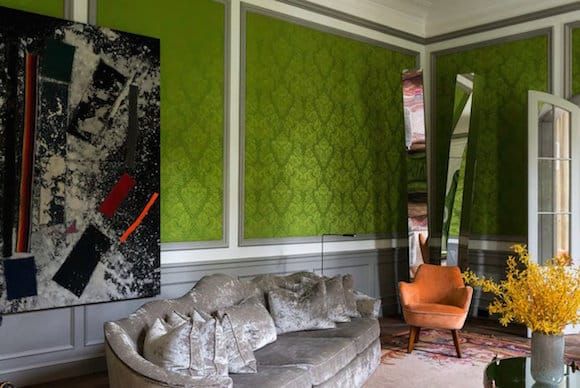 Gert Voorjans transformed a former French consulate in Antwerp, Belgium, into a private family home. In the salon, he selected an Aubusson carpet and silk wall coverings in a chartreuse damask to accompany lively abstract artworks. "Because of the very strong historic elements in this town villa, I opted for contemporary art, giving sharply defined contrast and endorsing dialogue between the different style periods present," says Voorjans.
Photo by Tim van de Velde
---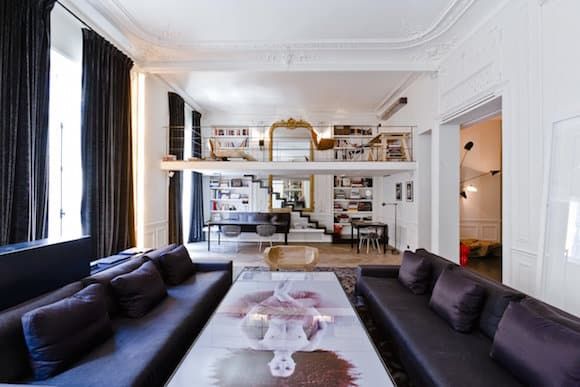 This 18th-century Paris home was repurposed as offices in the 20th century, and Isabelle Stanislas was tasked with turning them back into a residential space. To reconfigure it as a family apartment, Stanislas had the original plaster wall moldings and the parquet flooring restored, and put a modern stamp on it with furnishings by designers like Harry Bertoia and Serge Mouille.
Photo by Olivier Löser
---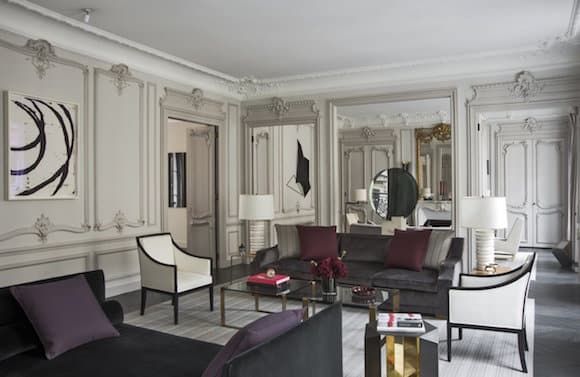 "Our intention was to create a link between the past and the present in the design but also in the way the space is structured and lived in," says Champeau & Wilde of this restored Paris apartment. The living room includes a pair of Jean Michel Frank chairs and a daybed by Armand Albert Rateau.
Photo by Xavier Bejot
---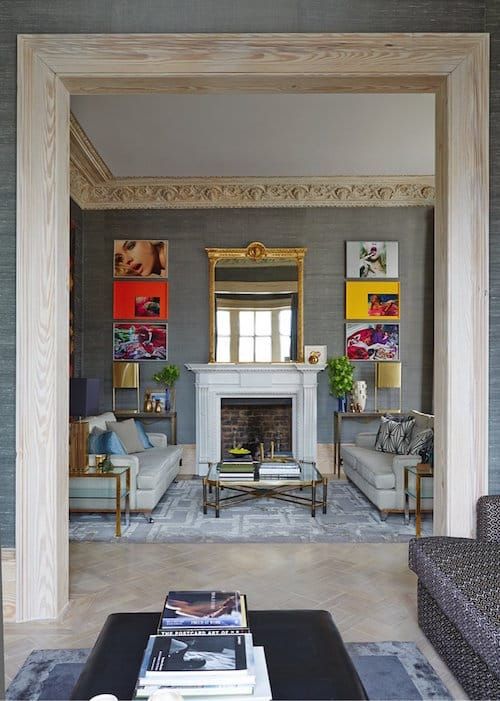 Peter Mikic updated this townhouse in West London, stripping layers of paint from the original timber and the decorative cherub-embellished plasterwork. He sheathed the drawing room gray silk, decorating the space with a gilt 19th-century mirror flanked by contemporary art, a marble fireplace surround from Jamb and a coffee table and side tables found on 1stdibs.
Photo Kate Martin
---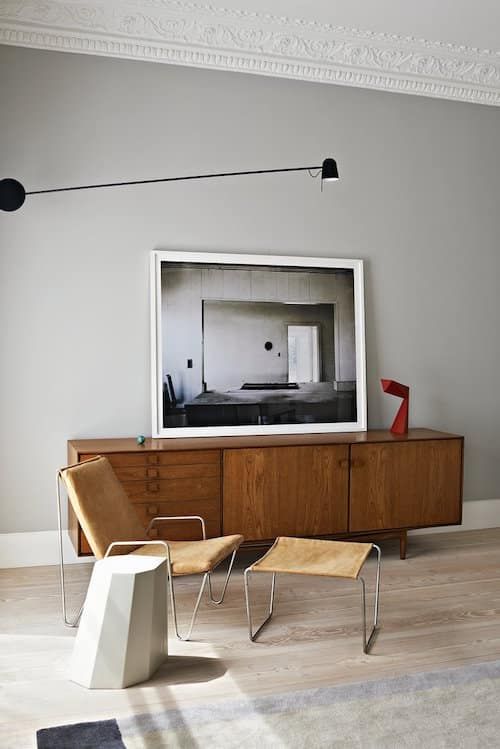 "The client was keen on buying true quality pieces and was happy to invest in them," says Tom Bartlett of Waldo Studio, who designed this London apartment for a couple that loves mid-century design. The bedroom includes a Verner Panton bachelor chair and footstool in suede, a Martin Gamper Arnold Circus side table and a counter balance wall lamp by Luceplan. The credenza features Dark Star, 2007, by John Divola.
Photo by
Tom Mannion; artwork courtesy John Divola and Laura Bartlett Gallery
---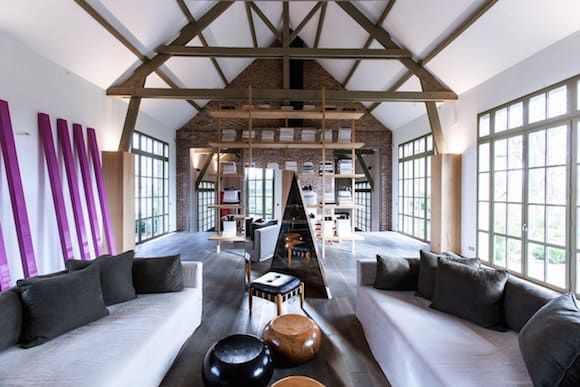 For this country home in Deauville, France, Isabelle Stanislas's objective was to harmonize between the Norman architecture and the modernized interior, which features materials like concrete, steel and brick, along with contemporary artwork.
Photo by Olivier Löser