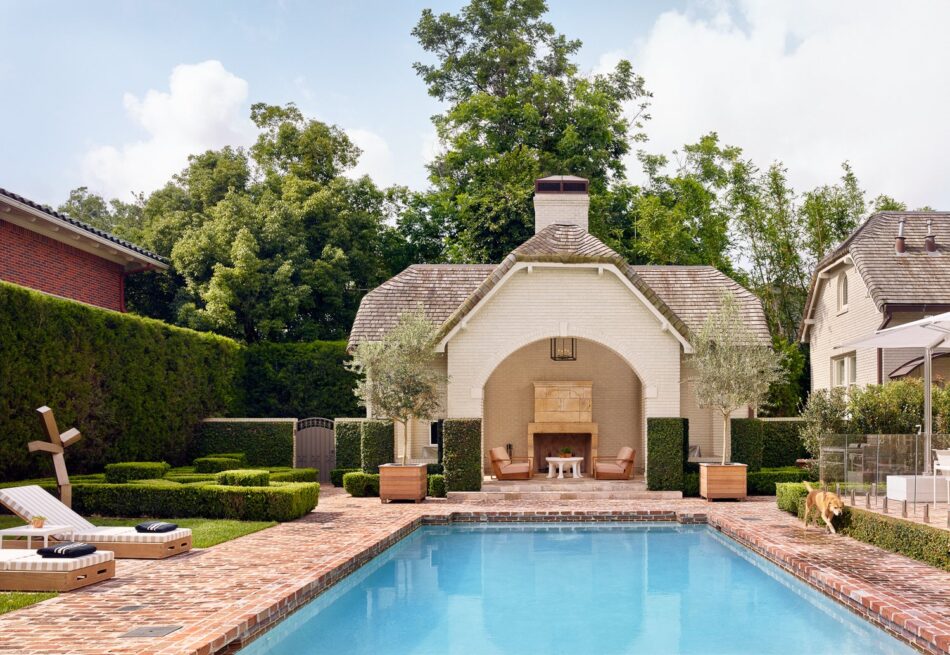 "I wanted to marry the old-world sense of the circa 1920s home with the couple's more modern aesthetic," says Mark Ashby, explaining his scheme for the historic home in Houston that includes this charming pool house.
The soft neutral palette Ashby deployed inside the house to let the clients' artworks shine provides a soothing background here for comfortable seating from David Sutherland.
---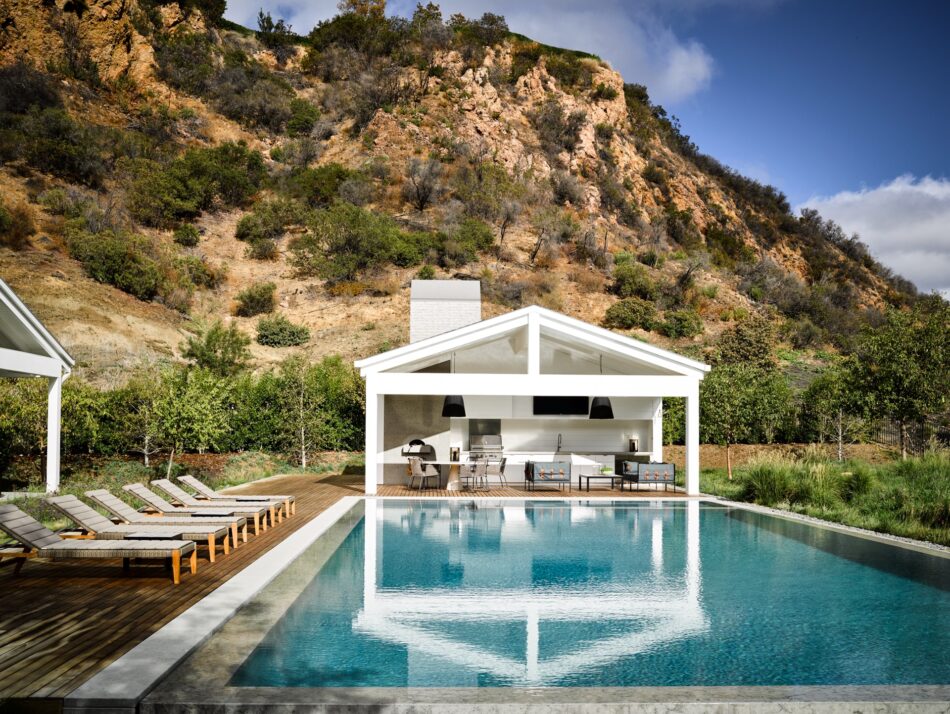 "This home in Thousand Oaks, California, embraces indoor-outdoor living, and the pool house is no exception," says Nicole Hollis. Her clients, a family of five, enjoy entertaining, so Hollis designed the alfresco structure with a full kitchen, complete with stone pizza oven. While the pie's baking, hosts and guests can relax on the Roda chairs surrounding the James De Wulf concrete pedestal table or lounge on the Casamidy sofa.
---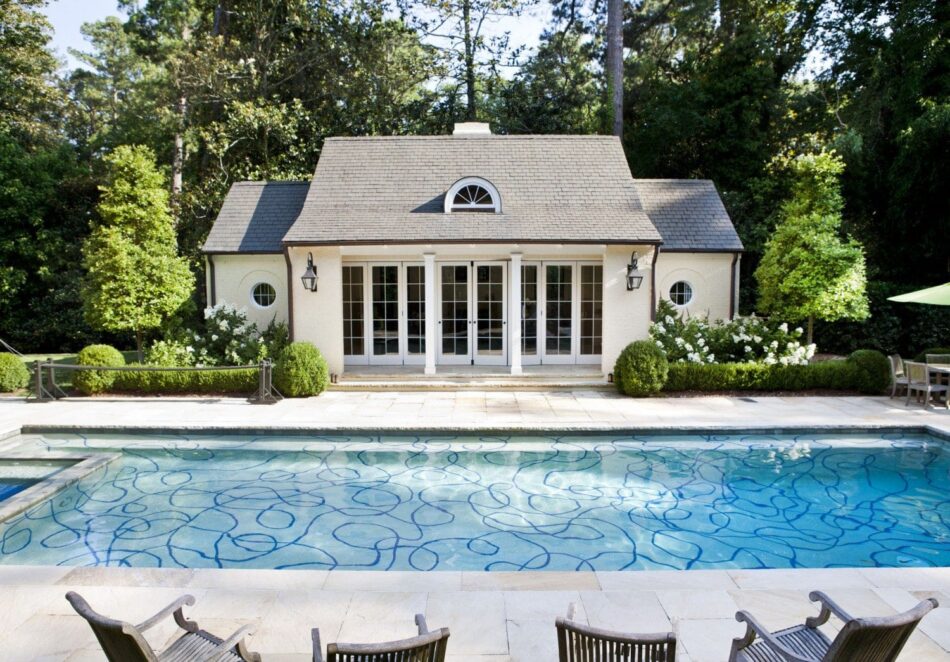 In reviving an Atlanta house designed by architect Philip Trammell Shutze in 1939, interior designer Tammy Connor had a very specific mandate. "As the new owners and stewards of the home," she explains, "our clients, a charming family of six, wanted to maintain its historic integrity while updating it for the busy comings and goings of modern day-to-day life." Connor obliged with a stately pool house designed in Colonial Revival style set against a super-contemporary, artistic pool.
---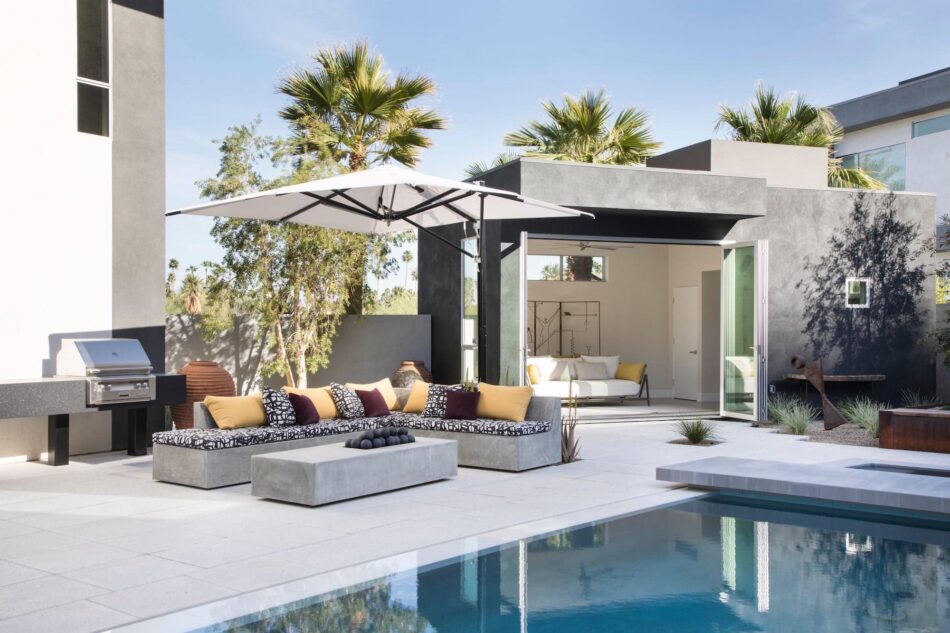 "The client wanted a seamless indoor-outdoor transition from his living room to the patio and an open feeling from the cabana," says Laura Roberts, explaining her approach to this pool area of a Palm Springs vacation home.
The surrounding San Jacinto mountains provided her with a model for the palette and materials, like the poured concrete of the fire pit and banquette. These elements, the work of Mark Hahn, of Qualcon Construction, harmonize perfectly with the pool house, created by landscape designer Marcello Villano and furnished by Roberts with a Holly Hunt daybed and a vintage screen.
---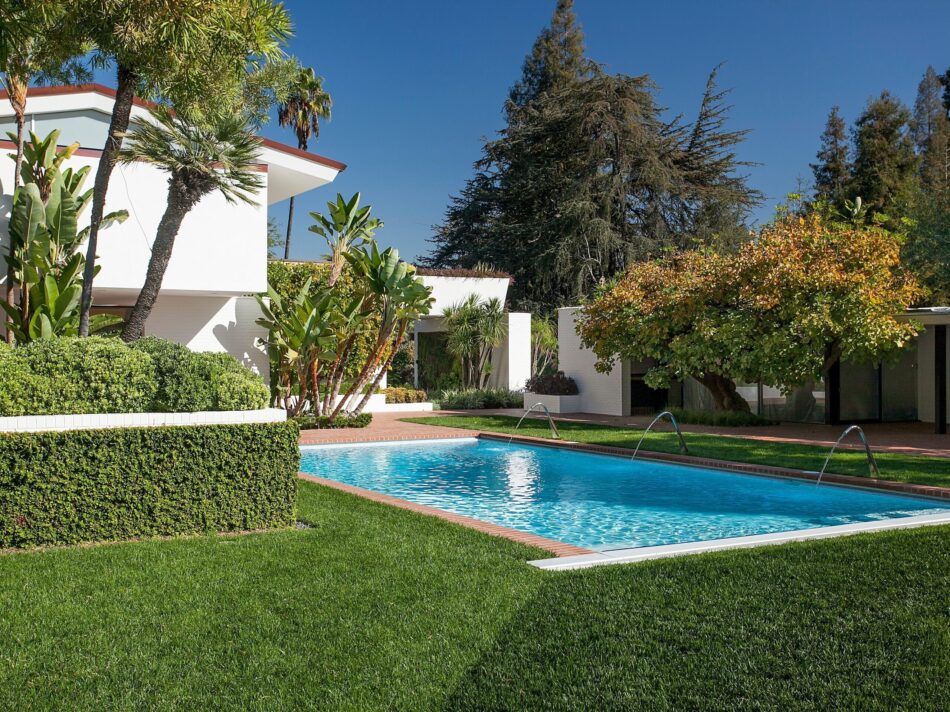 "It was important to restore everything without sacrificing the authentic mid-century bones," Stephen Stone says of his approach to updating the 1949 Brody House — designed in L.A. by famed architect A. Quincy Jones — to suit a more contemporary lifestyle.
The pool house is a case in point. "There was an abundance of closet space," Stone notes. "So we were able to utilize part of that to incorporate a new spa area done completely in terrazzo with natural stone slab walls." And he left in place the espaliered coral trees that Mrs. Brody had started more than half a century earlier.
.
---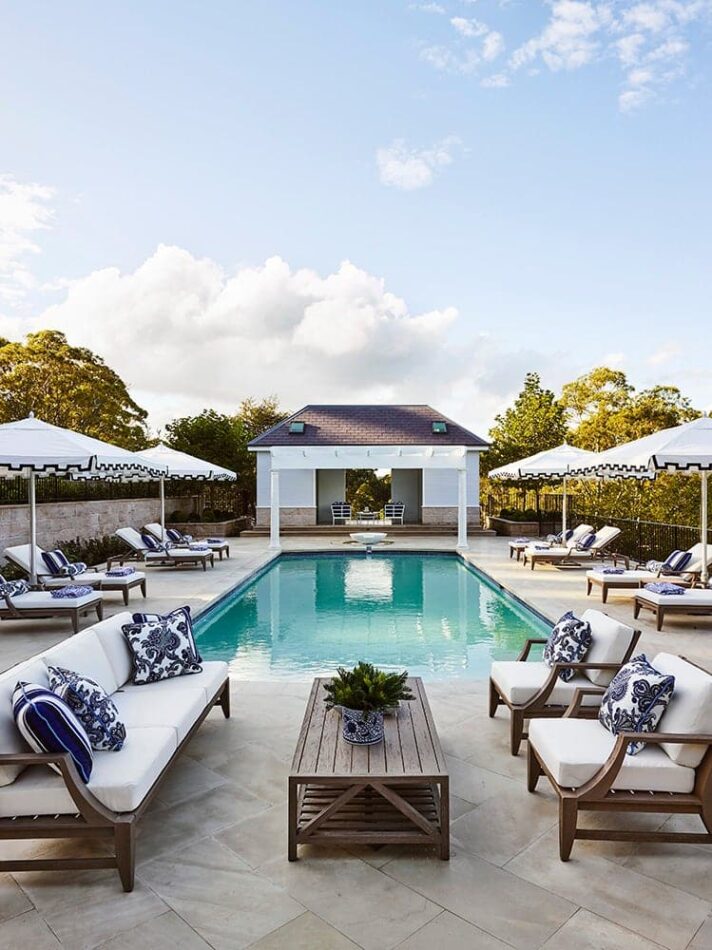 For this outdoor area of a family retreat in the Australian beach resort of Avoca, Greg Natale looked for inspiration to a coastal holiday destination in another hemisphere. "I was inspired to create a Cape Cod feel throughout the pool house, which features a predominantly blue and white color scheme," he says.
Keeping it simple, Natale sourced all the decor, from the sofa to the coffee table, from Janus et Cie.
---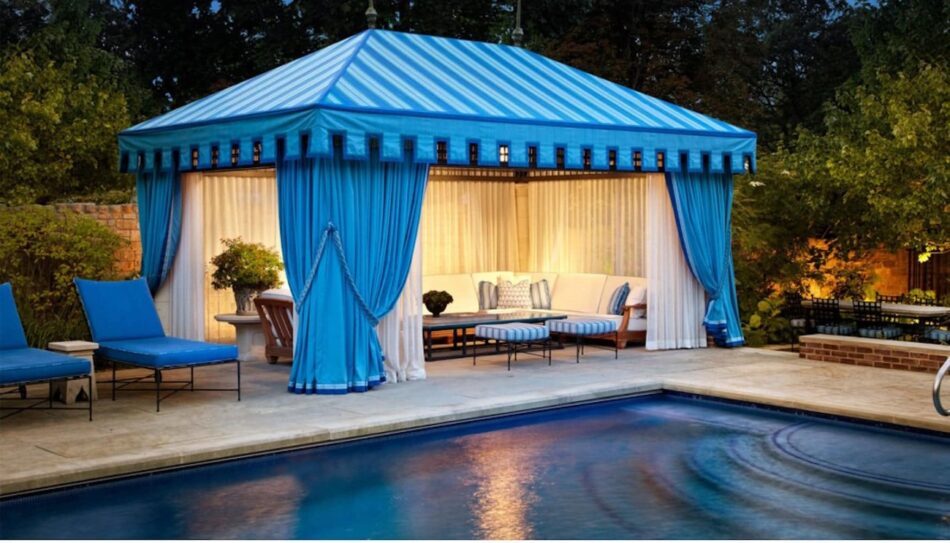 Designer Bruce Fox expertly combined three Sunbrella fabrics for this Moorish-inflected tent gracing the pool of an estate in the North Shore area bordering Lake Michigan. The resulting structure, he says, feels "a bit like the South of France, where my clients love to spend time." Adding to the charm are antique lanterns, a Giati sofa and a custom lava-stone-topped coffee table.
---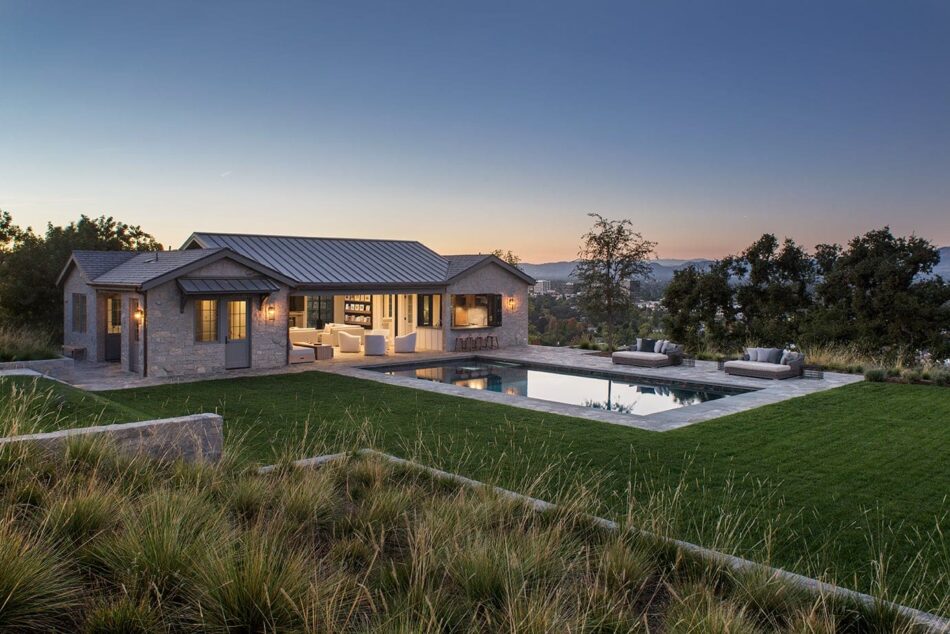 This Los Angeles pool house may just be everyone's dream retreat. "It was conceived as two stone structures joined by a massive porch, which was enclosed with slide-away doors to offer the homeowners year-round use," explains its designer, Mark Langos. The 1,400-square-foot space comprises a spacious living room, full kitchen, guest room (with en suite bath), pilates studio and changing room, complete with a steam shower.
Topping it all off, the 13-foot-tall retractable doors open to reveal a marvelous seating area, furnished with custom swivel chairs covered in Holly Hunt outdoor fabric and a white plaster John Dickinson table.
---
Studio K Design magically transformed the dusty garage of an L.A. home into a pool house imbued with laid-back style and California cool. Explains principal designer Kathryn Hetherington, "We wanted it to feel elevated and chic, to mirror the fun spirit of the family we were designing for."
Best of all, most of the pieces, including the CB2 sofa, West Elm rug and Etsy lounge chairs, are quite affordable!
---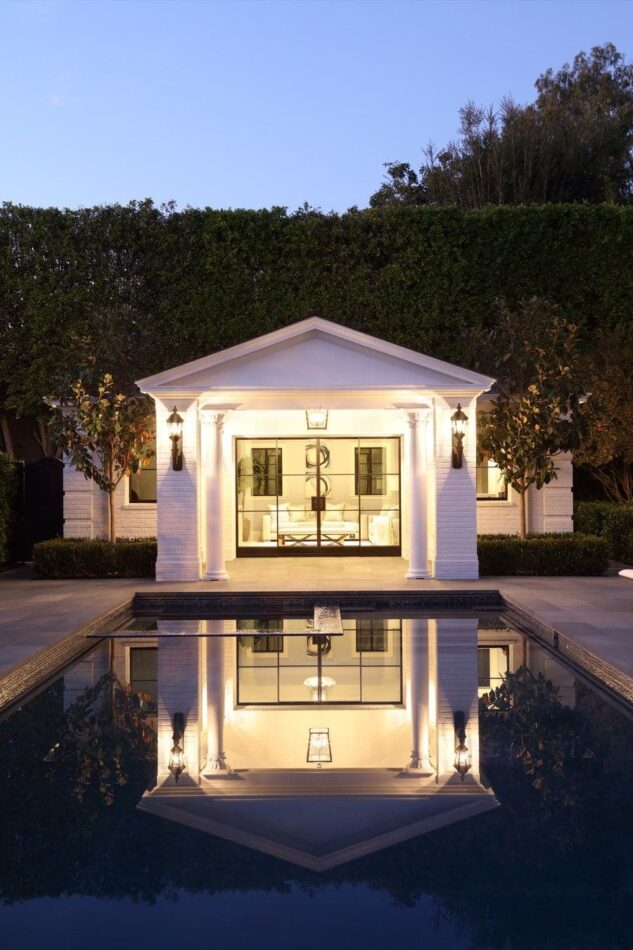 This pool house of a Beverly Hills estate takes its cues from the Streamline Moderne style that blossomed in 1920s and '30 Los Angeles. The exterior, modeled on a simplified Greek temple, is the work of architect Richard Manion. Designer David Desmond crafted the decor inside.
"For interior inspiration, I looked to Los Angeles pool houses of the late early 20th century, using Paul Williams and James Dolena as references," Desmond says. Behind the nearly floor-to-ceiling windows is a chic seating area with custom pieces inspired by the work of Jean-Michel Frank.
---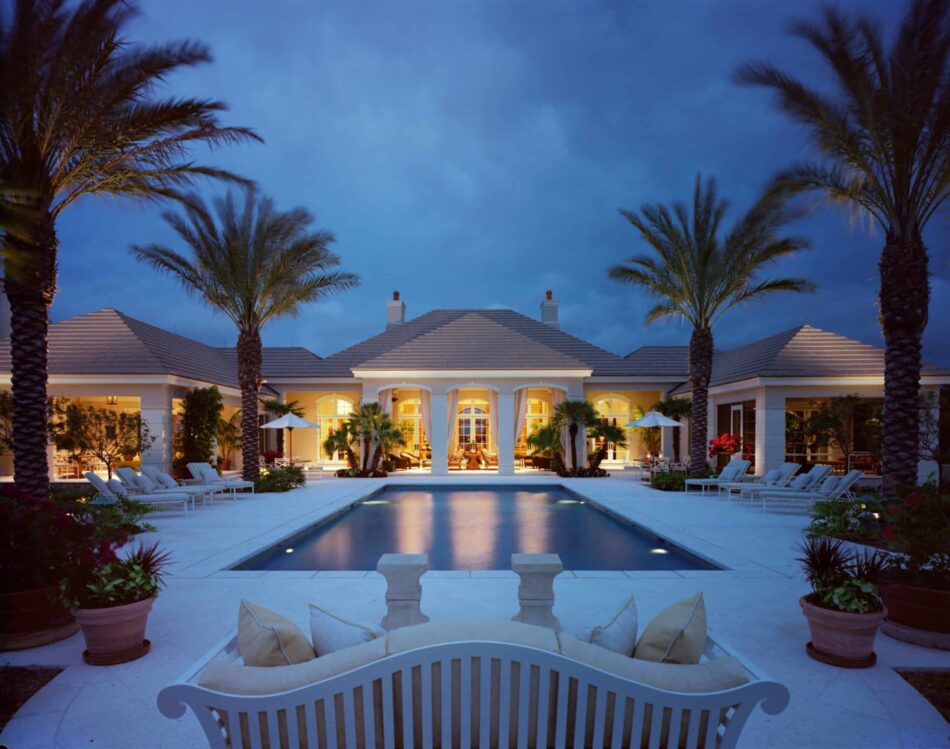 "For this project, my client asked for something classic and in Bahamian style," says Tom Stringer, describing his work on a home on John's Island, Florida. "So, we agreed that if the house felt just a bit like a private resort, he would be happy." Accordingly, Stringer designed a hotel-worthy pool house, dramatically furnished with a statement-making cast-aluminum camelback sofa by McKinnon & Harris and limestone side tables from Formations, in L.A.
---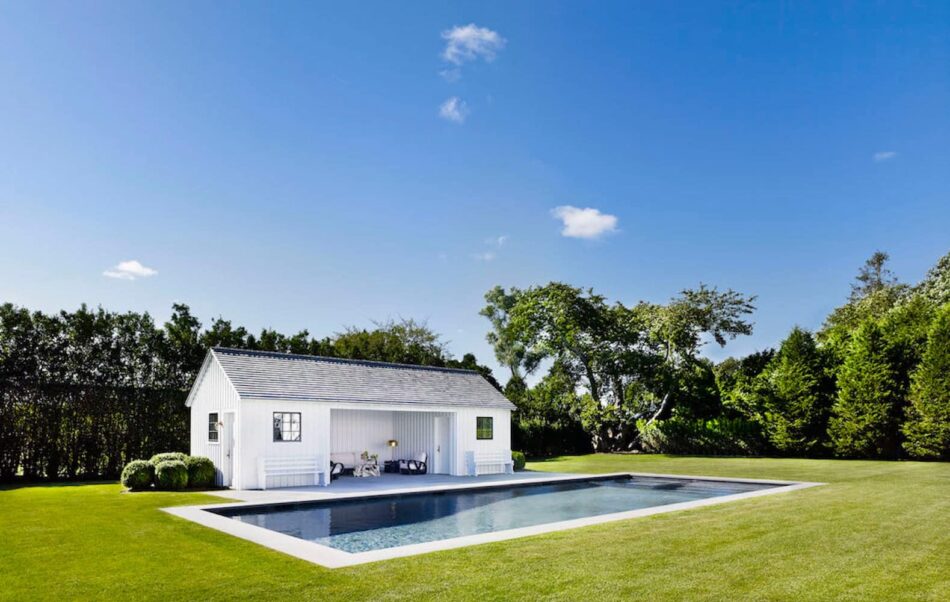 This classic East Hampton pool house by Dan Scotti — who developed this and the property's main house for resale — was inspired by a cabana at an Argentinian hotel beloved by the designer. "This was one of my favorite projects," Scott says, "in part, because I rented the home to Diane Keaton for a week just before I sold it."
The pool house's covered outdoor entertaining space has a vaulted ceiling sheathed in reclaimed cedar barn siding and is furnished with 1940s Paul Frankl rattan seating, a driftwood coffee table and a pair of vintage Italian brass table lamps.
---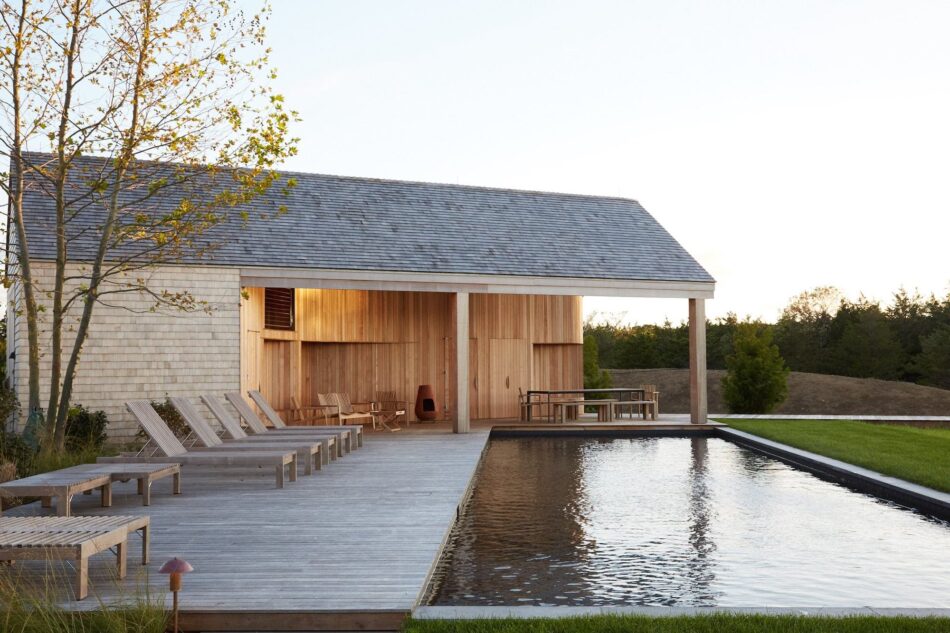 Massachusetts architect Maryann Thompson designed this pool house overlooking a grassy expanse as an addition to a coastal Martha's Vineyard house she also renovated, whose mostly white interiors are by Shelter.
---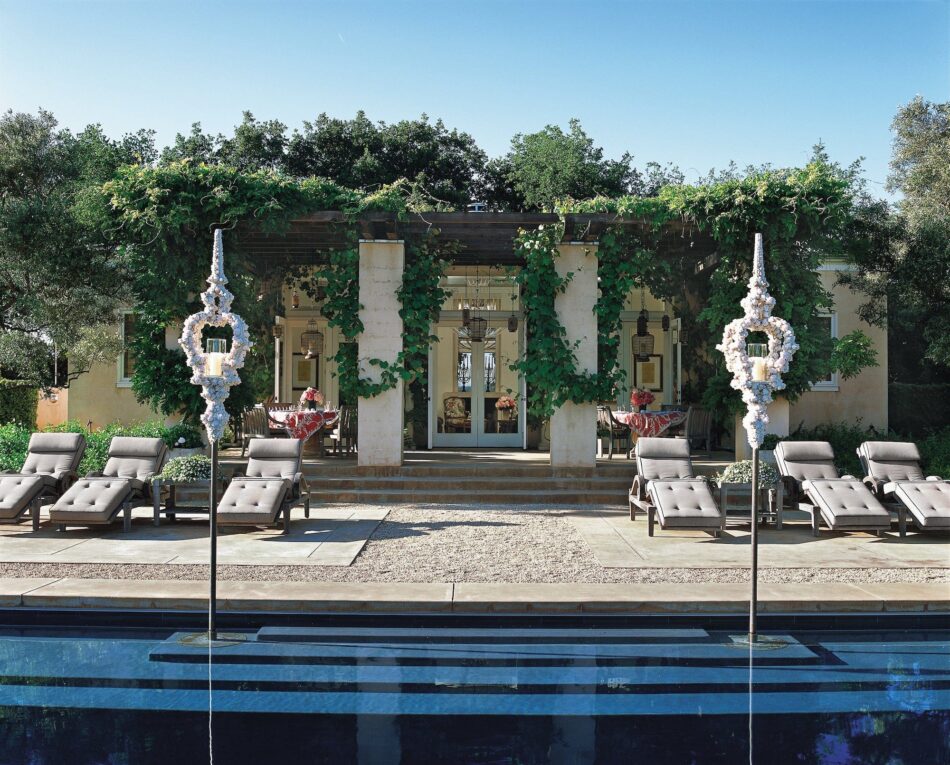 This Sonoma, California, pavilion — complete with full kitchen, dining island, fireplace in the living room, king-size bed and closet — was designed by Fisher Weisman with an eye to 18th-century French pavilions and the region's balmy weather. "That blend [of inspirations] led us to a pared-down style that remains symmetrical and classical yet modern and unpretentious," says Jeffery Weisman. "We always strive to make our rooms glamorous — even pool houses — and I think we succeeded with this one."
---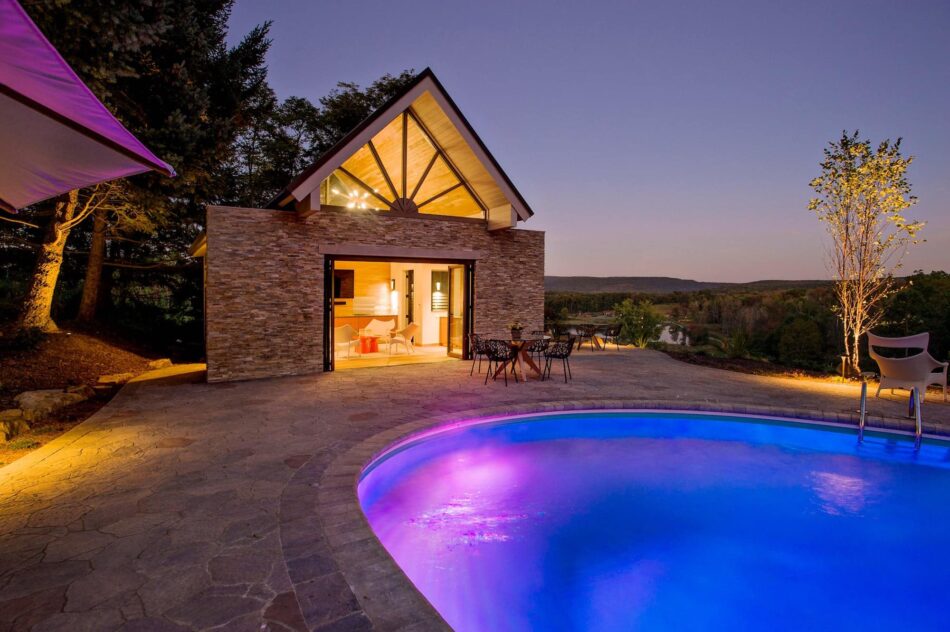 B. Jarold and Company redesigned this Laurel Mountains home in Pennsylvania as a vacation retreat for its owners, expanding the patio to comfortably fit around the existing pool and adding a pool house outfitted with mid-century modern furniture.
---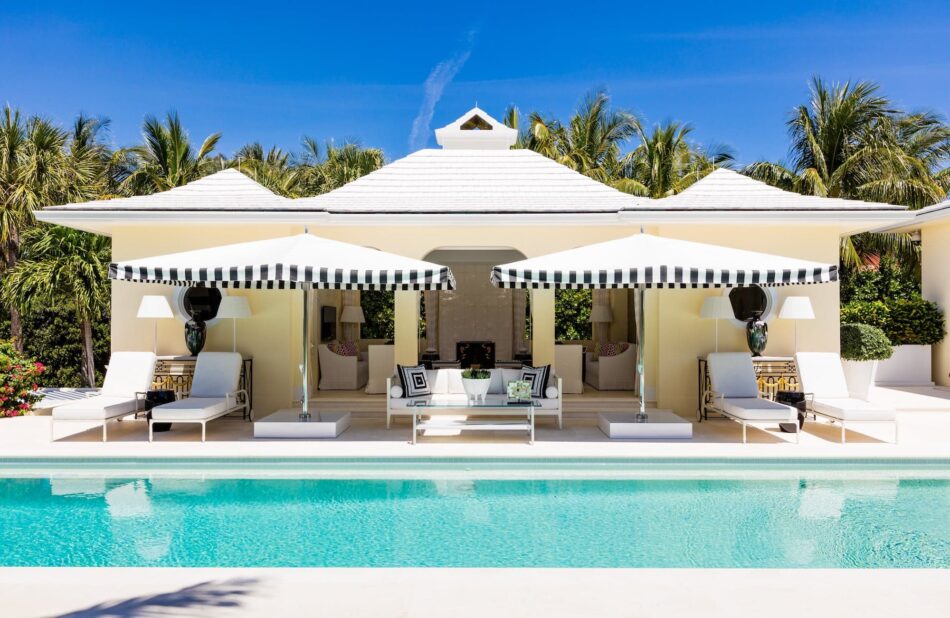 For a Palm Beach estate, MMB Studio created an outdoor living pavilion that designer Andrea Anttonen describes as perfect for "delicious afternoons and glamorous evenings." Old Hollywood may have been reborn in this South Florida backyard.
---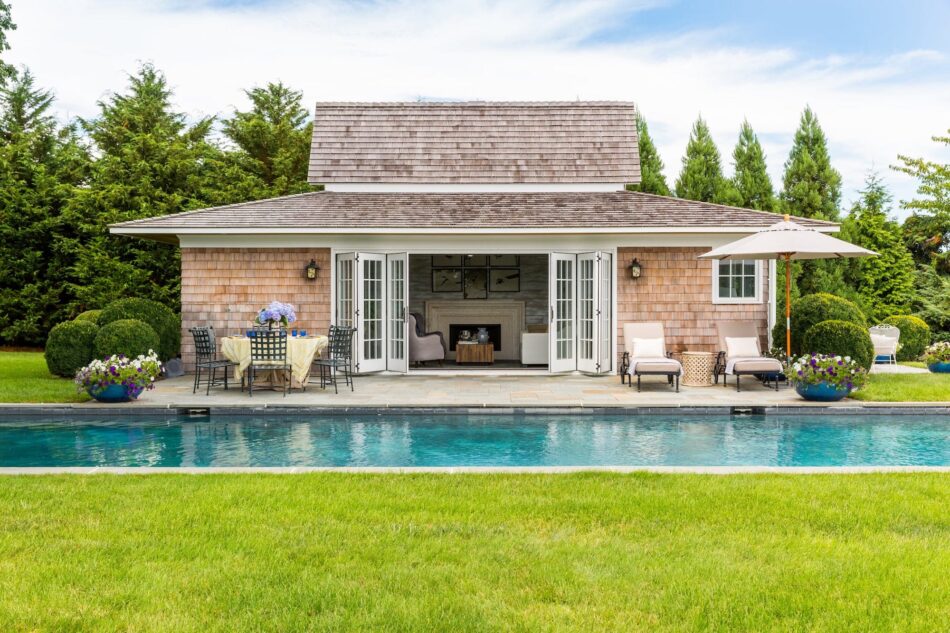 The palette of this shingle-style Southampton, New York, pool house by Huniford Design Studio is inspired by the structure's materials: driftwood details, weathered-board walls, bluestone floors and a travertine fireplace.
---
Entire walls of French doors maximize the indoor-outdoor feel of this Lexington, Kentucky, pool house by Kemble Interiors. Photo by Evan Sklar
---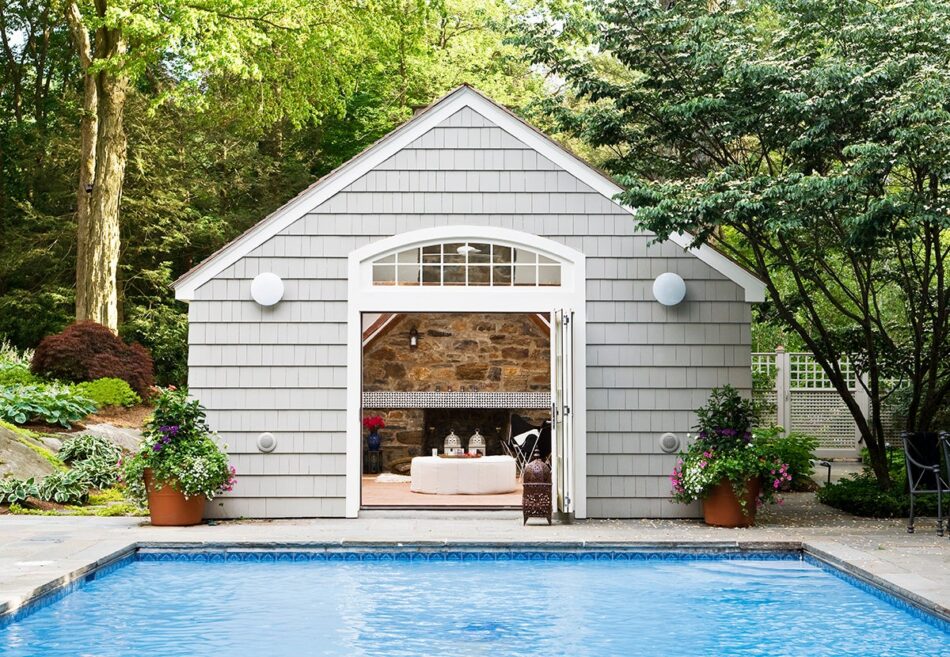 In updating this pool house, Alexandra Loew restored the rustic architectural features while adding modern amenities to create the resort-like atmosphere that the client was seeking.
---
Epic sculptures and large urns punctuate the manicured grounds surrounding the pool house at the Dallas residence of Kelli Ford, co-owner of the design firm Kirsten Kelli.
---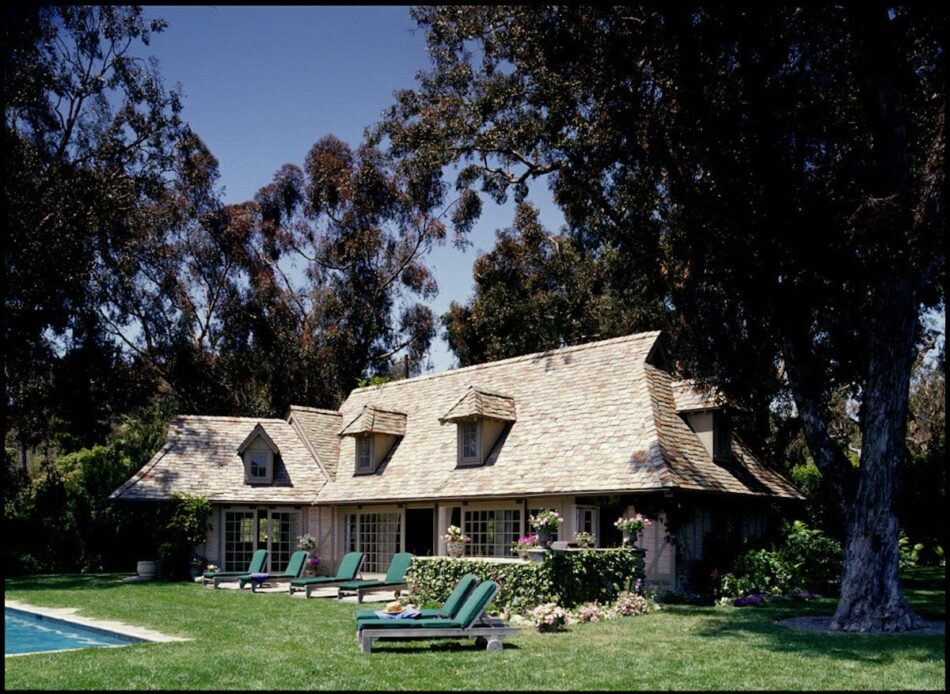 Thomas Callaway designed this French Norman–style barn in Los Angeles as a pool house for his clients. The open-plan structure includes a kitchen, living room, dining room and children's play loft.
---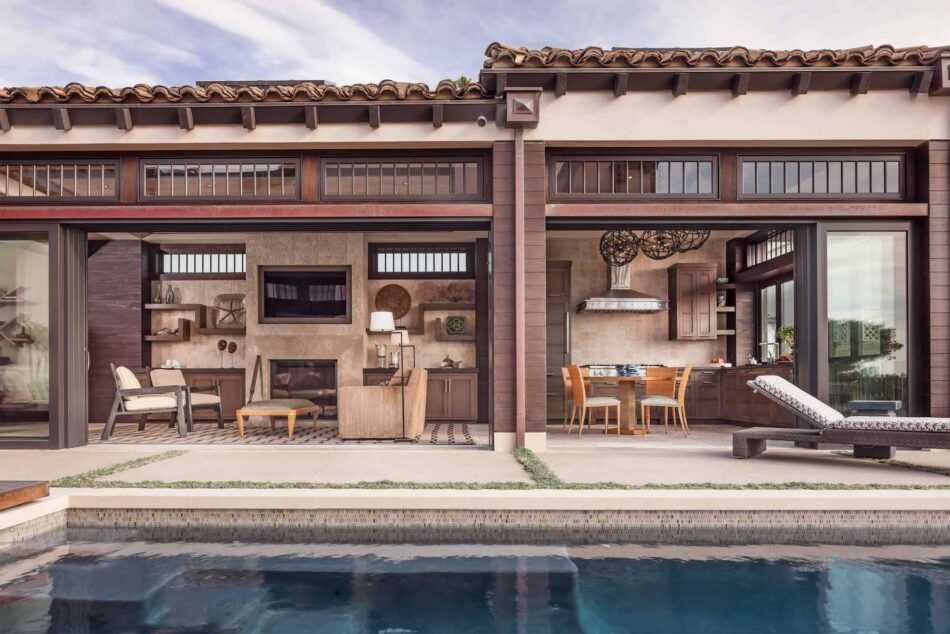 In designing the pool house of this home in Newport, California, Sheldon Harte of Harte Brownlee looked to Bali and Sri Lanka for his guiding aesthetic. At the same time, Harte embraced pieces that were "weathered, textured and worn, which look great at the beach and are easy to live with," he says.
---
Sheila Bridges updated a late-1800s cottage in New York's Hudson Valley, whose grounds include a sunny, one-room pool house.
---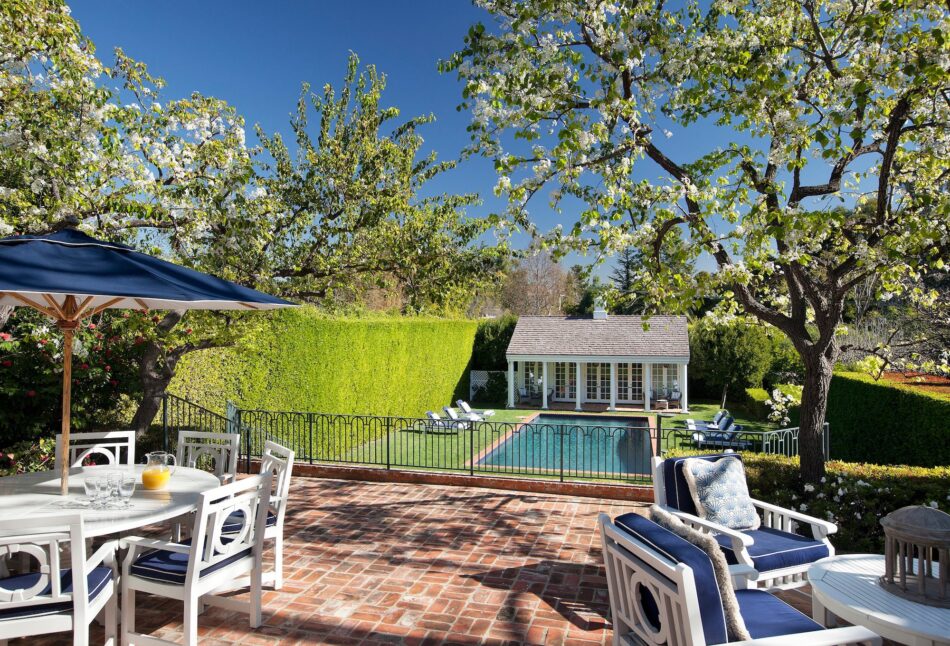 Timothy Corrigan updated and englarged a Cape Cod–style home in Los Angeles, which entailed adding French doors that opened onto terraces and gardens, including this elegant pool house.
---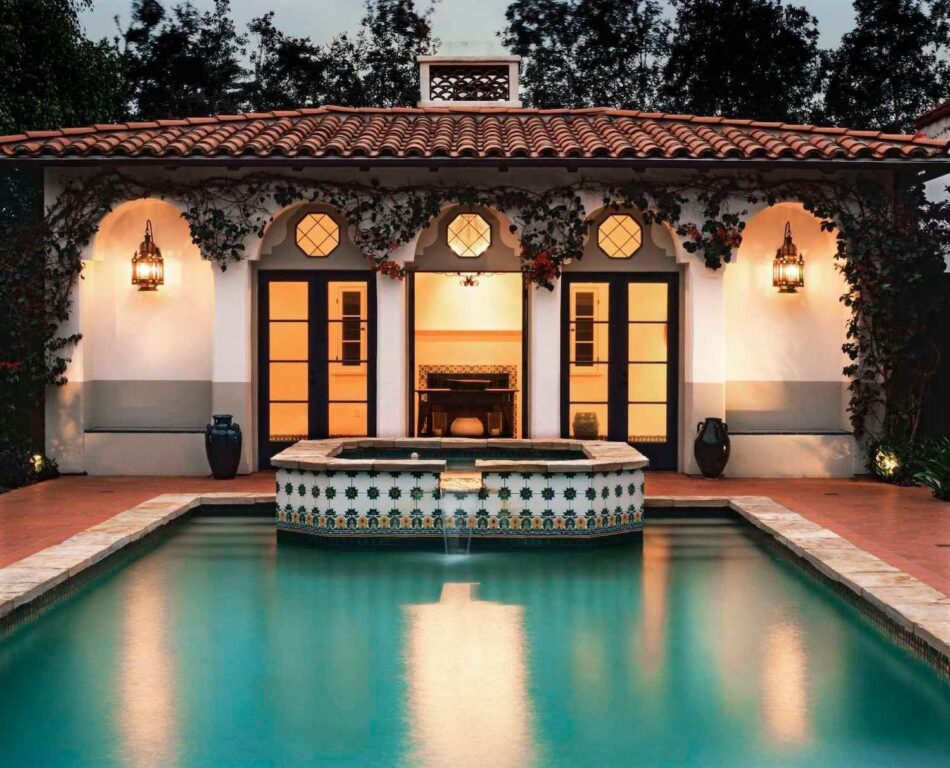 The tilework in the pool house of this 1920s Beverly Hills Spanish Colonial updated by Thomas Callaway echoes that of the hot tub leading into the pool.
---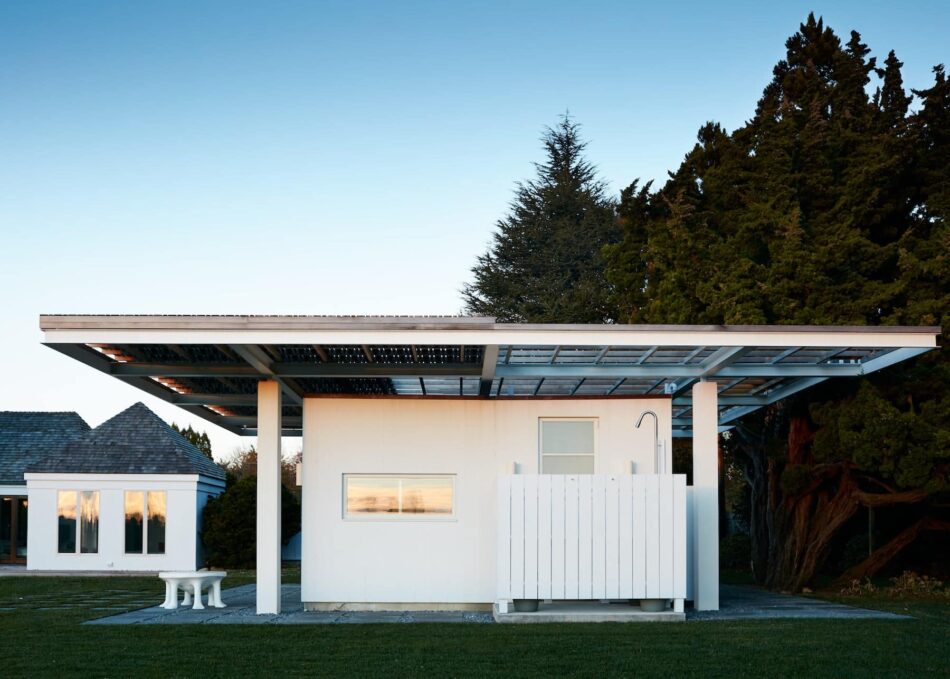 Billy Cotton designed and built this whitewashed pool cabana in Sagaponack, New York, complete with an outdoor shower under a modernist rectilinear roof.
---
For a Long Island country retreat, Brian J. McCarthy worked with architects Douglas C. Wright Architects to create this pool house, whose warm interiors include wood-paneled walls and lantern sconces.
---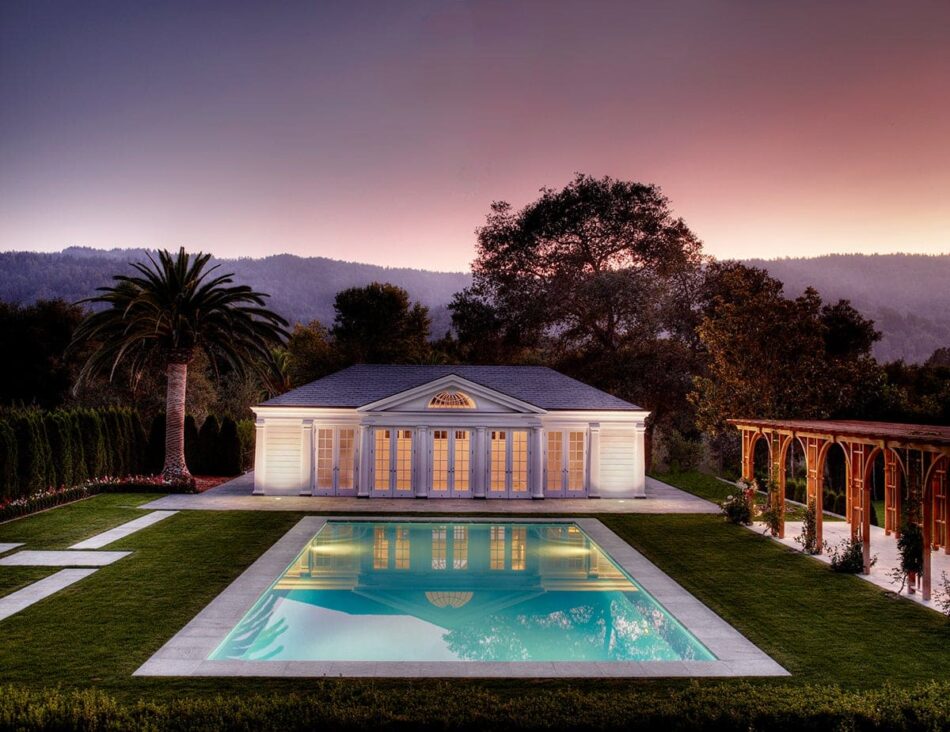 This pool house is part of a Woodside, California, estate by architect Allan Greenberg. The grounds include a croquet court next to the pergola.