Chetkin Gallery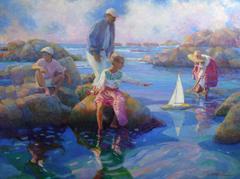 Dimensions:
Dealer Location:
Red Bank, NJ
Medium:
Canvas, Oil Paint
Memories at the Cove
Don Hatfield
21st Century and Contemporary American Impressionist Figurative Paintings
Canvas, Oil Paint
American artist, Don Hatfield, recently completed this gorgeous painting. A man and three children sail a toy sailboat in a charming cove. Hatfield uses a beautiful color palette of blu...