First impressions last a lifetime. Though this axiom is most frequently employed to describe people, we think it applies equally to interior design. Consider the foyer. After all, a foyer — alternately, the entryway, entrance, vestibule and lobby — serves as a kind of design ambassador, introducing and welcoming guests to a home. And just like a smile or a handshake, it hints at what comes next: spaces that will either be inviting or formal, casual or dramatic, warm or minimal. The ideal foyer should be dazzling, demonstrative and tell a story unique to its inhabitants. To help get you started on the right foot, we've assembled a gallery of 17 beautiful entry ways, ranging from a spare Dallas atrium to a neoclassical Norman castle. It would be a pleasure to make the acquaintance of every one of them.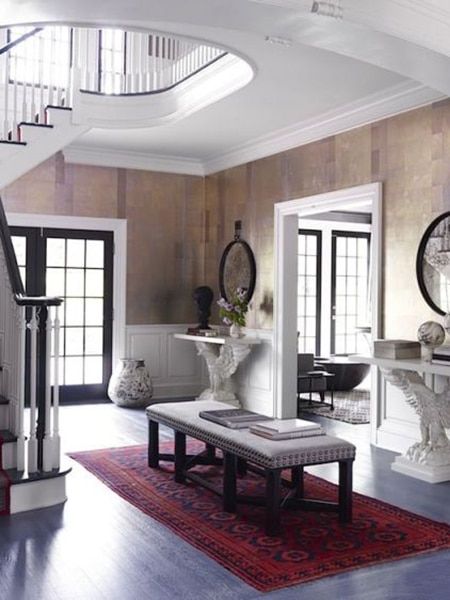 For the foyer of this Greenwich, Connecticut country home, interior designer Thom Filicia used round mirrors by Jonathan Burden and a Hickory Chair bench to balance the home's neo-Georgian Colonial architecture.
Photo courtesy Elle Decor
---
A parcel-gilt ebonized console in the style of Napoleon III and a Chippendale-style mirror welcomes guests to a Richard Mishaan–designed suite at the St. Regis Hotel in New York City.
Photo courtesy The Monacelli Press
---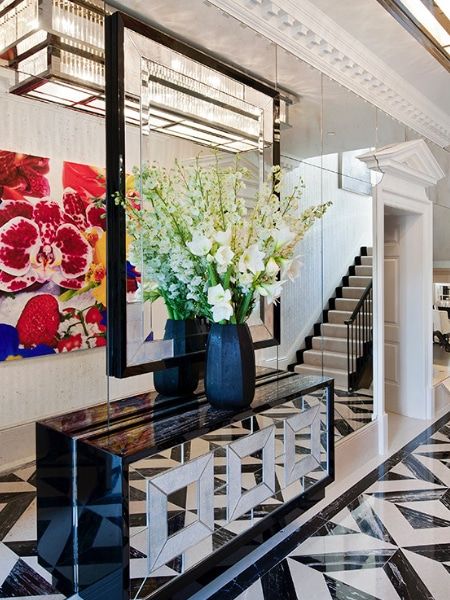 At Lethbridge House — a palatial residence on London's Regent's Park — interior designer Nicola Fontanella placed a colorful painting by Marc Quinn in the foyer.
Photo courtesy Argent
---
Designer Frank Roop used an oversize tufted bench to add an "unexpected or dramatic" element to the entryway of this Boston-area colonial home.
Photo by Eric Roth
---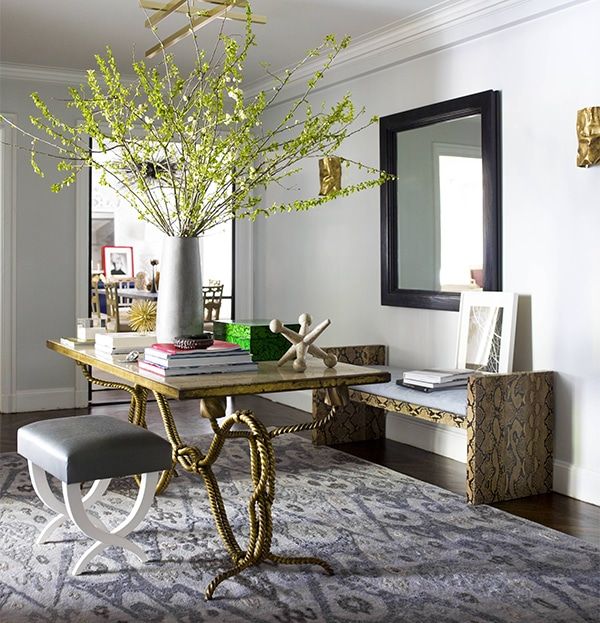 The foyer of this prewar Manhattan home includes a bench and mirror by Karl Springer.
Photo by Eric Piasecki/OTTO
---
To offset the dramatic concrete, steel and limestone architecture of this Dallas, Texas home, designer Emily Summers used a spare, geometric glass table .
Photo by Steve Wrubel
---
The foyer of Lee Mindel's Manhattan penthouse is furnished with an assortment of iconic pieces, including Frank Gehry's corrugated chairs, a Siamese bench by Antoni Gaudí and a custom floor lamp by Maarten Baas.
Photo by Michael Moran
---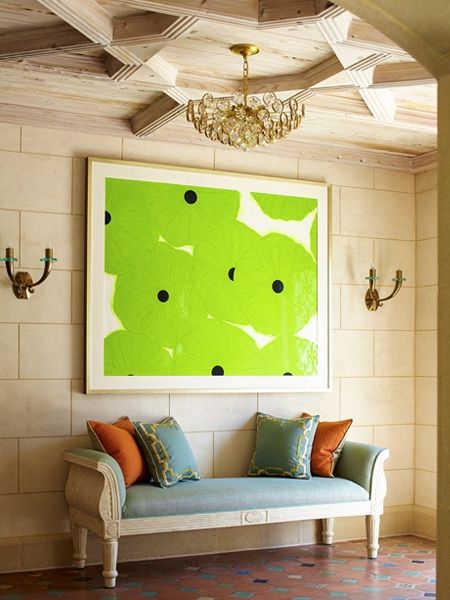 For a Palm Beach, Florida entryway, designer Ellie Cullman used a vibrantly colored Donald Sultan artwork to add contrast to an antique bench.
Photo by Eric Piasecki
---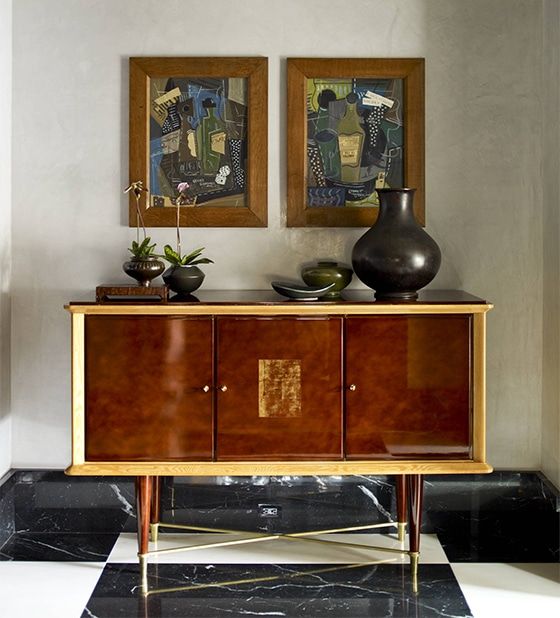 Photo by Eric Piasecki/OTTO
---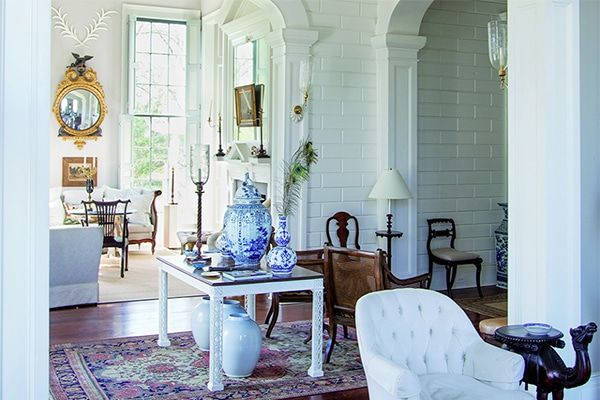 A view of the reception rooms at Cuthbert, a historic, Gothic Revival Georgia home owned by antiques dealer and interior designer Furlow Gatewood.
Photo by Paul Costello
---
For the lobby of a Spanish winery, design duo Oitoemponto employed a 1940s French bas-relief depicting Noah and his son harvesting after the flood, and clad the walls with wood traditionally used for wine barrels.
Photo by Francisco Almeida Dias
---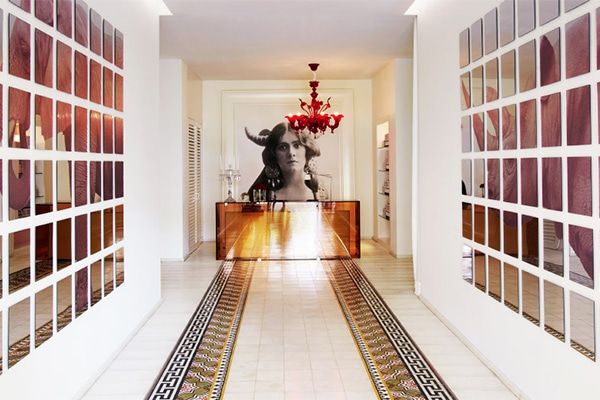 Famed product designer Philippe Starck created this dramatic entry hallway for a residential building in Pune, India.
Photo courtesy Philippe Stark
---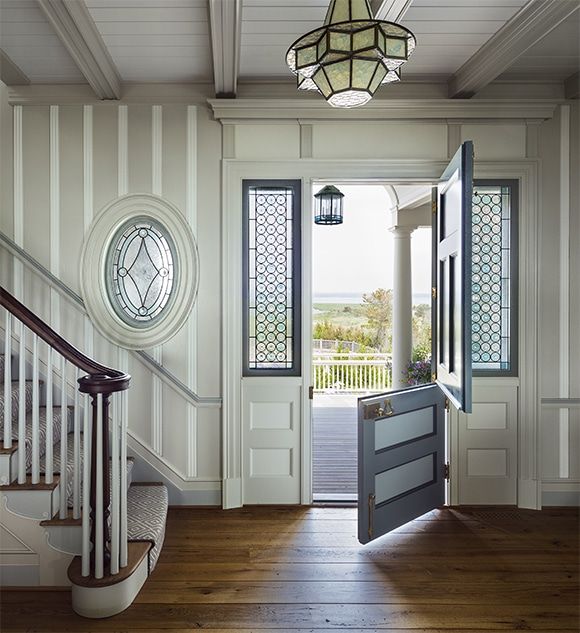 Architect Robert A.M. Stern created this carefully proportioned, perfectly lit entrance for a residence in East Quogue, New York.
Photo by Peter Aaron
---
At his country home, interior designer Jean-Louis Deniot created an entry vignette comprised of a green18th-century Portuguese settee, early-18th-century wrought-iron plant stands from Spain and a mid-19th century French lantern overhead.
Photo by Xavier Bejot
---
Photo by Lisa Romerein/OTTO
---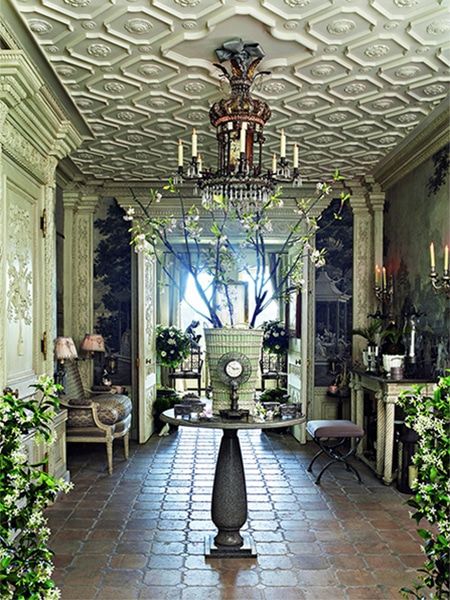 The grand, antique-filled entry gallery of designer Howard Slatkin's New York City apartment.
Photo by Tria Giovan
---
An antique porphyry bowl sits in the center of the entrance hall at the Château de Champ de Bataille, a 17th-century estate in Normandy owned by interior designer Jacques Garcia.
Photo by Eric Sander