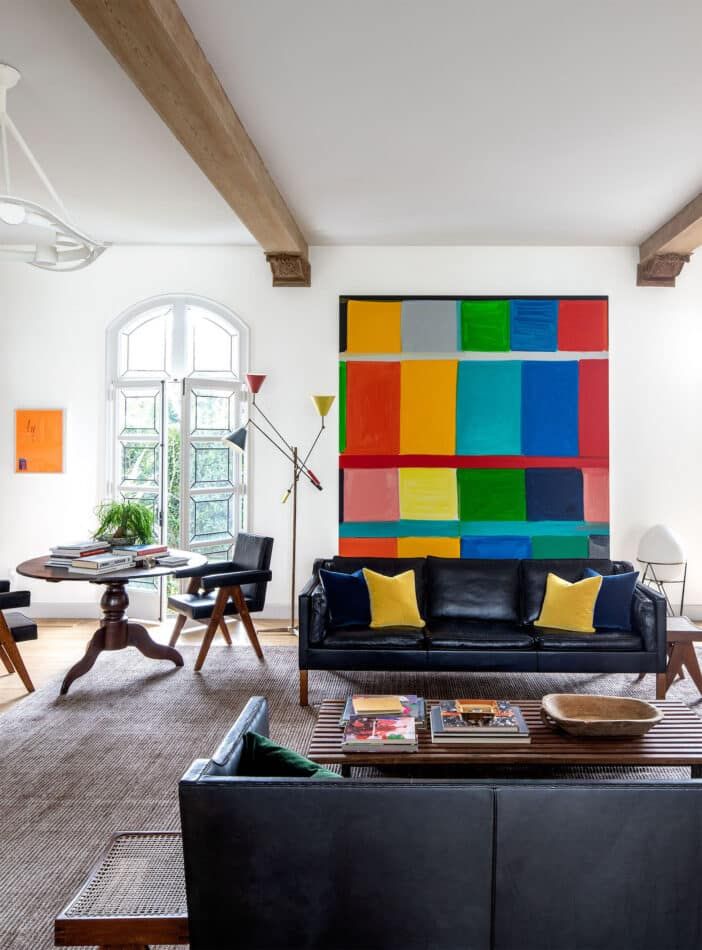 Cliff Fong, of Matt Blacke Inc., is no stranger to iconic furniture, as witness this living room in L.A.'s Hancock Park neighborhood. Here, a Pierre Jeanneret chair keeps company with a Kaare Klint sofa and a Charlotte Perriand bench from Galerie Half and a Børge Mogensen sofa from Denmark 50.
Pulling the space together, however, is Stanley Whitney's aptly titled color-block painting In the Color (2018), whose primary hues are echoed in the Triennale lamp from rewire.
In designing the room, Fong says he was "inspired by environments more commonly seen in European cities, where there's a juxtaposition of modern and contemporary furnishings with art and much older, historically important architecture."
---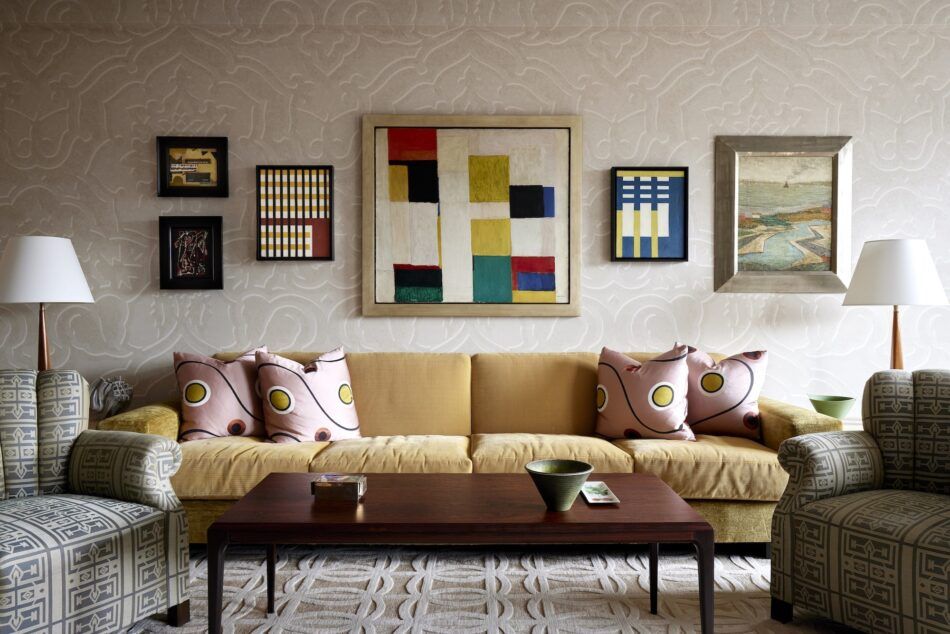 "We wanted the mood of the apartment to be urbane and sophisticated yet very livable," Robert Couturier says, explaining his scheme for a home on New York's Central Park West.
In the living room, he achieved that mood by masterfully mixing patterns and textures and creating a striking gallery wall of American paintings by the such talents as Suzy Frelinghuysen, Norman Wilfred Lewis, Charles Biederman, Giorgio Cavallon and Arnold Friedman.
---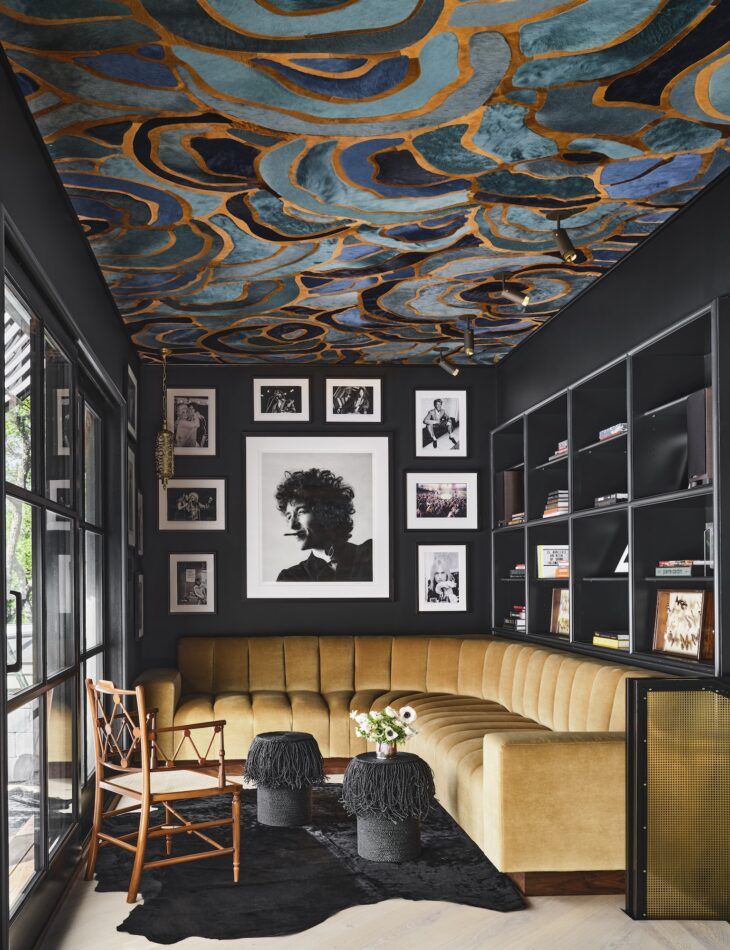 In a bar and lounge area tucked into a corner in a contemporary house in Austin, Texas, Fern Santini created a custom patchworked-hide ceiling whose warm tones are reflected in the built-in banquette's Schumacher upholstery.
Ceiling and banquette delightfully frame a collection of black-and-white rock-icon photographs centered on a Jerry Schatzberg portrait of Bob Dylan, which is surrounded by images of other legends, like Johnny Cash and David Bowie.
---
In the eclectic great room of a Harlem penthouse, Courtney McLeod, of Right Meets Left Interior Design, started with a showstopping wall work: Roberto Juarez's Applepeppers (1986). The surrounding furnishings, from the jewel-toned sofa and throw pillows to the unexpectedly bold wallpaper, are expertly placed to harmonize with the art.
"I love the interplay of curved lines and the color palette that pulls the design into a cohesive whole as you move from the living area to the dining area," McLeod says.
Symone Seraphim's circular Fragments of Soul (2018) and an African mask hang above an étagère in the left corner of the dining space, while a mid-century modern pedestal holds an abstract sculpture purchased on 1stDibs. An orange vase from High Style Deco rests on the dining table, tying it all together.
---
For Chicago clients with an extensive art collection, Sasha Adler used a multipurpose space to showcase an Alex Katz painting.
The corner area, with its tufted banquette, Dimore Milano tension rod lamp and François-Xavier Lalanne Mouton de Laine stool, serves as "the best spot for morning coffee, a great place to settle in with a laptop, a prime gathering spot for game night and an auxiliary dining table," Adler says.
---
In an apartment overlooking Manhattan from 64 floors up, David Scott curated a living and dining area of polished comfort.
"The goal was to create serenity, snugness and understated elegance," he explains. "The Danish concept of hygge was applied to this gleaming glass high-rise."
Scott achieved the desired stylish coziness with rounded forms — exemplified by the Ralph Dorazio cylinder sculpture, from Hostler Burrows, and the Pelle Bubble chandelier — and playful hues, as in the Larry Poons painting.
---
In designing their room in a recent French showhouse, the duo behind FESTEN took as their model an artist's workspace, filling it with a mix of sculptures and books, as well as furniture that is decorative as well as functional.
Prime example: The sconces and totems by Guy Bareff match the artistry of the James Brown painting over the daybed.
---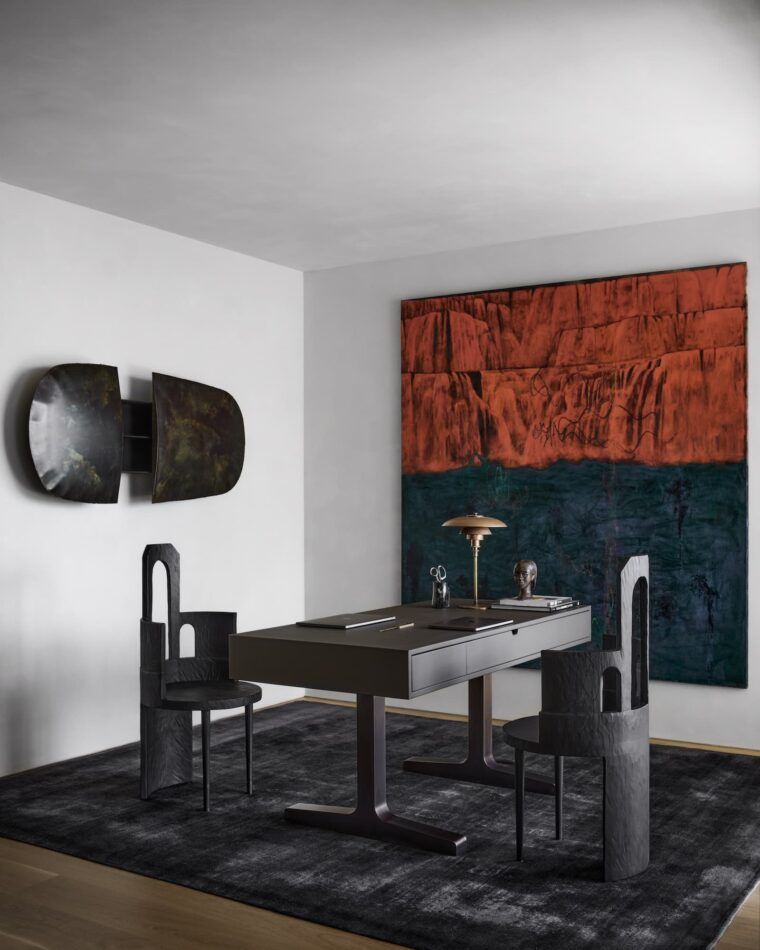 Hanging decor also plays a prominent part in this office in California residence designed by Nicole Hollis.
On one wall is Damien Gernay's steel and aluminum Froissé cabinet, which packs a decorative punch while also serving as storage. But the showstopper is Viktorie Langer's Untitled (2016), which adds pops of color to the otherwise monochromatic space.
---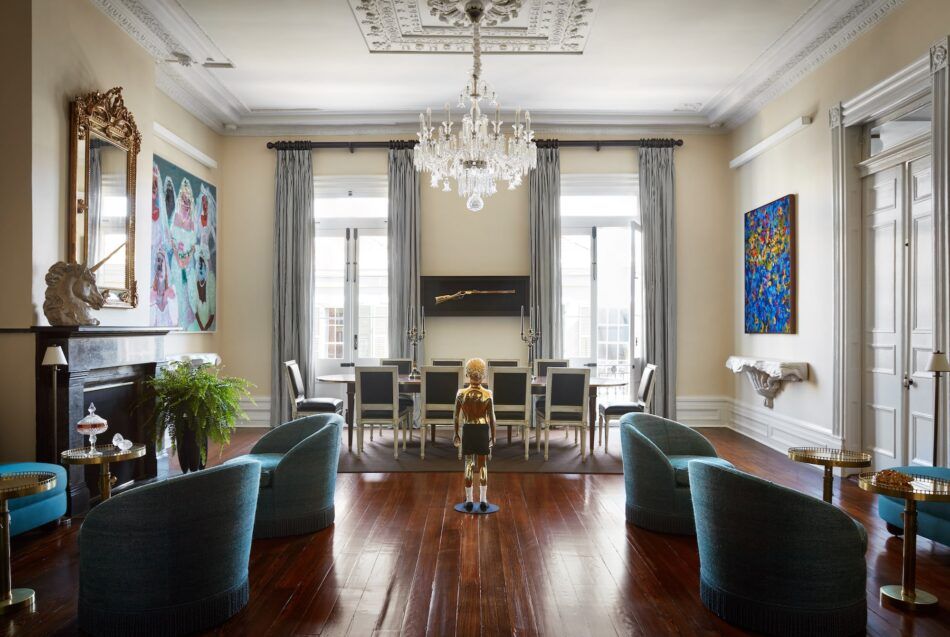 In a New Orleans house, Shawn Henderson wanted to create an atmosphere that was "exciting and visually stimulating — yet extremely comfortable." In the dining room, this meant surrounding the table with intriguing artworks sure to spark conversation.
On the left and right walls are vibrant paintings by Georgina Gratrix and Tom Keyes. The golden boy gazing over the table at the rifle on the far wall together compose the sculpture One Day, 2016, by Elmgreen & Dragset.
---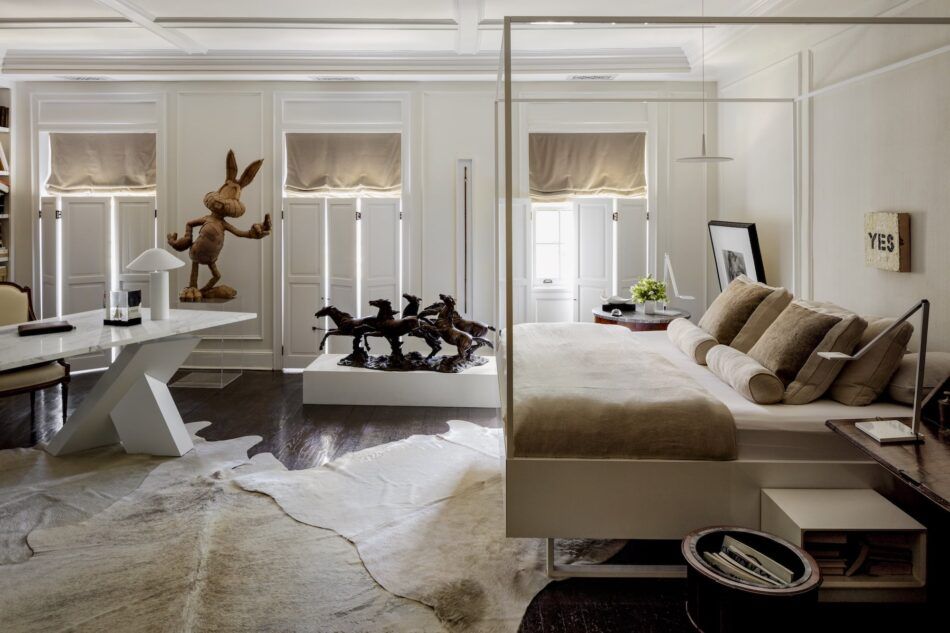 Darryl Carter's Washington, D.C., home is infused with his wry humor. The bedroom, with its largely neutral palette, is enlivened by animal sculptures, one of which resembles Bugs Bunny, and the simple YES artwork above the bed, all personifying the designer's playfulness.
---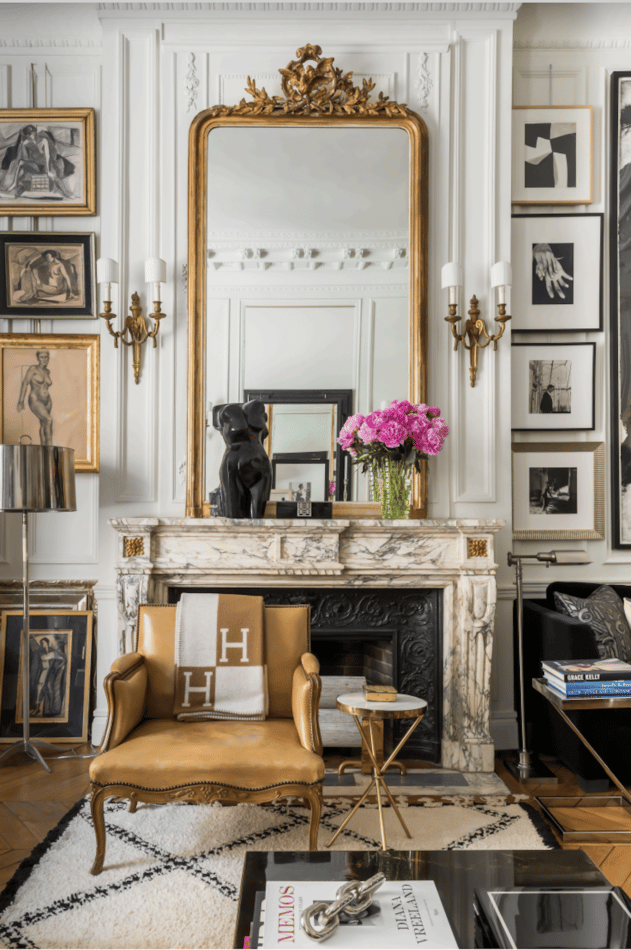 This stunning Beaux Arts apartment off the Champs-Elysées is a paragon of Gallic chic. As the home's designer, David Jimenez, puts it: "In the way they dress or decorate their homes, the French have an innate ability to create an intoxicating mix of finesse and quiet swank."
Jimenez accentuated the elegant architecture with salon-style hangings of drawings and photographs on either side of the fireplace, complemented by the sculpture bust on the marble mantel. Striking a more relaxed note, the remaining artwork is propped against the wall, once again drawing attention to the fireplace, which is a piece of art in its own right.
---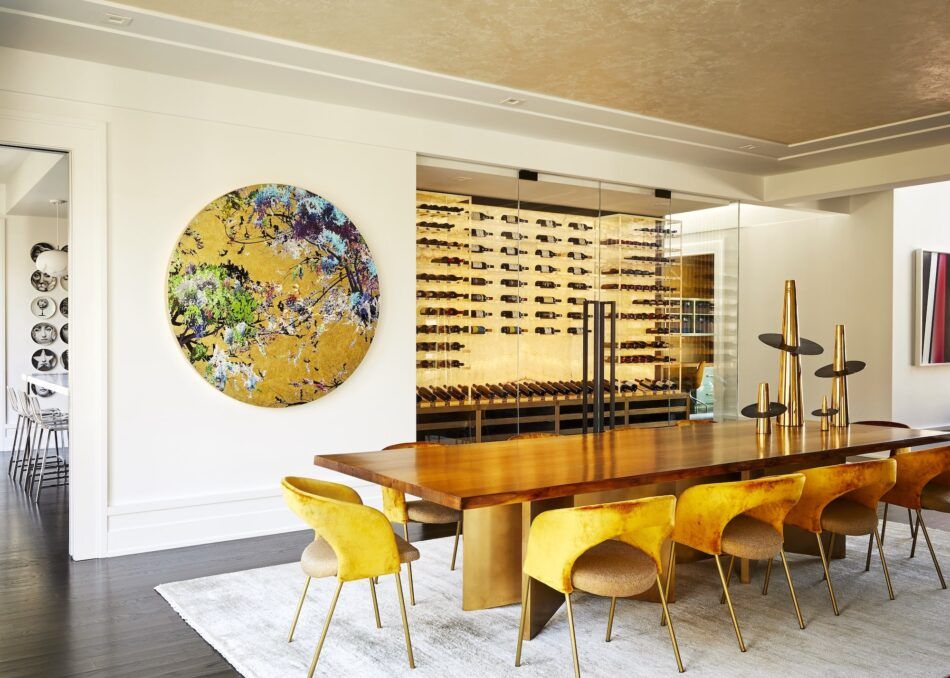 Who needs a chandelier when you have a saturated color palette and a glowing wine nook? The design duo behind Evan Edward removed the light fixture from this Connecticut dining room because of the home's open layout. Jessica Lichtenstein's circular artwork of semi-abstract trees ensures it won't be missed, enhancing both the room's colors and brightness.
"It's livable and perfect for entertaining," the partners say of the space. "Our clients are not afraid of color."