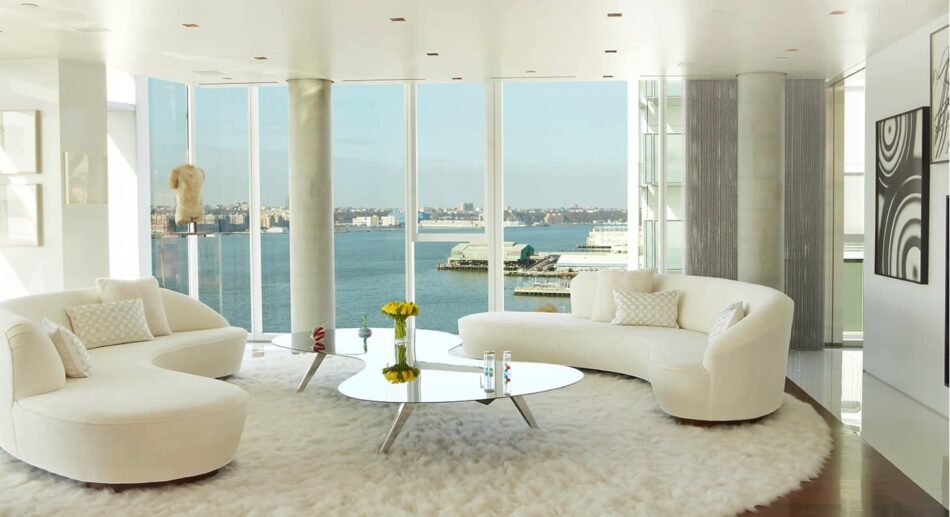 When Vladimir Kagan, a pioneer of modern furniture design, released his Serpentine sofa in 1970, he ushered in a new era of round: long, low, sinuous pieces that eschewed the square, the straight and the ordinary. Suddenly, furniture was sexy again.
Kagan passed away in 2016. But today, amid a fervor for all things '70s (Stilnovo lighting, chrome shelving, Milo Baughman chairs), the anti-rectangular sofa is having a renaissance.
The stunning seating is appearing in interiors from Los Angeles to Paris, and we're applauding. Below, find out how top designers are working curvy couches into their spaces, then shop the newest arciform creations.
---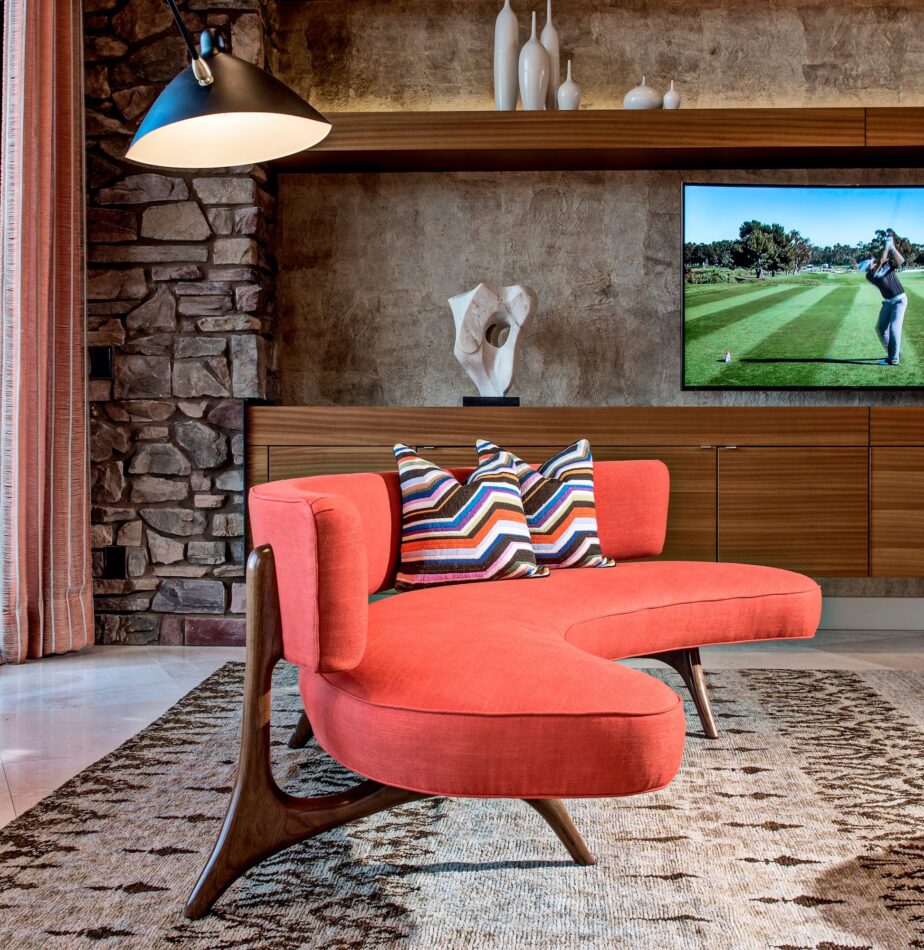 B. Jarold and Company was tasked with modernizing a Tuscon, Arizona, mid-century-modern-inspired home for clients who love color. In the living room, the designers opted for a bright Vladimir Kagan sofa in an otherwise neutral space.
---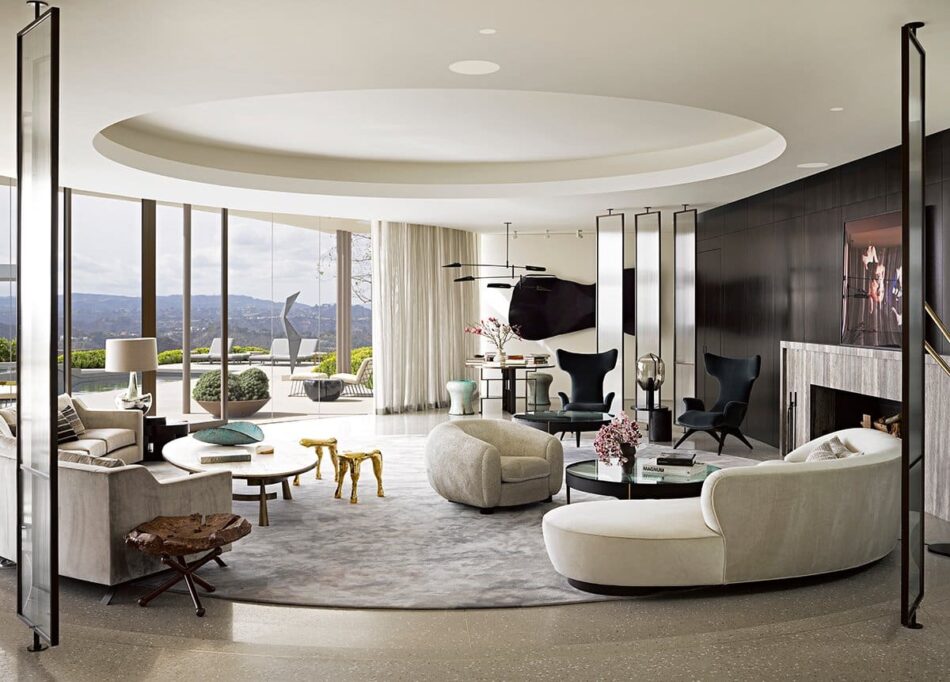 Jamie Bush + Co. furnished this sunken living room in a Beverly Hills home with Vladimir Kagan's iconic Serpentine sofa and Ondine high-back lounge chairs. Continuing the curve, Bush custom-designed an arcing sofa and positioned it across from a pair of Haas Brothers polished brass stools from R & Company. Photo by Douglas Friedman
---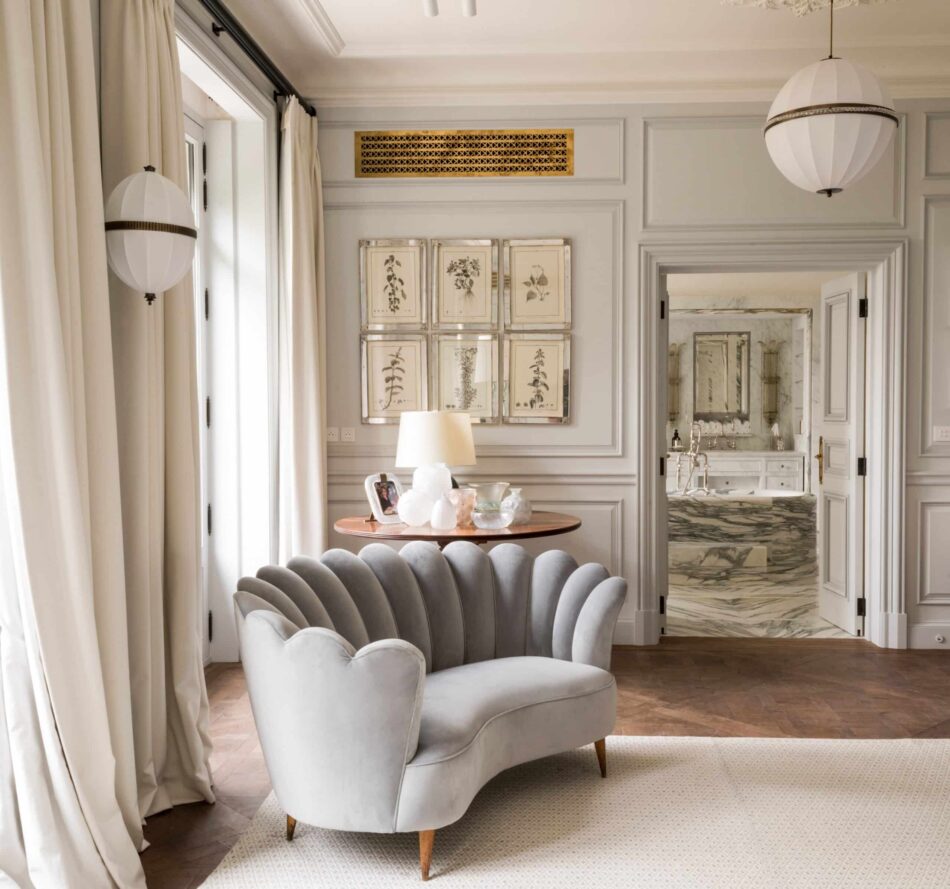 Bryan O'Sullivan Studio opted for creamy gray and beige hues in the bedroom of a Henri Deglane–designed prewar apartment in Paris. The color scheme is picked up in the luscious mohair velvet with which O'Sullivan covered the antique sofa, purchased on London's famed Pimlico Road, that he set in front of the floor-to-ceiling windows. Photo by Mark O'Flaherty
---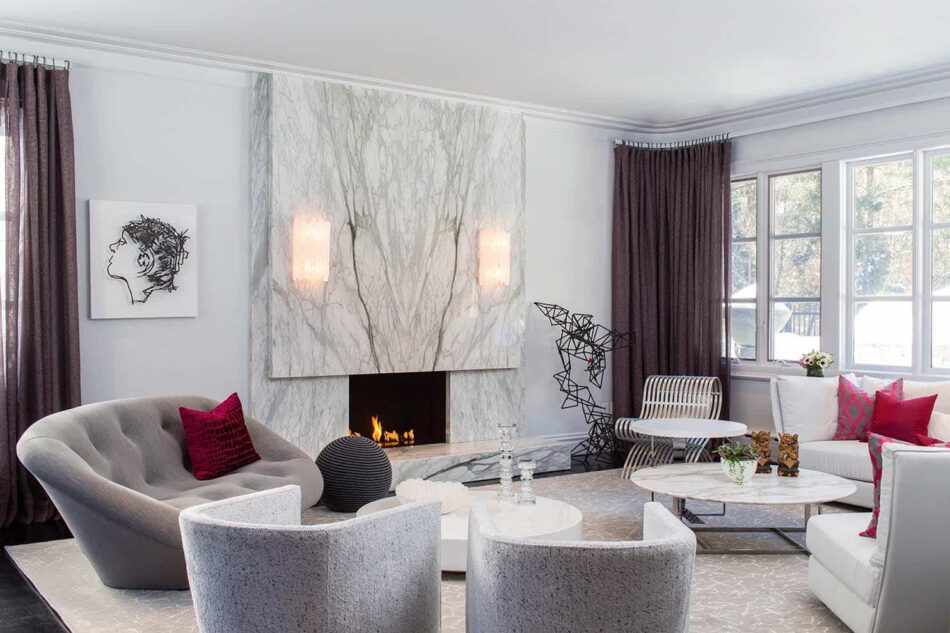 Josh Linder, of Evolve Residential, capitalized on contemporary style in designing this sleek space, livened with playful pops of color, in a residence in Philadelphia's Chestnut Hill neighborhood. The iconic Giorgetti Dhow sofa introduces softness to the decor without sacrificing its "electric" feel, while Ligne Roset's Ploum sofa adds an unexpected shape to the nontraditional pieces, which include A. Rudin chairs and Porada coffee tables. Photo by Sean Litchfield
---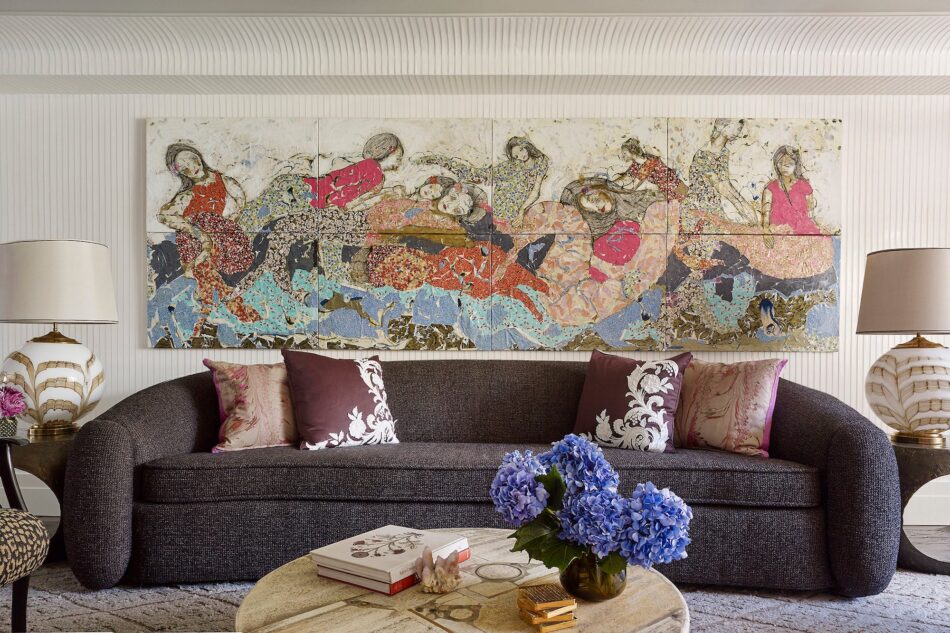 Designer Wesley Moon was recruited to give a recently purchased 1960s apartment on the Upper East Side an update, starting with a gut renovation. The result, says Moon, is "a study in enduring elegance — enduring in the sense that everything is both timeless and hard wearing. The clients wanted a home that would last, both aesthetically and physically."
That timelessness is especially apparent in the living room. Working with a warm neutral palette, Moon furnished the space with a Paul Kingma coffee table, matching John Salibello lamps and a statement piece by Colombian artist Maria Berrio. A Jean Royère–inspired custom sofa completes the look. Photo by Peter Murdock
---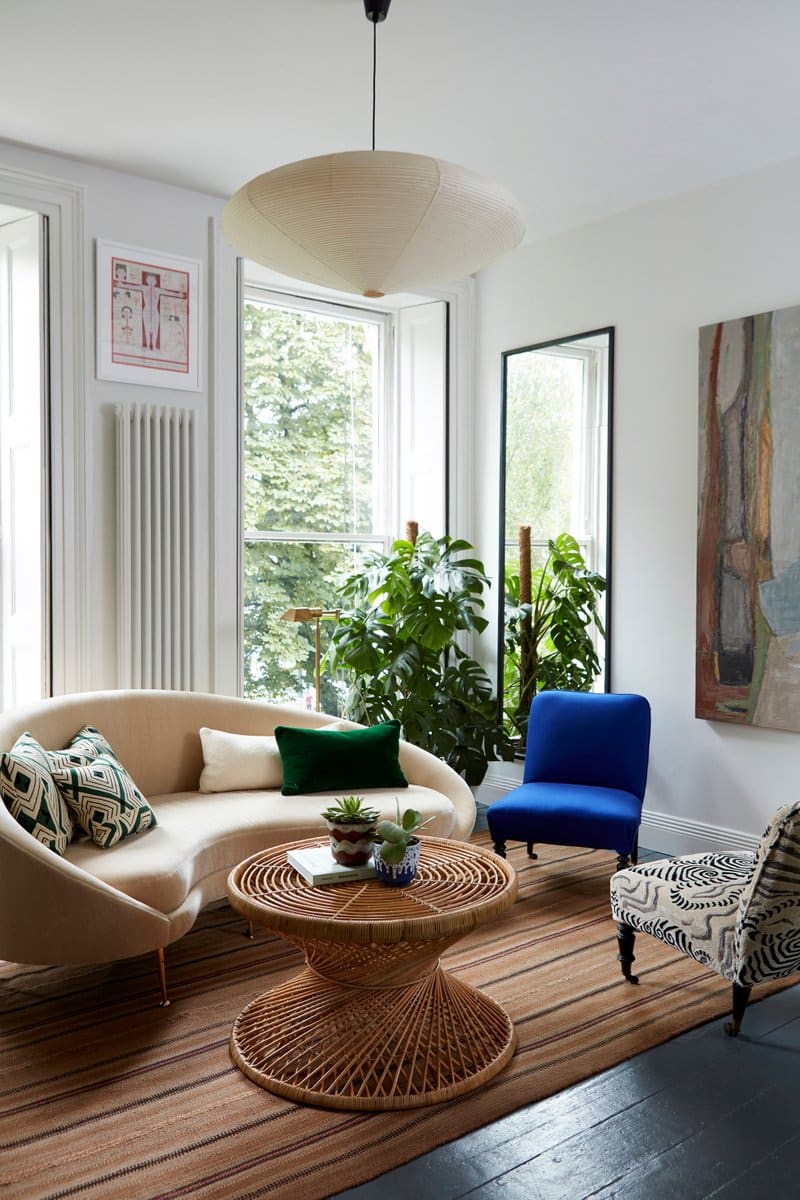 British interior designer Beata Heuman brought organic modernism to a flat in Holland Park, London, by grouping a cream-colored round sofa with a Noguchi-style lantern, concentric rattan coffee table and jute rug. Heuman had the sofa custom made to her client's specifications but based her design on one by Federico Munari from the 1950s. The result is refreshingly relaxed and beautifully balanced. Photo by Graham Atkins-Hughes
---
Kelly Wearstler appreciates the "sense of exuberance" evoked by 1970s leather furniture, such as the 1972 De Sede Non Stop sofa she gave pride of place in this room in the historic Hillcrest Estate in Beverly Hills. The sofa certainly lives up to its name, its long, elegant curve echoing the geometric design of the tribal-patterned custom rug. Photo by Grey Crawford
---
To outfit her boho-chic Los Angeles bungalow, Tatem Kendrick, of Studio Hus, chose a Isamu Noguchi Cloud couch, fearlessly re-covering the classic piece. "I started with the sofa and built around that," Kendrick explains. "We upholstered it in these color-blocked hues: a gray mohair base and a dustier pink velvet. It's just a really great sculptural sofa." Photo by Shade Degges
---
Designer Katie Martinez added a velvety Oasis sofa by Coup D'Etat as a counterpoint to this rectilinear living room in St. Helena, California. With its turquoise hue, the piece truly creates an oasis amid the desert tones of pieces like a natural Moroccan rug and Swan chairs by Arne Jacobsen. Its shape serves a practical purpose as well: "The windows come down to the floor," Martinez points out, "and the round sofa allows for some flow in front of them." Photo by Drew Kelly
---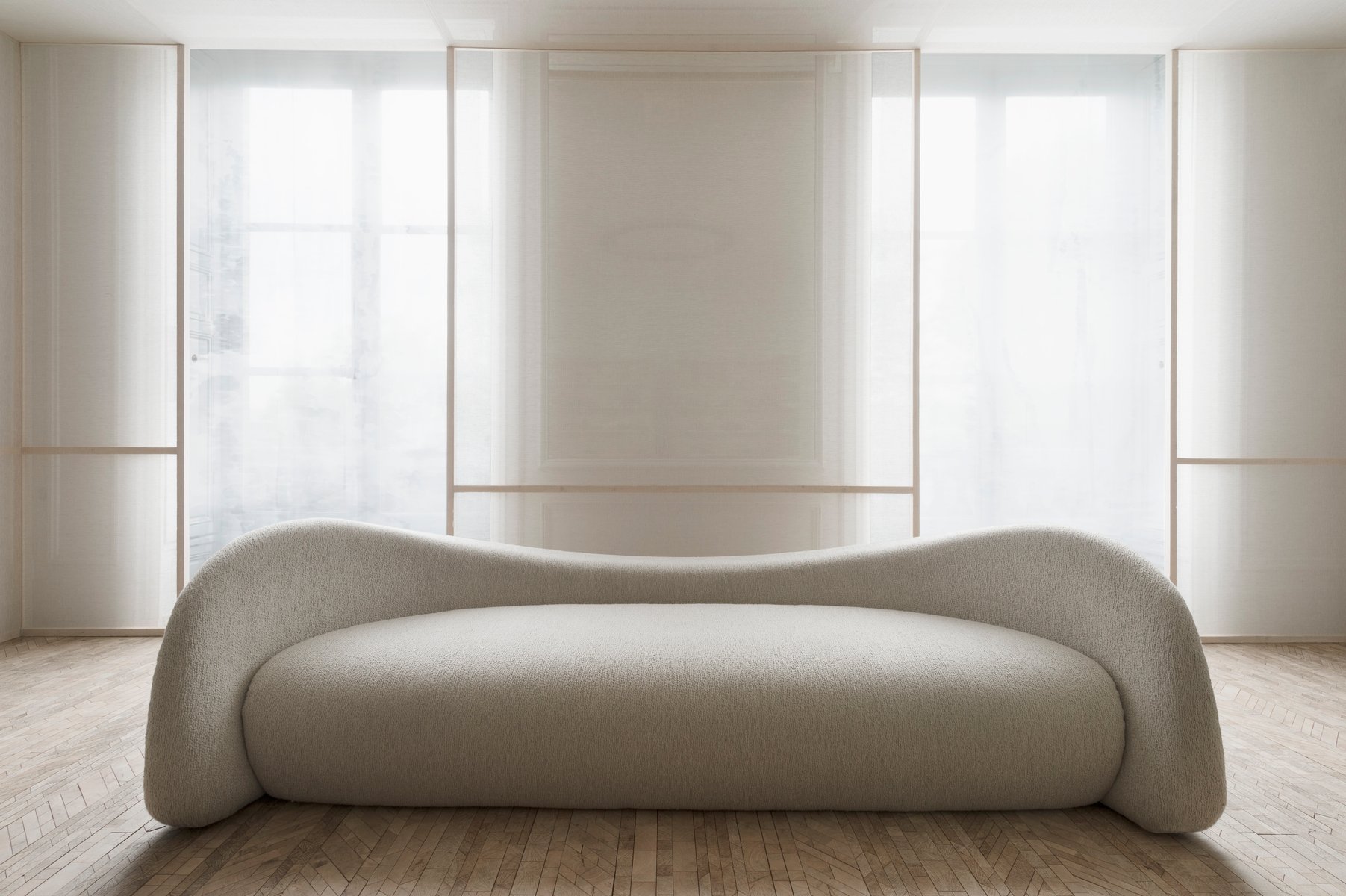 For his contribution to the 2016 edition of the "AD Intérieurs" exhibition at Monnaie de Paris, designer Raphael Navot found the perfect focal point in the ethereal Moon sofa by Domeau & Pérès. "The piece was conceived especially for the museum room, positioned with its back to the window to orient the viewer toward the bronze mold collection of Maison Charles.
"Similar to the traditional French causeuse of the petit salon, it is designed for an intimate hangout or a laid-back conversation," he adds. The sofa, which has been in production in Paris since last year, is only now available in the U.S., at Les Ateliers Courbet. Photo by Vincent Leroux
---
DHD customized a Vladimir Kagan Shorty sofa to create visual fluidity in this elegant and enormous parlor in a historical Brooklyn townhouse. "It's a perfect piece to float in a room, as the curves allow for easy flow around it, and ideal when you need to sit additional people," firm partner Steffani Aarons points out. "It's such a sculptural piece, with the back being just as gorgeous as the front." Photo by Guillaume Gaudet
---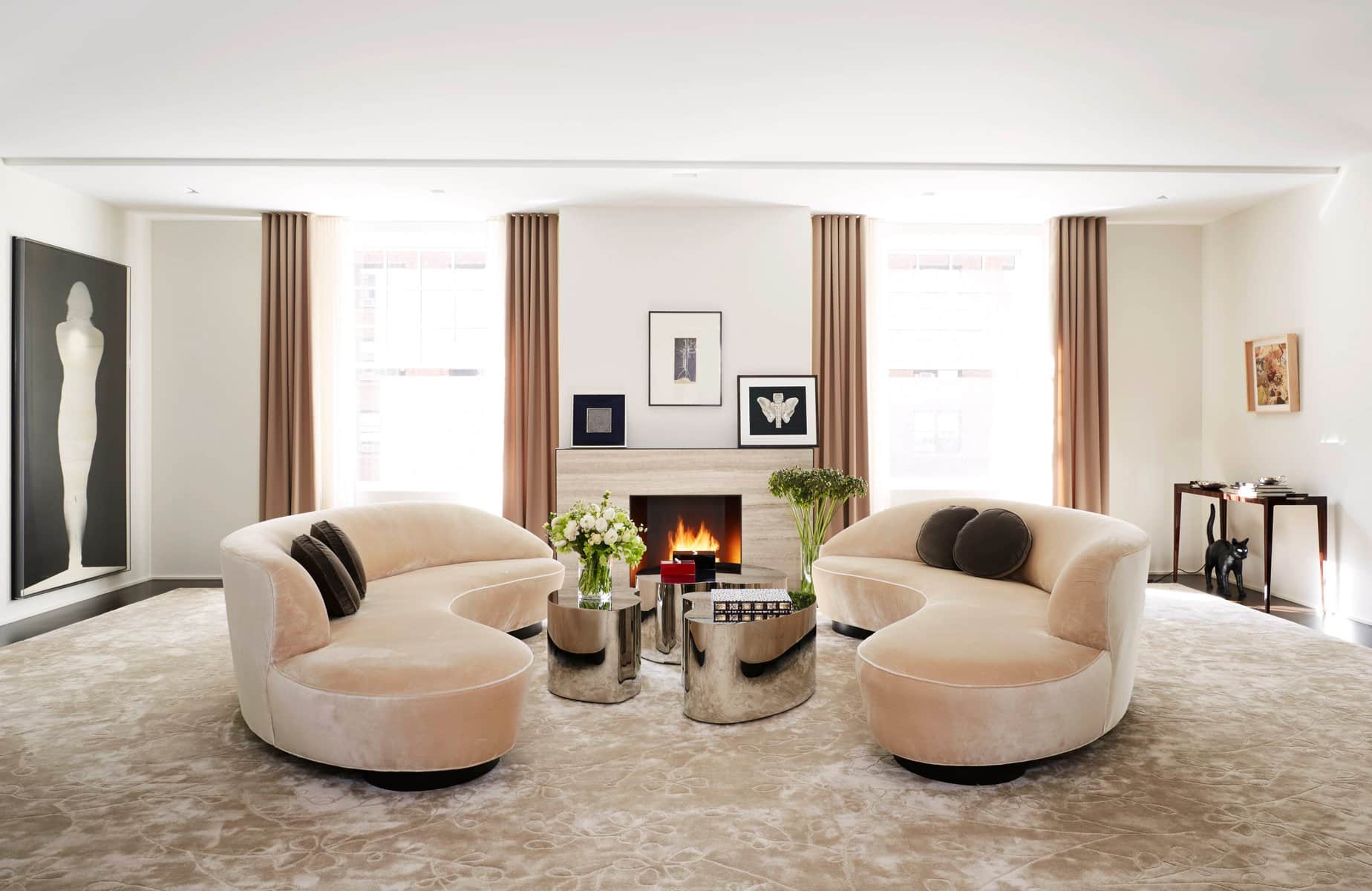 D'Apostrophe, placed a pair of Vladimir Kagan Free Form sofas on either side of two curvy mirrored cocktail tables by Silas Seandel to form an intimate conversation area without interloping any spatial boundaries typically created with a linear sofa. The designers explained that it was a sleek minimal design choice to allow for an open space. Photo by Thomas Loof
---
Catherine Connelly, of Northwick Design, found a sculptural vintage Giò Ponti sofa at auction and decided to incorporate it into this stately West London living room "The room lends itself to the unusual shape, as it permits movement and flow onto the beautiful terrace through any of the three French windows behind," Connelly says. It looks luxurious for lounging on as well! Photo by C. Connolly
---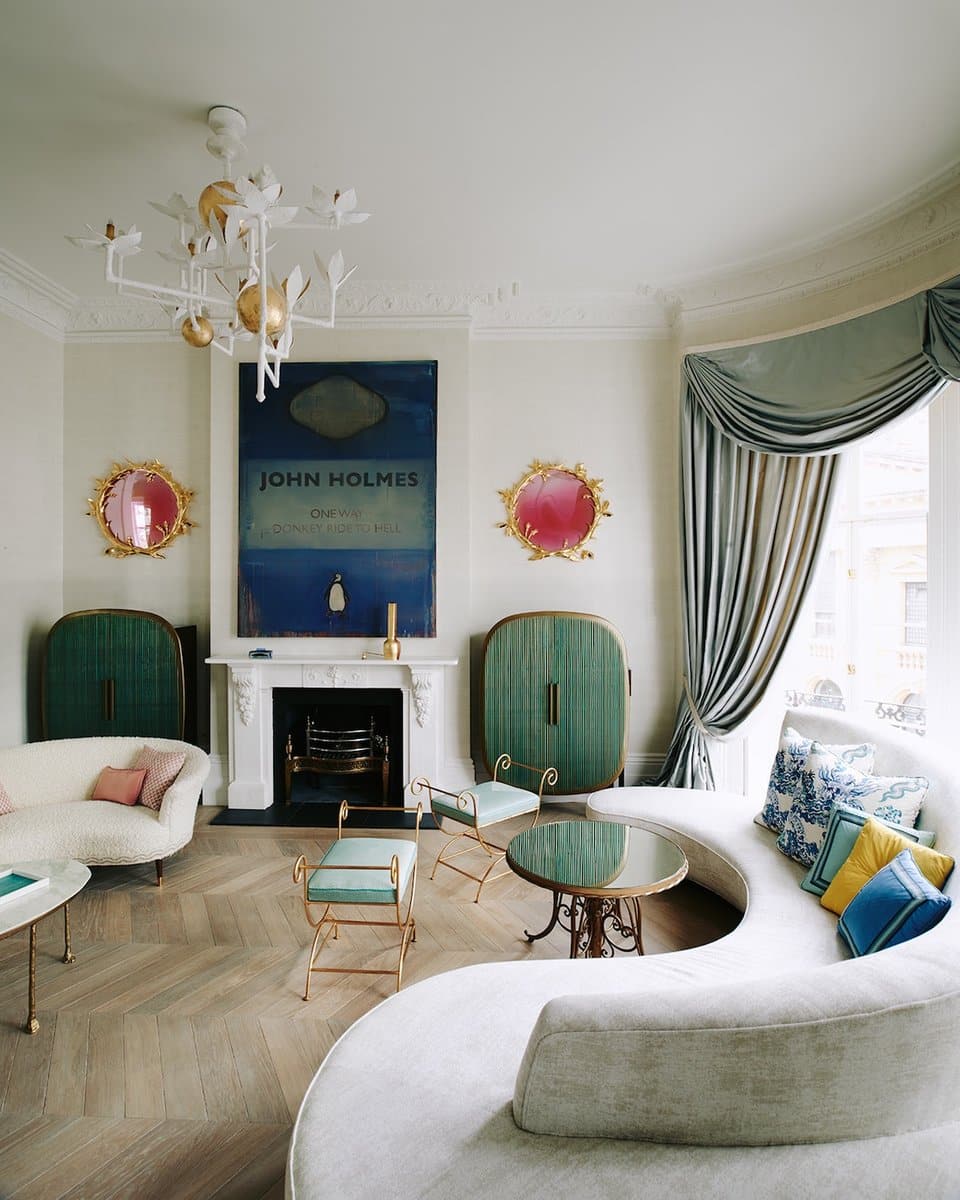 Beyond this sinuous London living room are three reception rooms linked by archways, an enfilade that Jo LeGleud, cofounder of Maddux Creative, admits was quite "tricky to furnish." Deciding to embrace the curves, the firm turned to, you guessed it, Vladimir Kagan for a bespoke sofa that, LeGleud points out, "responds to the architectural details of the series of spaces." Photo by Michael Sinclair
---
If Waldo Works Studio's design for this London penthouse brings to mind protractors and straight edges, it's not a mistake. According to Waldo founder Tom Bartlett, the firm wanted to "honor the building's strong geometric architecture by Rogers Stirk Harbour + Partners, the undulating River Thames below — the historic lifeline for London — and the vast sky surround."
About the furnishings, he says, "Centered on a Waldo Works incised-slate coffee table, pale crescent-moon sofas in tweed by Andrée Putman for ECART look out over the vast view." Photo by Ruy Teixeira
---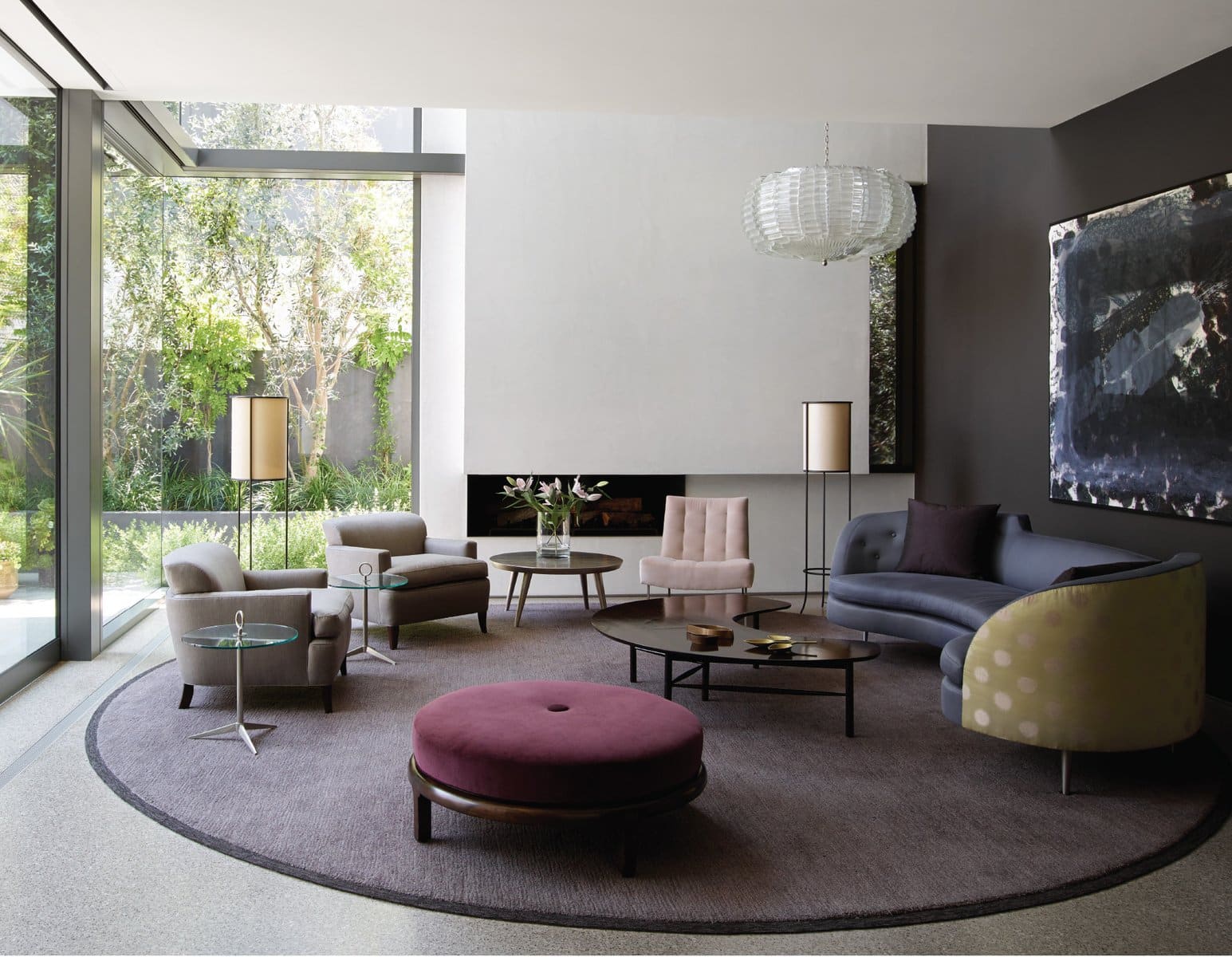 Kay Kollar sourced the 1940s Edward Wormley sofa in this Los Angeles living room from the legendary collector and tastemaker Alan Moss when he still owned his namesake gallery on Lafayette Street, in New York. She used its curvy silhouette and vibrant color to help, as she puts it, "balance the strong rectilinear nature of the room's architecture and to visually push beyond its bounds."
Other round furnishings abound, including a site-specific V'Soske rug, Greta Magnusson-Grossman coffee table, T.H. Robsjohn-Gibbings standing lamps and a Baker ottoman. Photo by Richard Powers
---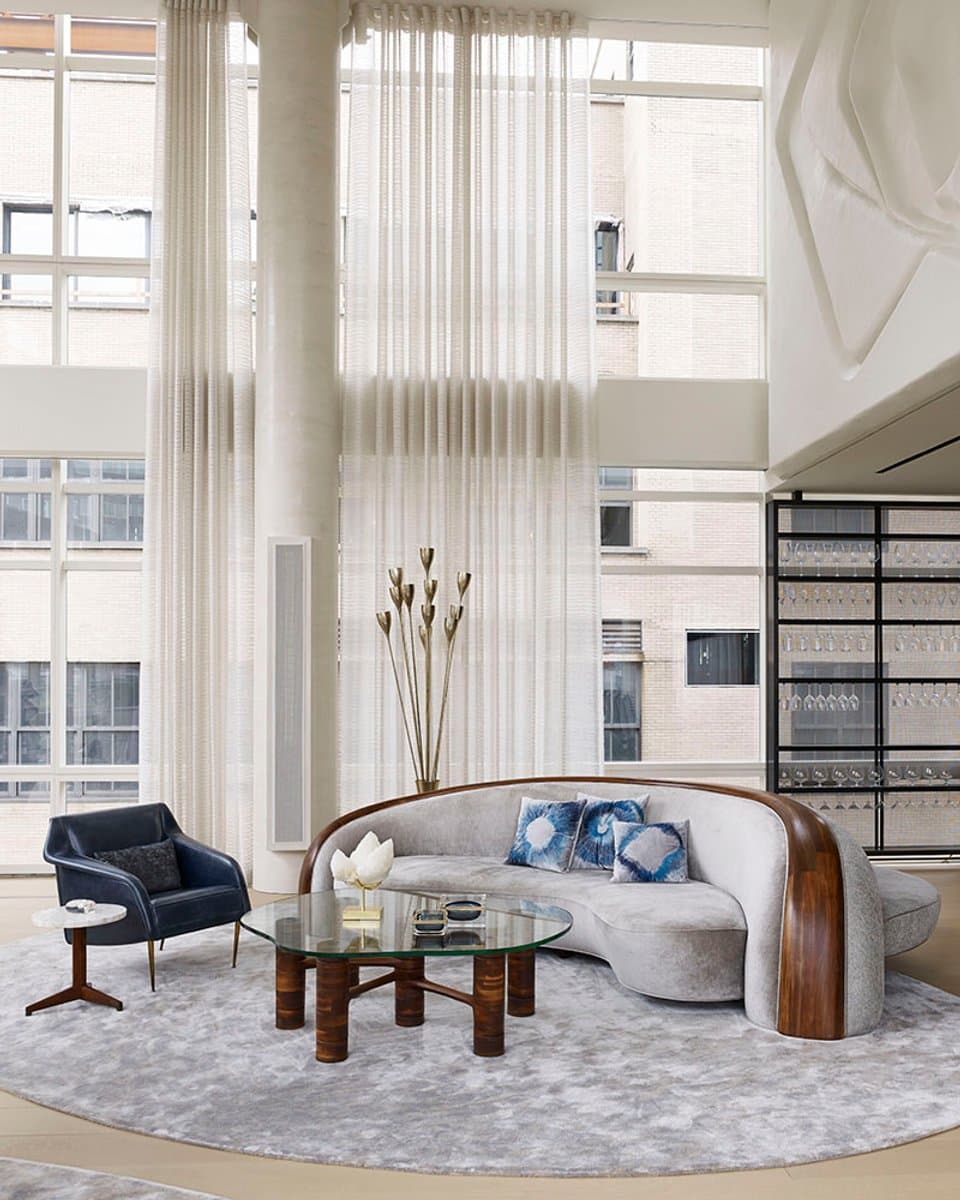 When it came to finding the perfect piece for this lofty Lower Manhattan living room, designer Amy Lau turned to the king of curved sofas: Vladimir Kagan. Lau and Vladi, as she calls him, worked together closely to refine the design. The result: a bespoke wood-trimmed, two-sided sofa that offers a little intimacy in the soaring space. Photo by Björn Wallander