Gabriella Crespi Case Pieces and Storage Cabinets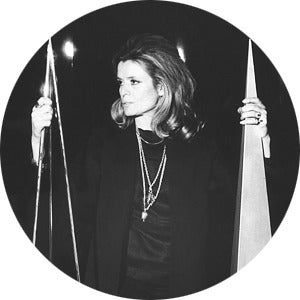 Gabriella Crespi (Italy, b. 1922)
Bronze discs that open up like clamshells for storage and fold back in to become side tables. Sleek cubes barely suspended off the ground that transform into full-size dining tables. Clean-lined boxes that contain multilevel shelving. Looking at the work of Italian designer Gabriella Crespi, born in 1922 and still producing furniture in her Milan studio, it's hard to believe that many of these highly functional pieces — modernist Rubik's Cubes of materials, colors and ergonomics — were created decades ago.
     Among her best-known creations, the bronze Ellisse table, 1976, and her bronze-and-lacquer Yang-Yin bar, 1979, encapsulate a designer who had a strong dualism in her vision, mixing humble and precious materials, for instance, or creating geometric shapes that were softened by sensual surfaces. Crespi began studying architecture in 1944 at the Politecnico, in Milan, where she was among just a handful of women, and became profoundly influenced by the work of Le Corbusier and Frank Lloyd Wright. After getting married and having children, she launched her own collections, from jewelry to furniture, and soon gained a loyal following, with design houses such as Maison Dior snapping pieces up for their own lines.
     She began work on her most iconic collection, "Plurimi," in the late 1960s, and the series — including her Dama table, which plays on the themes of volume, light and adaptability that Crespi has explored throughout her career — flourished through the 1970s and early '80s. Then there is her famed Z desk, from a mid-1970s series, which manages to be both stylish and humorous, looking like it's ready to leap off the floor at any moment. Well-born and beautiful, Crespi garnered attention among the jet set. She was a muse to Valentino, and her pieces appeared in the homes of Princess Grace of Monaco, the Shah of Iran and Greek shipping magnate George Livanos. In 1987, with her children now adults, the designer surprised everyone when she moved to the foot of the Indian Himalayas to study with the guru Sri Muniraj. This turned into a 20-year self-imposed exile that, if anything, made her pieces even more sought-after by collectors. Read more in Introspective magazine
Gabriella Crespi Desk
Gabriella Crespi
Vintage 1970s Italian Mid-Century Modern Desks
Brass
Rare "Z" desk by Gabriella Crespi. Polished brass veneer over a wood structure. Three unadorned drawer-fronts seamlessly create the face of the desk. A rare and iconic form that was...
Rare Chest by Gabriella Crespi
Gabriella Crespi
Vintage 1970s Italian Mid-Century Modern Commodes and Chests of Drawers
Elegant and rare chest of drawers designed by Gabriella Crespi. Ivory lacquered wood with brass details. Signed and numbered (13).
Rare Gabriella Crespi Amboina Dresser Plurimi S...
Gabriella Crespi
Vintage 1970s Italian Hollywood Regency Dressers
Brass, Bamboo, Burl
Wonderful dresser from Gabriella Crespi from the Plurimi Series, Italy, 1970s. Rare and exclusive amboina-veneered wood, brass and four bamboo columns at each corner. Produced by Cr...
Get weekly alerts when there are new arrivals for

Gabriella Crespi Case Pieces and Storage Cabinets