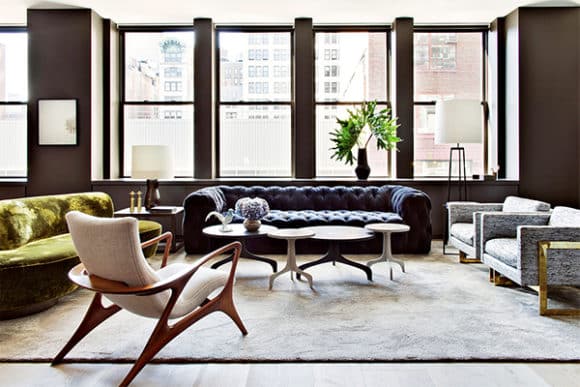 For this Park Avenue living room, architect and designer Shamir Shah created a harmonious composition of curving lines and rectilinear forms with a Vladimir Kagan chair and sofa and Milo Baughman armchairs.
Photo by Manolo Yllera.
---
Ike Kligerman Barkley covered the floors of this 80-foot-long Tribeca loft — a former butter factory — in sustainable bamboo and designed a custom zinc shelving unit for the library wall. The armchairs are by Thonet.
Photo by Durston Saylor.
---
Jayne Design Studio sought to artfully modernize the boiserie paneling of this McKim, Mead and White-designed apartment on Central Park by painting the walls a pale green hue with a strié finish. The 18th-century fauteuils are by famed French furniture maker Georges Jacob.
Photo by Pieter Estersohn.
---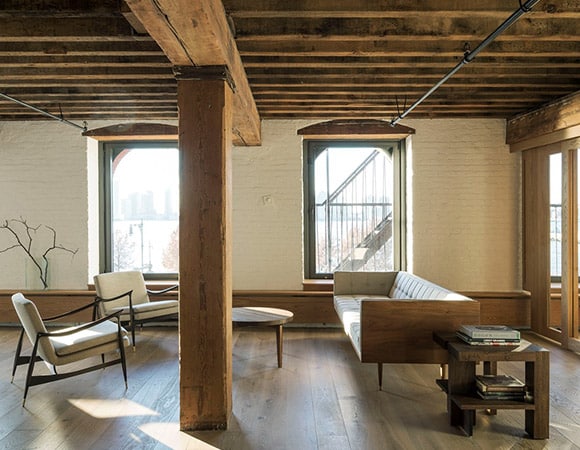 Workstead restored this light-filled loft in Tribeca by striping the space down to its original wood beans and brick. The custom millwork is fabricated from white oak, and the lounge chairs are by Jorge Zalszupin via Espasso.
Photo by Matthew Williams.
---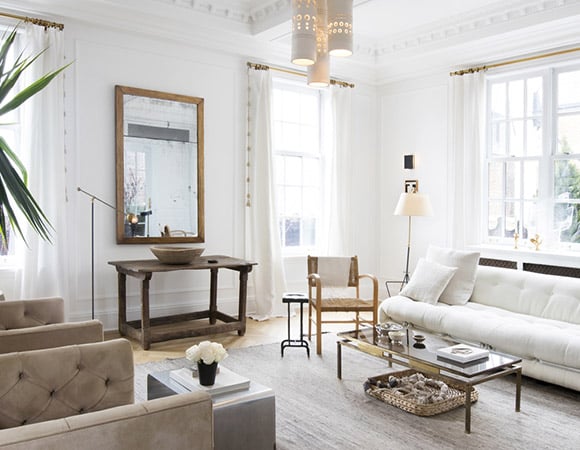 "We subtracted all the color so you would notice the fantastic textures," says Nate Berkus of his former Fifth Avenue penthouse. The home is a showcase for vintage furnishings, including a 1970s Maison Jansen brass and smoked glass coffee table, a George Pelletier ceramic pendant light, a 1970s chrome Soriana sofa by Tobia and Afra Scarpa, a circa 1950 Jacques Adnet leather vide-poche and a 19th-century French gilt mirror.
Photo by Julie Holder.
---
The mid-century pieces in this oak-floored Tribeca loft by 2Michaels Design include a 1940s Frank Lloyd Wright chair, a 1950s George Nelson desk and a 1950s Harvey Probber cocktail table. The understated window treatments are constructed of horsehair and linen burlap.
Photo by Eric Laignel.
---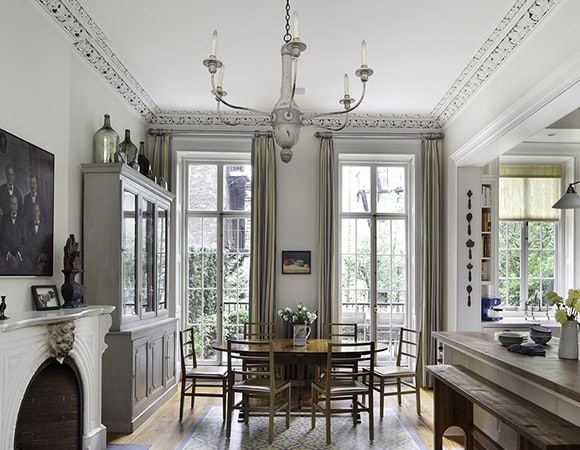 In a Victorian townhouse in Gramercy Park, Sheila Bridges created an "elegant yet unfussy" kitchen-slash-dining space for a young family. Bridges hand-painted the floor cloth, and used a pair antique French cupboards and a Spanish carved wood chandelier in the space.
Photo by Dana Meilijson.
---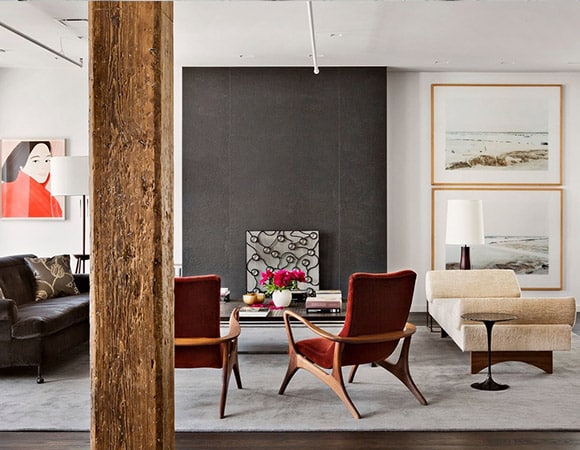 Shamir Shah's design for this Soho loft includes a pair of Vladimir Kagan Low Back lounge chairs, upholstered in a ruby-colored cotton-and-cashmere fabric by Rogers & Goffigon. Shah custom-designed the coffee table, and the rug is a hand-knotted wool and silk blend.
Photo by Manolo Yllera.
---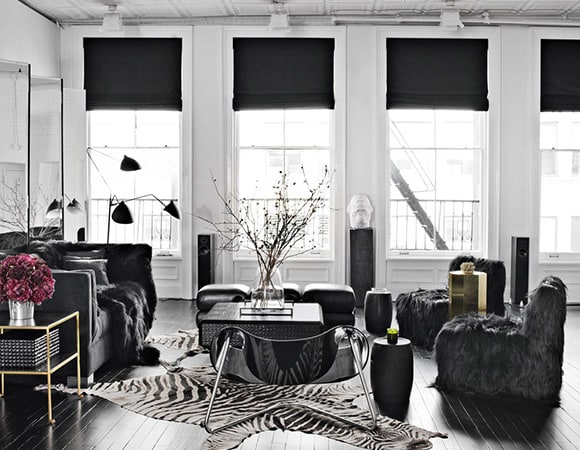 The open-plan Tribeca loft by Ryan Korban mixes louche, sexy 1970s pieces — like a black alligator coffee table by Karl Springer — with custom pieces by the designer, including the goat fur-upholstered side chairs.
Photo by Ditte Isager.
---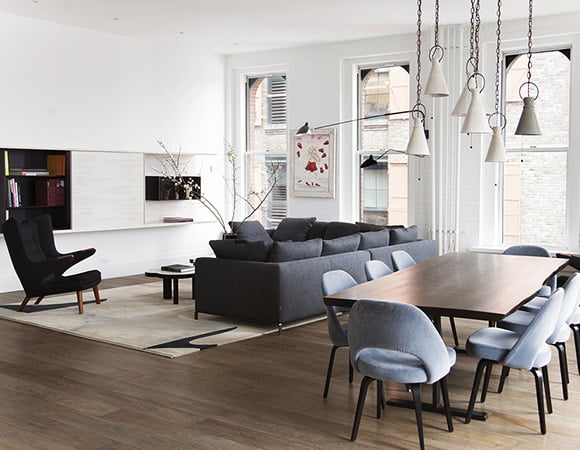 A predominately monochrome palette prevails in this Soho family home by Ashe + Leandro. A black Hans Wegner Papa Bear chair, a Serge Mouille wall sconce and a suite of Eero Saarinen Executive chairs accentuate contemporary pieces, like the custom coffee tables and walnut dining table by Rob Pluhowski.
Photo by Miha Matei.
---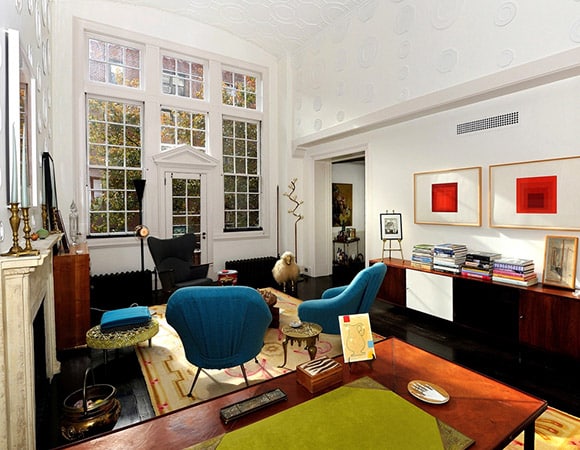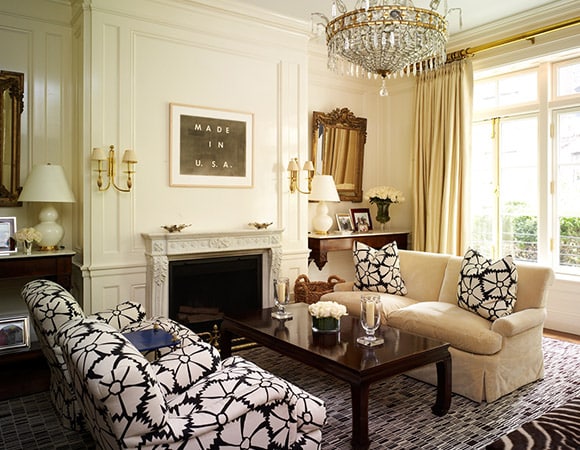 Missoni upholstery and a printed STARK carpet add graphic notes to the understated elegance of this Upper East Side town house by Kirsten Kelli. The crystal chandelier was purchased at John Salibello.
Photo by Stephen Karlisch.
---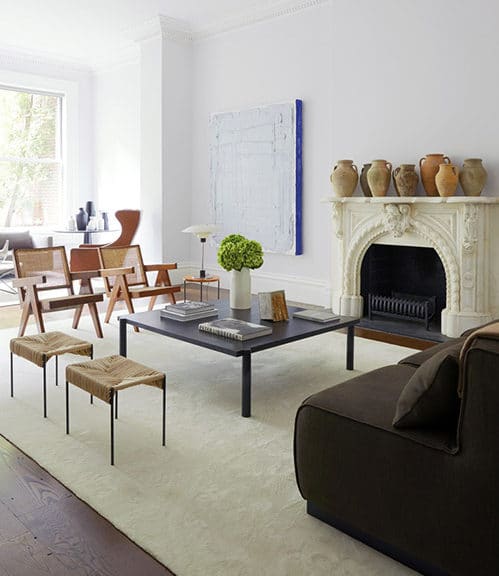 The historic architectural details of this Greenwich Village townhouse by ASH NYC are offset by clean-lined modernist furnishings, including a pair of Pierre Jeanneret armchairs and a Børge Mogensen wingback chair. The matte stained poplar coffee table is by the designers.
Photo by Christian Harder.
---
BoydDesign renovated the former Beekman Place home-slash-studio of pioneering Brutalist architect Paul Rudolph in 2002. Using archival photographs, the firm exposed and restored the space's original painted I-beams and marble finishes, and furnished it with furniture and decor by Hans Wegner, Arne Jacobsen and Man Ray.
Photo by Scott Frances.
---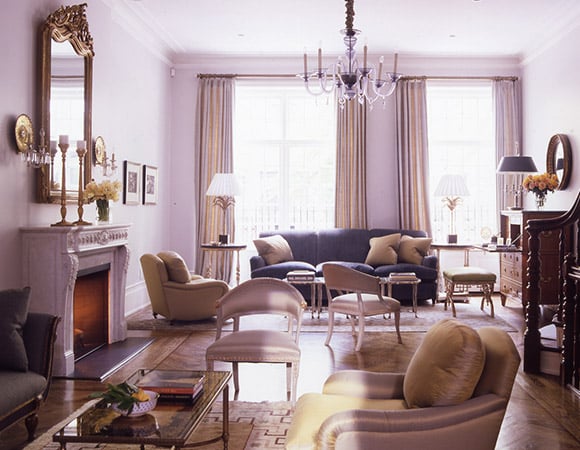 Joe Nahem of Fox-Nahem Associates characterizes the mood of this Manhattan townhouse as "relaxed formalism." In the foreground, an early-20th-century Swedish rug from Nazmiyal covers the oak herringbone floors, and in the rear, a custom silk-and-mohair sofa rests by the windows.
Photo by Pieter Estersohn.
---
Designer Matthew Patrick Smyth collaborated with architect Peter Pennoyer on this Carnegie Hill townhouse. In the drawing room, Smyth paired a Jacques Adnet desk with a 1920s bronze Swedish lamp from H.M. Luther. The Moroccan brick-patterned rug is by Beauvais Carpet.
Photo by John Gruen.
---
In this loft-like Astor Place apartment, Kristen McGinnis combined a bevy of custom-designed pieces, including a wool-mohair sofa to a hanging light fixture made of oil-rubbed bronze and hand-rolled glass.
Photo by John Hall.
---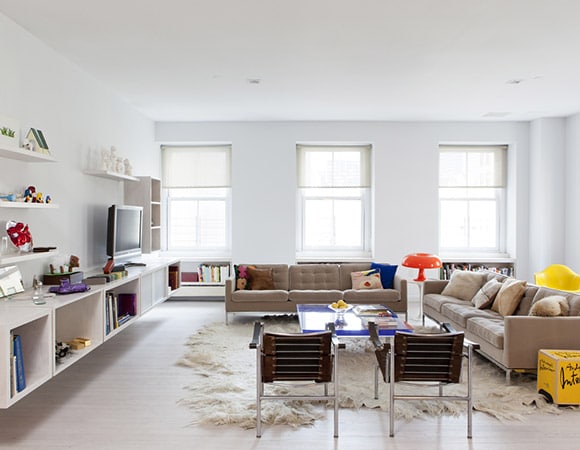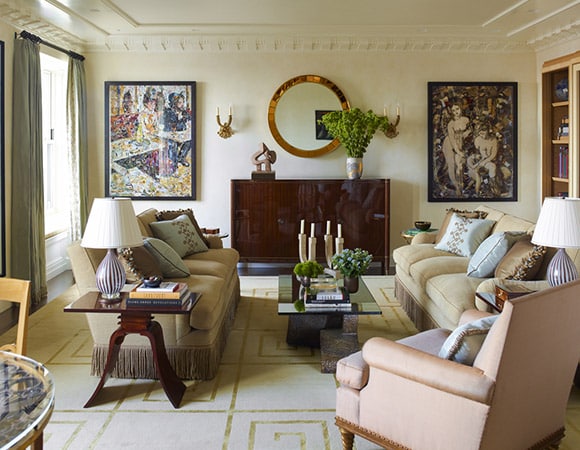 For this Central Park living room, Cullman & Kravis relied on a "classic furniture plan of comfortable sofas, side tables with lamps and a glass-topped coffee table."
Photo by Eric Piasecki.