"I wanted to decorate the space keeping to the style of this 18th-century colonial Connecticut house," Annie Kelly says. "However, I used a few modern elements to make it fresh. I designed a new version of the traditional wing back armchair and added a modern striped jute rug. The best surprise was the higher-than-usual ceiling. Often, these houses can seem cramped, but concealed beneath the original plaster were these beautiful and irreplaceable antique wood beams."
Photo by Tim Street-Porter
---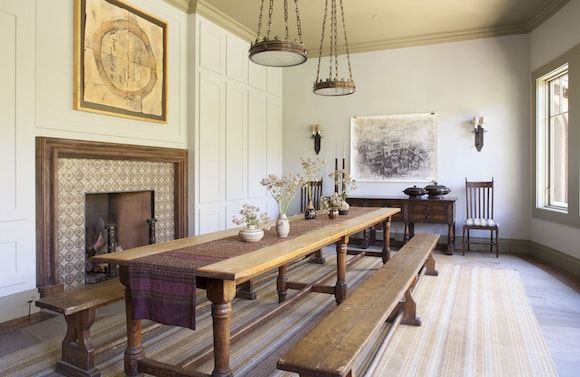 Contemporary art balances the traditional elements in the dining room of this Marin County, California, home by Huniford Design Studio. The space includes a 19th-century English table and benches and Dan Miller artwork above the sideboard.
Photo by Max Kim-Bee
---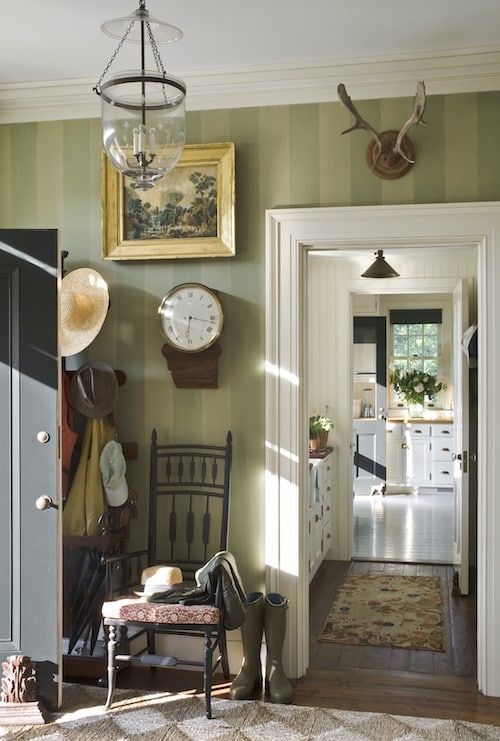 The entryway of G.P. Schafer's home in New York's Hudson Valley features a 19th-century clock (which chimes on the hour), a pair of antlers and a Victorian hall tree on which to hang coats and hats.
Photo by John M. Hall
---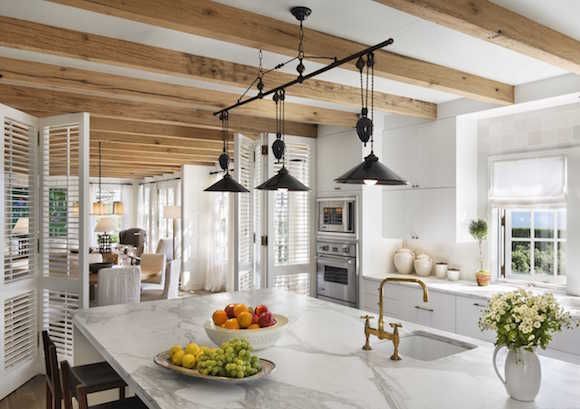 Ike Kligerman Barkley used unfinished reclaimed oak beams to add rustic character to this new-build Nantucket beach house. The brass plumbing fixtures and French triple rise-and-fall custom ceramic lights give the kitchen a vintage feel. The backsplash of delft tiles in shades of whites bring depth, and the custom shutters add layers and texture.
Photo by Peter Aaron
---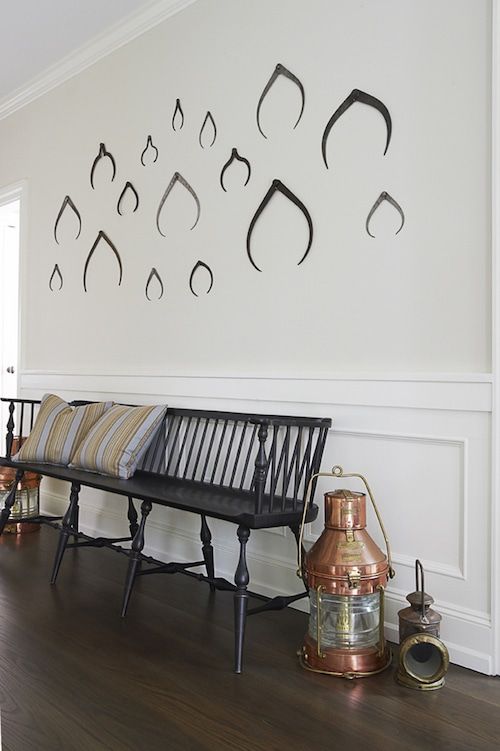 A collection of calipers are displayed on the entryway wall in this East Hampton, New York, home by Groves & Co. Vintage lanterns flank the wooden bench.
Photo by Jeff McNamara
---
Suzanne Kasler designed this airy kitchen at Blackberry Farm in Knoxville, Tennessee, which includes whitewashed cypress beams, a herringbone-tile backsplash and leather-seated stools with nailhead trim. A wrought-iron chandelier hangs over the granite-topped island.
Photo by Erica George Dines
---
For the mudroom at Blackberry Farm, Kasler chose a distressed armoire.
Photo by Erica George Dines
---
Marcia Tucker renovated this farmhouse in Washington, Connecticut, for clients who requested that the furniture, fabrics and fixtures be American-made, organic, sustainably produced and locally sourced. In the kitchen, the fireplace surround was created from local stone and much of the wood throughout the home was reclaimed from a nearby barn.
Photo by Karissa Van Tassel
---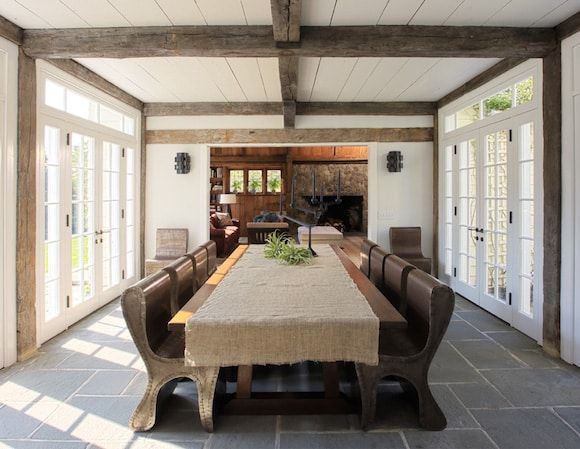 The light-filled breezeway of this 1700s Lakeville, Connecticut, farmhouse serves as a dining room, which Shawn Henderson outfitted with a Gustav Stickley dining table an a set of steel chairs by Pierre Abadie.
---
Saladino Group designed this guest house on the grounds of a family compound in Kennebunkport, Maine, which features a reclaimed-wood staircase that leads to a sleeping loft.
Photo by Max Kim-Bee
---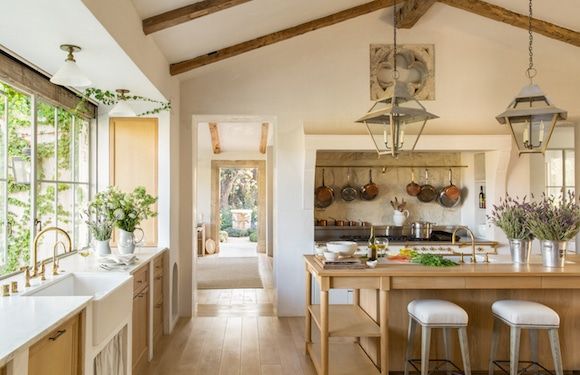 At Patina Farm, Brooke and Steve Giannetti's home in Ojai, California, the airy kitchen includes an island and cabinetry made from white oak, as well as a limestone backsplash behind the range. A farmhouse sink faces a large window that offers expansive views of the property.
Photo by Lisa Romerein
---
The sunny entryway in Shawn Henderson's 19th-century home in Hillsdale, New York, doubles as a reading nook with its built-in bench topped with a cushion and pillows.
Photo by Steven Freihon
---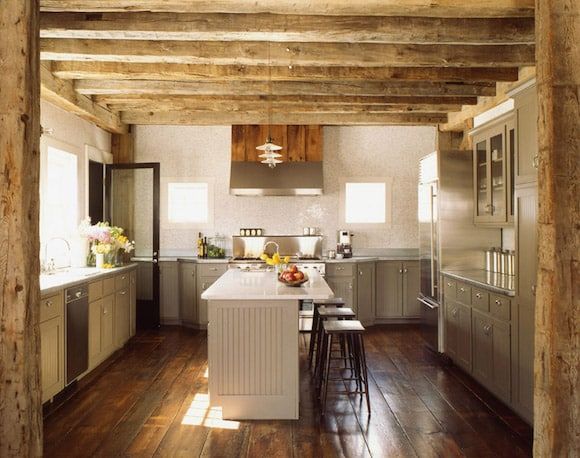 Groves & Co. updated this country house in Washington, Connecticut, highlighting the historic home's naturally distressed beams and wide-plank flooring and contrasted them with modern appliances and cabinetry.
Photo by Eric Piasecki
---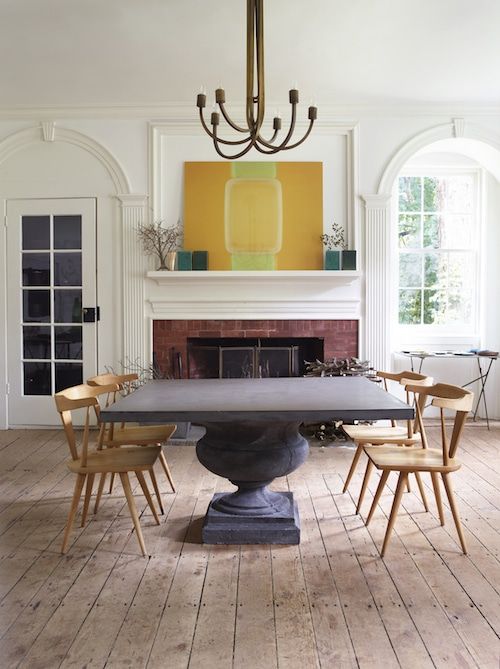 The dining room of this MR Architecture + Decor-designed country home in Hudson, New York, features a pedestal table surrounded by a set of wooden chairs. A contemporary painting leans against the mantel above the brick fireplace.
Photo by Simon Upton
---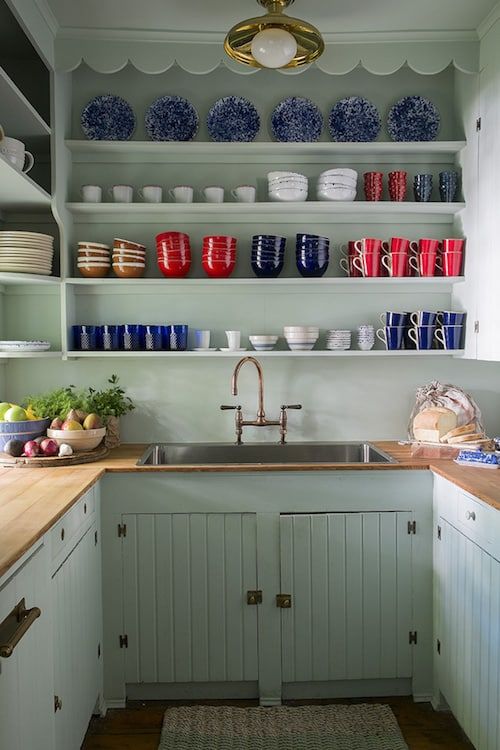 Designer Michelle R. Smith of Studio MRS Interiors bought this 1790 Sag Harbor, New York, whaler's cottage with her mother as a weekend getaway. The mint-green kitchen features open shelving, beadboard cabinets and a butcher-block countertop.
Photo by Joy Sohn
---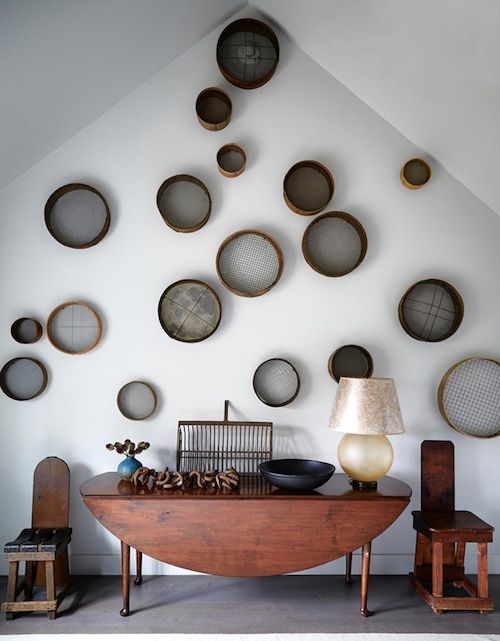 This Water Mill, New York, home by Huniford Design Studio was designed as a relaxing retreat that references a classic Hamptons bar. Antique grain sieves hang on the wall of a guest room. The space also includes a vintage metal scoop and an early American drop-leaf table. The custom gray-green wall color varies from room to room and in the changing light.
Photo by Stephen Kent Johnson