American Seating Company Furniture
Rehab Vintage Interiors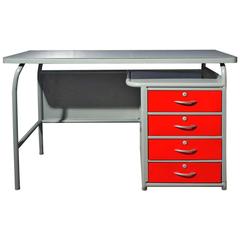 1950s Industrial School Desk by American Seating, ...
American Seating Company
Vintage 1950s American Industrial Desks and Writing Tables
Aluminum, Steel
Stellar 1950s Industrial-era school desk by American Seating. The single pedestal base features 4 locking drawers and an open storage cubby. Freshly powder-coated in grey and red with o...