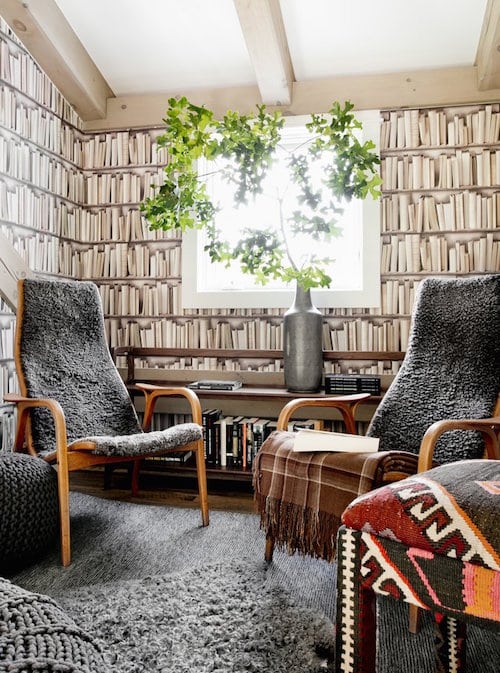 "I was inspired to use this wallpaper as I had seen it used in a house in London to great effect and have always looked for a space in which to use it," says Timothy Godbold, who finally got to put up Muriva's Books Faux Effect wallpaper in a Sag Harbor, New York, home. "For this project, we had a small nook which could easily have been full of leftovers, but I wanted it to be a comfy nook you could escape to at the top of the house, read a book quietly or forget you have two screaming children downstairs."
Photo by Rikki Snyder
---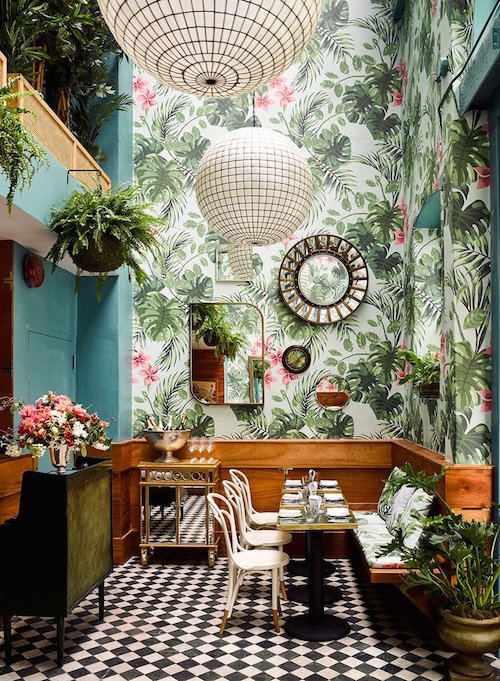 "It's as if Don Draper and Betsy Bloomingdale had a baby," Ken Fulk says of Leo's Oyster Bar in San Francisco, which earned the firm a James Beard Awards nod as a finalist for best restaurant design. The space features custom tropical wallpaper, capiz shell pendants and bentwood chairs.
Photo by Douglas Friedman
---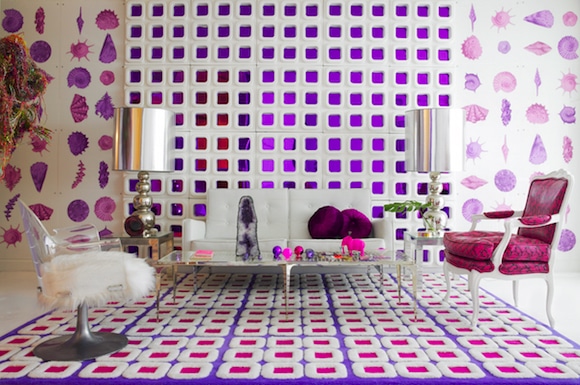 "The space was inspired by my favorite room in the world, which I've only ever seen in photos: the Zodiac Suite aboard the Andrea Doria, which sank in 1952," Doug Meyer says of this Miami penthouse living room. "It was designed by Piero Fornasetti and Giò Ponti. What inspired me were the walls — silk-screen images of symbols of the zodiac done in blue and white. I created my version with shells since the project is on the beach."
Color also played an important role in the design." The color palette of pink, purple and white is a combination I have loved since I was a kid," Meyer says. "When I was 10 years old, after much pleading, yelling and pouting, I convinced my mother to have my bedroom painted all pink."
Photo by Mark Roskams
---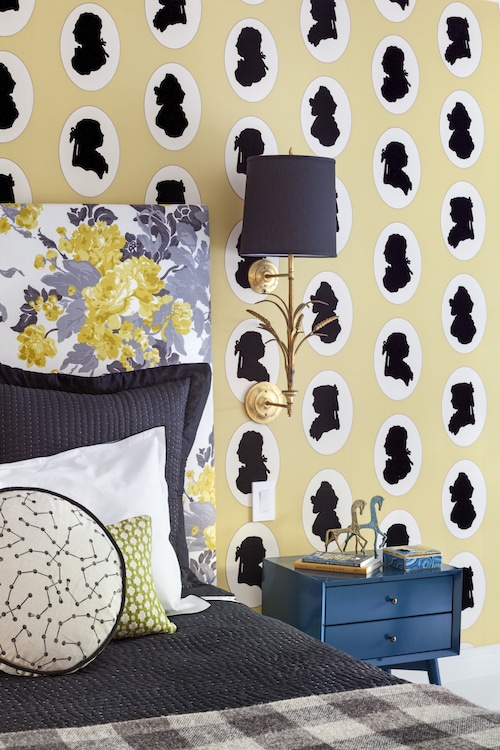 "The sunny yellows work very well to brighten the bedroom and the black created a modern and bold pop," Tamara Eaton says of the Osborne and Little wallpaper in this Brooklyn townhouse. "I selected this wallpaper because it is a modern twist on a very traditional silhouette, so for a bedroom it's a fun mix of styles."
Photo by Francis Dzikowski
---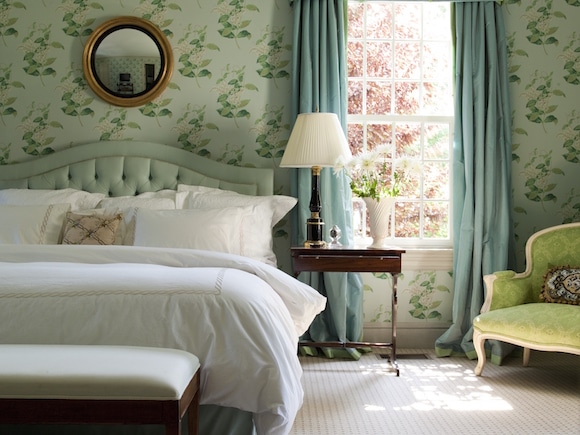 In this Westport, Connecticut, bedroom, Matthew Patrick Smyth adorned the walls with Madras Violot by Cole & Son, or Lee Jofa in the United States." I used it because even though the design dates to the 1860s, it still has a fresh and happy effect," Smyth says. "It is a great background for the rooms — simple shapes and solid fabrics. It's a period design that plays well with others!"
Photo by John Gruen
---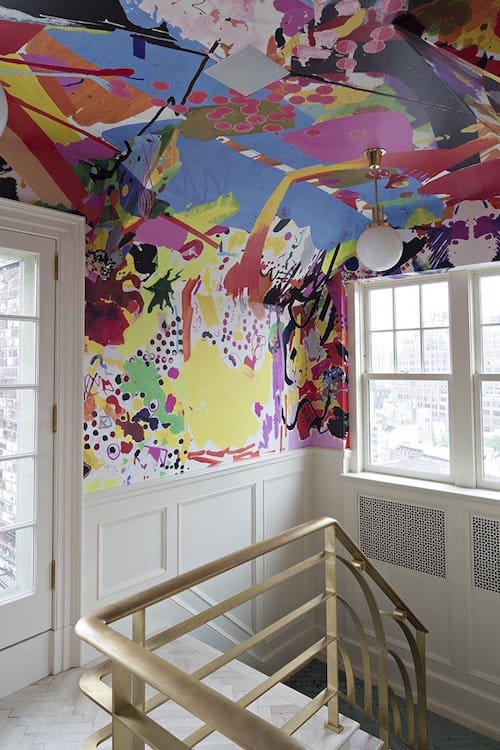 The bespoke wallpaper in this Greenwich Village penthouse's stairway is meant to highlight a typically neglected space, according to designer Rafael De Cárdenas. The wallpaper is by artist collective Assume Vivid Astro Focus.
Photo by Floto + Warner
---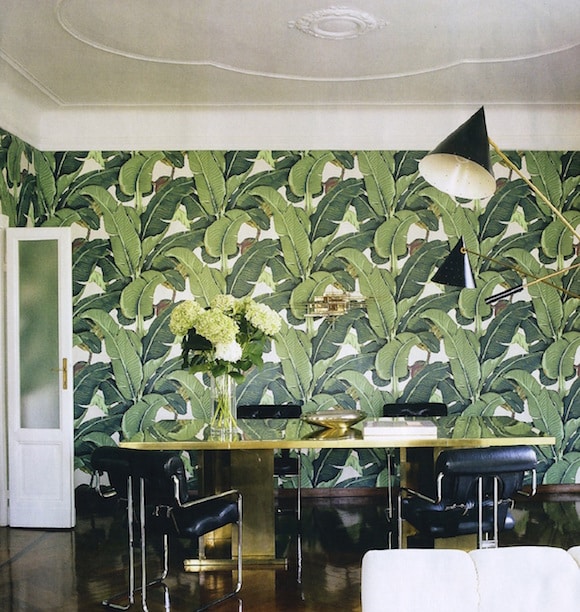 Nate Berkus chose Martinique's iconic banana leaf-print wallpaper for the dining room of this apartment in Milan. A set of black leather Pace Collection chairs surround the table.
Photo by Simon Upton
---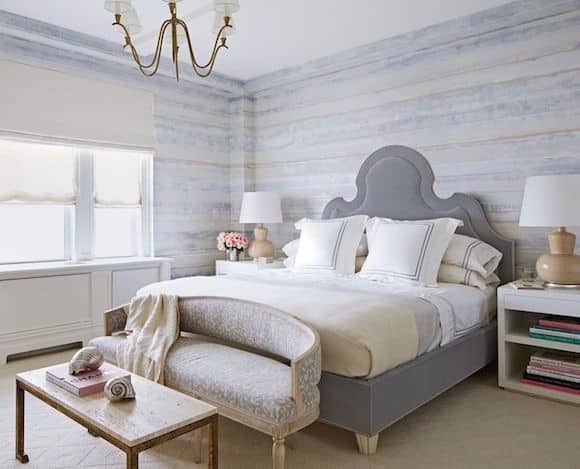 This Upper East Side bedroom by Timothy Whealon features wallpaper by Callidus Guild. "I used it because of its zen quality and because it reminded me of a Gerhard Richter painting," he says.
Photo by Max Kim-Bee
---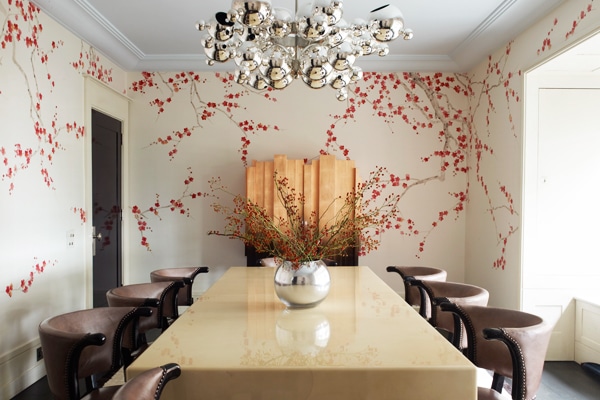 Rafael de Cárdenas chose a bespoke de Gournay wallpaper for the dining room of this London residence, which also features a Maison Charles Bubble chandelier, a Karl Springer table of lacquered goat skin from Talisman and Grosfeld House klismos chairs from High Style Deco.
Photo by Simon Upton
---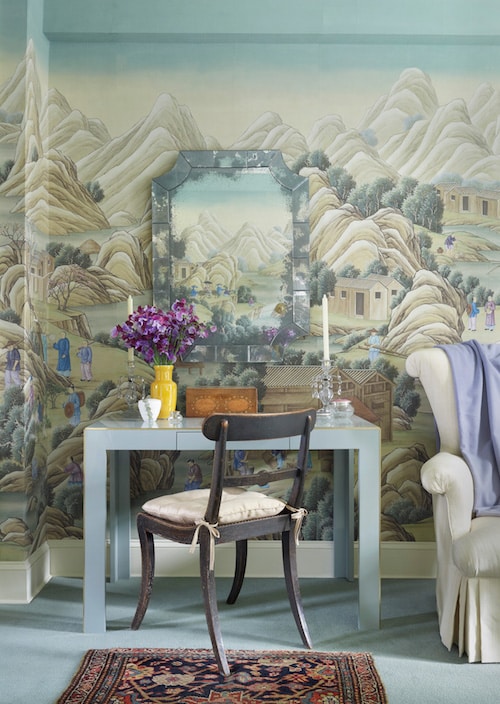 Thomas Jayne of Jayne Design Studio gave each of the rooms of this two-bedroom Manhattan apartment a distinct theme and personality, much like rooms found in grand historic houses. For this bedroom, he selected a densely patterned Chinese mural to give it richness and depth, but placed furniture with simple lines and materials with soft textures for balance. The Gracie wallpaper design is called Summer Harvest.
Photo by Pieter Estersohn
---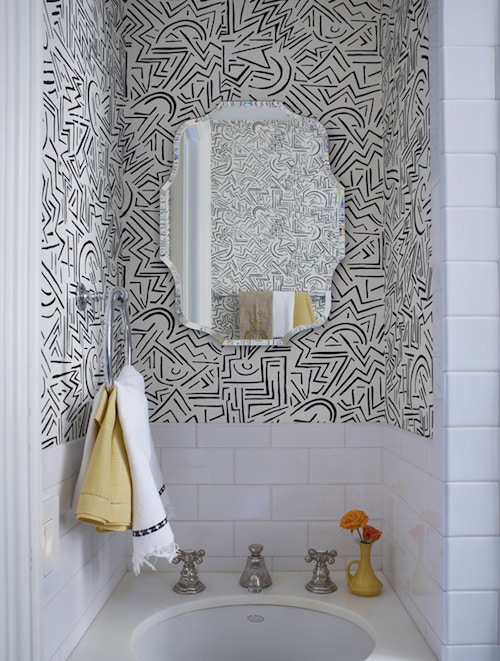 "This is my favorite wallpaper of all time," Alexandra Loew says of the pattern she used in this Upper East Side apartment. "It's called Lascaux, as in the ancient cave drawings discovered in Lascaux, France, but it also feels like a Keith Haring graphic. I love anything that feels like a fusion between primitive and 1980s, and this one really hits that spot. It's aggressive, rather than cute or playful, but also sedate." The design is by Alan Campbell and the paper is available through Quadrille. It also comes in a coordinating fabric, which Loew used in the laundry room off this powder room.
Photo by William Waldron
---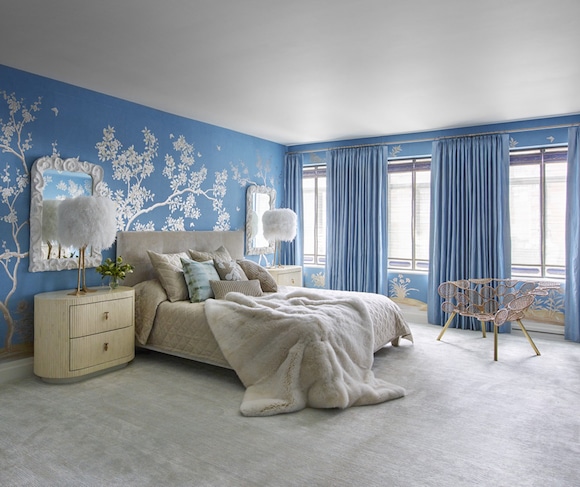 "Our client is a world traveler and art collector and patron whose varied collection includes Chinese blue and white porcelain," Kelly Behun says of decorating the master bedroom of this Manhattan apartment. "She is a something of a color expert and wanted this very specific shade of blue, with the scene rendered in silver metallic." The wallpaper is from Gracie's series of hand-painted Chinese motifs based on scenes painted in the 18th century. The Duck Feet lamps are by Porta Romana, and the Racket chair is by the Campana Brothers.
Photo by Richard Powers
---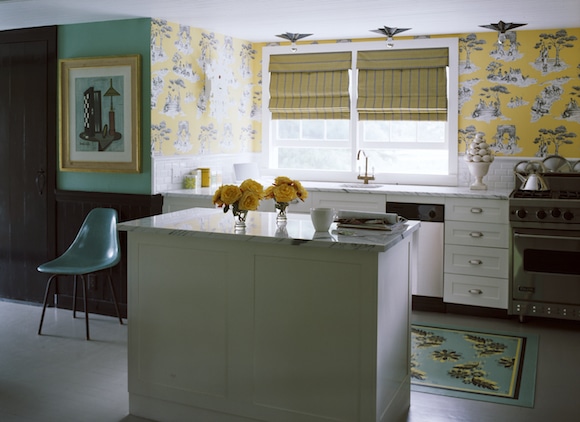 The kitchen of this cottage in New York's Hudson Valley features Harlem Toile de Jouy wallpaper. Designer Sheila Bridges says, "It is my own design and thought it would brighten up the small space with color and pattern — particularly because the space had black wood paneling."
Photo by Laura Resen
---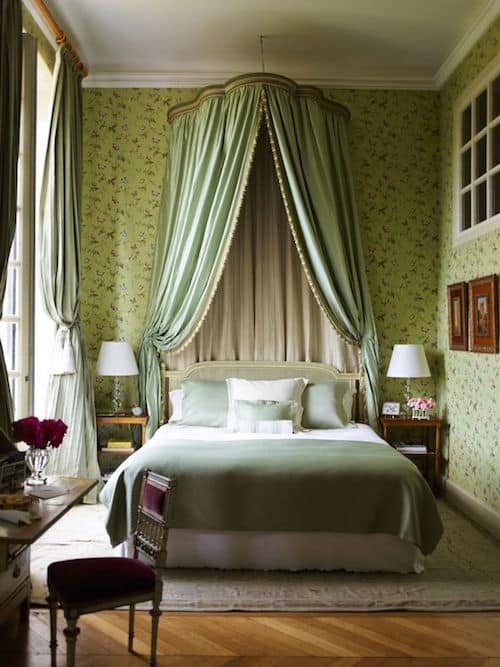 When designing the guest bedrooms at Timothy Corrigan's home in France, Château du Grand-Lucé, "the idea was to have at least one room that would please every kind of visitor," he says. "Chambre des Papillons is one of my guests' favorite rooms, the couples especially," Corrigan says of the space shown above.
He named it after the butterfly motif found in the Waverly wallpaper. "Typically, I wouldn't opt for a decorative wall treatment so strong in a space this big, as it can seem overpowering, but the room overlooks the garden, and I wanted it to feel like a part of the natural environment."
Photo by Eric Piasecki
---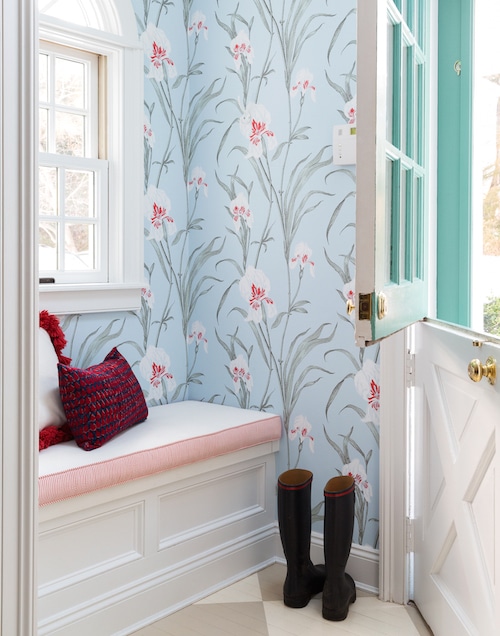 Floral wallpaper by Lee Jofa brightens up the mudroom of this Long Island, New York, family home by Kemble Interiors.
Photo by Ball & Albanese
---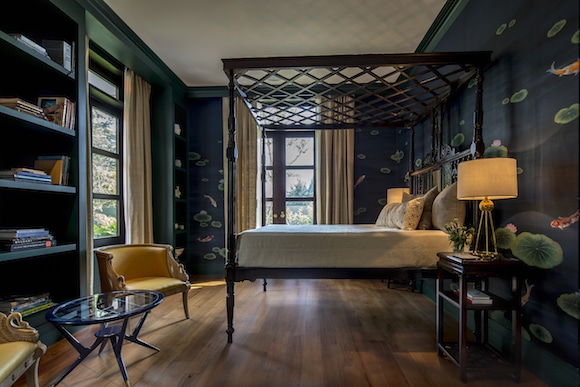 The Sara Story–designed guest bedroom in this Singapore home features Gracie wallpaper hand-painted with koi and lily pads. The carved four-poster bed is flanked by a pair of 19th-century Chinese lacquered tea tables topped with brass tripod lamps by Remains Lighting.
Photo by Masano Kawana
---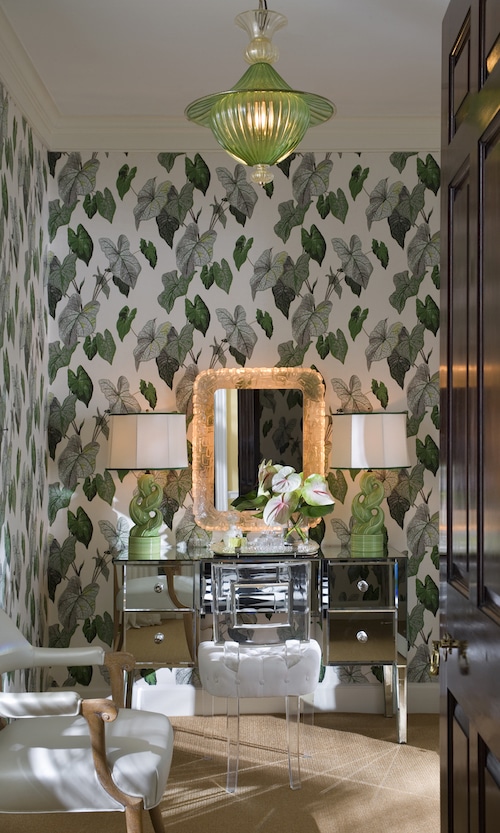 Thad Hayes was tasked with updating this 1938 Palm Beach oceanfront estate so that it reflected the clients' modern lifestyle, while retaining its original look and feel. Here, leafy wallpaper, a mirrored Hollywood Regency–style vanity and a Lucite chair create a posh, vintage vibe.
Photo by Scott Frances
---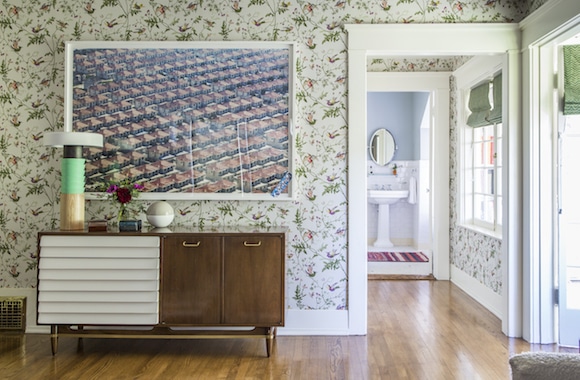 Reath Design owner Frances Merrill didn't shy away from color and pattern when designing this Craftsman-style home in the Hollywood Hills. In this bedroom, she combines vibrant bird-printed wallpaper with mid-century–style furniture and a large-scale photograph.
Photo by Laure Joilet
---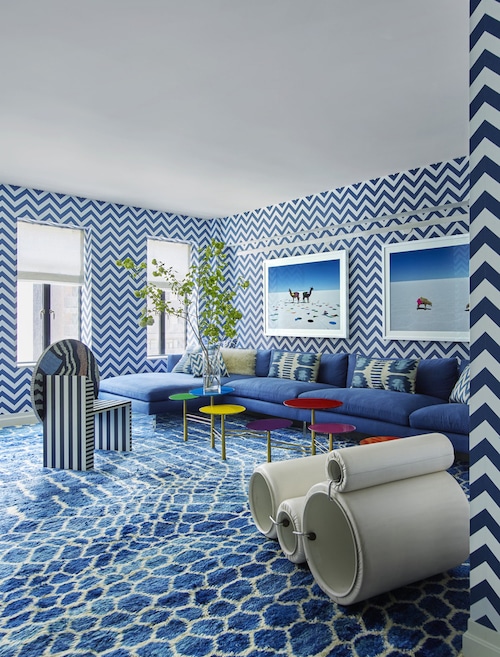 Chevron wallpaper by Schumacher sets a bold tone in this Manhattan family room by Kelly Behun. Gray Malin photographs hang over the custom sectional, and the tube chair is by Joe Colombo for Flexform.
---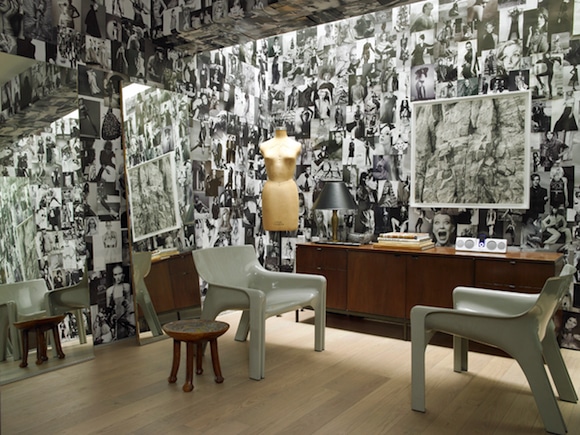 "Collage environments have been a hallmark mine for over a decade now," says Doug Meyer, who created this custom wallcovering for a study in Manhattan. "I love creating a 'site-specific' space in any room. I generally decide on the color theme and then decide on subject matter. This one was all about fashion with black-and-white imagery."
Photo by Mark Roskams
---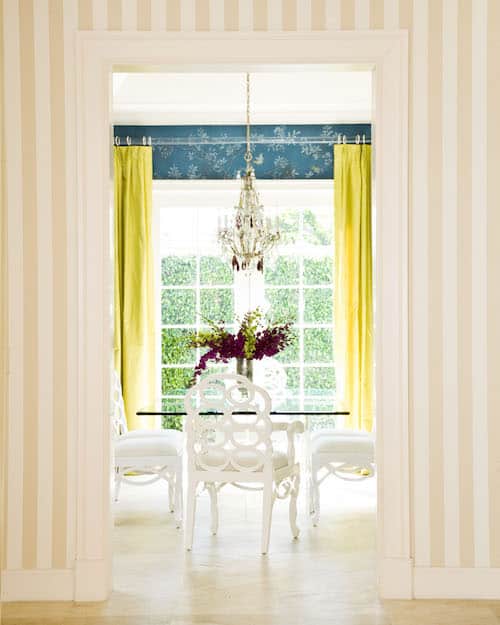 In this Palm Beach, Florida, home by Kemble Interiors, the striped wallpaper outside the dining room is by Farrow & Ball and the blue chinoiserie by de Gournay.
Photo by Kemble Interiors
---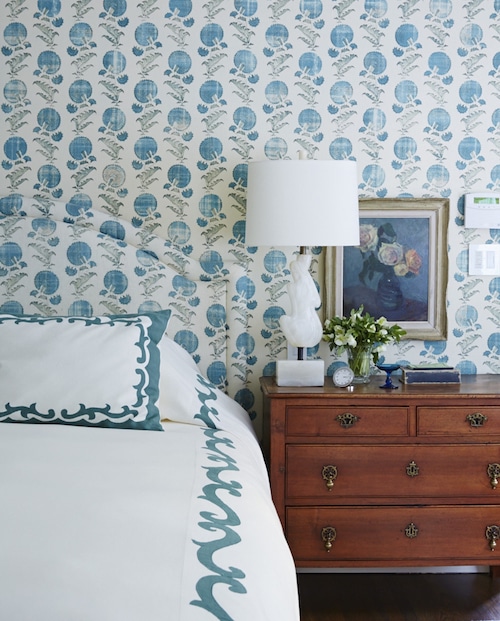 "This is a Michael S. Smith fabric I had done in a custom color, then acrylic backed and put up as wallpaper," Nathan Turner says of this bedroom in a 1930s home in Los Angeles's Bel-Air neighborhood. Then, in what seems like part optical illusion and part feat of perfectionism, a headboard upholstered in the same fabric seems to disappear into the wall.
Photo by Victoria Pearson