The average cost of an antique Thomas Moran Paintings is $416,000. The price can vary from $48,000 and $875,000 based on the condition, age, materials and aesthetic value for a specific Thomas Moran Paintings.
MARK MURRAY FINE PAINTINGS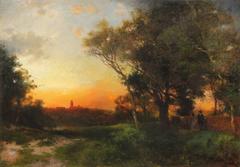 Landscape near Cuernavaca, Mexico
Thomas Moran
Early 1900s Realist Landscape Paintings
Oil Paint, Panel
Signed and dated T. MORAN 1905 Oil on cradled panel 14 x 20 inches (35.6 x 50.8 cm) Framed: 23 x 29 inches (58.4 x 73.7 cm) This work will be included in the forthcoming Thomas Moran ...
Questroyal Fine Art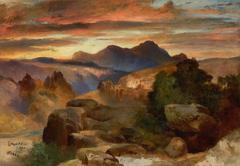 Offered By Questroyal Fine Art
Sunset
Thomas Moran
20th Century Hudson River School Landscape Paintings
Canvas, Oil Paint
Monogrammed, signed, and dated lower left: TMoran / TMoran / 1922; on verso: To my good friend C.F. Lummis / Moran / 1922
Questroyal Fine Art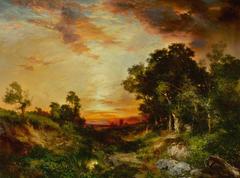 Offered By Questroyal Fine Art
Sunset, Amagansett
Thomas Moran
Early 1900s Hudson River School Landscape Paintings
Canvas, Oil Paint
Monogrammed and dated lower right: TMoran 1905