Albert Heinrich Brendel Furniture
Silla, Ltd.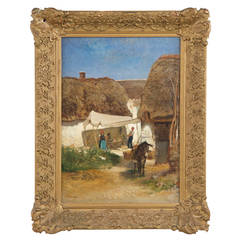 H 25.5 in. W 20.25 in. D 3 in.
Dimensions:
H 25.5 in. W 20.25 in. D 3 in.
Dealer Location:
Shippensburg, PA
Albert Brendel Antique Painting of Village Donkey,...
Albert Heinrich Brendel
Antique Late 19th Century German Romantic Paintings
This bright and striking work by Albert Brendel (German, 1827-1895) captures a genre scene of village life during the mid-19th century. It is characterized by distinct bright blues and ...