Antoine-Denis Chaudet Furniture
David Sterner Antiques LLC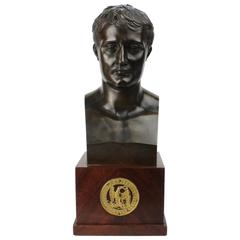 H 16 in. W 6.5 in. D 6.23 in.
Dimensions:
H 16 in. W 6.5 in. D 6.23 in.
Dealer Location:
Philadelphia, PA
Materials & Techniques:
Bronze, Wood
Antique Bronze Bust of Napoleon Bonaparte After An...
Antoine-Denis Chaudet
Antique Late 19th Century French Belle Époque Sculptures
Bronze, Wood
A fine bust of Napoleon Bonaparte after Antoine-Denis Chaudet. Mounted on a fine mahogany plinth bearing a gilt regal rondel on its front. Stamped to the reverse with no. 426. ...