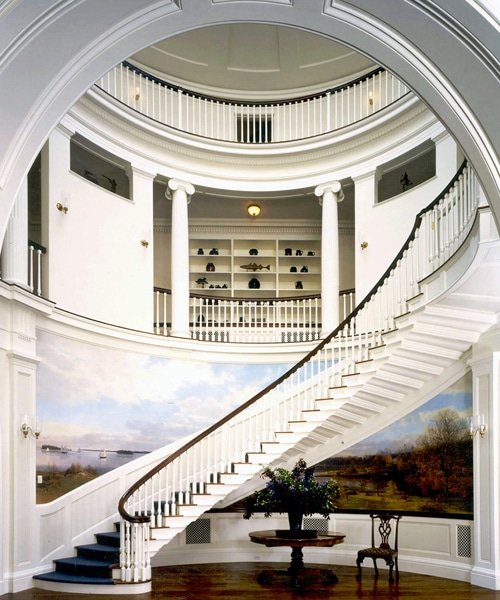 Classical architect Allan Greenberg designed this Greenwich, Connecticut house, which incorporates Greek Revival–inspired plaster moldings and millwork in its circular, three-story rotunda. The decor is by Mariette Himes Gomez of Gomez Associates, and features an antique pie crust table and a Chippendale side chair, both from the late 18th century.
Photo by Wade Zimmerman.
---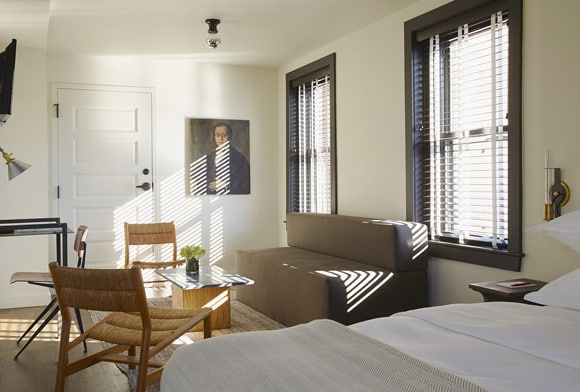 At ASH NYC's The Dean hotel in Providence, Rhode Island, the firm sought to create modern and sophisticated rooms that maintained warmth and comfort. The pair of woven chairs are 1960s French pieces by Pierre Gautier-Delaye, the 1960 V desk chair is by Ynske Kooistra for Marko and the light fixture is a custom piece by ASH NYC.
Photo by Christian Harder.
---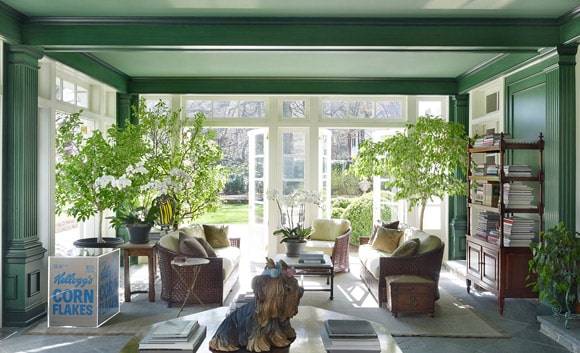 Jayne Design Studio was asked to create a "serene" setting for a museum-quality collection of postwar art in this 1889 Georgian Colonial home, located on Philadelphia's Main Line. The rich green walls and woven rattan sofas reference the verdant natural setting and provide a suitably unfussy backdrop for pieces by Roy Lichtenstein, Jeff Koons and Andy Warhol.
Photo by Pieter Estersohn.
---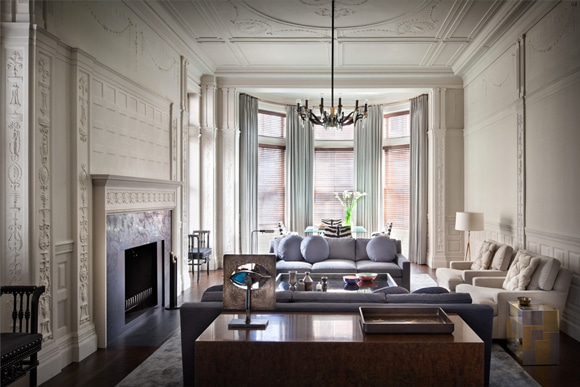 This formal living room in a 1880s Boston residence, lined with Adam style moldings, by Thad Hayes was meant to be a elegant, adult respite amid a family-friend home. Hayes designed the sofas, plush armchairs and silk-and-wool rug, which are set among a 1970s Paul Evans side table, a Felix Agostini gilt-bronze table lamp and four circa 1880 American Aesthetic Movement window benches.
Photo by Scott Frances.
---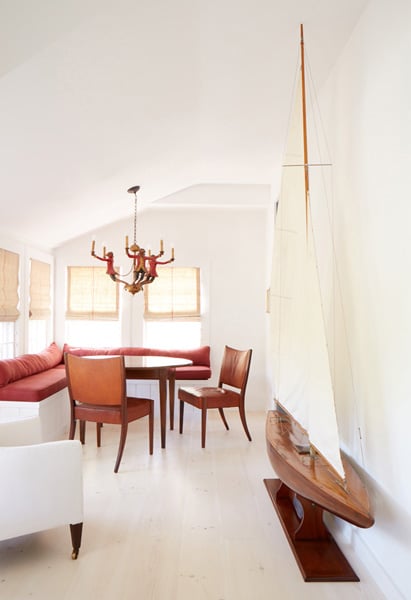 ASH NYC placed an oversize wooden ship model in the games rooms of this 1795 Nantucket home, the only room with ceilings tall enough to accommodate the piece. The home's nautical referenced are balanced with spare, minimalist notes, like a the 1930s Danish dining chairs by Frits Schlegel and the 19th-century fruitwood farm table. The monkey chandelier is a 1990s work by Bill Huebbe.
Photo by Christian Harder.
---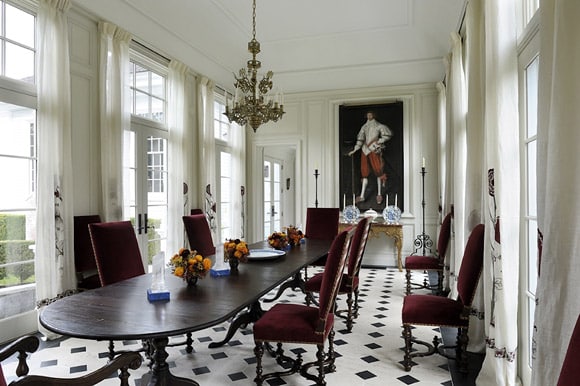 Hung with linen curtains custom embroidered in a Mughal motif by Lesage, the French doors in Robert Couturier's Connecticut dining room flood the space with natural light. "I wanted something like an orangerie, with the double exposure," says Couturier. The 17th-century chandelier is Dutch, and the dining chairs are Louis XIV pieces.
Photo by Tim Street-Porter.
---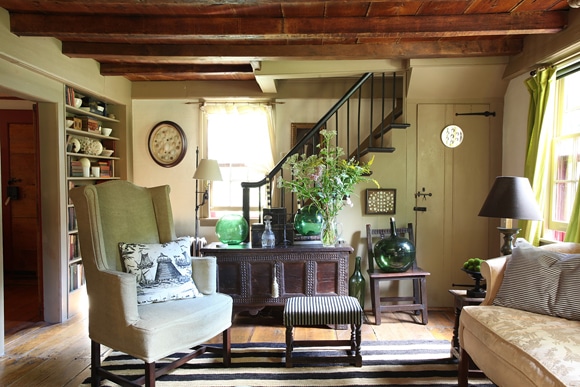 Annie Kelly used a mix of contemporary and period pieces to furnish this 18th-century country cottage in Litchfield, Connecticut. In the living room, a 19th-century American stool, an 18th-century sofa and a 17th-century chest sit alongside a wingback armchair by Kelly and a striped jute rug.
Photo by Tim Street-Porter.
---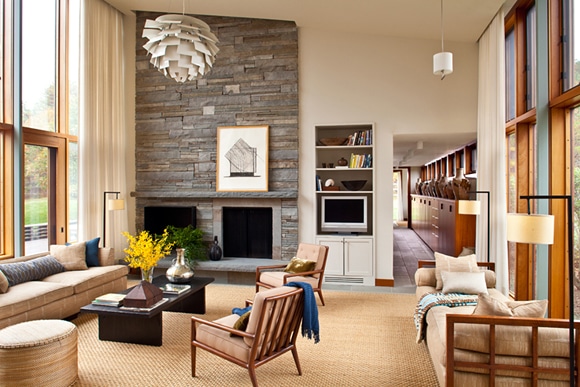 This airy Martha's Vineyard home, decorated by Glenn Gissler, includes a Poul Henningsen Artichoke Lamp from Lost City Arts, a pair of T.H. Robsjohn-Gibbings armchairs and a custom daybed by Gissler. A bluestone-paved hallway leads to a collection of antique Italian oil jars.
Photo by Gross & Daley.
---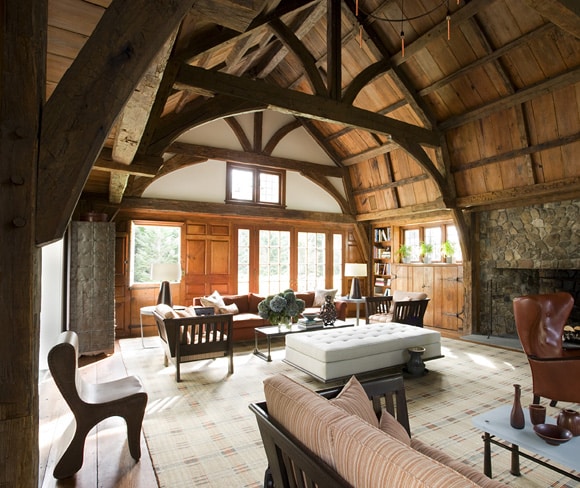 This trestle-ceiling barn in Litchfield County, Connecticut dates back to the 1700s. Designer Shawn Henderson referenced American agrarian life via an earthy palette and industrial materials. The daybed and sofa are custom pieces by Henderson.
Photo by Steve Freihon.
---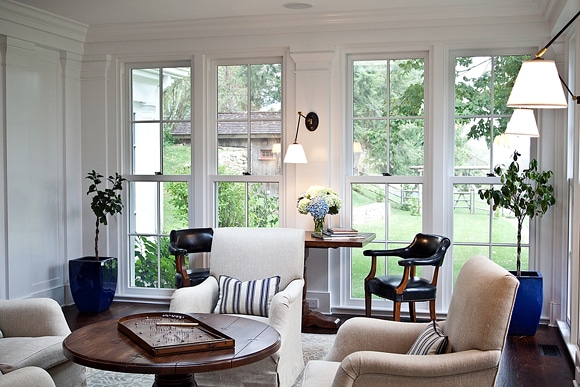 Marcia Tucker's clients requested that this sunroom — a recent addition to an 18th-century Litchfield County, Connecticut farmhouse — use organic and sustainable materials with an American provenance, and also include multiple seating areas. The home has no televisions; instead, an antique bagatelle board rests on the central pedestal table.
Photo by Karissa Van Tassel.
---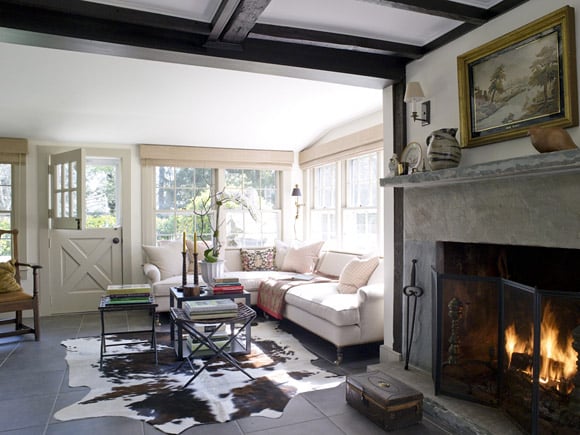 The sitting room of Matthew Patrick Smyth's Litchfield County, Connecticut Colonial weekend house features a Schumacher-upholstered sofa and a cowhide rug. Though the fireplace mantle appears to be original to the 1790, it was a contemporary fabrication.
Photo by John Gruen.
---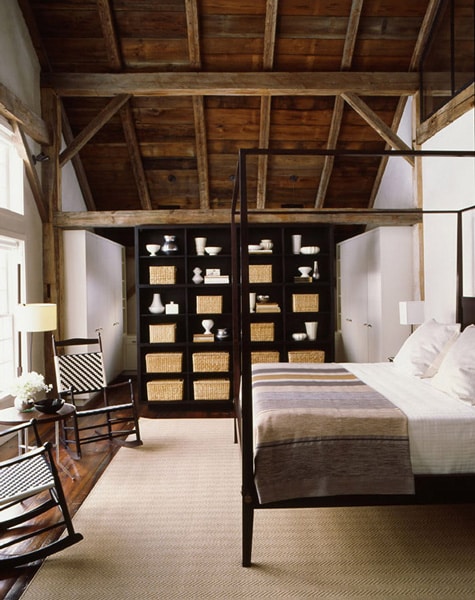 In rural Washington, Connecticut, Groves & Co. oversaw a modern renovation of a 19th-century farmhouse (transported from Canada). In a bedroom, original, naturally distressed ceiling beams and wide-plank flooring are offset by an eclectic combination of custom and vintage furniture, patina finishes, and heavily textured fabrics. The firm worked with a millworker who specialized in authentic Shaker pieces, but tweaked the proportions and finishings to make them feel of-the-moment.
Photo by Eric Piasecki.
---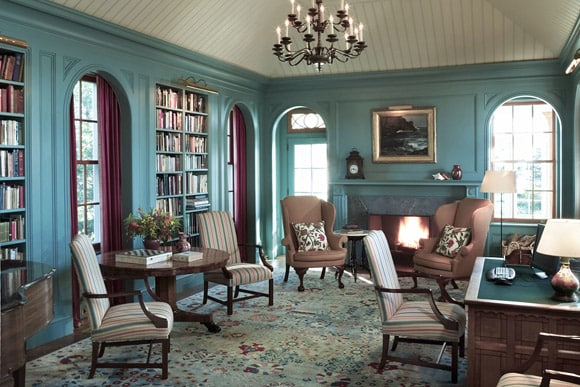 This Penobscot Bay, Maine library by Jayne Design Studio was painted an "old-fashioned" turquoise to evoke an 18th-century room and highlight the classical woodwork. Red linen curtains offer a pleasing color contrast while a late-Victorian oak pedestal desk, an 18-arm 1920s bronze chandelier and four Martha Washington-style armchairs maintain an air of elegant traditionalism.
Photo by Jonathan Wallen.
---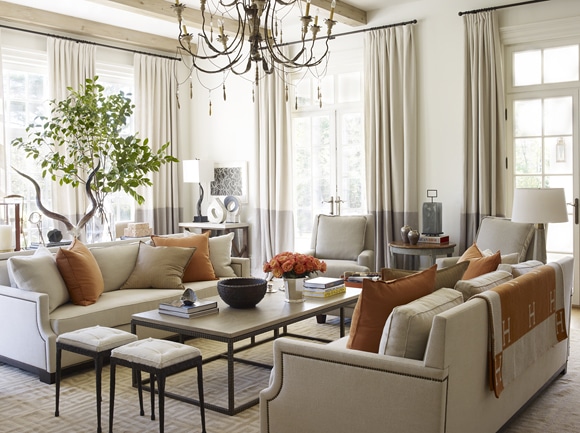 Suzanne Kasler's design for this Greenwich, Connecticut family home uses strategic pops of color — the orange pillows and Hermès blanket — and linen-upholstered seating to create a chic, cozy living room. The custom-colored rug is patterned in a "Chinese maze" motif.
Photo by Simon Upton.
---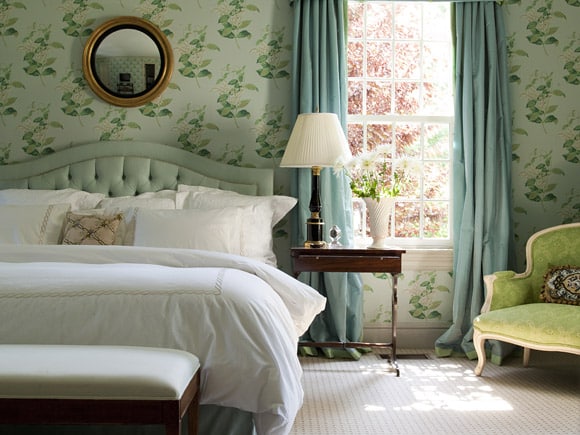 This elegant-yet-inviting Westport, Connecticut bedroom by Matthew Patrick Smyth makes use of soft shades of green and pink, as well as 18th-century antiques, at his client's behest.
Photo by John Gruen.
---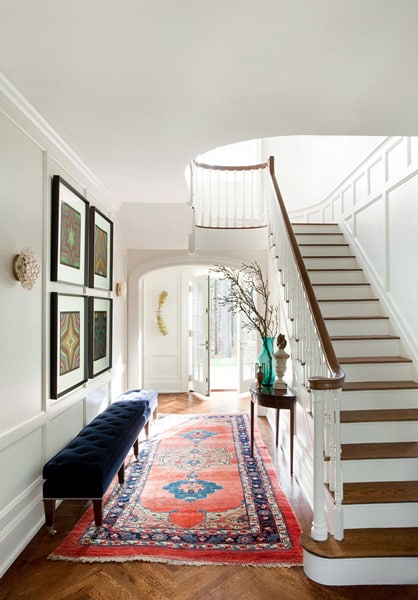 Designer Frank Roop used an oversize tufted bench to add an "unexpected or dramatic" element to the entryway of this Boston-area colonial home.
Photo by Eric Roth.