The average cost of an antique Adolf Kaufmann Furniture is $11,393. The price can vary from $5,725 and $17,063 based on the condition, age, materials and aesthetic value for a specific Adolf Kaufmann Furniture.
Silla, Ltd.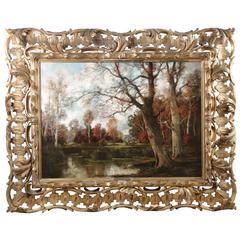 Austrian Barbizon Painting of Peasants on Forest P...
Adolf Kaufmann
Early 20th Century Austrian Barbizon School Paintings
Canvas, Linen, Pine, Oil Paint
An incredibly powerful and moody Barbizon painting, the scene depicts a peasant couple with an ox-cart as they travel down a forest road. In the Benezit a painting of the same dimension...
Kunsthandel Andreewitch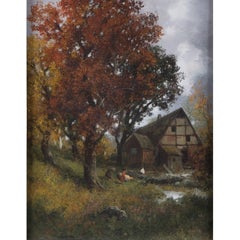 Fall by Adolf Kaufmann, Austria, circa 1890
Adolf Kaufmann
Antique 1890s Austrian Art Nouveau Paintings
Canvas
Adolf Kaufmann (1848-1916) Oil on canvas.