The average cost of an antique Birks Retro Bracelets is $20,250. The price can vary from $6,800 and $33,700 based on the condition, age, materials and aesthetic value for a specific Birks Retro Bracelets.
Nadine Krakov Collection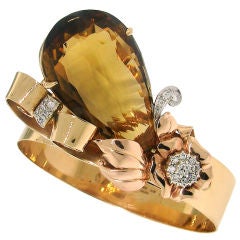 Birks Citrine, Diamond, Platinum and Gold Retro Br...
Birks
Vintage 1940s Retro Bracelets
Platinum, Yellow Gold, Citrine, White Diamond
Lovely and bold retro bracelet created by Birks in the 1940s. The highlights of this beautiful feminine bracelet are an approx. 25 carats pear-shape citrine and asymmetrical design. Th...
Tenenbaum Jewelers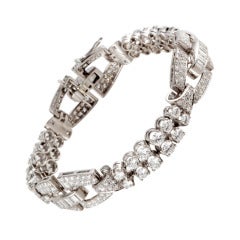 Birks Diamond Platinum Bracelet
Birks
Vintage 1930s Retro Retro Bracelets
Platinum, Diamond
This gorgeous bracelet made by Birks features 5.50 carats total weight of full-cut round diamonds, 5.0 carats total weight of single-cut round diamonds, and 1.0 carat total weight of ba...