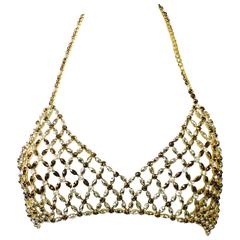 Size: 32-34 B US
Dealer Location:
Houston, TX
Mid Century Schreiner Rhinestone Halter
Schreiner Bandeaus
Undeniably striking! This rhinestone bra by Schreiner features dark chocolate brown rhinestones and clear rhinestones in a 4-petal flower grid. The center of both of the bra's two tria...
Dealer Location:
New York, NY
Louis Vuitton Navy Trunks Cashmere Bandeau Scarf w...
Louis Vuitton Bandeaus
Louis Vuitton Navy Cashmere Bandeau Scarf Features silver stitched text throughout Made In: Italy Color: Navy and silver Composition: 74% cashmere, 26% silk Overall Condition: Very go...