This Blenko 1962 Omnibus/Sun Face glass decanter in Jonquil - Signed is no longer available.
About
Designed by Wayne Husted for the 1962 Blenko Glass catalog in bright Jonquil yellow (shows more honey tones in picture than is really there). Nicknamed the "Omnibus" decanter in reference to the period PBS TV series intro graphic which it resembles. Signed on the base by Wayne Husted during the weekend of the short-lived but inspiring Blenko Museum of Seattle in the Fall of 2001.
handblown production glass – limited period factory color "Jonquil" diamond-pen etched signature underside
Excellent original condition.
Contact The Seller
Typical Response Time:
1 - 2 Days
1stdibs seller since
2008
Located in
Cathedral City, CA
More from this Seller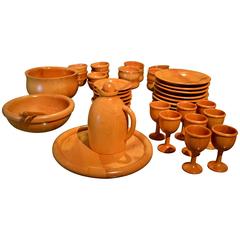 Vintage 46 Pieces Italian Sycamore Tableware by Pietro Manzoni for Vietri
Vintage 46 Pieces Italian Sycamore Tableware by Pi...
Piero Manzoni
Glass, Sycamore
An absolutely beautiful, 46 piece set of tableware created by famed Industrial designer Pietro Manzoni, circa 1970s for Vietri. These hand-carved, highly polished pieces were made in li...