Items Similar to
Bespoke Round Table with Sand-cast Brushed Brass Base 'IN STOCK' by P.Tendercool
View More
About
Model: FTOP_PT11_BS1
Top: Reclaimed Hardwood
Top Finish: Natural oiled
Base: PT11 base, sand cast brass
Base Finish: Golden sand
Dimensions: diameter 85 x 76 cm
(w x d x h) diameter 33.46 x 29.9 inch

AVAILABLE NOW in our gallery!

We created this table with reclaimed Tabak wood, Lagerstroemia floribunda
Our company is based in Thailand and we regularly go on a scouting trip to local woodsheds which purchase traditional Thai wooden houses and sell them in parts.
We used four boards of this reclaimed wood, using traditional wood working techniques and a healthy dose of sanding by hand.
We applied seven layers of natural oil, leaving this table with a warm honey colored glow.
Since we use reclaimed wood, you will notice some restorations on the surface.
Do note that we do not level the bottom of our tabletops. By doing so one can notice we use old wood, we feel the uneven bottom ridge adds to the character of the table.
For the base we opted for our PT11 hand-cast base, in solid brass, created by a Armando, a75 year old Italian Bronze-master, and his team. Please note we decided not to add a primer on the brass: a primer is a coating which seals the brass form the surrounding air, thus slowing down the natural oxidation – antique dealers would call this 'patination' – process. This table base will oxidize over time.

P. Tendercool FTOPs – Fantastic Tables made with Old Planks – General info
Bespoke, handmade tables in real reclaimed wood & sand-cast Bronze, Brass or Aluminum

Reclaimed wood
While P. Tendercool may not be greener than your average Martian. He does not kill trees.
P. Tendercool, run by Belgians Pieter Compernol and Stephanie Grusenmeyer, is based in Bangkok, Thailand.
We are ideally placed to go wood-hunting: every month or so we organize a sourcing trip along old woodshops in remote villages, meeting locals who buy up abandoned houses, rice-barns and forgotten structures, often dating back 100 years. While Thailand has no wood industry left, it was spoiled for choice and quality in those days: some of the best exotic tropical woods were available and it is our Mission to score these and turn vintage floors, beams, and pillars into truly unique furniture.
We buy our wood in very small quantities, often just enough for one table:
truly reclaimed and truly unique.

Unique one-off
Every FTOP table we create is indeed unique, and this shows: we use traditional wood-working techniques to join massive beams and refrain from levelling the bottom of the table: we naturally sand to remove splinters but we want our clients to see we use genuinely old wood, not 'machine-made-to-look-to-be-reclaimed' wood. The top-edges are the perfect witness, uneven, almost Brutalist at times, but always unique and very 'touchy-feely'. Bottoms and tops will more often than not show 'imperfections' we cherish: traces of the past: old wooden pegs, old joinery, some restored holes, all signs of the wood's previous life. We also refrain from using big belt-sanders, which means you will see and feel 'our hands' when you check the surface. And re-check. Re-check…

Real wood, no veneers
Very few pieces of furniture are still being created with real high quality hardwood. While we take every precaution and carefully match humidity levels with international standards, we can never forego the fact that wood is a living, breathing material which will be influenced by excessive temperature and humidity fluctuations. There is always a chance that wood will retract or expand slightly with the changing of the seasons. Rest assured: to date we only received two remarks from worried client in eight years and in both cases we advised how to remedy.

Combine with
P.Tendercool FTOPs, especially our PT2 and PT1 - table bases, match perfectly with our Chairs models: PT40, PT41, PT42, PT43, PT44, PT45, PT46


Lead-time 12 weeks
Contact us for available options and finishes.


Global shipping 
We can offer a specific quote within 3 working days.
Forward your delivery address
and indicate your preferred delivery means: Door-To-Port or Door-to-Door?
Should you like to arrange your own shipping let us know and we will share crated dimensions and weight.

Carting
Your treasures will safely arrive on your doorstep. Inquire about our crate-quote and relax: each creation is perfectly packed and crated in custom-made wooden crates, we will send photos during and after packing. We have been shipping worldwide since 2009 and never, ever, had any complaint nor claim, reason why we suggest our clients not to bother with insurance, but this, naturally, is your call eventually.
In our experience as former antiques-dealers, insurance company charge a premium and turn in Kafkaesque red-taped bureaucrats whenever a claim is filed…

Important notes

Woodfinish
We have yet to come across The Perfect Wood-Finish.
Prior to establishing P. Tendercool in 2009 our family had been antique dealers for over 50 years. We know a thing or two about Old Wood.
Eli, our antiques restorer from Belgium, flew over to train our Thai carpenters in traditional Western wood-finishing-techniques. While we can offer Wax, home-made Hot-wax and are experts in true French Polishing, about 95% of our clients prefer an oil finish.
Should you prefer a completely waterproof finish, you may opt for Water-based Polyurethane.
All finishes have pros and cons, feel free to enquire for more detail.

But fear not:
no white gloves are needed to enjoy your furniture! Our furniture is meant to be used!
Just use a bit of common sense: do not let spilled liquids sink in over-night, do not place hot pots and pans directly on the wood. Should you consider buying one of our creations we will explain in details about the do's and don'ts.

Sandcast bronze, brass and aluminum
We are wood-specialists. We outsource the casting of our metals to a true specialist:
Armando is an Italian bronze-master who used to work for Salvador Dali way back when…
Craft any-one?
He moved his foundry from Monza to Thailand now 30 years ago. His major client is the Vatican.
We are truly blessed.
He is currently training our team so his vast experience will live on.
Please note that the whole sand-casting process is also completely done by hand, step-by-step, for each base: a traditional and time consuming technique which, as the woodwork we offer, can never be 'Perfect': our bases show traces of this technique: some air-bubbles remain in the metal, some weld-marks will be visible as will some tooling traces: brushed lines, some surfaces will be a bit more matte than others,…
Here too you will feel Real People's hands…


Photos
We take great care when we photograph our creations or produce our samples, but computer monitors differ,
colors may not be exactly rendered and BLTs are created by hand, not by Robots.
Do check with us should you have any doubts. You are always welcome to pay us a visit, both our gallery and workshop are open to the public. Unfortunatley no photo can capture the look and feel of the real deal.






.
Customization Options
Top Finish: Bleached, Natural oil, Wax, Hot-Wax, French-Polished or even PU-waterbased finish Base Finish: - Bronze: Polished, Sculpture Structure Natural, and Sculpture Structure Black - Brass: Brushed, Golden Sand & Brushed, Brown - Aluminum: Brushed, Natural / Brushed, Charcoal, and Polished
Details
Excellent. Since we use reclaimed wood from Vintage Thai houses, the wood may show traces of restoration, some holes might be filled in (from old wooden pegs), or other marks from the wood's past, which in our view add a unique character to each item we create..

Wear consistent with age and use
About the Maker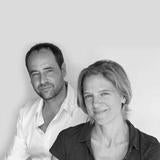 P. Tendercool Who? Cross Cultural Creations...Belgians in Bangkok Belgians Pieter Compernol and Stephanie Grusenmeyer are founders and design directors of P.Tendercool, and work with talents from around the globe. What? Bespoke Furniture – Haute Manufacture We create bespoke. handmade, made-to-order furniture for some of the most discerning interior designers, private clients and hospitality leaders. P. Tendercool creates tables of all shapes and sizes, leather chairs & stools and recently developed their first collection of sofa's and daybeds. We use antique or reclaimed hardwood and honor traditional crafts: sand-cast bronze and brass, true French polishing, home-made wax and the works. We do not participate at any design or furniture fairs, and don't work through resellers. Our creations are market-fresh, only available at our gallery or our open workshop in Bangkok... and online. We design at our own pace and present new creations only when we feel we are ready. Why? We make furniture we would buy ourselves. If we didn't like our own creations why would you love them? We strive to be transparent in everything we do: we offer great photos of finished creations, images of production process, we show how we crate and create, how we handle shipping and offer videos on how to unpack, mount and maintain our creations. We hate to be disappointed when we buy online, and know you do too. We keep our promises and respect our lead-times. What you see is what you'll get.
1stdibs seller since 2017
Typical response time: 1 hour
Located in Bangkok, TH