About
The Loop side table and console are about repetition, continuous loops and critical points of intersection. Using one single form of material, the Loop tables explore the space and graphic qualities of intersecting lines.

Custom colors and dimensions available.
Customization Options
Please inquire for additional information.
Details
18 in. H

x

18 in. W

x

16 in. D

46 cm H

x

46 cm W

x

41 cm D
About the Maker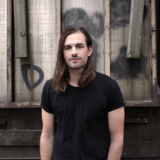 TJOKEEFE is the eponymous brand of Chicago-based designer TJ O'Keefe. Artist Statement: My work is about effect. It is a formal pursuit of efficiency through minimal geometries. With my objects, I try to innovate the marriage of structure and form, giving the user something compelling and unexpected. I think there is virtue in efficiency and it also happens to be the most challenging component of design, I believe: distilling something down to its most potent form. Akin to minimalism, I try to create the greatest effect through the simplest means. While minimalist objects are often devoid of emotion and character, when a medium is used effectively, the simplest things have the potential to be the most powerful. I try to not only strip an object down to its essence, but through efficient manipulations, inject life. I aim to create objects free of connotation, allowing the viewer to experience them in a pure and unencumbered way. The goal is to give the user this experience in order for them to get a sense of something simpler and perhaps more meaningful than what they encounter in their everyday; all the while, maintaining a function. I make abstract objects that separate themselves from our world and can hold a sense of wonder. I hope my work can give a moment of reprieve to a viewer; a second of meditation or clarity. Certain forms and effects give me a sense of calm, ease, and wonder, and that is what I try to convey through my work.
1stdibs seller since 2016
Located in Chicago, IL