Contemporary Modern Bracelets
Dealer Location:
Stamford, CT
Dilamani Sapphire Diamond Gold Bracelet
Dilamani
2010s Modern Bracelets
18k Gold, Diamond, Sapphire
18k white gold gem blue sapphire and diamond bracelets. Underside safety. Very comfortable to wear. Sapphires are invisibly set. Beautiful hand piercing on the back where it does not sh...
Dealer Location:
Los Angeles, CA
Corset Cuff
Jenna Blake
Late 20th Century Modern Bracelets
Wide solid 18K brushed gold cuff. Features three textured bars and hinge opening. Available for both large and small wrists.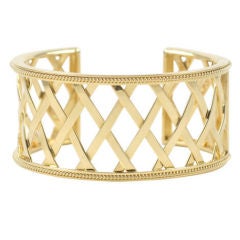 Dealer Location:
New York, NY
Metal:
18k Gold, Yellow Gold
18kt Lattice Cuff Bracelet with hinge
Christina Addison
21st Century and Contemporary Contemporary Modern Bracelets
18k Gold, Yellow Gold
Elegant 18kt Yellow Gold Lattice band cuff with twisted rope edge Finished with a hinged opening. A style statement! The Cuff can be made to fit any wrist size. The Cuff can also...