French Impressionist Landscape by H.C. Pissarro, titled "A Girl and her Dog"
Design Credit: Samantha Todhunter Design Ltd., Photo Credit: Oliver Clarke.

Dimensions: H 24 in. x W 20 in.

Design Credit: Lucy Harris Studio, Photo Credit: Francesco Bertocci.

Dimensions: H 24 in. x W 20 in.

Design Credit: Timothy Godbold, Photo Credit: Karl Simone.

Dimensions: H 24 in. x W 20 in.
1 of 6
Hughes Claude Pissarro

French Impressionist Landscape by H.C. Pissarro, titled "A Girl and her Dog"
About
Born in Neuilly-sur-Seine, France in 1935, Hughes Claude Pissarro was raised in a family of rich artistic lineage. As the son of Paul-Emile Pissarro and grandson of the famous founding father of Impressionism Camille Pissarro, it is perhaps unsurprising Hughes chose to follow in their artistic footsteps and become a third generation Pissarro painter. Like his familial predecessors, Hughes demonstrated a mastery of and fondness for several different styles, genres, and mediums, including lithography and engraving. Pissarro received the most prestigious training available, studying at the École du Musée du Louvre and the École Normale Supérieure in Paris. Showing great potential from the outset of his training, he spent much of his career as an art professor. During his early tenure, he also exhibited at several shows in Paris and London and was a well- established artist in the European art world. Adding to this fame, Pissarro found himself in the American spotlight in 1959 when the White House commissioned him to paint a portrait of President Dwight D. Eisenhower. Although Pissarro's most famous works share an Impressionist style, collectively known as "Petit Claude," the artist's broader oeuvre spans various styles, genres, and mediums. As a younger artist, Pissarro explored the same abstract and avant-garde themes many of his contemporaries found so appealing at the time. He even dabbled in minimalism and conceptual art for a time. Regardless of style, however, Pissarro always began a piece by executing a small study of the work in oil or some other mixed media. In 1989, Pissarro began experimenting with a new, more contemporary style. Known as "Grand Claude," in direct contradiction to the works that came before, these paintings are undertaken on very large canvases with a distinctive technique. Pissarro applies color to the works with great speed directly from a tube, achieving a thick texture on the canvas. Once the paint dries, he scrapes away certain areas or colors, resulting in a stunning three-dimensional effect. Ushering in this new era of his career, Pissarro also took a nom de plume. He initially painted these contemporary works under the name Isaac Pomié. Today, Pissarro splits his time between his residences in Ireland and Normandy, where he maintains a modest studio. He prefers to paint in solitude, finding solace in the tranquility. He continues to produce a great number of works, especially those large-scale paintings for which he has become quite well known. His dedicated habits reveal an artist compelled by his life's work, driven to pursue his passion. Pissarro confirmed as much when he spoke of the love he feels for his profession, saying, "My sole reason for existence is to paint." Love of the arts travels deep within his family. Pissarro married an art dealer named Katia in 1958 and together they had three children. One son became an art dealer and the other son an art historian, while their daughter Léila carried the Pissarro family tradition of painting into its fourth generation. It is evident that the Pissarro name continues to carry with it a guarantee of beauty captured on canvas.
Details
Creator

Dimensions

Height: 24 in. (60.96 cm)

Width: 20 in. (50.8 cm)

Depth: 2 in. (5.08 cm)

Medium

Movement & Style

Period

Condition

Gallery Location

Reference Number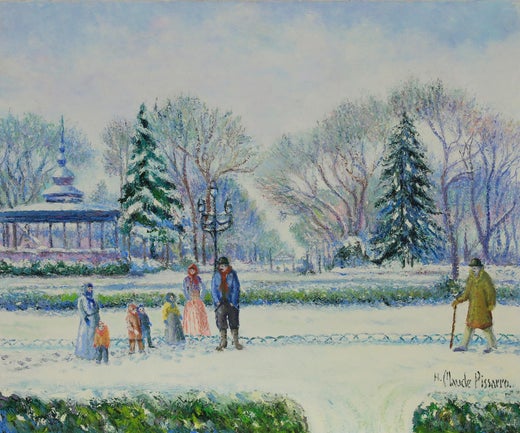 Shop All Hughes Claude Pissarro
About the Artist
Hughes Claude Pissarro
Hugues Claude Pissarro, also known professionally as H. Claude Pissarro, is the grandson of the Impressionist painter Camille Pissarro and son of Paulémile Pissarro. Born in Neuilly-sur-Seine and enveloped in an artistic environment, he inevitably spent his childhood and youth with brushes in hand. Carrying on the family tradition established by Camille Pissarro, H. Claude's father frequently took his son on painting excursions, often accompanied by his numerous artistic friends which proved formative for him.
Initially taught by his father, H. Claude first exhibited his work at the age of fourteen. He subsequently studied art in Paris at prestigious establishments, in particular the École Normale Supérieure, a unique French institution dedicated to the pursuit of achievement and excellence to which only the academic elite have access. He also studied art restoration under Henri Linard, head of the laboratory at the Musée du Louvre. It was inevitable that this educational background would lead him to become a professor of art for much of his professional life and in 1963 he accepted an official invitation to teach art in Monaco.
Throughout his teaching career he remained a prolific artist, exhibiting on several occasions in Paris and London. As with many of his family predecessors, the scope of his work and talent is wide-ranging: from engraver, lithographer, publisher and landscape painter to portraitist. He was even commissioned in 1959 to paint a portrait of President Eisenhower.
H. Claude's work has evolved through a variety of different styles and techniques, including abstract, avant-garde, minimalist and conceptual art. However, he is now perhaps best known for his Post-Impressionist–style works, which have been exhibited throughout the world since 1985.
Find a collection of authentic Hugues Claude Pissarro paintings and other art on 1stDibs.
(Biography provided by Stern Pissarro Gallery)