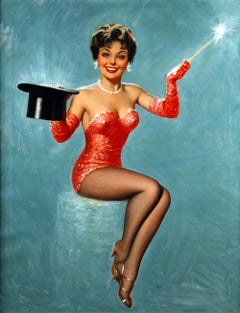 The Swami Told Me...
Walt Otto

The Swami Told Me...

1950s
About
The distinguished American artist and illustrator Walt Otto created this glitzy magic-themed original published pin up oil on canvas calendar painting in the late 1950's. A curvy mid-century brunette heart-breaker with a smile that's all magic takes center stage in "The Swami told me he could teach me some new tricks." A published vintage calendar top of the image is included with sale. The published image differs very slightly from how the canvas appears today, the artist removed the star studded throne that appears in the lithograph, making the magician's assistant appear to float in mid-air, and moved his signature from atop the model's foot to a lower location. Otto likely made these small changes after the publication of the calendar in an attempt to re-commission the work for another paid use. Provenance: verso bears stamp from the Louis K. Meisel Gallery in New York City. Meisel co-authored the 1996 Tasschen Books title The Great American Pin-up with Charles Martignette. Framed dimensions: 29.5" x 33.5" Image dimensions: 25" x 32"
You May Also Like
Art Nouveau, Fleurs

Located in West Hollywood, CA

Presenting an original oil on canvas by Belgian artist Karel VonBelle. "Fleurs", is an original oil on canvas, signed, dated 1935, beautifully framed.

Category

1930s Art Deco Figurative Paintings

The Princess

Located in West Hollywood, CA

Presenting an original oil on canvas by American artist

Alexander Rosenfeld

. Rosenfeld was classically trained in Poland before settling in Los An...

Category

1940s Art Deco Figurative Paintings

The Old Gentleman

By

Jirayr Hamparzoom Zorthian

Located in West Hollywood, CA

Jirayr Hamparzoom Zorthian was born April 14, 1911 in Kutahya, Turkey, of Armenian parents. At the age of three, he showed considerable talent in drawing and painting. Zorthian went through two Turkish massacres before age eight. He left Turkey at age nine with his family and spent a year in Padua, Italy, waiting for his visa to open to the United States. This period was very important in his life because his father took him to many cities in Europe and exposed him to great works of art. Zorthian arrived in the United States at the age of eleven and settled with his family in New Haven, Connecticut. He obtained his formal education there, after graduating from Yale, the Winchester Fellowship granted him a year and a half at the American Academy in Rome with travel and study throughout Europe. His art career branched into various directions on his return to the United States. As a mural painter his reputation was established. He has forty two (42) murals throughout the United States. Zorthian worked and taught painting at some of the finest art academies on the west coast including both the Chouinard Art Institute and the Otis Art Institute. The

Old Gentleman

...

Category

1930s Art Deco Figurative Paintings

A Chinese Company playing Droughts

Located in Amsterdam, NL

ERWIN BINDEWALD (1897-1950) Two men playing draughts, a girl with the red book standing behind them Signed and dated E. Bindewald d.j., 27 Oil on canvas, 140.5 x 90.5 cm In black and gilt gesso frame. Note: Bindewald was born in Charlottenburg. He moved to Berlin in 1914 where he studied till 1924 at the Berliner Kunst Akademie. Bindewald travelled in Europe, but mainly stayed in Germany and certainly never was in China. This painting was made in Europe, presumably in the China Town of Berlin. Bindewald received several commisions in Germany from factory owners who wanted their factories painted inside, usually with workers, as well as outside. In the present painting the sitter on the right seems to be a man with a Manchurian background, wearing the brown coat reserved for the highest aristocracy in China. In China the black sleeve-ends completely cover the hands, indicating that the high aristocracy does not have to do any manuel labour. This man clearly is not a factory worker but he possibly is the (co)- owner of the factory in the background and as such might need his hands to do at least some writing. The man on the left in the modern

Western suit

...

Category

1920s Art Deco Portrait Paintings

'Ginette', French Art Deco Portrait

By

Charles Picart le Doux

Located in Cotignac, FR

French oil on canvas portrait of a young beauty by Charles Alexandre René Picart Le Doux. Signed and dated bottom right. There is an exhibition label with number and title 'Ginette' ...

Category

Early 20th Century Art Deco Portrait Paintings

Writer Fannie Hurst in a Floral Pattern Dress Bathed in Warm Light

Located in Miami, FL

This portrait of Fannie Hurst may have graced the cover of another major newsstand magazine. Most likely, it was a non-published alternate cover for Redbook. One of the most widely-read female authors was painted by one of the most widely-viewed female illustrators. Edna Crompton was an in-demand and prolific for-hire female illustrator/artist for some of the most prestigious newsstand magazines of the day. She regularly did covers for the Saturday Evening Post, Redbook, Colliers and Judge to name a few. Crompton presents Fannie Hurst - the nation's highest-paid short story writer and advocates for suffrage and race relations - as a confidently attractive young

woman bathed

...

Category

1920s Art Deco Portrait Paintings