Items Similar to Portrait of a Young Boy
Want more images or videos?
Request additional images or videos from the seller
1 of 5
Louise-Marie-Jeanne Hersent

Portrait of a Young Boy

1823
About the Item
Signed and dated, lower left: Louise Hersent/ 1823 Provenance: Private Collection, Chicago, by 1996 Private Collection, Florida This charming portrait of a young boy is the work of Louise-Marie-Jeanne Hersent, a little-known woman artist of the French Restoration often identified by her maiden name, Mauduit. While Hersent—as we will call her here following the signature on the painting—has been understudied, the known details of her life and career reveal that she held a privileged position in artistic life in the early nineteenth century in Paris. She exhibited at the Salon from 1810 until 1824, and in 1821 she married the painter Louis Hersent, a successful pupil of Jacques-Louis David who was patronized by Louis XVIII and Charles X. It is likely through her husband's royal patronage that Hersent's Louis XIV Visits Peter the Great was purchased for the Royal Collection in Versailles. In 1806, while still Louise Mauduit, she painted a portrait of Napoleon's youngest sister, Pauline Bonaparte, soon after her marriage to Prince Camillo Borghese (Fig. 1). The portrait is nearly contemporary with Canova's famous marble of her naked, Paolina Borghese as Venus Victrix (Villa Borghese, Rome), dated 1805–1808. The high status of her subject indicates that the artist was well-connected in her own right before her marriage, but little is known about her initial artistic training. It has been assumed that Hersent was a student of Charles Meynier, as well as her husband. However, it has gone unnoticed that an album assembled by Constance-Marie Charpentier with sketches by her pupils includes a drawing by the artist inscribed "Julie Constance [the daughter of Charpentier] en 1810 en 1811" and "par Mlle Mauduit" (Fig. 2). Although she has fallen into relative obscurity, Charpentier had the distinction of being one of the only female students of Jacques Louis-David, whose workshop she entered in 1787 at twenty years old. She was a specialist in portraiture and later in life, following the death of her husband, she supported herself primarily by training female students in her home on the rue du Pot de fer Saint-Sulpice (today the rue Bonaparte). This undoubtedly had an influence on Louise, who similarly specialized in portraiture and ran a studio to instruct women artists, among whom were the porcelain painter Marie Virginie Boquet and the portraitist Louise Adélaïde Desnos. The artist's appearance is recorded in a drawing by François Joseph Heim—executed as a sketch for his group portrait of artists receiving awards from Charles X for their Salon entries in 1824—as well as in a portrait by her student, Louise Adélaïde Desnos (Figs. 3-4). Prominently signed and dated 1823, our portrait was painted by Hersent within the first few years of her marriage. The boy is elegantly dressed in a dark blue coat and a bright white shirt with a gold pin placed in his white jabot. With the boy's body positioned in three-quarter view and his face appearing fully frontally, this bust-length portrait is straightforward in presentation, yet the artist has added interest and emphasized the subject's youth through the inclusion of the few small strands of hair that fall on his forehead and in the depiction of the collar with one side turned upward. A similar portrait of a boy is in the collection of the Bowes Museum (Fig. 5). Dated 1815, this portrait provides another example of Hersent's ability to create sensitive images of youth, and also serves as a useful point of comparison, as it reveals the artist's maturation over the course of eight years to the mature style exhibited in our painting. A Portrait of a Young Woman in a White Dress with a Cashmere Shawl dated 1828 (Fig. 6) shows further development to a more Romantic treatment of both figure and costume. Our canvas is stamped on the reverse with the mark of the noted artist supplier Belot, located at 3 rue de L'Arbre Sec in Paris.
Creator:

Louise-Marie-Jeanne Hersent

(1784 - 1862, French)

Creation Year:

Dimensions:

Height: 22.5 in (57.15 cm)

Width: 19 in (48.26 cm)

Medium:

Movement & Style:

Period:

Condition:

Gallery Location:

Reference Number: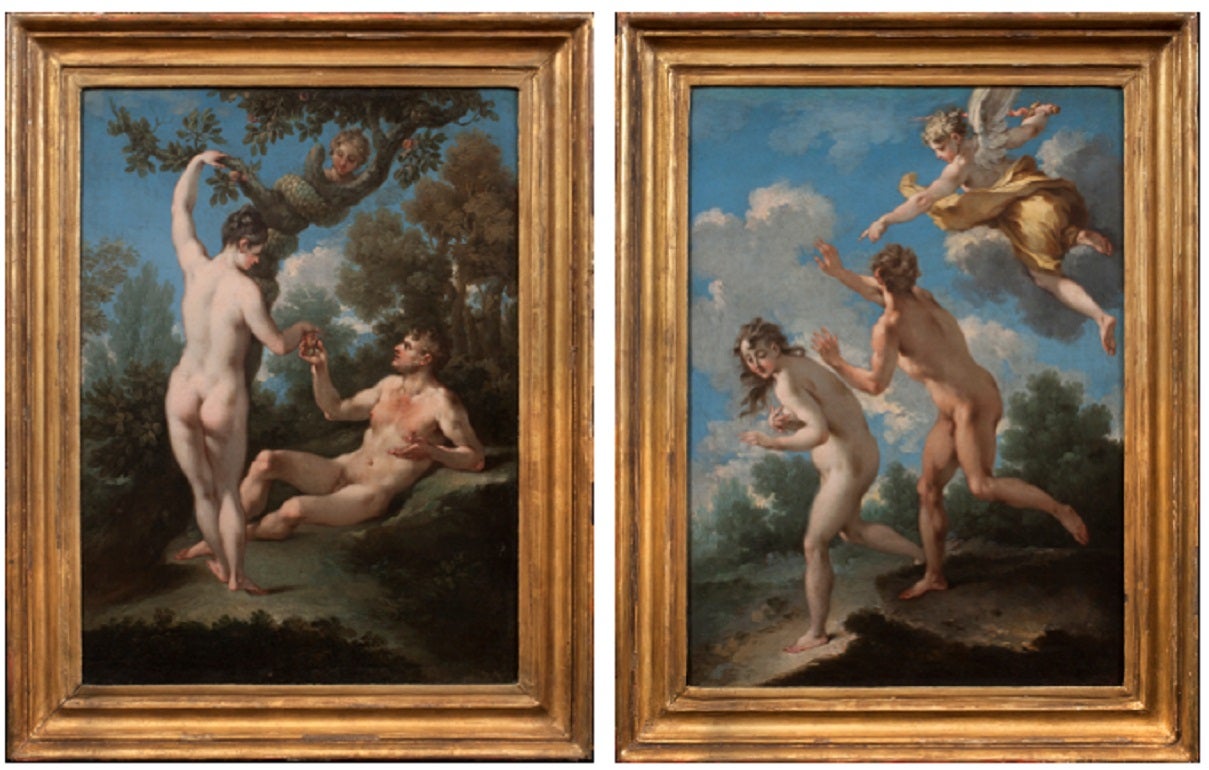 These prestigious sellers are industry leaders and represent the highest echelon for item quality and design.
Established in 1997
1stDibs seller since 2012
15 sales on 1stDibs
Shipping

This item cannot be returned.
1stDibs Buyer Protection Guaranteed
If your item arrives not as described, we'll work with you and the seller to make it right.
Learn More
More From This Seller
View All
Portrait of a Lady

Located in New York, NY

Provenance: Private Collection, California Like many family-trained artists, Marietta Robusti began her career assisting her renowned father, Jacopo Tintoretto, in his Venice workshop. We know from early writers (Ridolfi and Borghini) that Marietta was both an accomplished musician and portraitist. But, frustratingly, no securely documented painting by her is known. A Self-portrait in the Uffizi, a Double Portrait in Dresden, and two

portrait groups

...

Category

16th Century Old Masters Paintings

Head of an Angel

Located in New York, NY

Procaccini was born in Bologna, but his family moved to Milan when the artist was eleven years old. His artistic education was evidently familial— from his father Ercole and his elder brothers Camillo and Carlo Antonio, all painters—but his career began as a sculptor, and at an early age: his first known commission, a sculpted saint for the Duomo of Milan, came when he was only seventeen years old. Procaccini's earliest documented painting, the Pietà for the Church of Santa Maria presso San Celso in Milan, was completed by 1604. By this time the artist had made the trip to Parma recorded by his biographers, where he studied Correggio, Mazzola Bedoli, and especially Parmigianino; reflections of their work are apparent throughout Procaccini's career. As Dr. Hugh Brigstocke has recently indicated, the present oil sketch is preparatory for the figure of the angel seen between the heads of the Virgin and St. Charles Borrommeo in Procaccini's altarpiece in the Church of Santa Afra in Brescia (ill. in Il Seicento Lombardo; Catalogo dei dipinti e delle sculture, exh. cat. Milan 1973, no. 98, pl. 113). As such it is the only known oil sketch of Procaccini's that can be directly connected with an extant altarpiece. The finished canvas, The Virgin and Child with Saints Charles Borrommeo and Latino with Angels, remains in the church for which it was painted; it is one of the most significant works of Procaccini's maturity and is generally dated after the artist's trip to Genoa in 1618. The Head of an Angel is an immediate study, no doubt taken from life, but one stylistically suffused with strong echoes of Correggio and Leonardo. Luigi Lanzi, writing of the completed altarpiece in 1796, specifically commented on Procaccini's indebtedness to Correggio (as well as the expressions of the angels) here: "Di

Giulio Cesare

...

Category

17th Century Old Masters Figurative Paintings

Materials

Canvas, Paper, Oil

Portrait of a Lady with a Chiqueador

Located in New York, NY

Provenance: Torres Family Collection, Asunción, Paraguay, ca. 1967-2017 While the genre of portraiture flourished in the New World, very few examples of early Spanish colonial portraits have survived to the present day. This remarkable painting is a rare example of female portraiture, depicting a member of the highest echelons of society in Cuzco during the last quarter of the 17th century. Its most distinctive feature is the false beauty mark (called a chiqueador) that the sitter wears on her left temple. Chiqueadores served both a cosmetic and medicinal function. In addition to beautifying their wearers, these silk or velvet pouches often contained medicinal herbs thought to cure headaches. This painting depicts an unidentified lady from the Creole elite in Cuzco. Her formal posture and black costume are both typical of the established conventions of period portraiture and in line with the severe fashion of the Spanish court under the reign of Charles II, which remained current until the 18th century. She is shown in three-quarter profile, her long braids tied with soft pink bows and decorated with quatrefoil flowers, likely made of silver. Her facial features are idealized and rendered with great subtly, particularly in the rosy cheeks. While this portrait lacks the conventional coat of arms or cartouche that identifies the sitter, her high status is made clear by the wealth of jewels and luxury materials present in the painting. She is placed in an interior, set off against the red velvet curtain tied in the middle with a knot on her right, and the table covered with gold-trimmed red velvet cloth at the left. The sitter wears a four-tier pearl necklace with a knot in the center with matching three-tiered pearl bracelets and a cross-shaped earing with three increasingly large pearls. She also has several gold and silver rings on both hands—one holds a pair of silver gloves with red lining and the other is posed on a golden metal box, possibly a jewelry box. The materials of her costume are also of the highest quality, particularly the white lace trim of her wide neckline and circular cuffs. The historical moment in which this painting was produced was particularly rich in commissions of this kind. Following his arrival in Cuzco from Spain in the early 1670's, bishop Manuel de Mollinedo y Angulo actively promoted the emergence of a distinctive regional school of painting in the city. Additionally, with the increase of wealth and economic prosperity in the New World, portraits quickly became a way for the growing elite class to celebrate their place in society and to preserve their memory. Portraits like this one would have been prominently displayed in a family's home, perhaps in a dynastic portrait gallery. We are grateful to Professor Luis Eduardo Wuffarden for his assistance cataloguing this painting on the basis of high-resolution images. He has written that "the sober palette of the canvas, the quality of the pigments, the degree of aging, and the craquelure pattern on the painting layer confirm it to be an authentic and representative work of the

Cuzco school of painting

...

Category

17th Century Old Masters Paintings

Portrait of a Gentleman

Located in New York, NY

Circle of Jacques-Louis David (French, 18th Century) Provenance: Private Collection, Buenos Aires Exhibited: "Art of Collecting," Flint Institute of Art, Flint, Michigan, 23 November 2018 – 6 January 2019. This vibrant portrait of young man was traditionally considered a work by Jacques-Louis David, whose style it recalls, but to whom it cannot be convincingly attributed. Rather, it would appear to be by a painter in his immediate following—an artist likely working in France in the first decade of the nineteenth century. Several names have been proposed as the portrait's author: François Gérard, Louis Hersent, Anne-Louis Girodet (Fig. 1), Theodore Gericault, and Jean-Baptiste Wicar, among others. Some have thought the artist Italian, and have proposed Andrea Appiani,

Gaspare Landi

...

Category

18th Century Old Masters Paintings

Portrait of an Artist (possibly a Self-Portrait)

Located in New York, NY

Provenance: Bradley Collection. Private Collection, Upperville, Virginia. Literature: Katlijne van der Stighelen and Hans Vlieghe, Rubens: Portraits of Unidentified and Newly Identified Sitters painted in Antwerp, Corpus Rubenianum Ludwig Burchard, vol. 19, pt. 3, London and Turnhout, 2021, under cat. no. 189, p. 161, and fig. 75. This painting had previously been considered to be by an anonymous Tuscan painter of the sixteenth century in the orbit of Agnolo Bronzino. While the painting does in fact demonstrate a striking formal and compositional similarity to Bronzino's portraits—compare the nearly identical pose of Bronzino's Portrait of a Young Man in the Metropolitan Museum of Art (Fig. 1)—its style is completely foreign to Italian works of the period. That it is painted on an oak panel is further indication of its non-Italian origin. This portrait can in fact be confidently attributed to the Antwerp artist Huybrecht Beuckelaer. Huybrecht, the brother of Joachim Beuckelaer, has only recently been identified as the author of a distinct body of work formerly grouped under the name of the "Monogrammist HB." In recent studies by Kreidl, Wolters, and Bruyn his remarkable career has been delineated: from its beginnings with Joachim in the workshop of Pieter Aertsen; to his evident travels to Italy where, it has been suggested, he came into contact with Bronzino's paintings; to his return to Antwerp, where he seems to have assisted Anthonis Mor in painting costume in portraits; to his independent work in Antwerp (where he entered the Guild of Saint Luke in 1579); and, later to his career in England where, known as "Master Hubberd," he was patronized by the Earl of Leicester. Our painting was recently published by Dr. Katlijne van der Stighelen and Dr. Hans Vlieghe in a volume of the Corpus Rubenianum, in which they write that the painting "has a very Italian air about it and fits convincingly within [Beuckelaer's] oeuvre." Stighelen and Vlieghe compare the painting with Peter Paul Ruben's early Portrait of a Man, Possibly an Architect or Geographer in the Metropolitan Museum of Art, in which the sitter holds a compass and wears a similarly styled doublet (Fig. 2). Huybrecht both outlived and travelled further afield than his brother Joachim, who made his career primarily in Antwerp. Whereas Joachim was the main artistic inheritor of their uncle and teacher, Pieter Aertson, working in similar style and format as a specialist in large-scale genre and still-life paintings, Huybrecht clearly specialized as a painter of portraits and was greatly influenced by the foreign artists and works he encountered on his travels. His peripatetic life and his distinctly individual hand undoubtedly contributed to the fact his career and artistic output have only recently been rediscovered and reconstructed. His periods abroad seem to have overlapped with the mature phase of his brother Joachim's career, who enrolled in the Antwerp Guild of Saint Luke much earlier than his brother, establishing himself as an independent painter in 1560. Joachim's activity was confined to the following decade and half, and his latest work dates from the last year of his life, 1574. Our portrait was likely produced in the late 1560s, a dating supported by the dendrochronological investigation performed by Dr. Peter Klein, which established that it is painted on an oak panel with an earliest felling date of 1558 and with a fabrication date of ca. 1566. This painting presents a portrait of an artist, almost certainly Huybrecht's self-portrait. The young sitter is confidently posed in a striking patterned white doublet with a wide collar and an abundance of buttons. He stands with his right arm akimbo, his exaggerated hands both a trademark of Huybrecht and his brother Joachim's art, as well as a possible reference to the "hand of the artist." The figure peers out of the painting, interacting intimately and directly with the viewer, as we witness him posed in an interior, the tools and results of his craft visible nearby. He holds a square or ruler in his left hand, while a

drawing compass

...

Category

16th Century Old Masters Paintings

Portrait of a Man

Located in New York, NY

Provenance: with Leo Blumenreich and Julius Böhler, Munich, 1924 Dr. Frederic Goldstein Oppenheimer (1881-1963), San Antonio, Texas; by whom given to: Abraham M. Adler, New York, un...

Category

16th Century Old Masters Portrait Paintings
You May Also Like
Italian 18th Century Oval Religious Oil on Canvas Painting with Saint Dominic

Located in Firenze, IT

This beautiful Italian 18th Century old masters oil painting on oval canvas with giltwood frame is attributed to Francesco De Mura and features a religious scene. In this splendid oval-shaped painting are depicted

Saint Dominic

...

Category

18th Century Old Masters Figurative Paintings

Oil on Canvas Painting Portrait of the Italian Noble Family of Zanardi Count

By

Lucia Casalini Torelli

Located in Firenze, IT

This museum quality old master oil on canvas formal portrait painting depicting the family of the Count Zanardi is signed by the artist- the female painter Lucia Casalini Torelli- and published in a book dedicated to Casalini Torelli's workshop and academy. This palatial masterpiece artwork comes directly from the ancient Villa Maraini Guerrieri - Palidano di Gonzaga (Mantua), an historic Italian heritage building owned by the descendants of the family portrayed for more than two centuries, until 1998. The big scale of this oil on canvas masterpiece painting states the relevance of Lucia Casalini Torelli as a painter. The present artwork is a formal family portrait painting that aim to introduce the characters depicted according to their social role in the society. The noble family is all gathered under a loggia overlooking a park, the landscape in the background is partially covered by a beautiful red cloth on the right side. The father stands up and holds the hand of his eldest son, proudly introducing his future heir. The son wears a light-blue dress and red boots, he is depicted in a serious pose holding a black tricorn hat under his arm and a rapier sword on his belt. The mother wears an elegant gold and dark green brocade dress, she is sitting with her youngest daughter on her knees while her second son is by her side. The little daughter wears a lovely long red and dress with white lace and holds an apple on her hand. The son stands next to his mother and is dressed in a brown priestly clothes. This palatial old masters piece was probably painted in 1740 due to the similarities with Cardinal Doria' s portrait, now on display at the Doria Palace Museum, the official residence of the Prince of Genoa. The painting features original canvas ("prima tela") and antique original patina, it is in excellent overall condition considering the age, use and its large scale. A formal detailed condition report and the results of the inspection with the UV lamp accompanied by photos is available on request. As well as for its exceptional quality and quite perfect state of conservation, this painting is particularly important and even more valuable both for the artist who painted it and for its absolutely exclusive provenance. Lucia painted the most prominent and powerful noble families of her time, the location of these paintings is unknown to the art market as it is extremely likely that the portraits are still kept in private collections. Furthermore, Lucia was one of the most appreciated artists of her time, so important that she was admitted as a member of the academy at a time when women were forbidden to attend these studies. In 1706,

Felice Torelli

...

Category

18th Century Old Masters Portrait Paintings

Portrait of the Hon. Lady Lucy Sherard, later Lucy Manners, Duchess of Rutland

Located in London, GB

This remarkable work, offered by Titan Fine Art, superbly captures the beauty for which the sitter was renowned. The subject has been depicted in a gold silk dress with a simple whi...

Category

18th Century Old Masters Portrait Paintings

Portrait of a Lady, Susannah Papillon c.1695, fine carved frame, oil on canvas

Located in London, GB

This elegant large-scale portrait, presented by Titan Fine Art, is a fine example of Sir Godfrey Kneller's court-style depiction of aristocratic and wealthy women. Beautifully compo...

Category

17th Century Old Masters Portrait Paintings

Portrait of an Elegant Lady in a Red Silk Dress, Beautiful Antique Frame c.1720

By

Jonathan Richardson the Elder

Located in London, GB

This beautiful portrait was painted circa 1725 and is a fine example of the English eighteenth century portrait style. The artist has chosen to depict the lady against a plain backg...

Category

18th Century Old Masters Portrait Paintings

Rare Signed & Dated 1714 Portrait of Lady with Vase of Flowers Oil painting

Located in London, GB

This spectacular large portrait, presented by Titan Fine Art, was painted in 1714 when the artist was at the height of his artistic power. It is signed and dated by Schmutz (R. Schmutz p. 1714) and is an extremely rare and important addition to the little-known oeuvre of the artist, and further still, a wider knowledge of the artists that were active at the turn of the 18th century in England. The fact that there are successful engravings after portraits by Schmutz, such as the half-length portrait of the Comedian William Penkethman, created in 1709 further enhances the fact that he was an artist painting celebrated depictions of significant sitters. The discovery of this work may now lead to further research into Schmutz's oeuvre. Meticulously rendered, the sitter is wearing a pink dress, holding a basket of fruit, whilst a parrot rests in her left hand. The beautiful arrangement of flowers in the urn was likely painted by another artist who specialised in floral painting – collaborations such as this were common. The painting abounds with ingenious flourishes and demonstrations of the painter's skill and superior pictorial technique. The graceful pose, sumptuous costume, rich colour, and brilliant technique are distinctive features of this portrait and it was a type that was in great demand during the 18th century, as it is today. Johann Rudolf Schmutz was born in Regensperg, Switzerland in 1670 and trained under the artist Mathais Füssli. At first Schmutz focused his training on historical paintings however quickly seeing that he was better at portraiture, which was also more profitable, he focused his study on this genre. Schmutz had heard of the success Sir Godfrey Kneller (1646 – 1723) was having in London and therefore left Switzerland to try and rival Kneller's society portraits in Britain. Although few works are known by Schmutz, he was said to have been a success, and perhaps if he had lived longer, he may have been able to rival some of the great Court artists. His focus was on female portraiture, which is epitomised in this example, showing an elegant reclining female figure. By the turn of the century, this format of portraiture had become popular and similar examples can be seen by the artists Maria Verelst and Michael Dahl, often repeating the composition. By Schmutz's death in 1715, he had a studio practice in Covent Garden where he was training the young John Ellys (1701 – 57), who went on to succeed Philip Mercier as the principal painter to Frederick, Prince of Wales. In comparing this portrait with the work of Ellys it is clear to see the inspiration taken, with similar compositional format and flesh tones. Held in an impressive Kent style carved and gilded antique frame with egg and dart motif. Provenance: Property of Beatrice Nellie Gillison Stayner (1912-1988) of

The Grange

...

Category

18th Century Old Masters Portrait Paintings