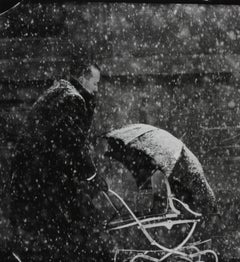 Neu a la ciutat
Design Credit: Kacy Ellis, Photo Credit: Wynn Myers.

Dimensions: H 12.6 in. x W 11.03 in.

Design Credit: Jeremiah Brent Design, Photo Credit: Nicole Franzen.

Dimensions: H 12.6 in. x W 11.03 in.

Design Credit: Sarah Shetter, Photo Credit: Boris Breuer.

Dimensions: H 12.6 in. x W 11.03 in.
1 of 4
Xavier Miserachs

Neu a la ciutat

Circa 1962
About
Later copy. Xavier Miserachs is one of the most famous Spanish photographers of the XX century, an outstanding representative of the young and non-conformist generation of the 1950's/60's that decided to take distance from conventional and academic photography to reclaim a new visual identity. The theorist Josep Maria Casademont labelled this new generation of photographers the New Avant-garde and all of them gathered under the name of Agrupació Fotográfica de Cataluña (AFC) bringing forward to the public a new and very subjective reality. Professionals like Francesc Català-Roca, Oriol Maspons, Leopoldo Pomés and Ramon Massats were part of the AFC, and Miserachs was the youngest member1 of the group. Miserachs's youth coincided with major cultural and historical changes in Spain. Indeed Spain was freeing its chains from the franquist autarchy, the economy was changing and frontiers were opening up to a new outside world. With the end of World War II were born new modes of expression, things were changing fast and it wasn't any longer about "thinking about what you could one day say, and instead simply speaking in the most efficient way out of pure necessity." Consequently, photography took under new responsibilities and with that came a new social and humanistic interest for it. It was a key moment for photography, indeed it was when the idea of modern photojournalism as we know it was consolidated3, and Miserachs found his inspiration from the more prominent photographers of his time, such as Català-Roca, Robert Frank 4 and especially from William Klein. Xavier Miserachs also had the opportunity to attend The Family of Man, one of the most important photographic exhibitions of his time and a turning point in the art world and for Miserachs himself. The Family of Man, presented at The MoMA in 1955; and curated by Edward Steichen strengthened and reaffirmed the new vision and purpose of photography; to tell and narrate a story. In this sense, Xavier Miserachs can be considered a paradigm of his generation, he not only had an extraordinary passion for the photographic art, but also wanted to make a living out of it. This is how he got the amazing opportunity to make his passion for the medium become his work as a correspondent for well known media such as La Vanguardia, Gaceta Ilustrada, Intervíu and Triunfo. At the same time, Miserachs started to participate in numerous group shows with other photographers like Ricard Terré or Ramon Massats and started to work on publications such as Barcelona Blanco y Negro (1964) if we had to name just one.
Details
Creator

Xavier Miserachs

(1937 - 1998, Spanish)

Creation Year

Dimensions

Height: 12.6 in. (32 cm)

Width: 11.03 in. (28 cm)

Medium

Movement & Style

Period

Condition

Gallery Location

Reference Number