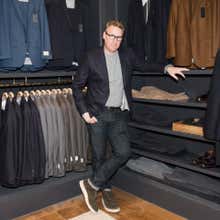 Todd Snyder Collection
Menswear designer Todd Snyder knew just where to turn when it came time to decorate his Manhattan flagship on Madison Square North: "I've been buying from 1stdibs since it started," he says. "They are the best curators of interiors." Together with his interior design specialist, James Mills, Snyder worked with 1stdibs to fill the new space with treasures that reflect his classic masculine-minimal aesthetic.
All the furniture and decorative objects in the shop are for sale and will be updated on a rotating basis. "This store doesn't carry everything, but we carry the stuff a guy really needs," says Snyder. "We want to be the curator for the guy — he can get a great suit and a haircut, a pair of shoes from the U.K. and maybe a piece of furniture, too." To go with the pared-down vibe, he focused on French and Scandinavian modernist pieces from the 1940s and '50s, whose warm wood tones are offset by his tasteful menswear-inspired gray fabric wallcoverings.
Now, Snyder has taken the collaboration a step further, by allowing online shoppers access to his curated collection of 1stdibs finds. It's part of his interest in offering the ideal customer a complete set of tools for a well-rounded life.
Previously Available Items
"Giorgio Armani, Images of Man" Book
Located in North Yorkshire, GB
This book was published in 1990, on the occasion of an exhibition at the Fashion Institute of Technology 1990-1991. No designer in the 20th century so dramatically and enduringly al...
Category
Late 20th Century Todd Snyder
H 12.25 in. W 9.38 in. D 1.13 in.