Adam Sherriff Scott Furniture
Milord Antiques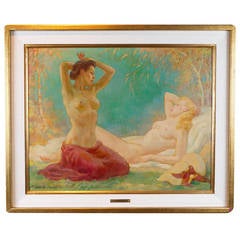 H 22 in. W 28 in. D 2 in.
Dimensions:
H 22 in. W 28 in. D 2 in.
Dealer Location:
Montreal, CA
Materials & Techniques:
Oil Paint
Painting of Appeasing Nudes by Adam Sherriff Scott...
Adam Sherriff Scott
20th Century Canadian Mid-Century Modern Paintings
Oil Paint
Adam Sherriff Scott was born in Perth, Scotland and began his art education in 1903 at the Edinburgh School of Art. He was awarded the Allen-Fraser Scholarship to continue his studies f...