Silla, Ltd.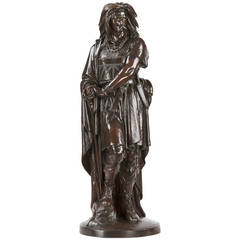 Dimensions:
H 29 in. Dm 10.32 in.
Dealer Location:
Shippensburg, PA
Materials & Techniques:
Bronze
French Antique Bronze Sculpture of Viking Warrior ...
Aimé Millet
Antique 19th Century French Romantic Sculptures
Bronze
Millet's rendering of the ancient Gaulish leader, Vercingetorix was commissioned as a colossal statue by Napoleon III and installed in Alise-Sainte-Reine, France in 1865. The work is ca...