Alexander Nordert Gotkovski Furniture
AC Silver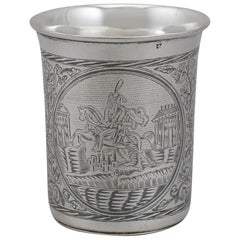 Dimensions:
H 3.31 in. Dm 2.87 in.
Dealer Location:
Jesmond, GB
Materials & Techniques:
Silver
1839 Russian Silver and Niello Enamel Beaker
Alexander Nordert Gotkovski
Antique 1830s Russian Pitchers
Silver
An exceptional, fine and impressive antique Russian niello enamel and silver beaker; an addition to our range of drinks related silverware. This antique Russian silver beaker has a t...