Ali Khan Amoghli Furniture
Galerie Shabab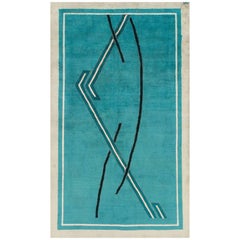 W 5 ft. 6 in. L 9 ft. 5 in.
Dimensions:
W 5 ft. 6 in. L 9 ft. 5 in.
Dealer Location:
New York, NY
Materials & Techniques:
Wool
Vintage Persian Amoghli Mashad Rug
Ali Khan Amoghli, Abdol Mohammad Amoghli
Mid-20th Century Persian Art Deco Persian Rugs
Wool
A vintage Persian Amoghli Mashad carpet with an Art Deco design from the mid-20th century. The Amoghli workshop is recognized as one of the greatest workshops of the 20th century.