B4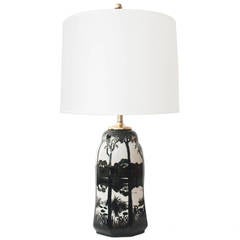 Swedish Ceramic Table Lamp by Knut Hallgren for AL...
Knut Hallgren, ALP Lidköping
Early 20th Century Swedish Art Nouveau Table Lamps
Ceramic
Swedish early 20th century glazed ceramic table lamp with a black and white lake scene over a hexagonal shaped form. Designed and signed by Knut Hallgren, marked ALP Lidkoping, 1918. Ne...