Andrea Brustolon Furniture
GognaBros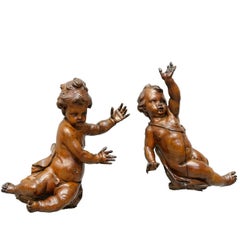 H 45 in. W 4 ft. 4 in. D 22 in.
Dimensions:
H 45 in. W 4 ft. 4 in. D 22 in.
Dealer Location:
Tortona, IT
Materials & Techniques:
Walnut
17th Century Old Carved Walnut Two Putti by Andrea...
Andrea Brustolon
Antique Late 17th Century Italian Baroque Sculptures
Walnut
Two putti sculpted walnut Andrea Brustolon (Belluno, Italy 1662-1732) was one of the most important sculptors of the Venetian Barocco period. Honoré de Balzac defined him as the M...