Conjeaud and Chappey llc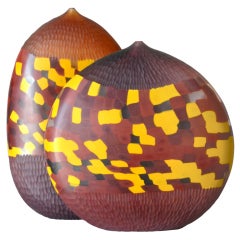 2 fine Handblown and Battuto Cut Murano Glass Vase...
Andrea Zilio
21st Century and Contemporary Italian Modern Vases and Vessels
Glass
Two Italian handblown and battuto cut Murano glass vases by master Andres Zilio. Signed. Dimensions: H17" x W10"1/2 x D4"3/4 H13"1/2 x W13"1/2 x D5"