JLF Jean Luc Ferrand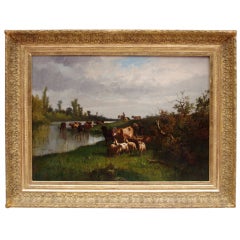 Large oil on canvas pastoral scene, "Cows in the f...
Antonio Cortes
Antique 19th Century Spanish Paintings
Canvas, Oil Paint
. Pastoral scene . Signed A.CORTES . XIXth century . Landscape painter, he was born in Seville (Spain) in 1827 and died in Paris in 1908.