Dragonette Ltd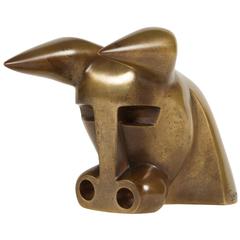 H 5.5 in. W 7.5 in. D 4.5 in.
Dimensions:
H 5.5 in. W 7.5 in. D 4.5 in.
Dealer Location:
Los Angeles, CA
Materials & Techniques:
Bronze
Modernist Bull's Head Sculpture by Antonio Guansé...
Antonio Guansé, Susse Fondeur
Mid-20th Century French Mid-Century Modern Sculptures
Bronze
A beautiful limited edition 3/8 bronze of a stylized Bulls head. Cast by the Susse Fondeur Paris, a centuries old family business, still in production today although no longer owned by ...