The average cost of an antique Balmain Shirts is $1,725. The price can vary from $601 and $2,850 based on the condition, age, materials and aesthetic value for a specific Balmain Shirts.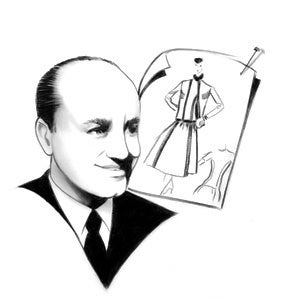 Balmain (France)
From the voluminous skirts of the post-World War II "New Look" favored by Hollywood icons like Audrey Hepburn and Marlene Dietrich to the sleek, skinny jeans seen on Nicki Minaj, Kid Cudi and every Kardashian, clothes from the House of Balmain have long been mainstays in celebrity wardrobes.
     The son of a dressmaker and a drapery salesman, Pierre Balmain was born in 1914 in southeastern France and formed an interest in fashion at an early age. His mother wanted her son to be an architect — but the principles of design and structure Balmain learned in his brief studies at the École des Beaux Arts served him well throughout his career. Balmain founded his now-iconic label in 1945. Alongside fellow couture titans Christian Dior and Hubert de Givenchy, Balmain's post-war take on luxe dressing featured bell-shaped skirts falling from slender waists, structured jackets over sheath dresses and embellishments like fur trim; he called the look "Jolie Madame." The Duchess of Windsor was an early fan, prompting an aristocratic following. Balmain was among the first to offer French looks to the American market. Since Pierre Balmain's death in 1982, the design reins have been handed to luminaries such as Oscar de la Renta and Instagram sensation Olivier Rousteing.
     Today's Balmain has more in common with the master's original haute couture than you might expect: sharply tailored blazers that nip in at the waist, delicate stilettos and ultra-feminine evening wear are wardrobe basics for the 21st-century woman, too. Lovers of couture history will also prize the fluid, easy sketches from the master's own hand they'll find on offer here, while fashionistas clamor for military-style jackets and skinny jeans. Whether you're a colonel in Rousteing's "glamour army" or you fancy yourself a "Jolie Madame," a Balmain piece — from the sixties or even last season — will add a bold, sexy note to your look. Daytime or night, vintage Balmain feels right now.
Hewi London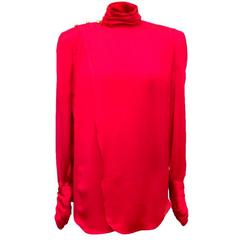 Dealer Location:
London, GB
Balmain Fuchsia Silk Ruched High Neck Blouse
Balmain Shirts
Balmain fuchsia ruched high neck long sleeved blouse with three gold buttons on the right shoulder. There are also 3 hidden buttons on the neck to undo at the top. The shoulders are pad...
Cris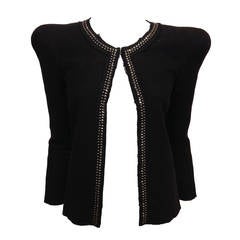 Dealer Location:
San Francisco, CA
Balmain Black Tweed Jacket with Silver Winged Pyra...
Balmain Shirts
The cut of this jacket is so very Balmain. With their signature exaggerated shoulders and an edgy embroidery across the upper back. This emblem depicts a silver mesh pyramid flanked by ...