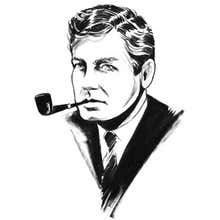 American, 1917-1969
You could call Paul McCobb a man of parts. As a furniture designer, his work combined the attributes of many of his now better-known peers. Like Bauhaus designers such as Ludwig Mies van der Rohe and Marcel Breuer, McCobb's furniture had purity of form and line. Like the designs of Florence Knoll and George Nelson and his associates, McCobb's work was efficient and purposeful. And even like George Nakashima, he was adept at interpreting traditional forms, in particular those of chairs, for the 20th century.
More than any other designer beside Russel Wright, with his ubiquitous ceramic tableware, McCobb was arguably responsible for the introduction of modern design into middle-class American households — if for no other reason than that he designed the 1952 set for the original Today show. McCobb also designed cohesive lines of furnishings, such as his best-known Planner Group, that gave homes an instant "look." McCobb designed for several companies, most notably Directional, the New York firm that also produced designs by other legends, such as Paul Evans and Vladimir Kagan. 
The signal aesthetic attribute of McCobb designs is that he completely forsook ornament — his pieces have no flourishes. And yet, because they are honest — the chairs, desks and tables are made of solid wood, usually maple or birch, often paired with frames and legs of wrought iron; the cabinets are traditionally scaled; the seating pieces have historic antecedents such as the Windsor chair — McCobb's mid-century modern work has warmth and presence.
As you can see from the offerings on 1stDibs, vintage Paul McCobb designs are the pin-striped suit, or the little black dress, of a décor: an essential.
Applied Filters
36 results
Paul McCobb Tables for sale on 1stDibs.
Paul McCobb Tables are available for sale on 1stDibs. These distinctive objects are often made of
wood
and designed with extraordinary care. In our Paul McCobb Tables collection there are many options to choose from, although
brown
editions of this piece are particularly popular. 30 vintage editions of these items are in stock, while there are 4 modern editions to choose from as well. Many of the original tables by Paul McCobb were created in
North America
during the
20th century
in the
Mid-Century Modern
style. If you are looking for additional options, many customers also consider tables by Kelvin LaVerne and
Herman Miller
, Philip and
Charles Hollis Jones
. Prices for Paul McCobb tabletops can vary depending upon size, time period and other attributes. 1stDibs's price starts at $1,400 and tops out at $17,500, while pieces like these can sell for $3,283.
Creators Similar to Paul McCobb