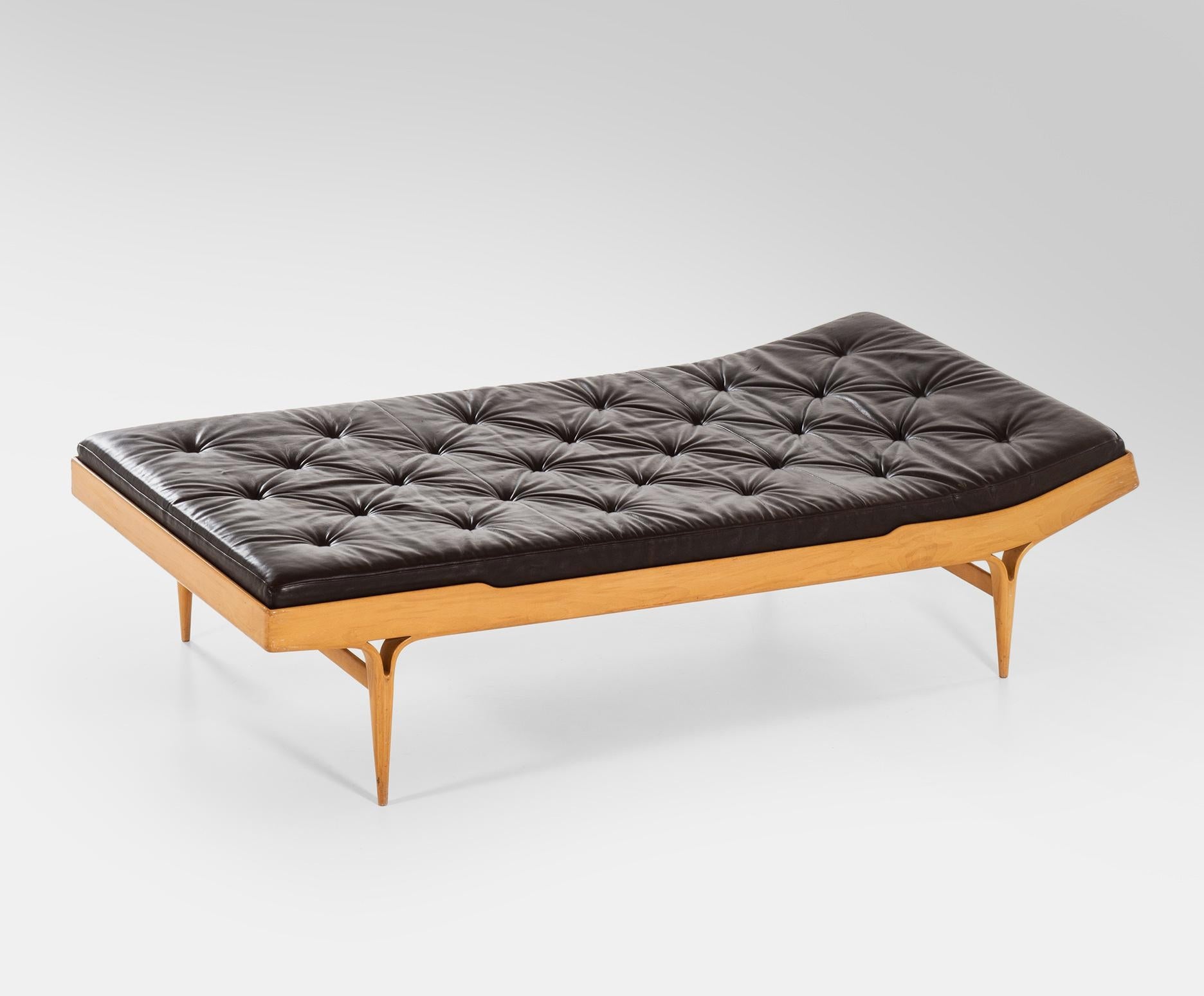 Iconic Designs
Berlin Daybed
About the Design
With its long mattress gently elevated on a molded wooden frame, the Berlin daybed created by Bruno Mathsson (1907–88) offers a simple space for relaxation and reveals the Swedish architect as a pioneer in ergonomic furniture design.
While outwardly minimal, its four tapered legs with their sculptural details reflect Mathsson's technical innovations in working with wood. The Berlin daybed — an update of the "lounge bed" he introduced at the 1937 Paris Exposition — debuted at the 1957 International Building Exhibition in Berlin, which showcased contemporary urban living.
Each element of the Berlin daybed was conceived with optimal support in mind. Mathsson was influenced by the aesthetics of fellow Scandinavian designers Alvar Aalto and Gunnar Asplund, but he prioritized human comfort. Mathsson observed how people positioned themselves on furniture and made anatomical studies of posture. This guided his furniture design, which began in the 1930s. Born into a family of cabinetmakers, Mathsson also understood the properties of wood and its untapped potential. By laminating and bending the material, he molded lightweight forms that would fit the body. Mathsson conducted various experiments with seating and chair backs, all of which had curved dynamic lines, a contrast to Bauhaus-style hard angles, which were then dominating modernism.
Despite his international success, Mathsson never opened his own firm. His Berlin daybed entered production at his father's studio, Firma Karl Mathsson, in his hometown of Värnamo, in 1964. Such intimate oversight gives this and the other pieces of Mathsson's furniture that were manufactured by his father's firm — all constructed with the natural materials that characterize Scandinavian mid-century design — an enduring quality.
Bruno Mathsson Berlin Daybed
Previously Available Items
More Bruno Mathsson Designs