Haute Koture
1960's L'Art Et La Mode Designer Fashion Book's 5...
Unknown Clothes
L'Art Et La Mode 5 piece fashion books. Very heavy large size books with pictures from the best designers from 1960's. Approximate measurements of each book :W 9.5" Tall 13" Dept 1.7...
One Of A Kind Archive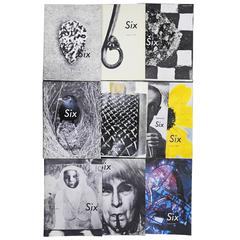 Comme des Garcons Six Sense Magazine Complete Set ...
Rei Kawakubo, Comme des Garçons Clothes
Six Full set First Edition N° 1-8 Comme des Garçons. Ltd, 1989-1991. Biannual oversized A3 unstapled magazine titled 'Six'. The magazine was printed between 1988 and 1991, in total...