This Large time punch clock. is no longer available.
About
Imposing oak encased clock with bold black numerals and hands, and logo of the maker, International Time Recording Company of New York. Endicott, N.Y. The International Time Recording Company (ITR) began as the Bundy Manufacturing Company in Auburn, New York. ITR's main product lines were mechanical time recorders invented and patented by Willard L. Bundy in 1888. ITR was later merged into the Computing-Tabulating Recording Company - the forerunner of IBM - in 1911.



This piece has been adapted for use with batteries.
Details
Very good, with some warpage of oak case.
Contact The Seller
Typical Response Time:
11 hours
1stdibs seller since
2008
More from this Seller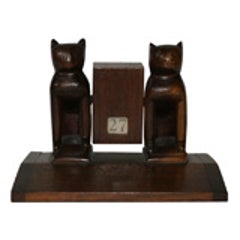 Cats Perpetual Calendar
Cats Perpetual Calendar
Wood, Paper
Finely carved sculptural figures on base in stained and varnished mahogany. Rotating calendar box with dates.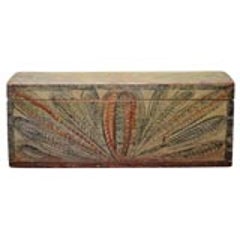 Painted Dome Top Box
Painted Dome Top Box
Wood, Paint
Exceptional paint decorated multicolored dome top box with bold feather-like decoration. All original except hinges. Vermont origin.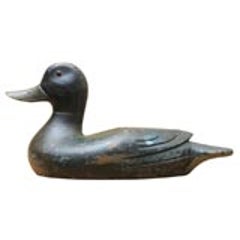 Quebec Decoy
Quebec Decoy
Wood
All original. Distinctive carving on tail feathers and wings, with blue and white painted details on wings, green painted beak. Glass eyes. Initials LAD carved on back.