Items Similar to
Free Standing Contemporary Art Sculpture, Claro Walnut with Crystals & Gemstones
View More
About
UNIVERSAL FLOW emits positive pushes from the universe that catapult us into inspired action. Not contemplated action, but genuine automatic action. Her subtle infusion of knowledge allows you to subconsciously integrate universal direction, innately connecting to the divine plan. Bringing motivation to the forefront, without a need to control the outcome, she shows you that trust and surrender, can often manifest dreams bigger than you knew you had.

Crystals and gemstones: abalone, amazonite, amethyst, aqua aura, aquamarine, azurite, beryl, blue apetite, blue jasper, blue onyx, cavansite, celestite, chrysocolla, chrysoprase, cobalt quartz, dioptase, flourite, galena, healers gold, hematite, kyanite, labradorite, lapis lazuli, larimar, malachite, malachite-azurite, opal, peacocke ore (chalcopyrite), pyrite, rutilated quartz, tanzanite, tanzanite coated smokey quartz, tanzanite coated quartz and turquoise. Detailed wood and stone energies provided to owner.
Customization Options
Price includes a standard base shown. For custom options as a freestanding art piece, floating wall mounted sculpture, table, or surface, various finishes are available. Examples include: - lucite - copper-plate - brass-plate - stainless steel - other materials upon request
Details
49 in. H

x

67 in. W

x

2 in. D

124 cm H

x

170 cm W

x

5 cm D
About the Maker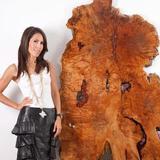 Vibrational Works by Danna Weiss is a Contemporary Art collection of energy works intended to bring clarity and facilitate renewal. Danna's channel and intuitive understanding of elemental material powers her creative process. Her passion for balancing elements is pioneering a new experience of art as energetic impact. Danna enjoys curating vibrations to promote peace, and as a consequence creates an aesthetic. Each energy work is created with a durable and yet non-hazardous solution. This procedure and special solution, allow the various energies to become one energy and a powerful force. Elements range from woods and metals to crystals and gemstones. Woods and stones are sourced from all over the world to find the clearest most energetic material with excellent character, luster and often rareness. The combining of stone energies is an original and delicate process, where Danna energetically balances all elements. Danna works with an array of instruments from large power tools to miniature tweezers. As an intuitive, she feels each element, groups it properly and infuses them in a particular solution and fashion to create the perfect vibration for you. Creative challenges are welcome and Danna enjoys being of service to her clients and turning their visions into reality.
1stdibs seller since 2015
Located in Jersey City, NJ